Larissa Williams wins SOT teaching award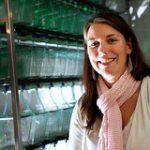 Associate Professor of Biology, Larissa Williams, has been recognized for outstanding teaching by winning the National Society of Toxicology Undergraduate Educator Award for 2021. Congratulations and job well done!
From the award citation:
"Larissa Williams, PhD, has received the 2021 SOT Undergraduate Educator Award for her commitment to and creativity in fostering the toxicology education of undergraduate students.
Dr. Williams received her PhD in environmental toxicology from North Carolina State University in 2010 and performed her postdoctoral training at Woods Hole Oceanographic Institution. She currently serves as an Associate Professor in the Bates College Department of Biology, where she incorporates toxicology into her biology classroom and laboratory.
The mission of Dr. Williams's research program is to foster discovery, innovation, and scholarship by undergraduates in molecular biology, developmental biology, and toxicology. Since arriving at Bates College in 2012, Dr. Williams has been the architect of seven new courses and has provided research opportunities for 36 students during the academic year and 21 students during the summer. To accommodate a wide range of students whose interests differ, her lab offers a variety of molecular-based projects, ranging from zebrafish to environmentally relevant organisms. Dr. Williams also has actively recruited students underrepresented in STEM for research experiences in her lab, and as a result of these efforts, about half of her students each year come from these backgrounds.
Dr. Williams has wholeheartedly embraced the teacher-scholar model; her involvement with student co-authors demonstrates her deep commitment to engaged student learning beyond the classroom. During her career at Bates College, Dr. Williams has published six peer-reviewed journal publications with 18 undergraduates as co-authors. Her students' work also is presented at regional and national conferences, providing students with valuable presentation experience.
Since joining SOT as a graduate student in 2010, Dr. Williams has been a main contributor to several undergraduate-focused activities. In addition to volunteering as a mentor during the Committee on Diversity Initiatives (CDI) Undergraduate Diversity Program, Dr. Williams has served as a member and Chair of the Undergraduate Education Subcommittee. She also is very active within the Northeast Regional Chapter (NESOT). In 2017, Dr. Williams and a colleague organized an undergraduate program at the NESOT Regional Chapter meeting, the success of which led Dr. Williams to continue as an ad hoc member of the Undergraduate Education Subcommittee, tasked with increasing undergraduate activities at Regional Chapter meetings. Her efforts have been very effective, and other Regional Chapters have begun looking at the model created within NESOT to help increase undergraduate participation in their chapters.
Currently, Dr. Williams is the Co-Chair of the SOT Faculty United for Toxicology Undergraduate Recruitment and Education (FUTURE) Committee. Through this role, she works to ensure that the partnership with Regional Chapters and CDI continues and serves as a volunteer point person for colleges and universities that were part of the Undergraduate Consortium Task Force. In addition to her leadership within FUTURE, Dr. Williams is on the SOT Nominating Committee and is a Councilor for NESOT and the Molecular and Systems Biology Specialty Section."