From maximum effort to maximum snowfall. From a series of applause-filled talks and performances, to visits and research in museums and archives. The Bates campus expanded with pleasure and self-reflection as February turned into March ("Can you believe it?"). Here's our take on This Month at Bates.
Bobcat Butterfly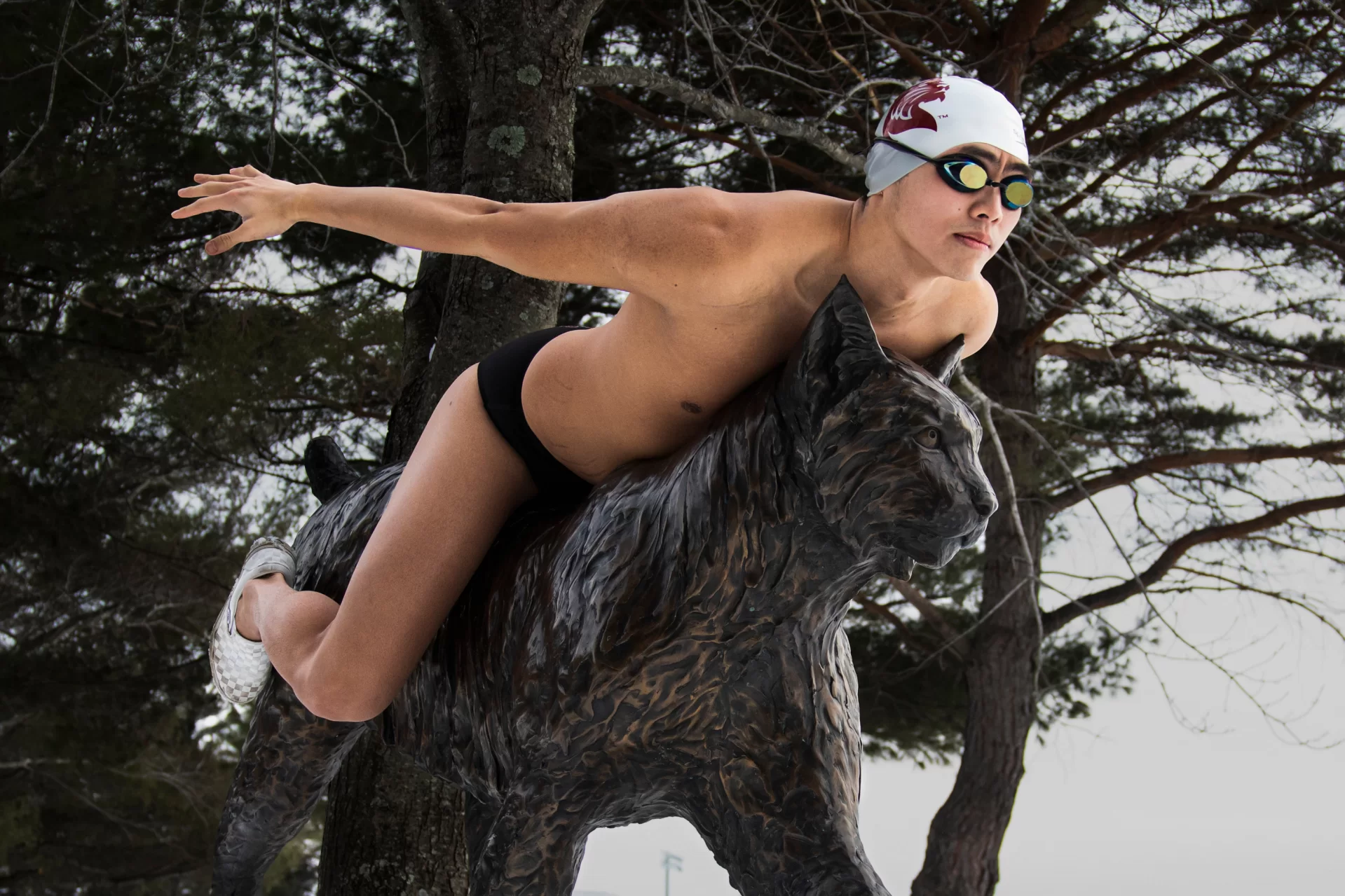 Men's swimming and diving captain Edmond Giang '23 of Wayland, Mass., hitches a ride on the Bobcat to the 2023 NCAA Championships. He's one of a program-record 15 Bobcats competing on the national stage, March 15–18 in Greensboro, N.C.
---
Trying Something New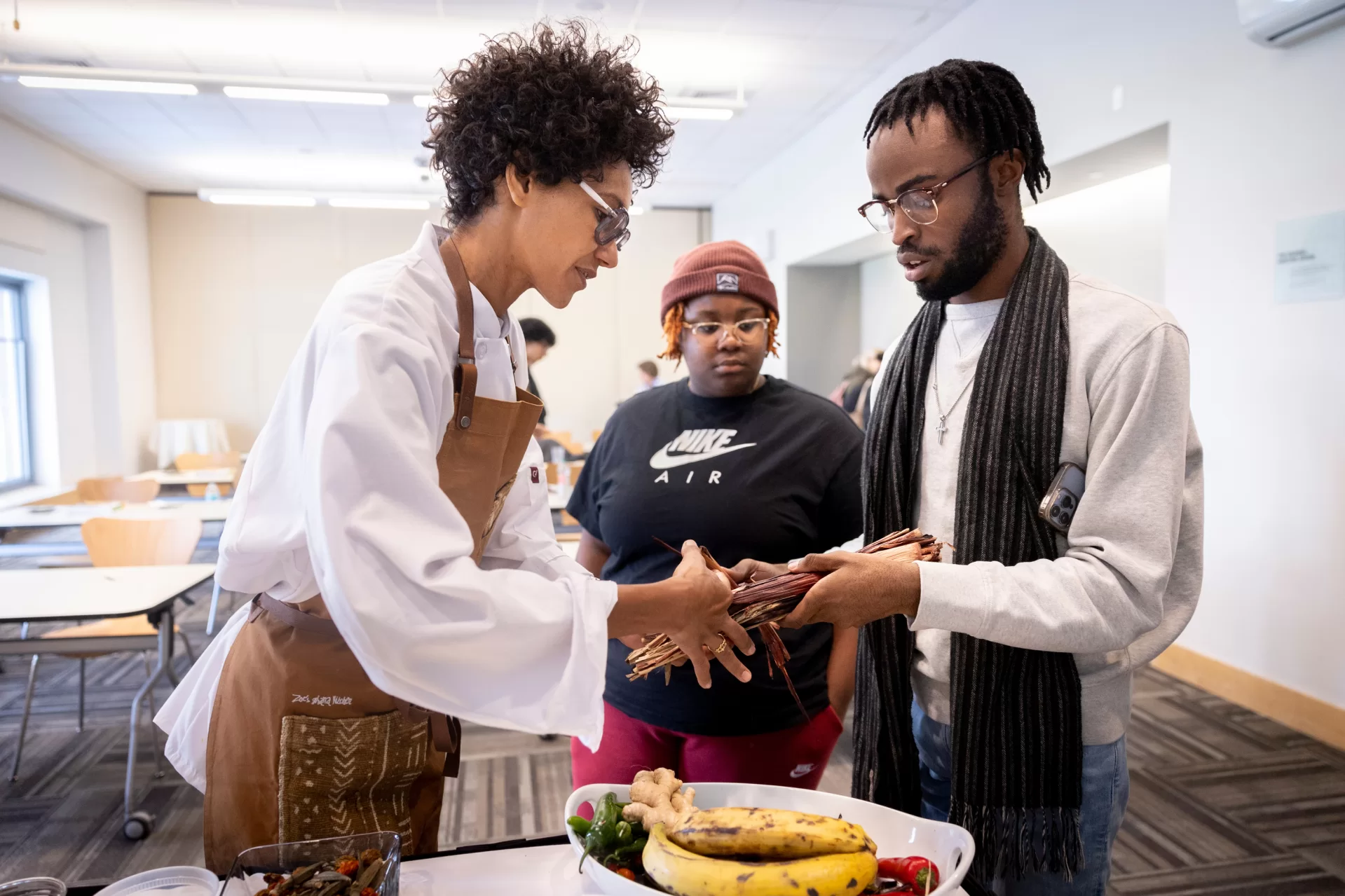 Visiting chef, writer, and founder of Zoe's Ghana Kitchen Zoe Adjonyoh (left) talks with Starr Bradley '25 (center) of Houston and Rashad King '25 of Windsor, Conn., in Commons after teaching students how to cook a traditional Ghanaian dish, red red stew.
---
East Coast Slide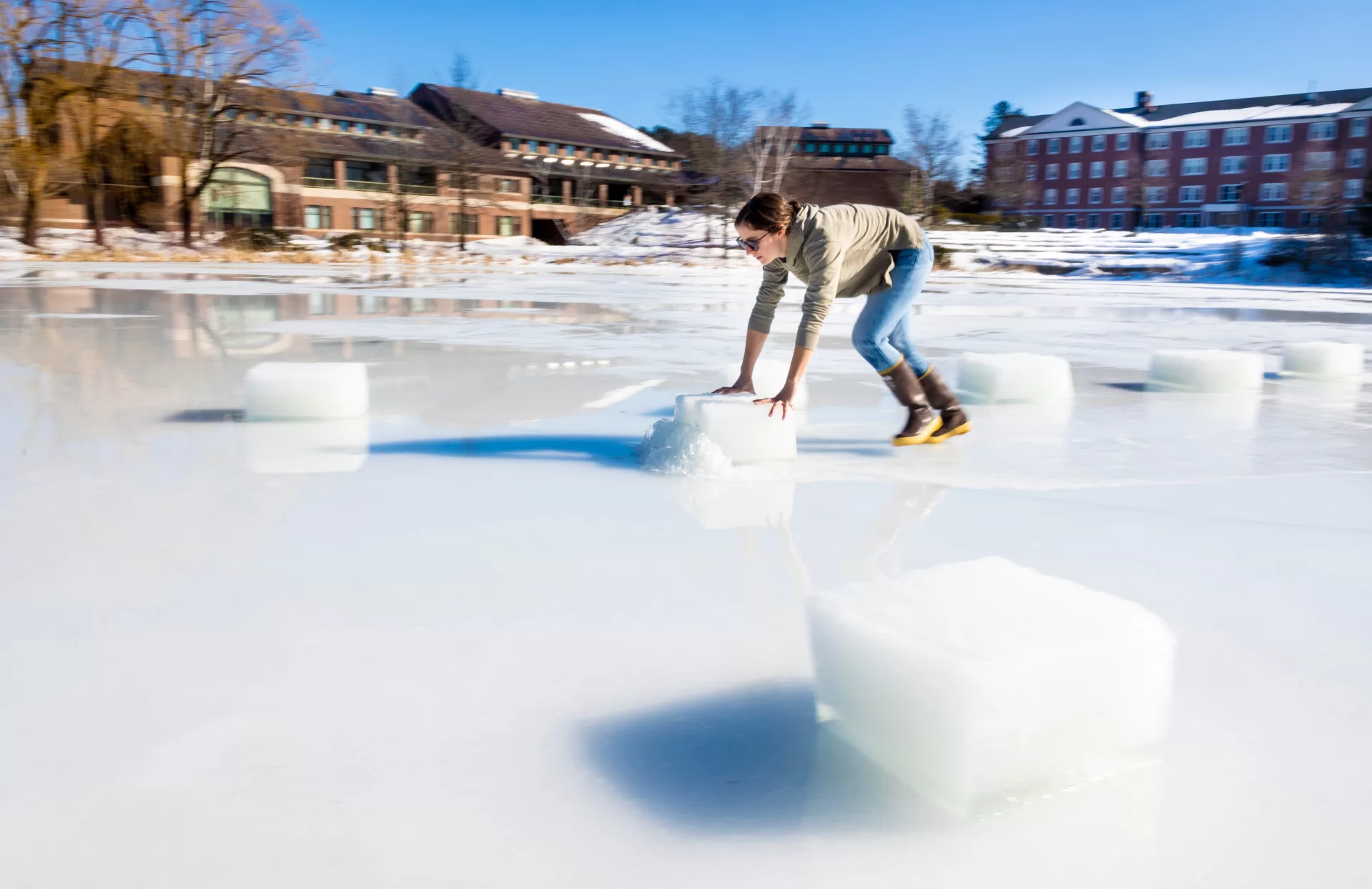 Catie Luedee, coordinator of Outdoor Education and Programs for Student Affairs, slides a block of ice across Lake Andrews to create a path for the beloved Bates winter tradition, the Puddle Jump.
---
Measure Twice, Cut Once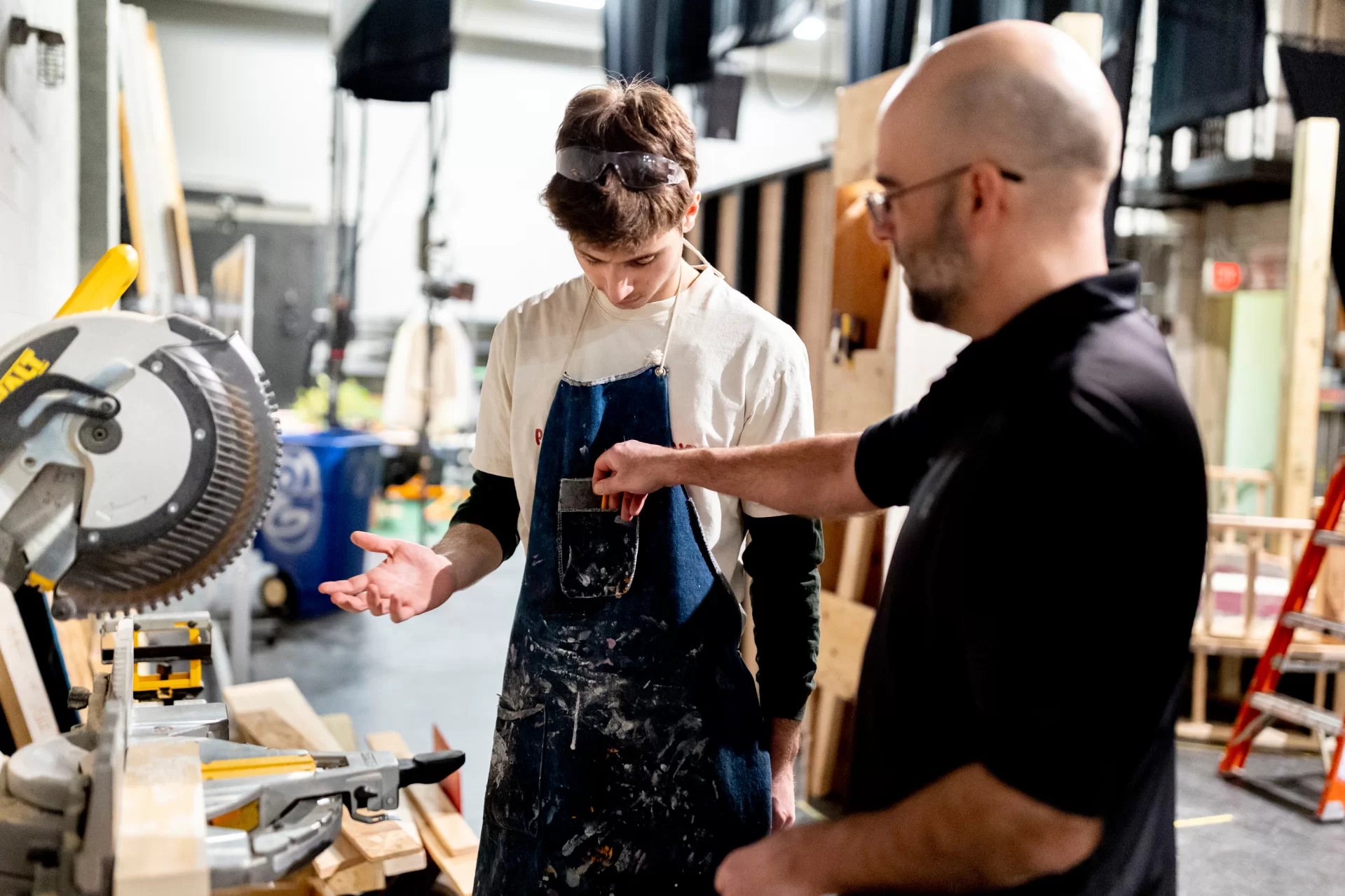 Justin Moriarty, technical director for theater and dance, places a pencil in the pocket of the woodworking apron worn by Gideon Berrie '26 of New York City during a lesson on how to mark a board before cutting it with a compound miter saw. They're working on set for the theater department's production of Shakespeare's Much Ado About Nothing, which features a two-story facade, complete with a balcony.
---
Making a (1k) Point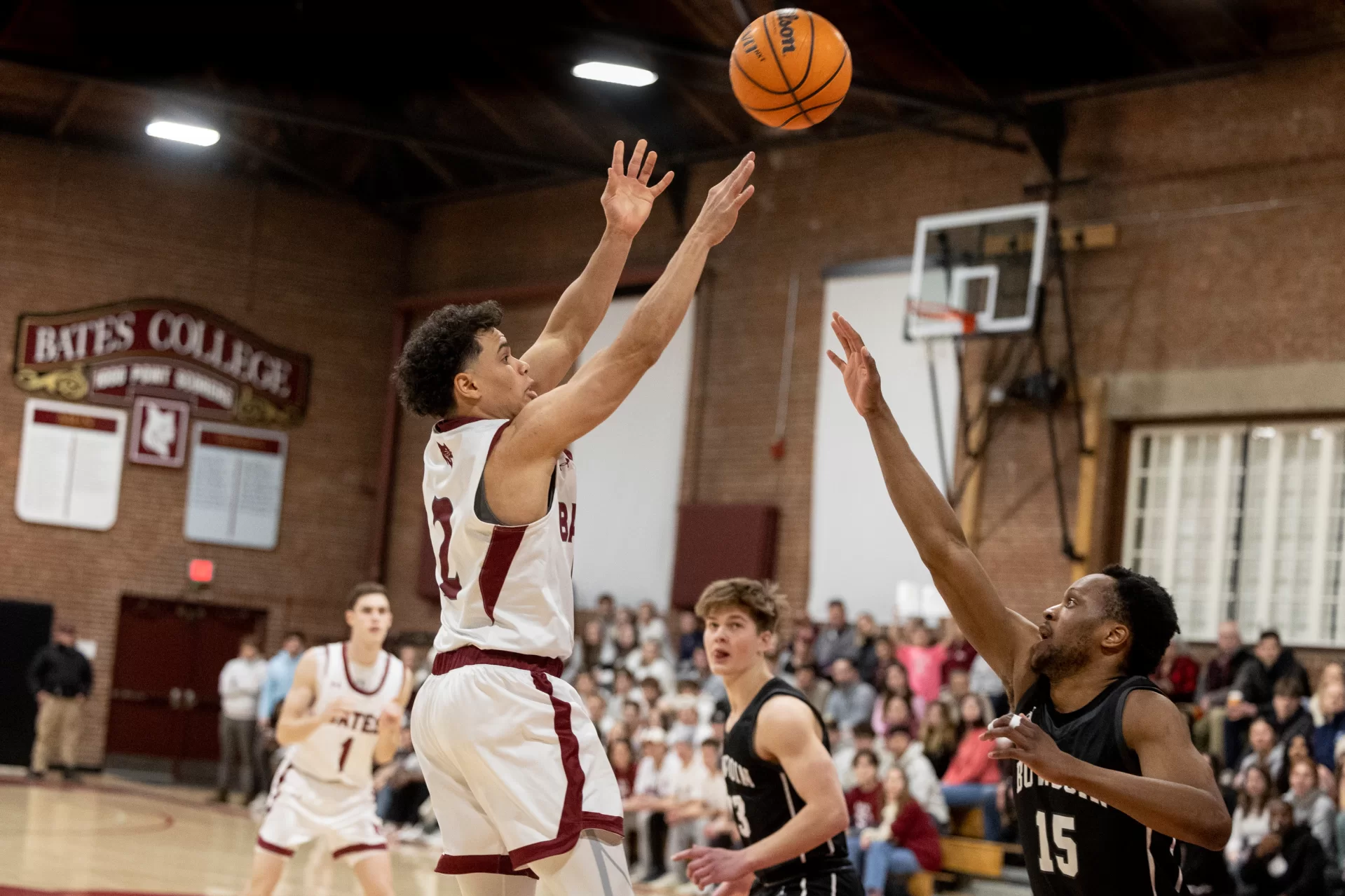 Steph Baxter '23 of Worcester, Mass., knocks down a jumper against Bowdoin on Feb. 3, becoming the 35th player in Bates men's basketball history to reach 1,000 career points.
---
Snowy Surprise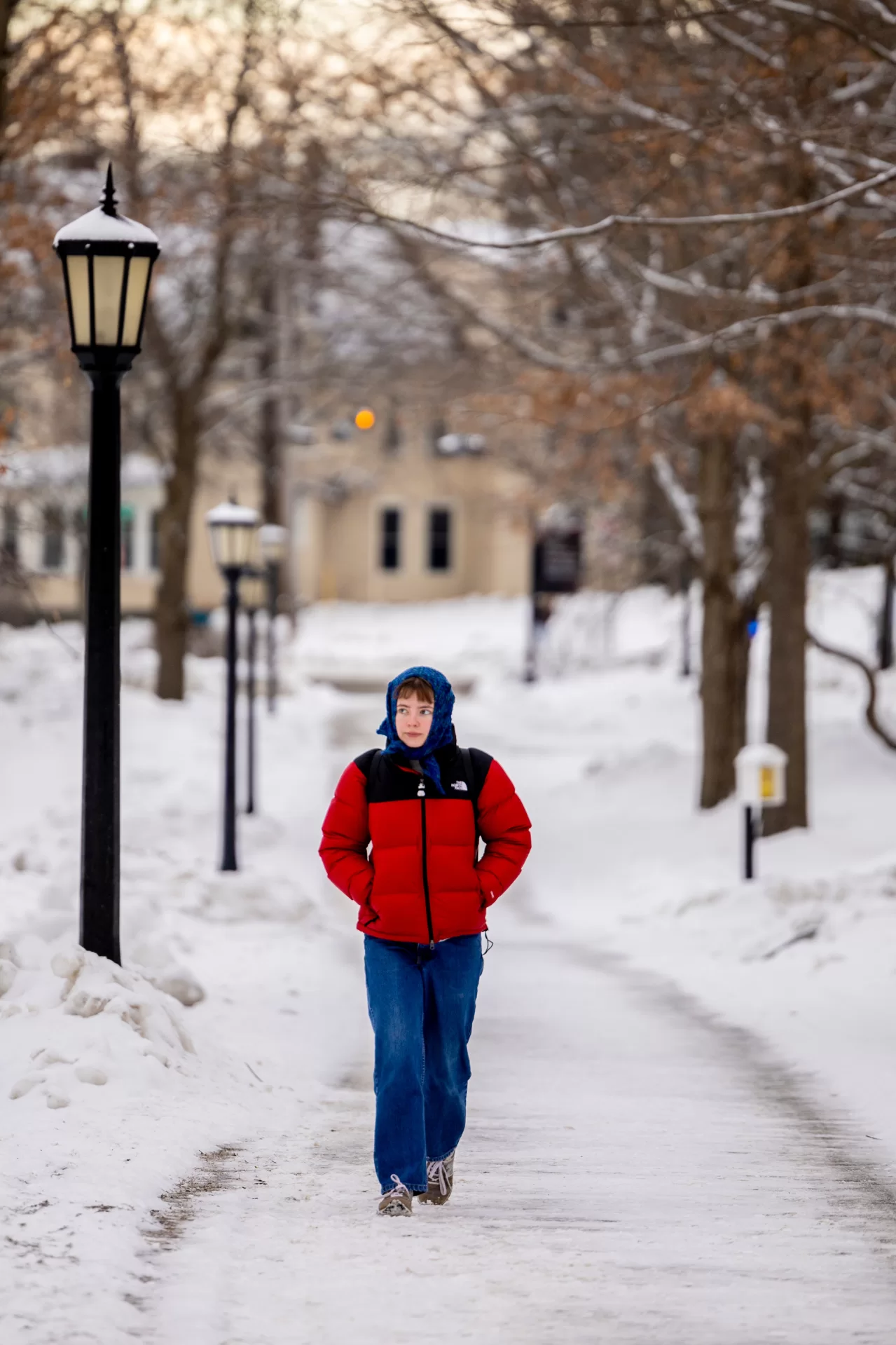 "It makes me happy," said Soso Hoag '23, an environmental studies major from Kirkland, Wash., after waking up on Feb. 8 seeing, to her surprise, new snow. She always appreciates a layer of it on the ground, she says.
---
'Eye-Opening'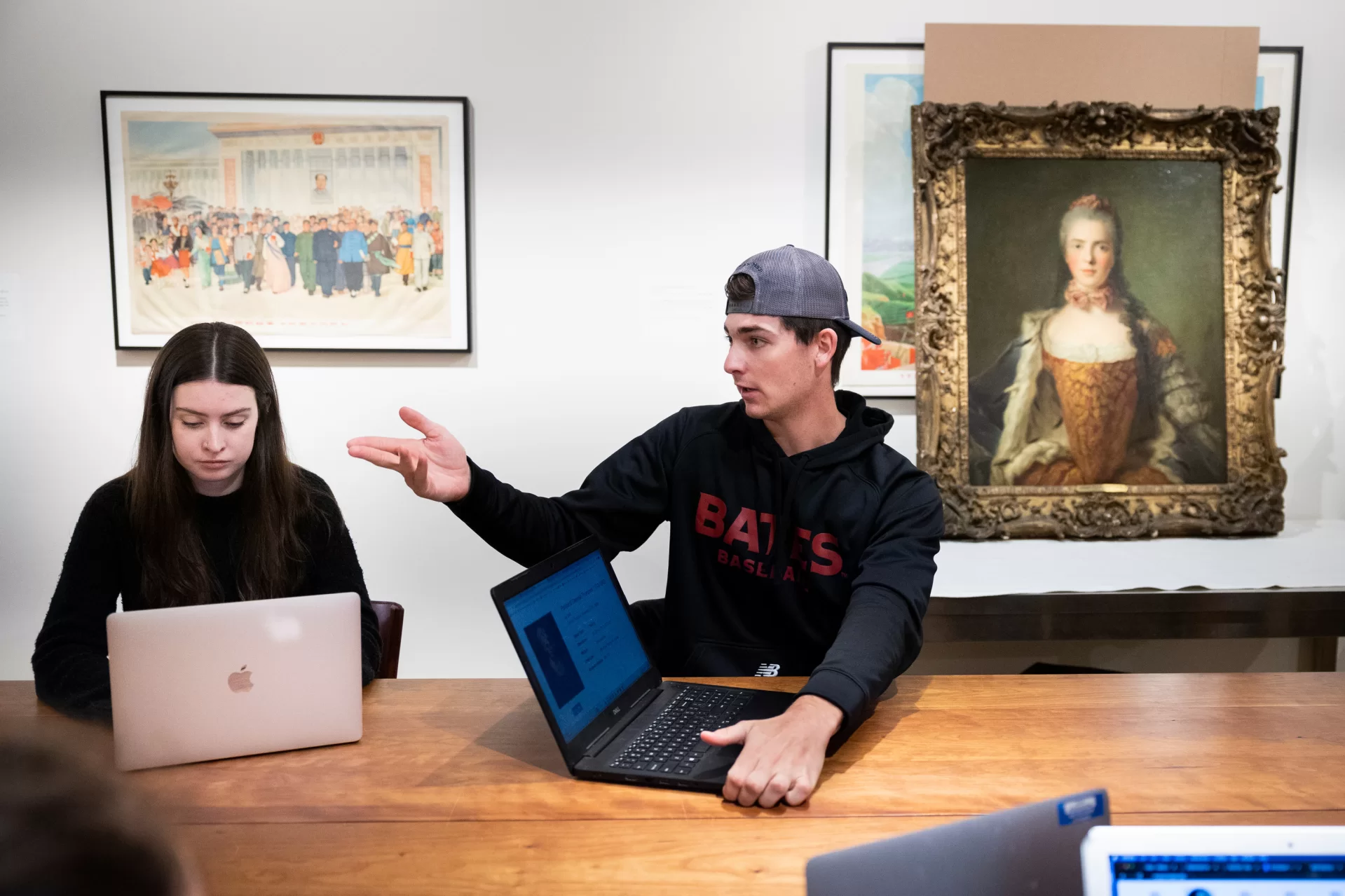 "The art was eye-opening," said Luke Linnehan '24 (right) of Hingham, Mass., during a class session for the course "Historical Methods" held in the Bates College Museum of Art. He's sitting next to Campbell McKendry '24 of Katonah, N.Y.
Behind them is Mme. Adélaïde, an oil portrait of a daughter of Louis XV by French painter Jean Marc Nattier. The painting was part of a class discussion about art and art exhibitions. Taught by Associate Professor of History Caroline Shaw, "Historical Methods" is a linchpin course for Bates history majors, refining their proficiency as historians and preparing them to write their senior thesis.
---
Puddle Magic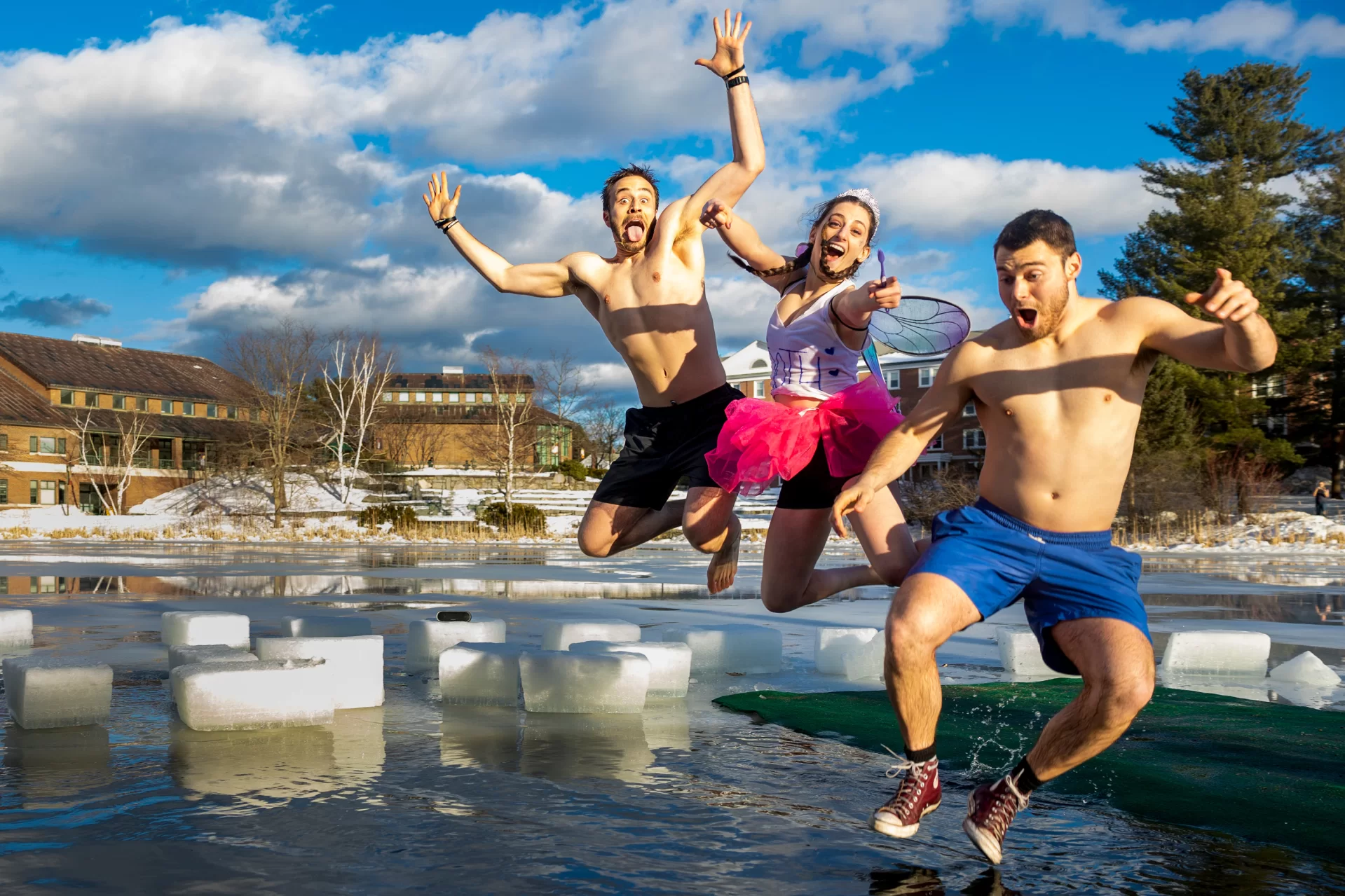 From left, Jared O'Hare '23 of Middletown, Conn., Chloe Arons '23 of Montclair, N.J., and Chris Euston '23 of Marietta, Ga., channel some pixie-dust power for a leap into Lake Andrews during the annual Puddle Jump on Feb. 10.
---
Destination: Maine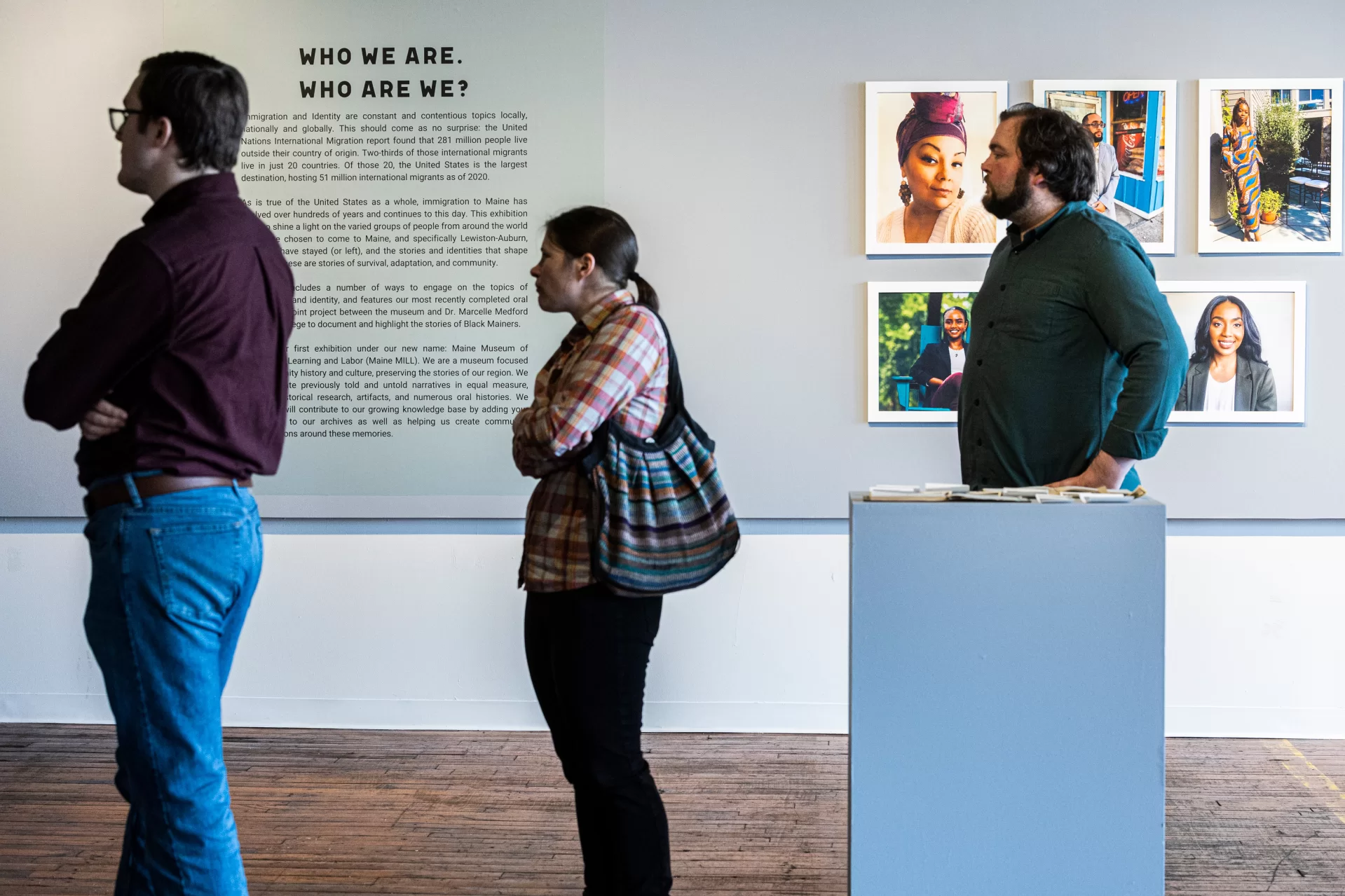 Visitors from Bates tour the current exhibition, Who We Are / Who Are We? at the Maine Museum of Innovation Learning, and Labor, the full name of Maine MILL, formerly Museum L-A.
A centerpiece of the exhibition is a display of 10 photographs of Black residents of Lewiston paired with audio recordings of oral histories collected last year by Assistant Professor of Sociology Marcelle Medford.
Curated by Executive Director Rachel Ferrante '10, the exhibition shines a light on the varied groups of people from around the world who have chosen to come to Maine and, specifically, Lewiston-Auburn. The "lunch and listen" Bates tour was organized by the Harward Center for Community Partnerships.
---
Adirondacks in the Snow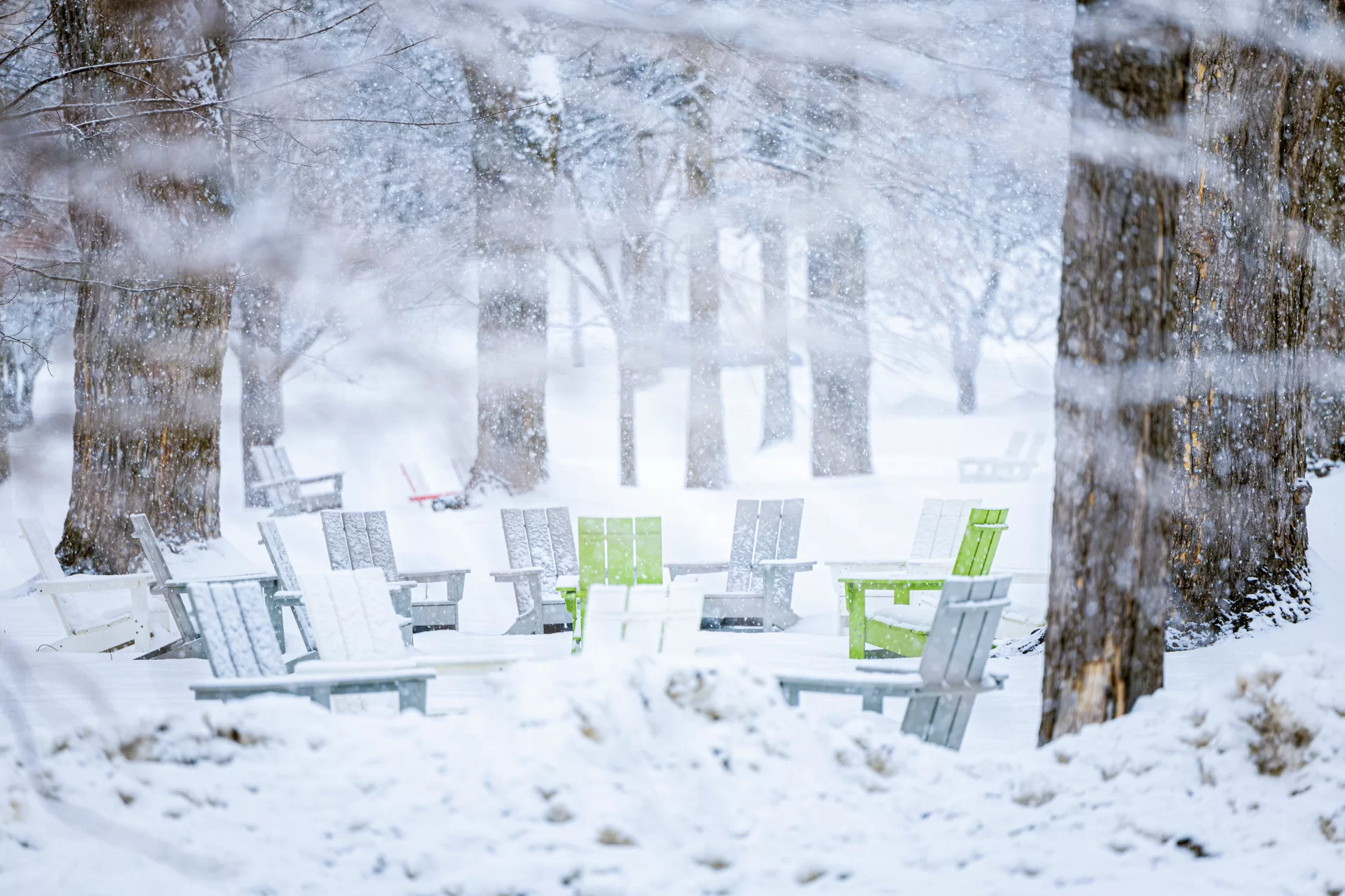 Adirondack chairs on the Historic Quad weather a winter snowfall, circled up and waiting for warmer days to return.
---
Senior Night Salutations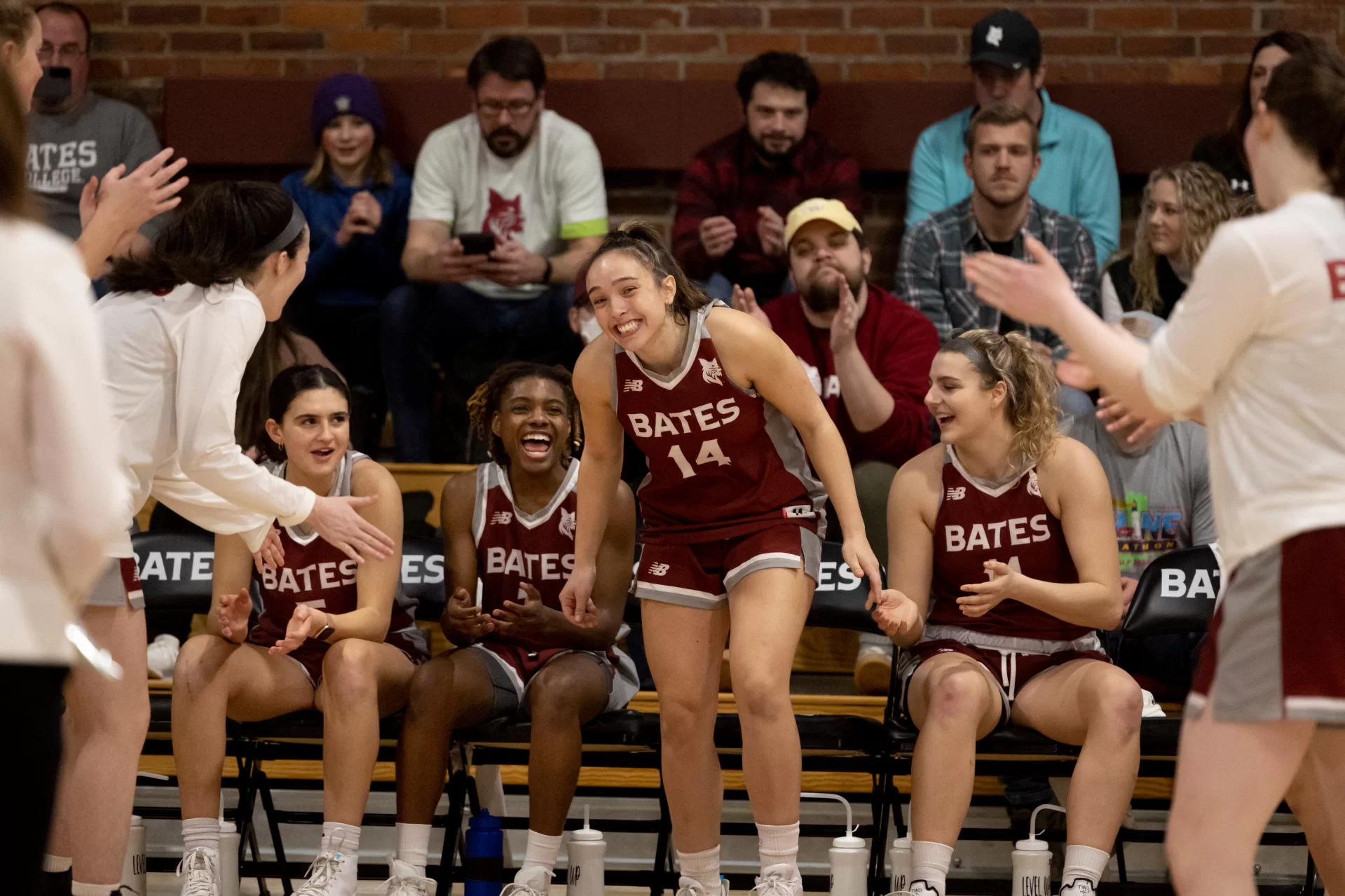 Women's basketball captain and all-time leading scorer Meghan Graff '23 of South Portland, Maine, is introduced during Senior Night at Alumni Gym, a 54–46 win over Wesleyan.
---
'Women with Chutzpah'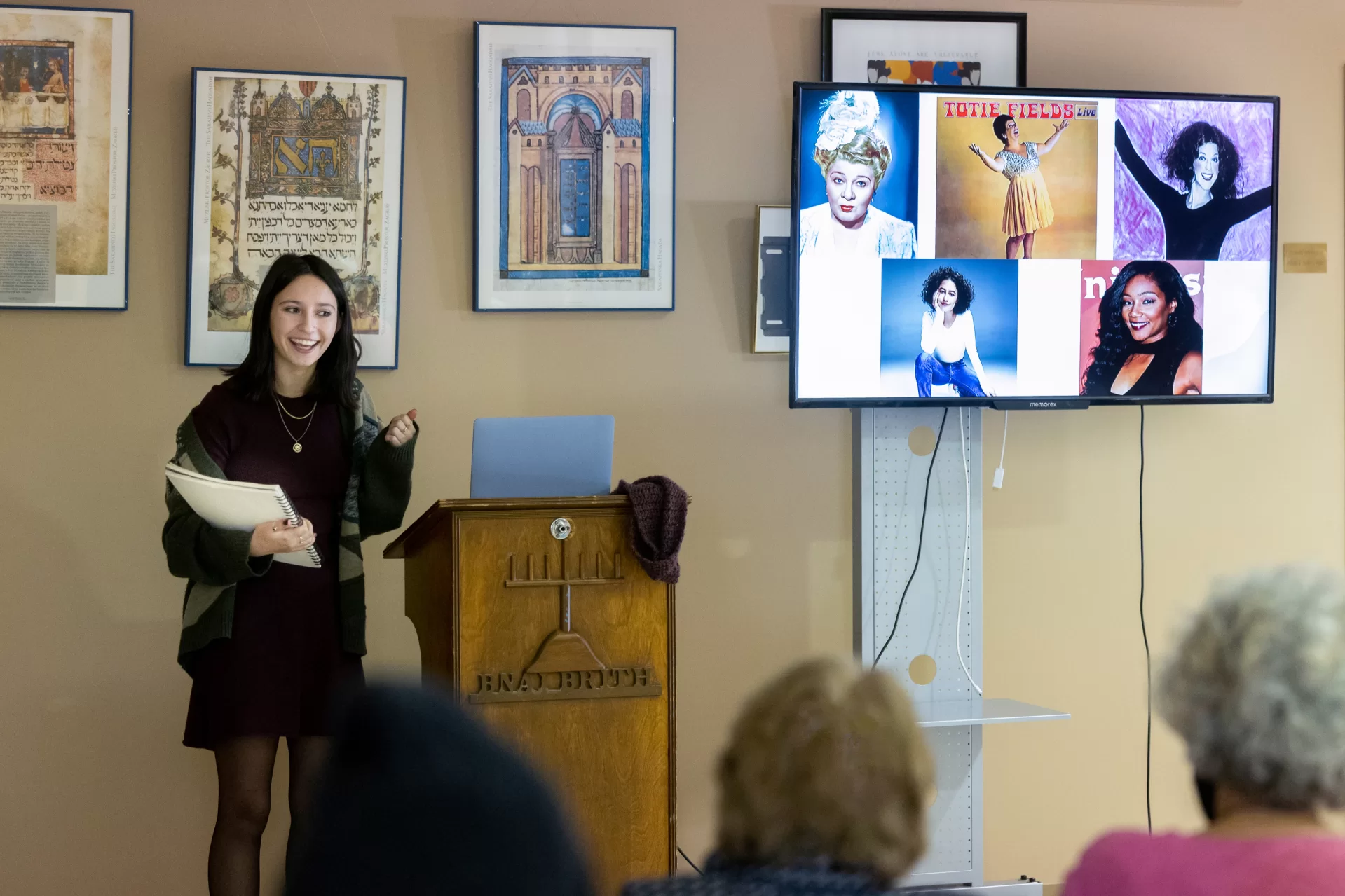 "There is something special about being able to be in a room together and connect through laughter," says Frances White '23 of New York City, a religious studies major with a minor in Africana, who presented her senior thesis research to members of Temple Shalom Synagogue-Center in Auburn.
Her thesis, "Women with Chutzpah" — the completion of which she celebrated last semester — is about "the subversive means of Jewish humor for Jewish women specifically," says White.
---
Ahead of the Curve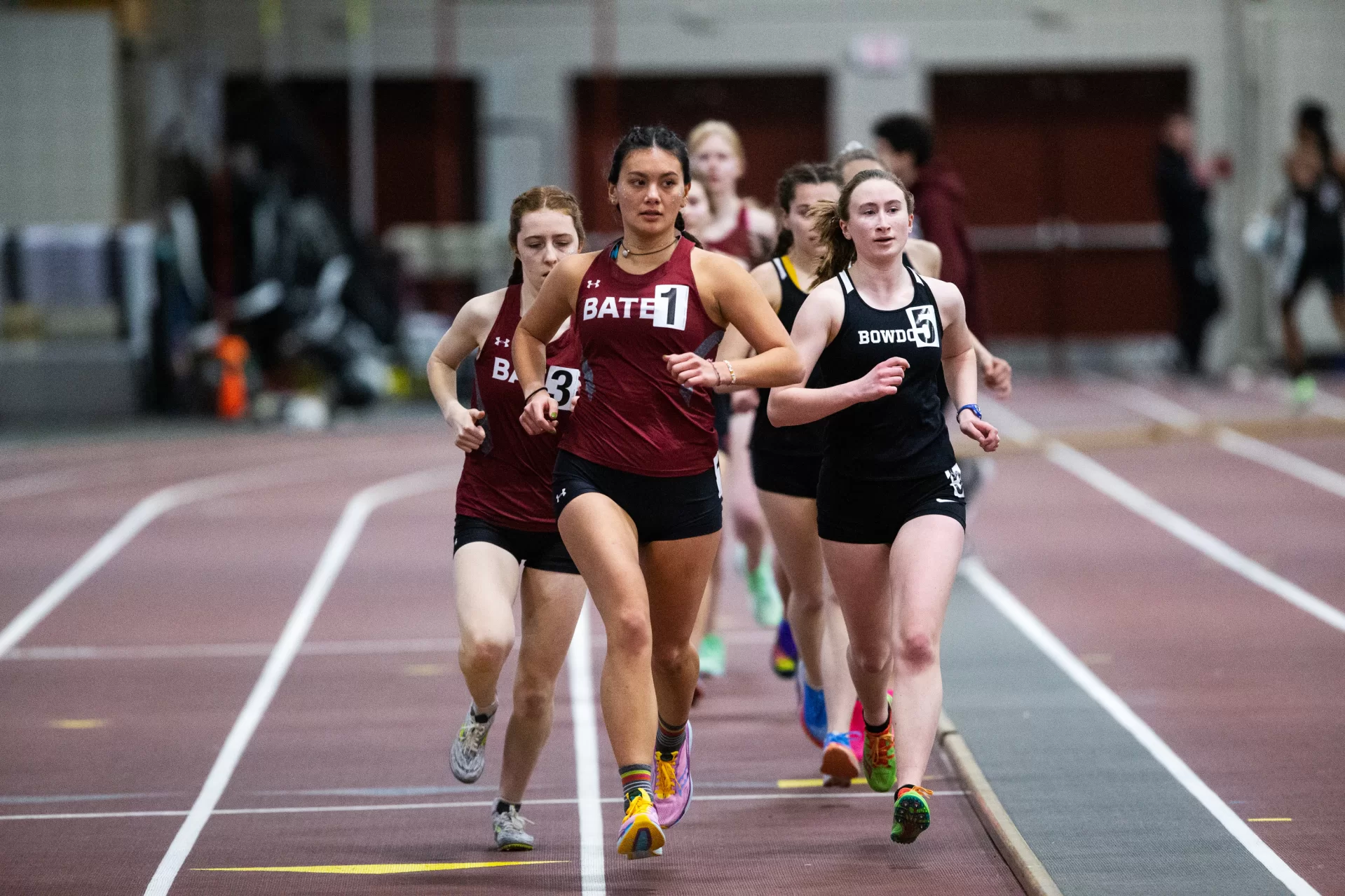 Isabel May '24 of Erving, Mass., leads the pack during the women's 5K at the Maine State Indoor Championships, hosted by the Bobcats on Feb. 4. May finished third in the race.
---
Fixed Focus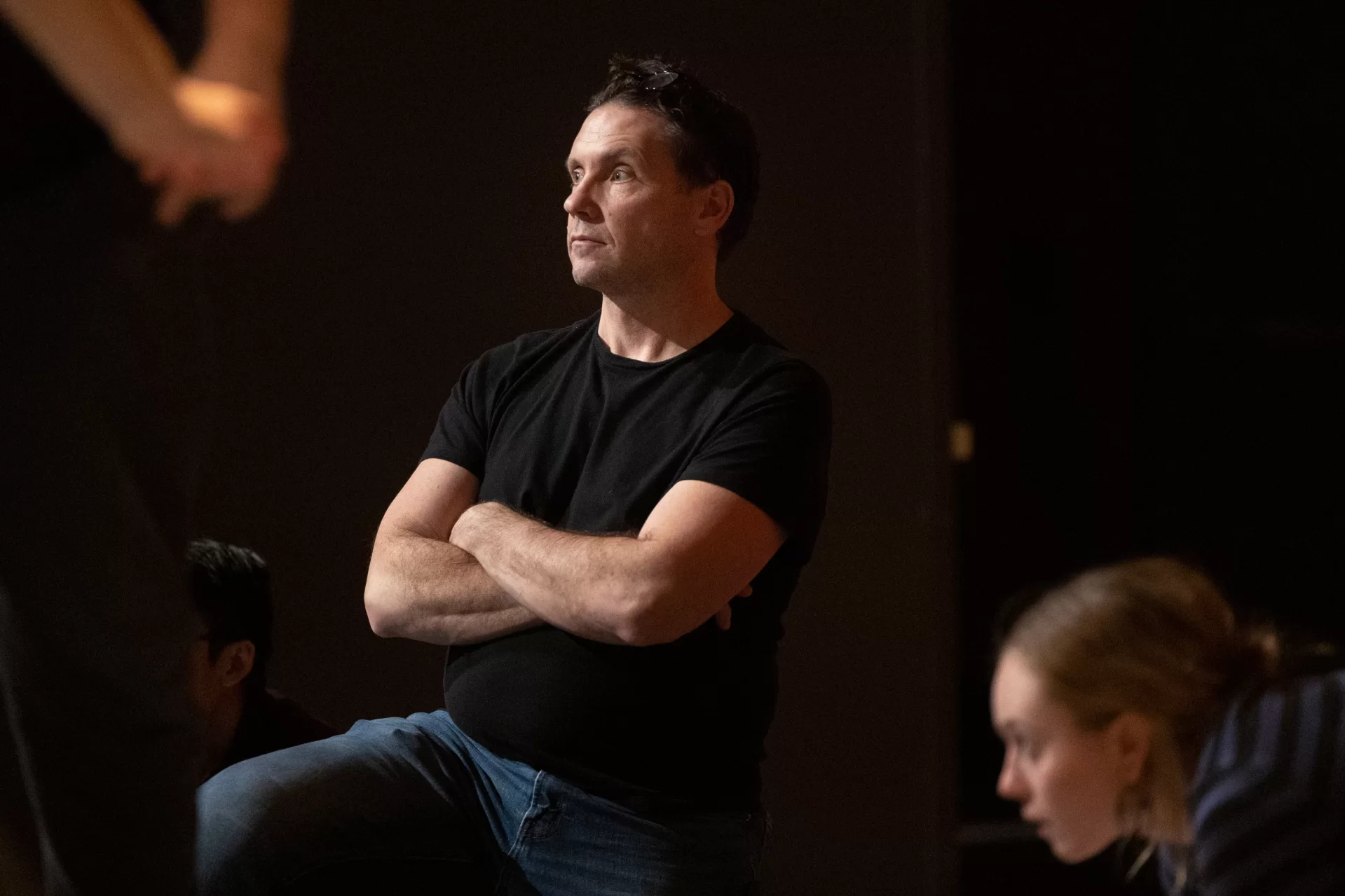 Assistant Professor of Theater Tim Dugan watches intently during a rehearsal for the theater department's production of Shakespeare's Much Ado About Nothing, opening on March 16. You can read more about the journey from page to stage in our ongoing series, Peek Behind the Curtain.
---
Next-Gen Potential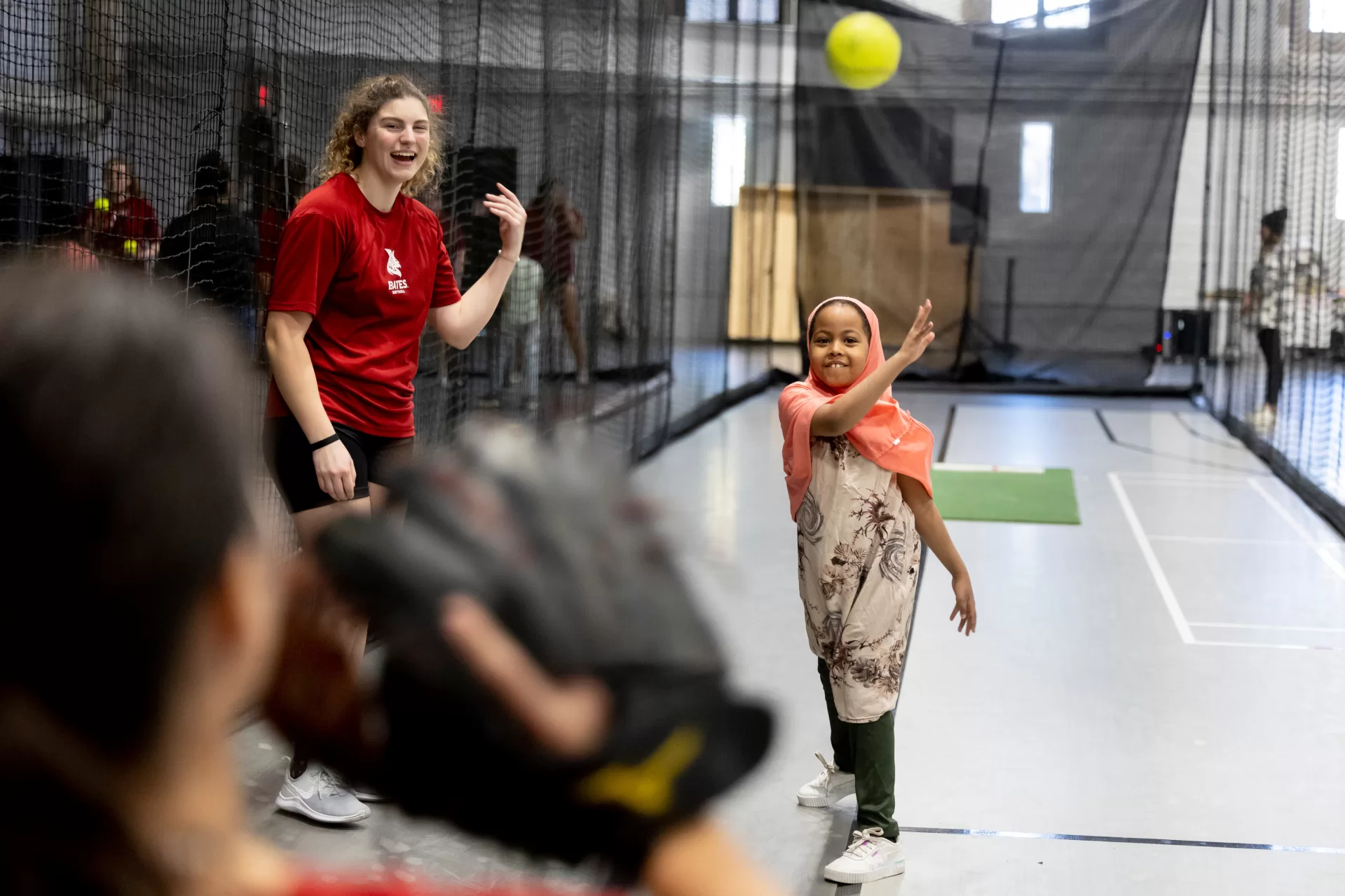 Each year, the Bates women's varsity teams open their arms to local youngsters to celebrate National Girls and Women in Sports Day. In various clinics in the Gray Athletic Building on Feb. 11, youngsters got a chance to learn a little something about many of the 16 women's varsity sports that Bates offers, including softball.
NGWSD recognizes student-athletes, champions, coaches, administrators, lawmakers, and others who are committed to providing equitable access to sports for all girls and women.
---
Steady Hand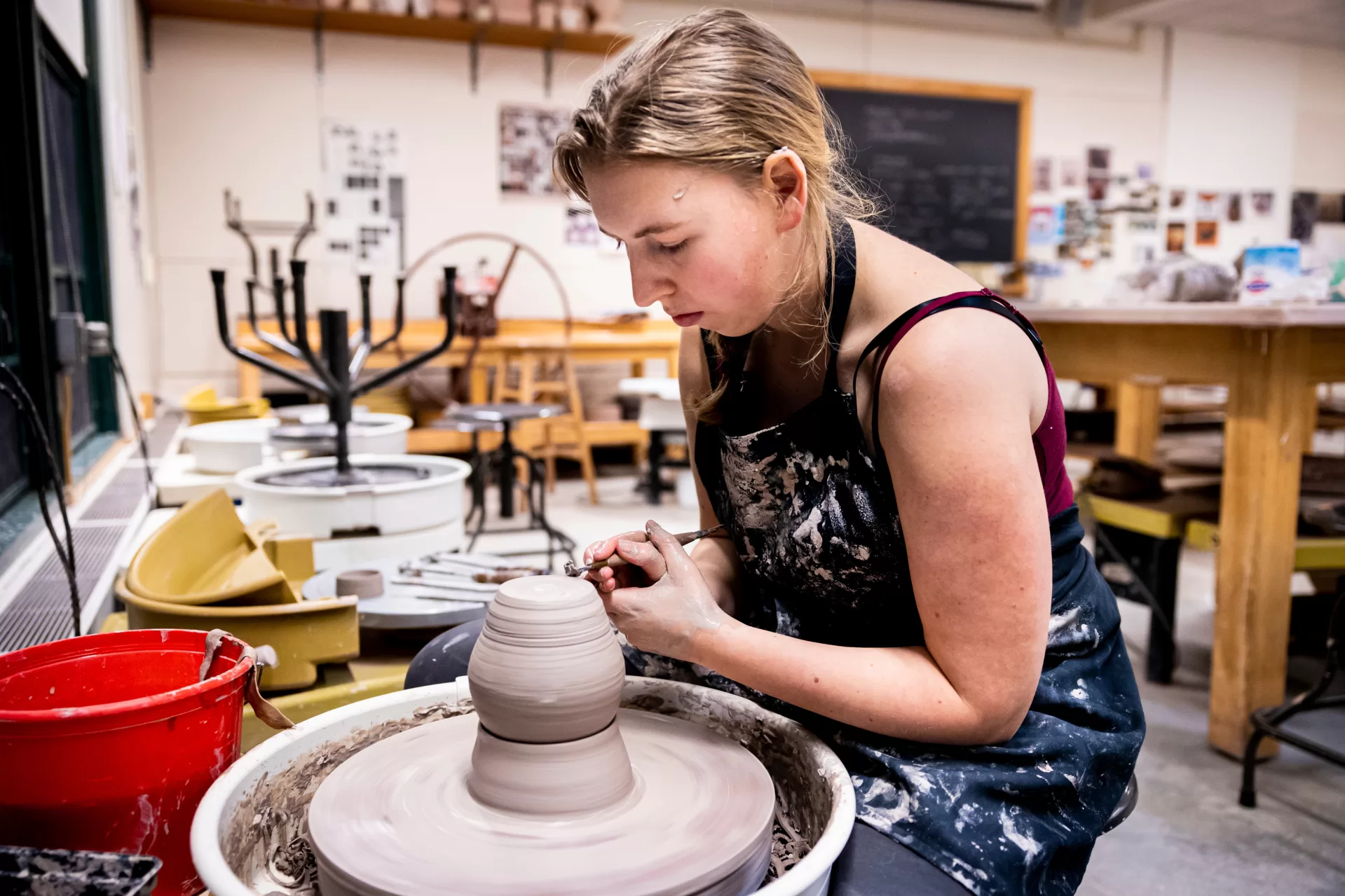 Chemistry major Laura Colgan '23 of Montvale, N.J., concentrates as she works in the ceramics studio during the Bates Winter Arts Festival.
---
Maximum Effort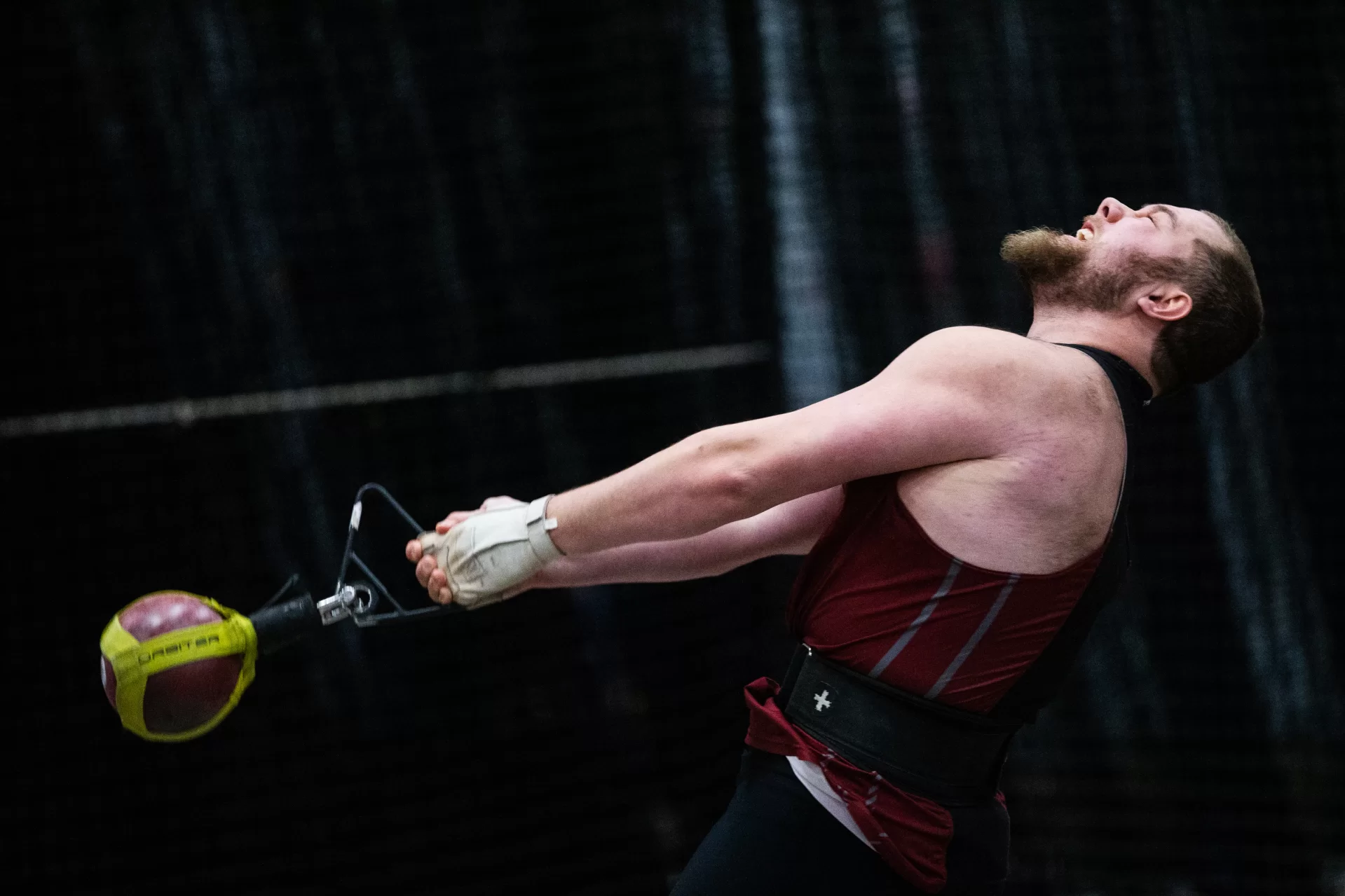 Men's track and field captain Liam Byrne '23 of Ridgefield, Conn., won the weight throw (17.34 meters) at the Maine State Indoor Championships, hosted by the Bobcats on Feb. 4.
---
Sunny Monday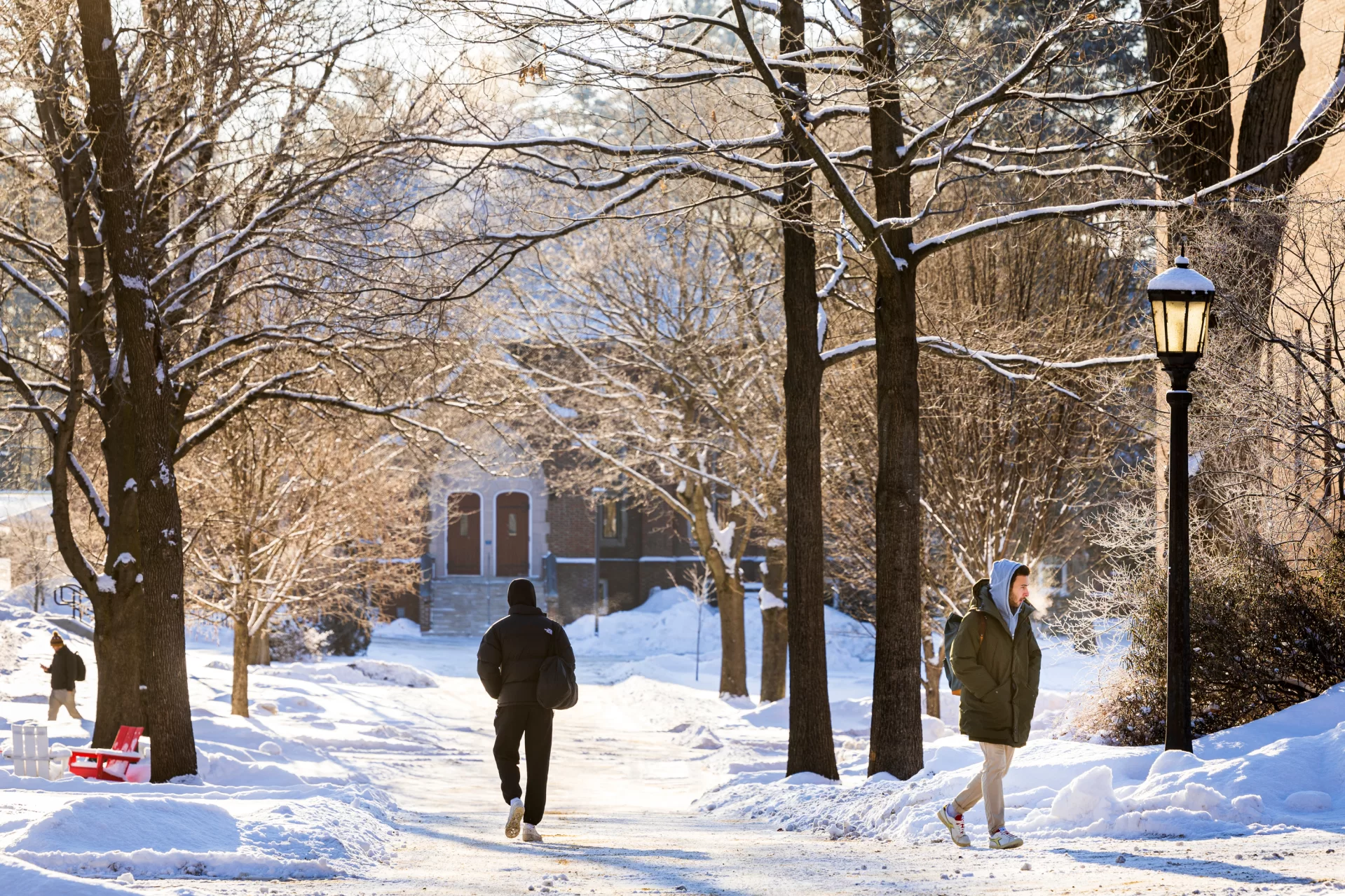 Nothing like a little sun to get the morning started! Winter sunshine illuminates the world in snowy white on a Monday morning, as students head to class.
---
Applause, please!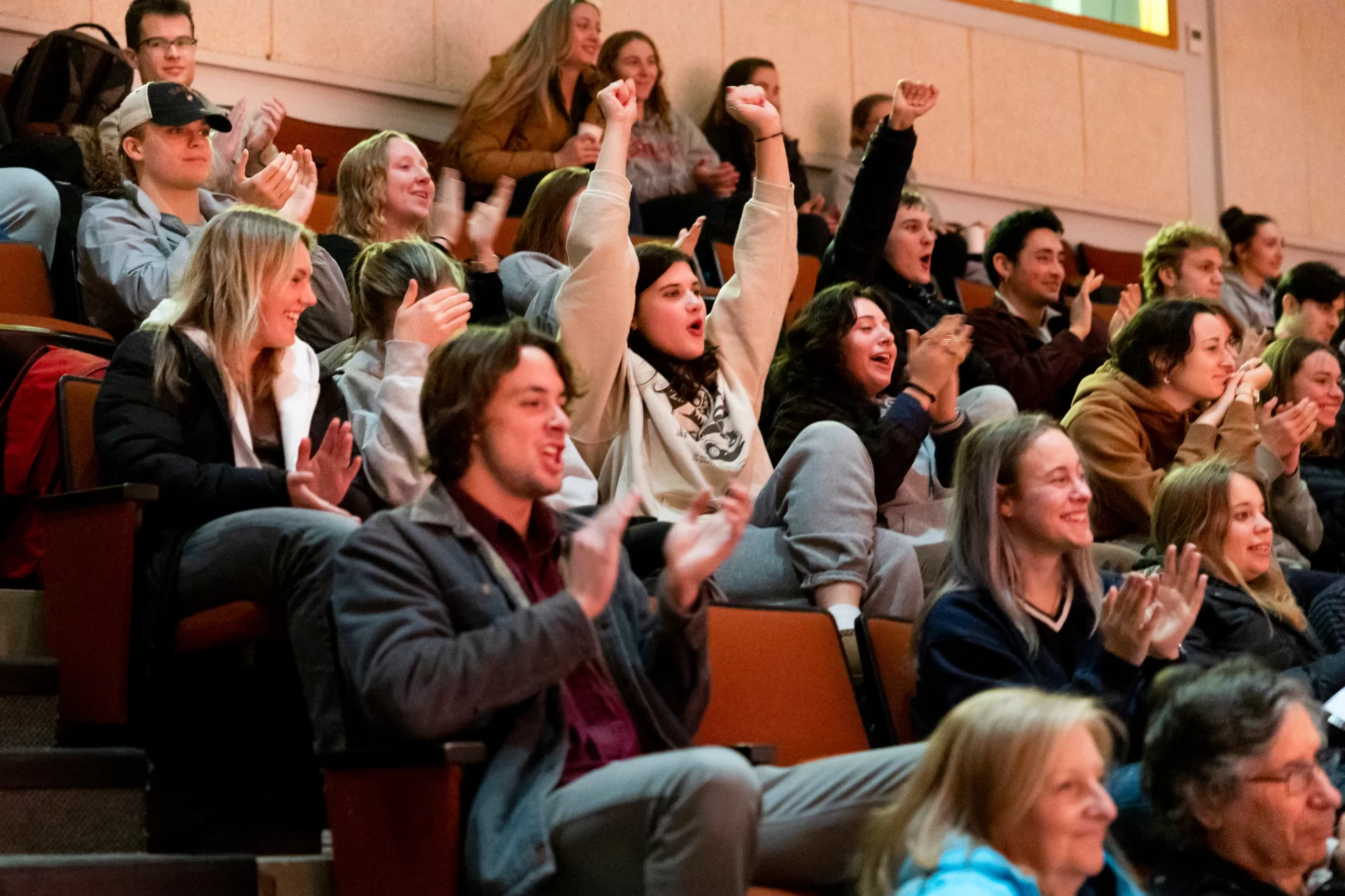 Members of the Bates community applaud a performance by 2Beats, Bates' hip-hop dance group, in the Olin Arts Center concert hall during the Winter Arts Festival on March 3.
---
'Inspired'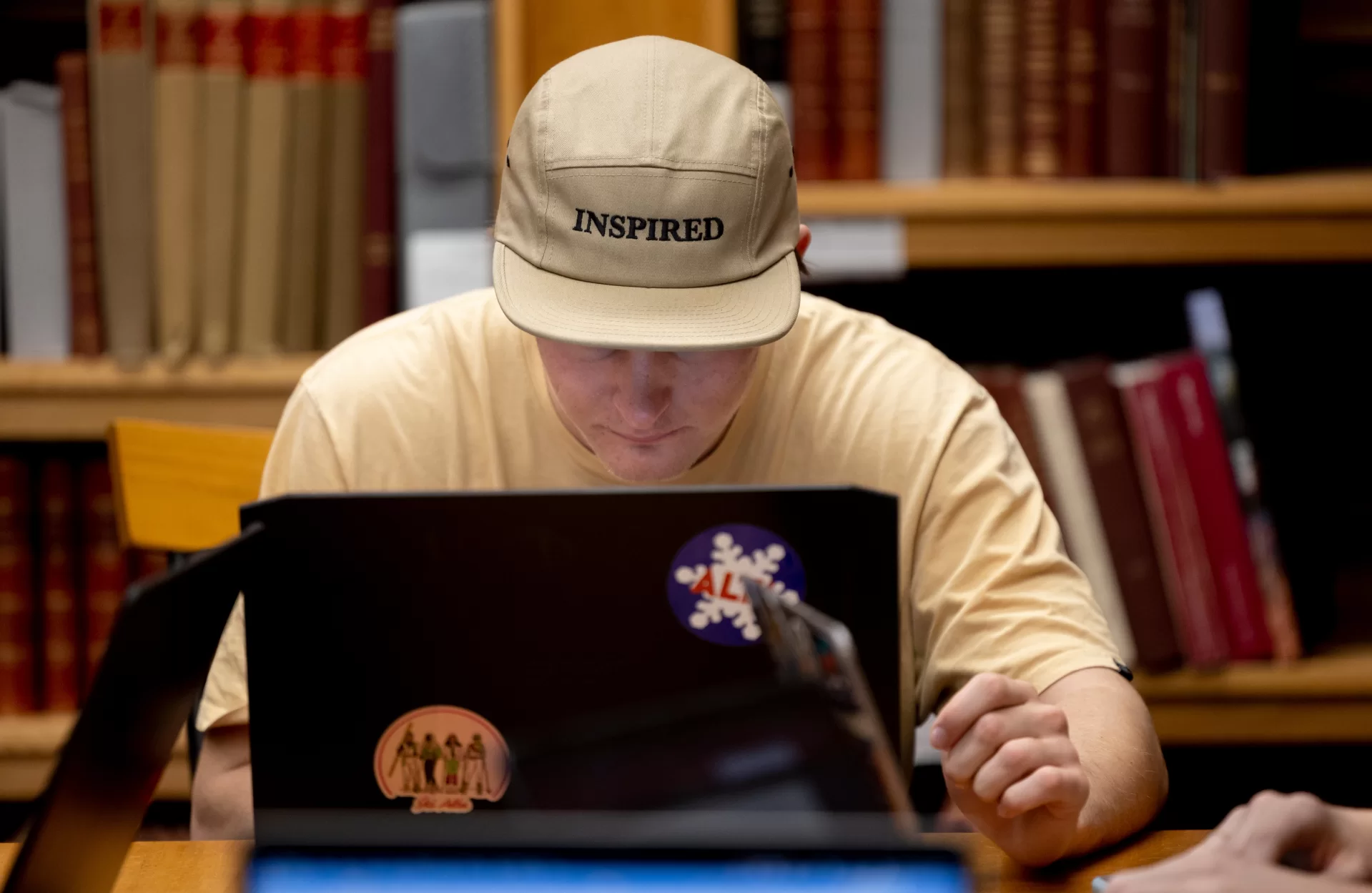 During a class visit to the Edmund S. Muskie Archives, Miles Clark '25 of East Hampton, N.Y., a student in the course "Public History in the Digital Age," taught by Assistant Professor of Digital and Computational Studies Anelise Hanson Shrout, researches the lives of Mainers buried in Lewiston's Riverside Cemetery.
---
Winning Move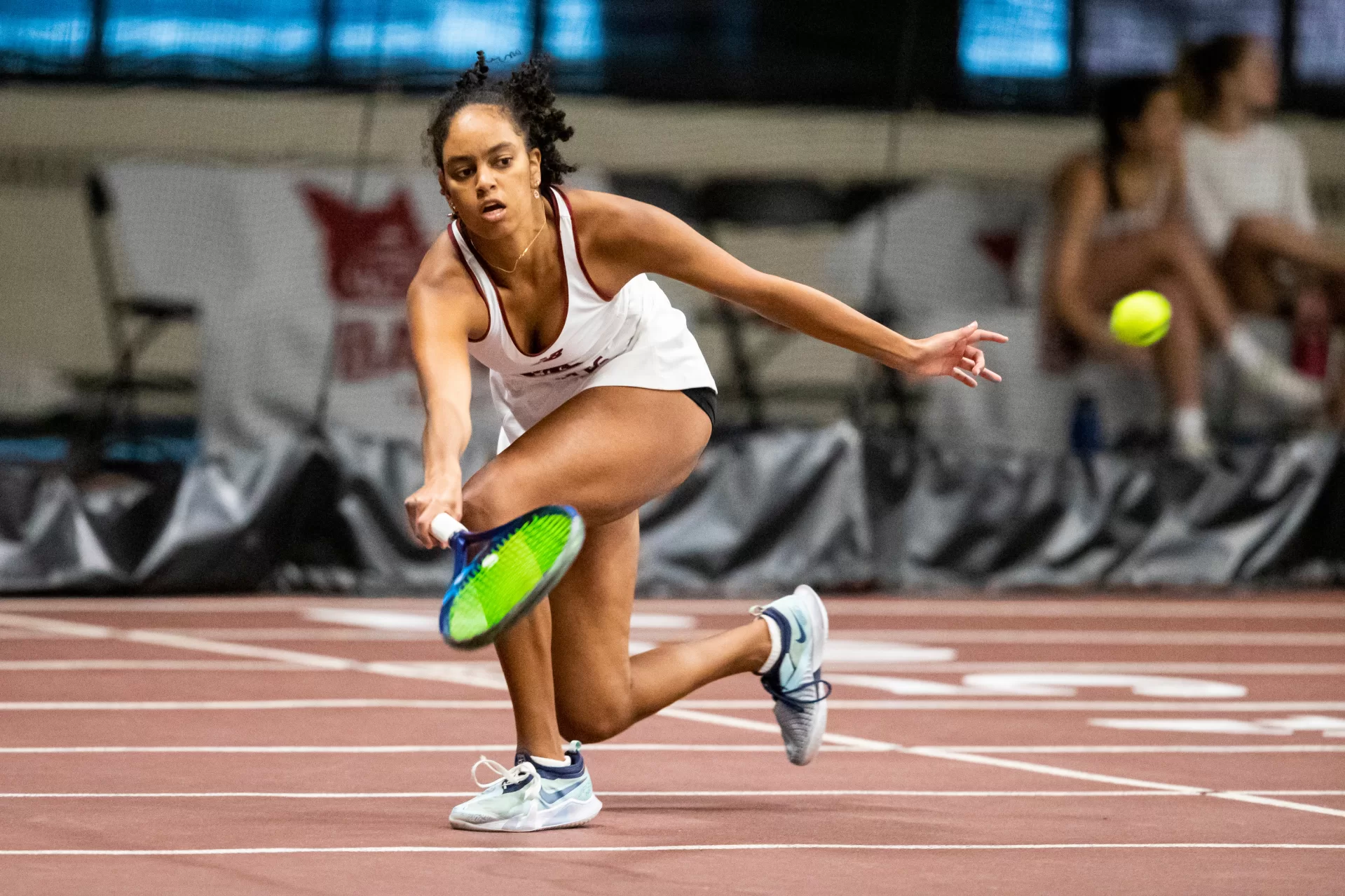 Isabella Saul '26 of Brooklyn, N.Y., teamed with Elizabeth Frekko '25 of Lake Forest, Ill., to win their No. 3 doubles match as women's tennis defeated Smith College at Merrill Gymnasium on March 3.
---
'And We're Live!"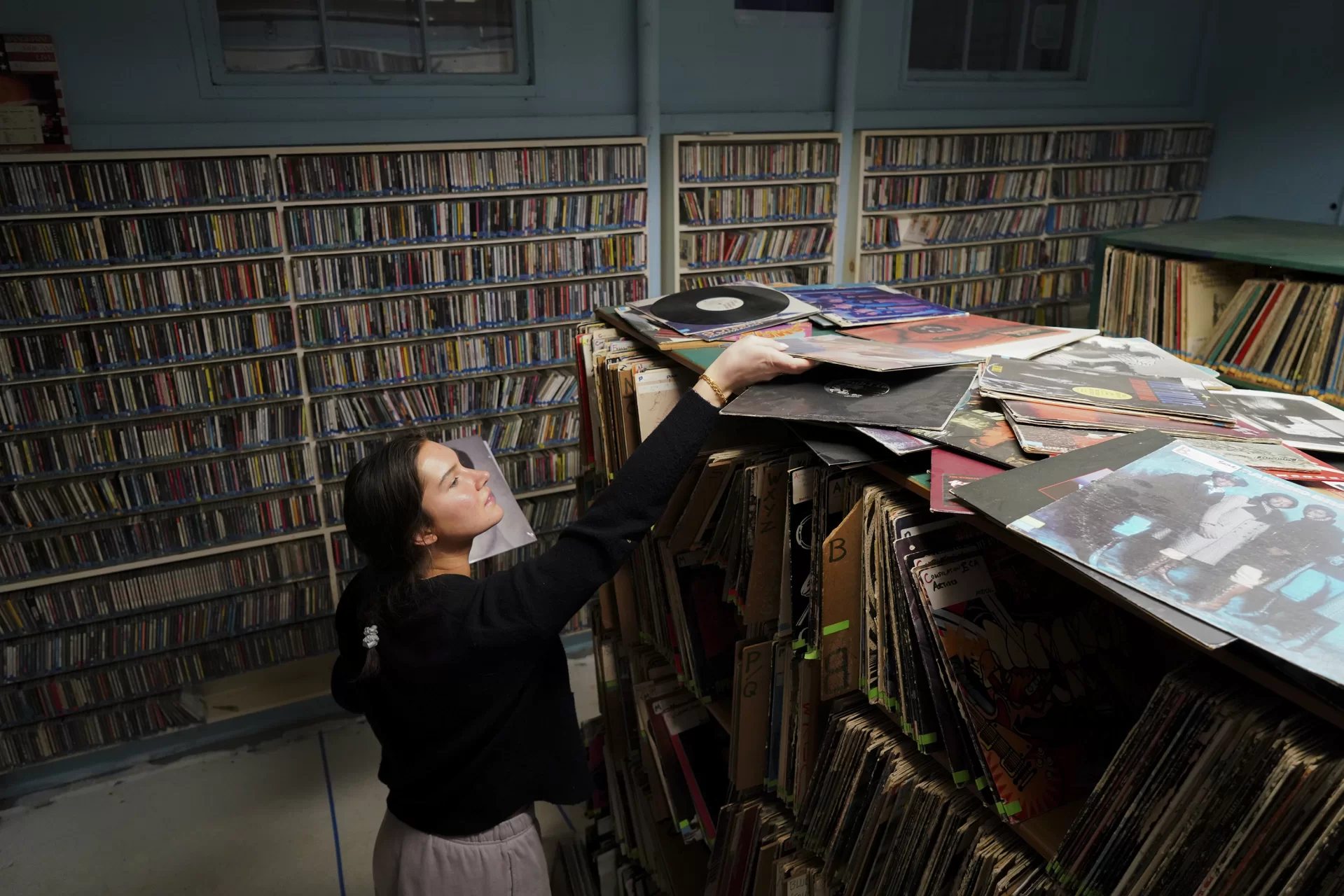 Clara "DJ Claradise" Kennedy '25 of Harrison, N.Y., selects records for broadcasting on WRBC. Along with fellow WRBC board member Lily Ritch '25 and Jessie Bard '25, Kennedy hosts Freshly Squeezed every Wednesday, 8–10 p.m.
At 91.5 on your FM dial, Bates College Radio has been broadcasting since 1958.
---
'Ready, Set, Serve!'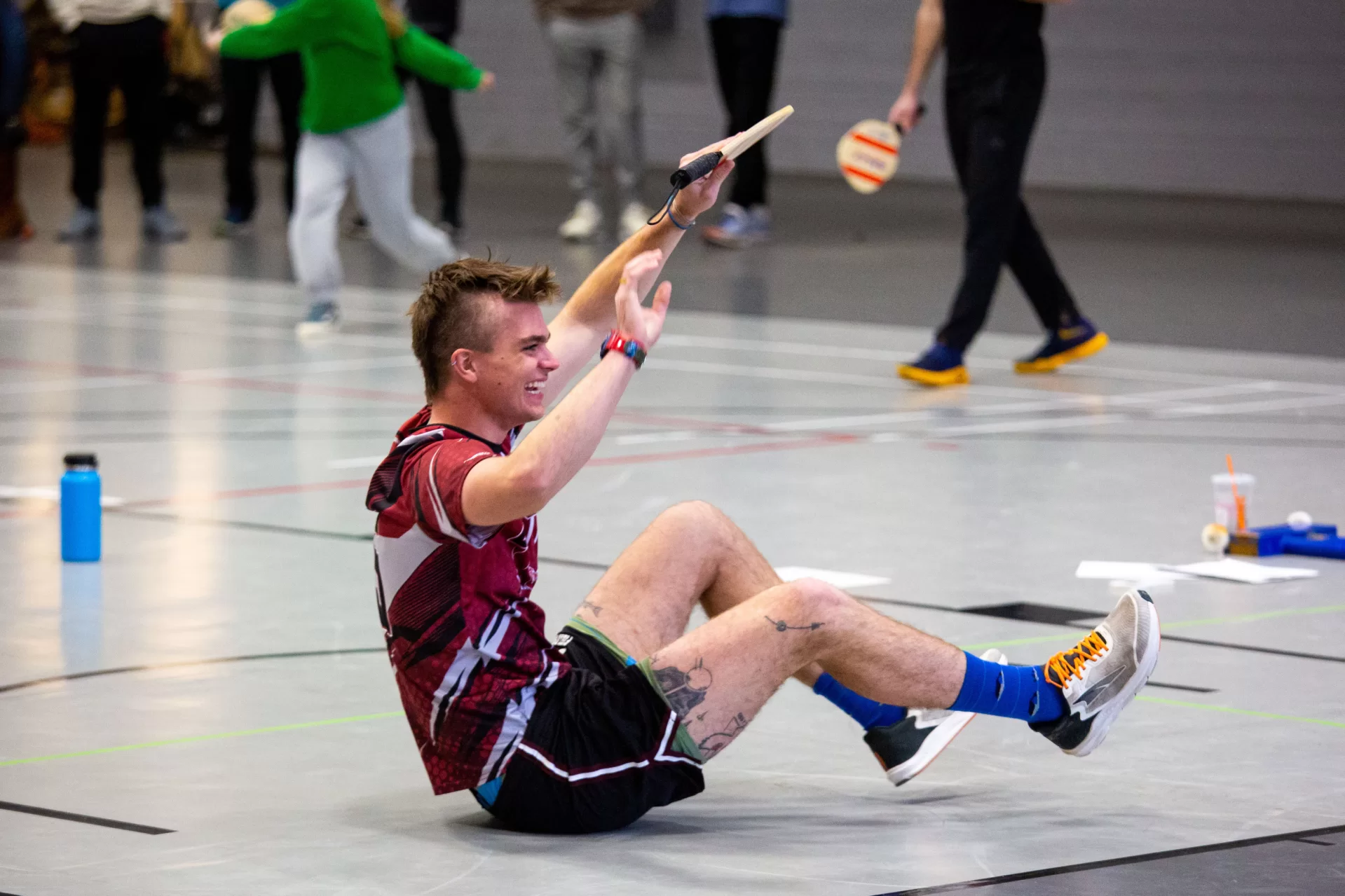 Cal Schrupp '24 of Gilford, N.H., gestures after landing in a sitting position in in the Gray Athletic Building, during a recent pickleball tournament fundraiser organized by the Bates women's lacrosse team to support the team's pre-season trip to Colorado.
---
Almost, Maine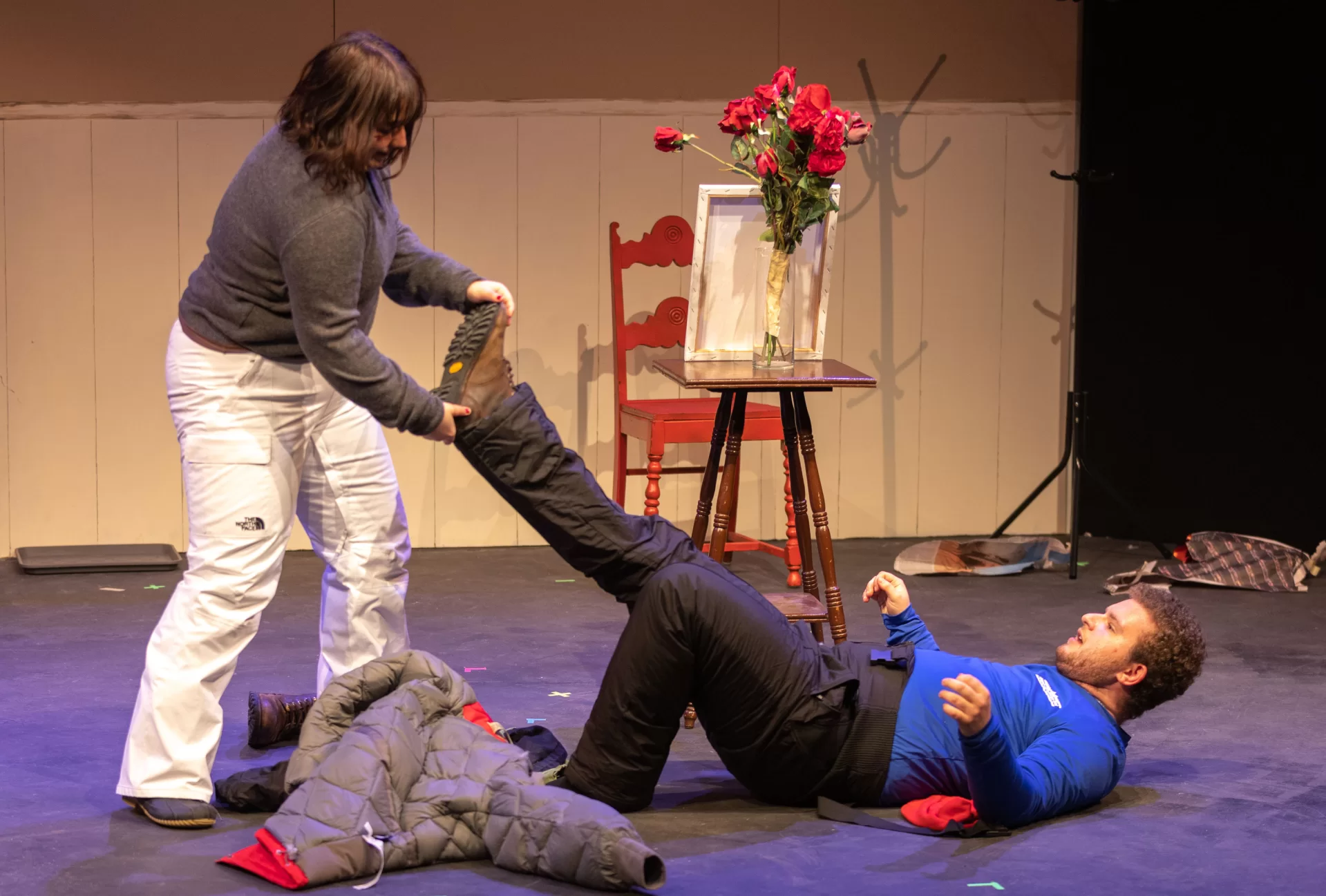 Lila Shamsi '26 of San Francisco pulls a boot off the foot of Mason Bunker '23 of New York City during the Robinson Players' production of Almost, Maine, in Gannett Theater.
In the play, residents of the fictional town of Almost, Maine, "find themselves falling in and out of love in unexpected and hilarious ways. Knees are bruised. Hearts are broken. But the bruises heal, and the hearts mend—almost—in this delightful midwinter night's dream."
---
Faculty Fans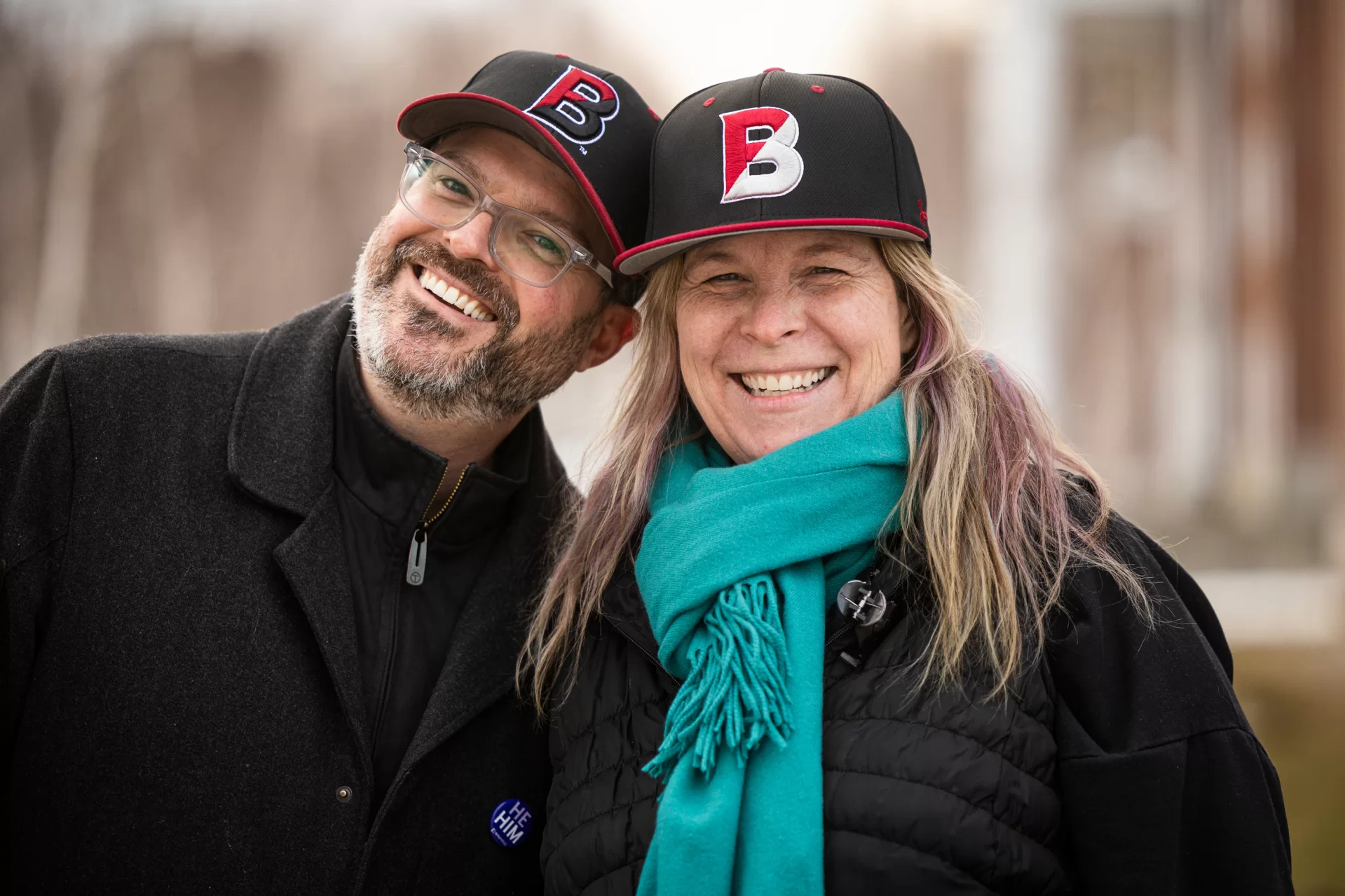 Associate Professor of Sociology Mike Rocque (left) and Professor of Rhetoric, Film, and Screen Studies Stephanie Kelley-Romano put their heads together on Alumni Walk to telegraph their Bobcat pride.
The professors both serve as faculty liaisons, Kelley-Romano for women's lacrosse, Rocque for football. "We are really proud to support athletics as a core part of the Bates education," said Rocque. "And we're excited for the sights and sounds of spring sports after a long winter."
Faculty liaisons support Bobcat athletes by partnering with varsity teams, ensuring strong connections between students' academic and athletic experiences.
---
Full Stretch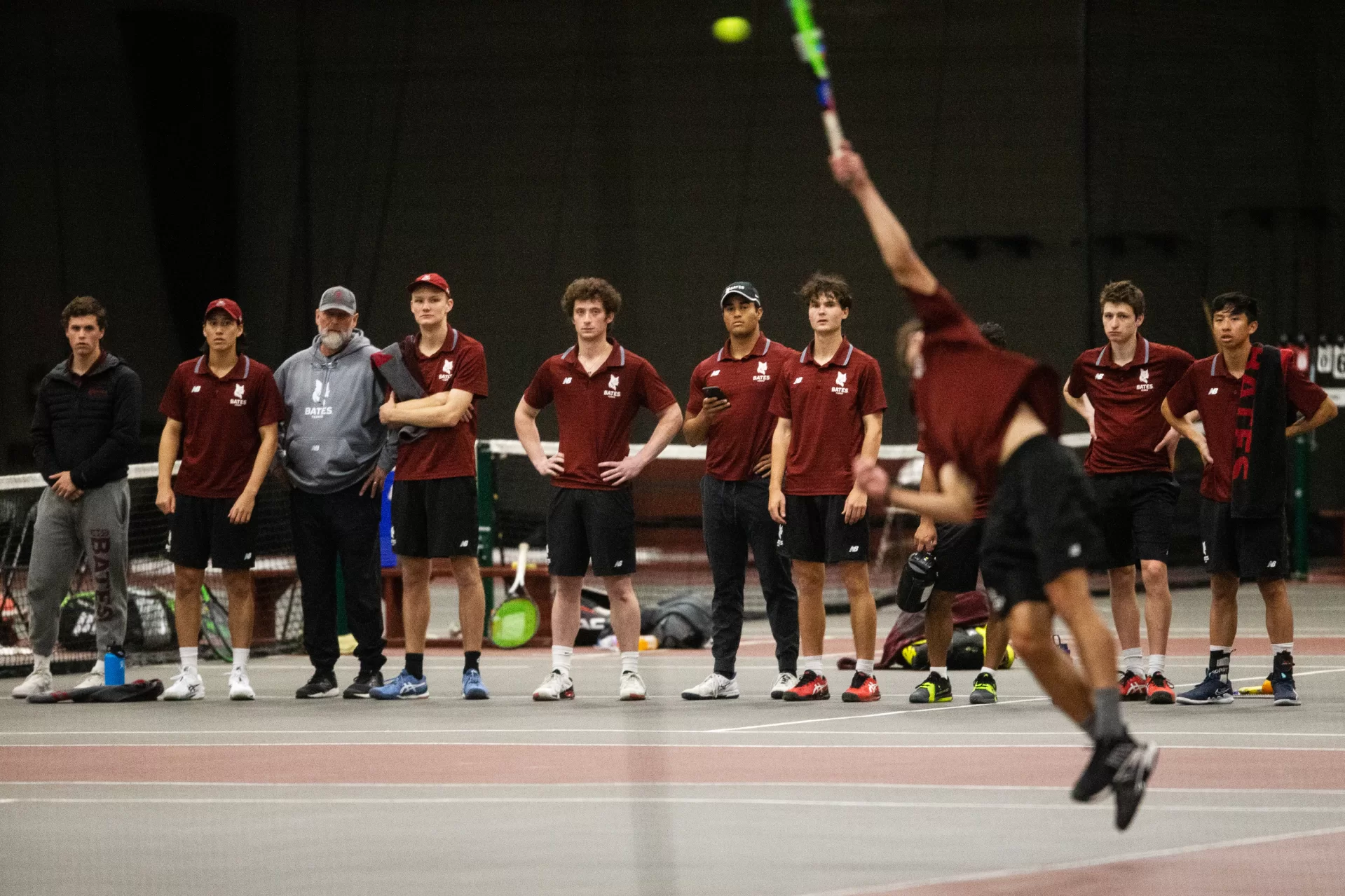 The Bates men's tennis team watches with interest as Alexander Gujarathi '24 of Plymouth, Mass., serves at No. 1 doubles in an eventual win for Gujarathi and doubles partner Cameron Kania '23 of Middlefield, Conn., against their opponents from No. 4 nationally ranked Tufts.
---
Bobcat Pride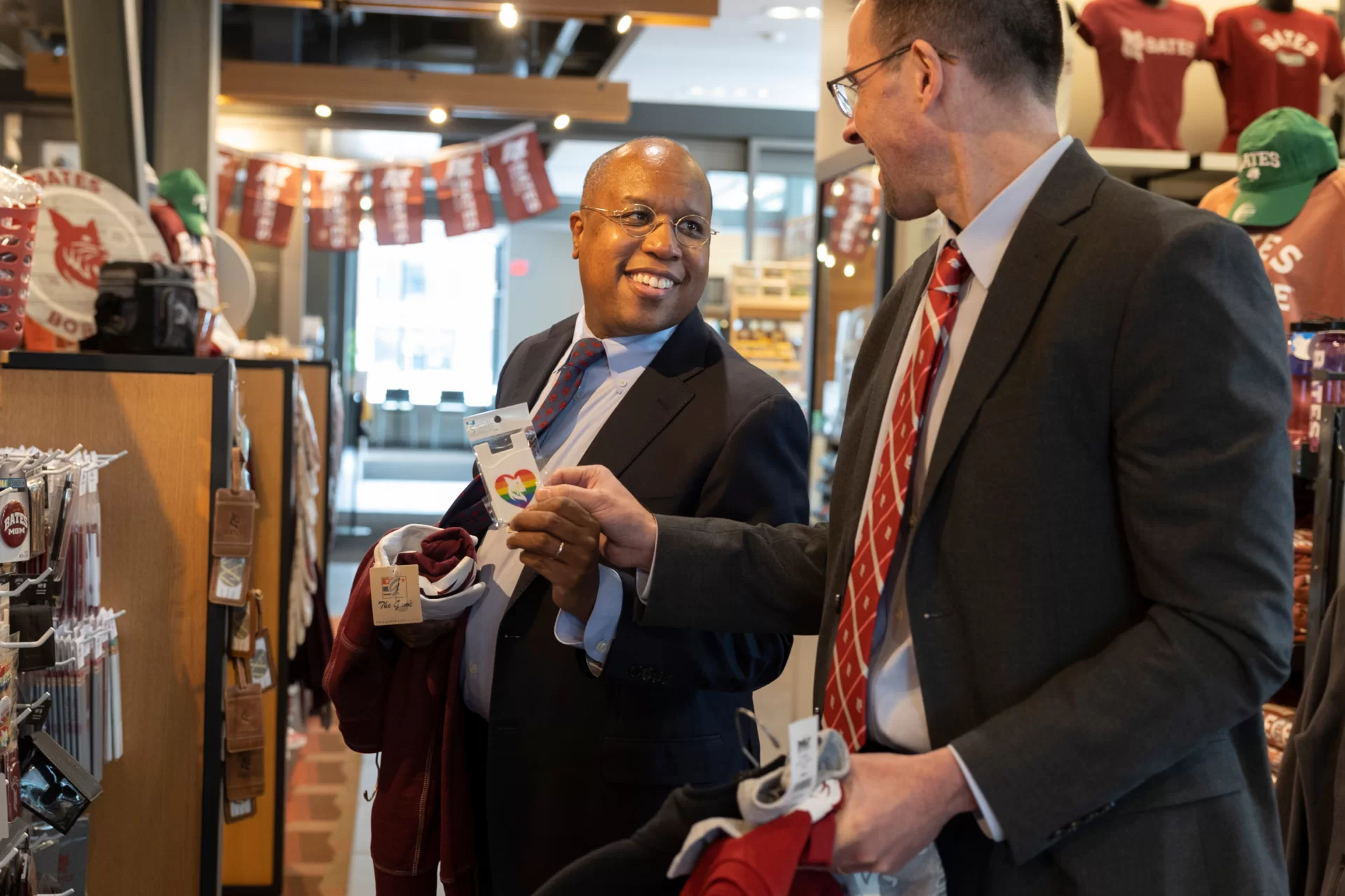 Bates President-elect Garry W. Jenkins (left) shares a moment with his husband, Jon J. Lee, as they drop by the campus store to pick up some Bobcat swag during their first visit to campus, March 6–7.
---
Warm Welcome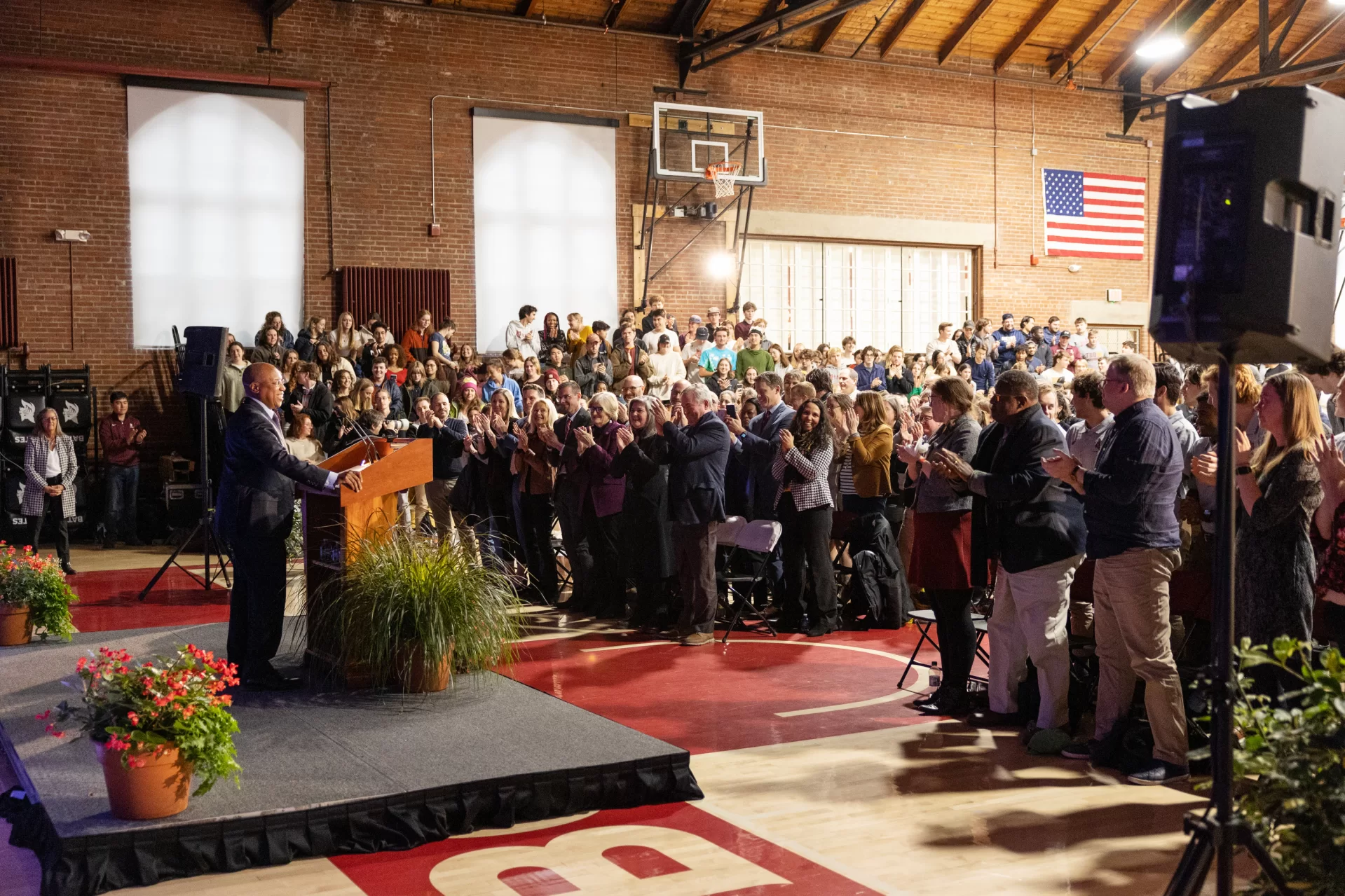 President-elect Garry W. Jenkins was received with a standing ovation, as he delivered his first remarks to the Bates community on March 7 in Alumni Gym.