When the Hathorn magnolia blooms, we relish its resilience and anticipate the end of the academic year. Short Term has arrived, and Commencement is not far off. Thesis bindings, admitted student receptions, retirement parties, and athletic achievements remind us that This Month at Bates is a time to celebrate.
---
Les Amis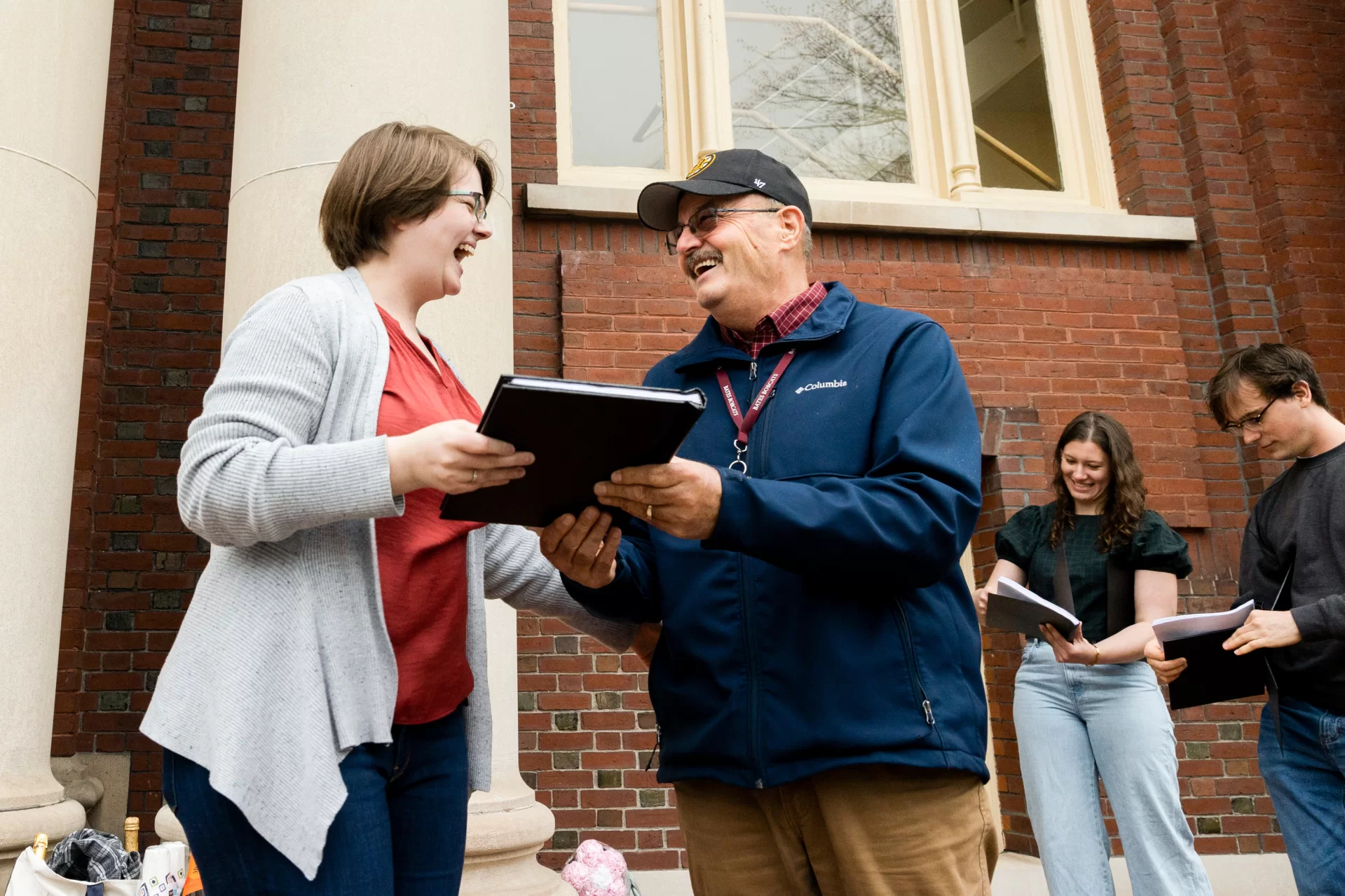 Martha Coleman '23 of Seattle gets help binding her honors thesis from a life-long Lewiston resident, Herb Saucier.
He met Coleman while driving the Bobcat Express Service Learning Shuttle, which transports students like Coleman to their community activities. Saucier has a Franco-American heritage, which sparked a connection between the two.
"My thesis is about the evolving role of French in Maine," explains Coleman. "As a Franco-American and French speaker, Herb has been a great friend and contributor to the brainstorming process surrounding my thesis."
---
Lavender Love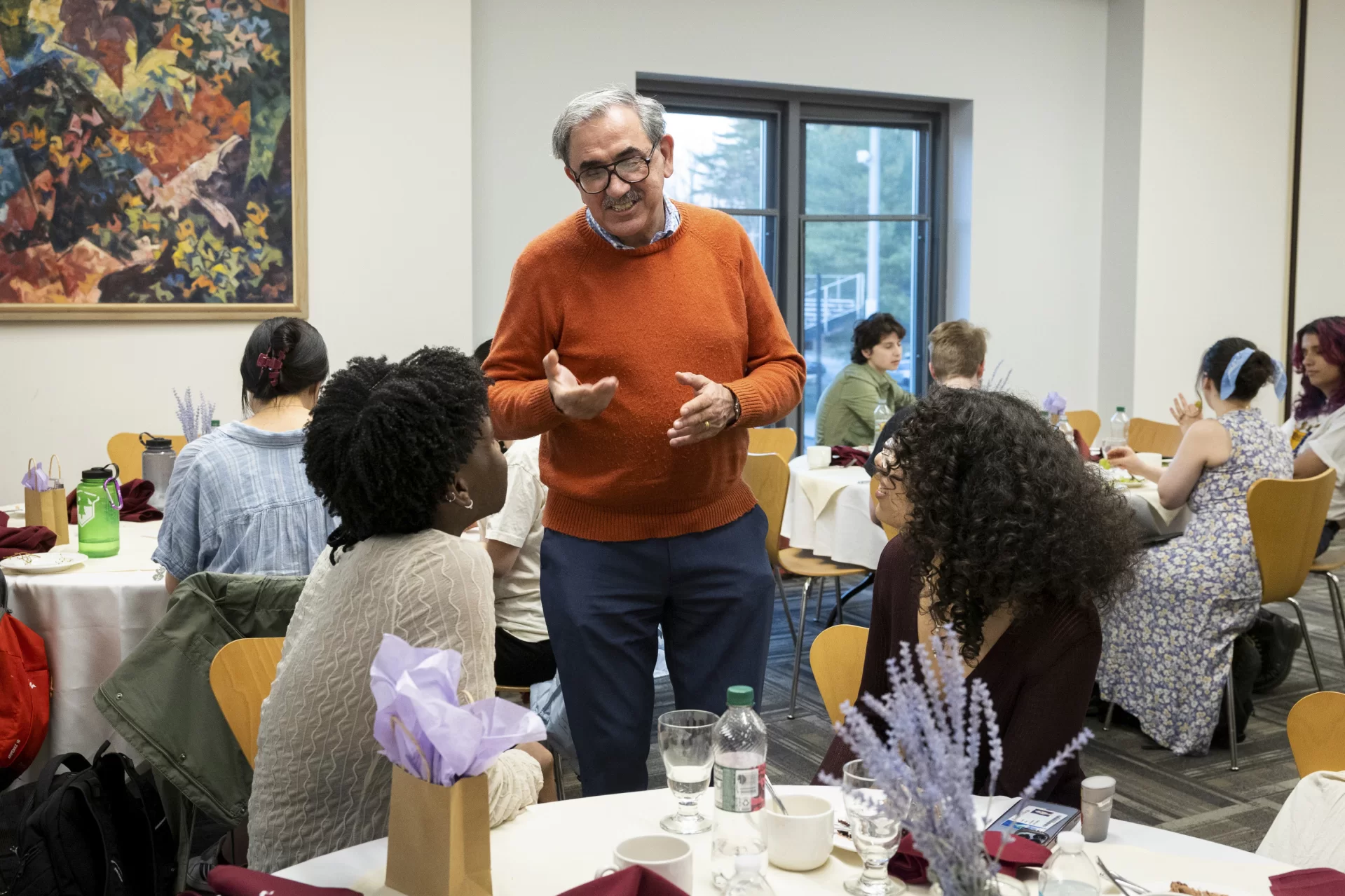 Professor of Hispanic Studies Baltasar Fra-Molinero (center) speaks with Sam Jean-Francois '23 (left) of Medford, Mass., and Emily Diaz '23 of Corona, N.Y., during the Lavender Celebration, an end-of-year celebration for LGBTQ+ seniors and their allies.
---
Greeted with Song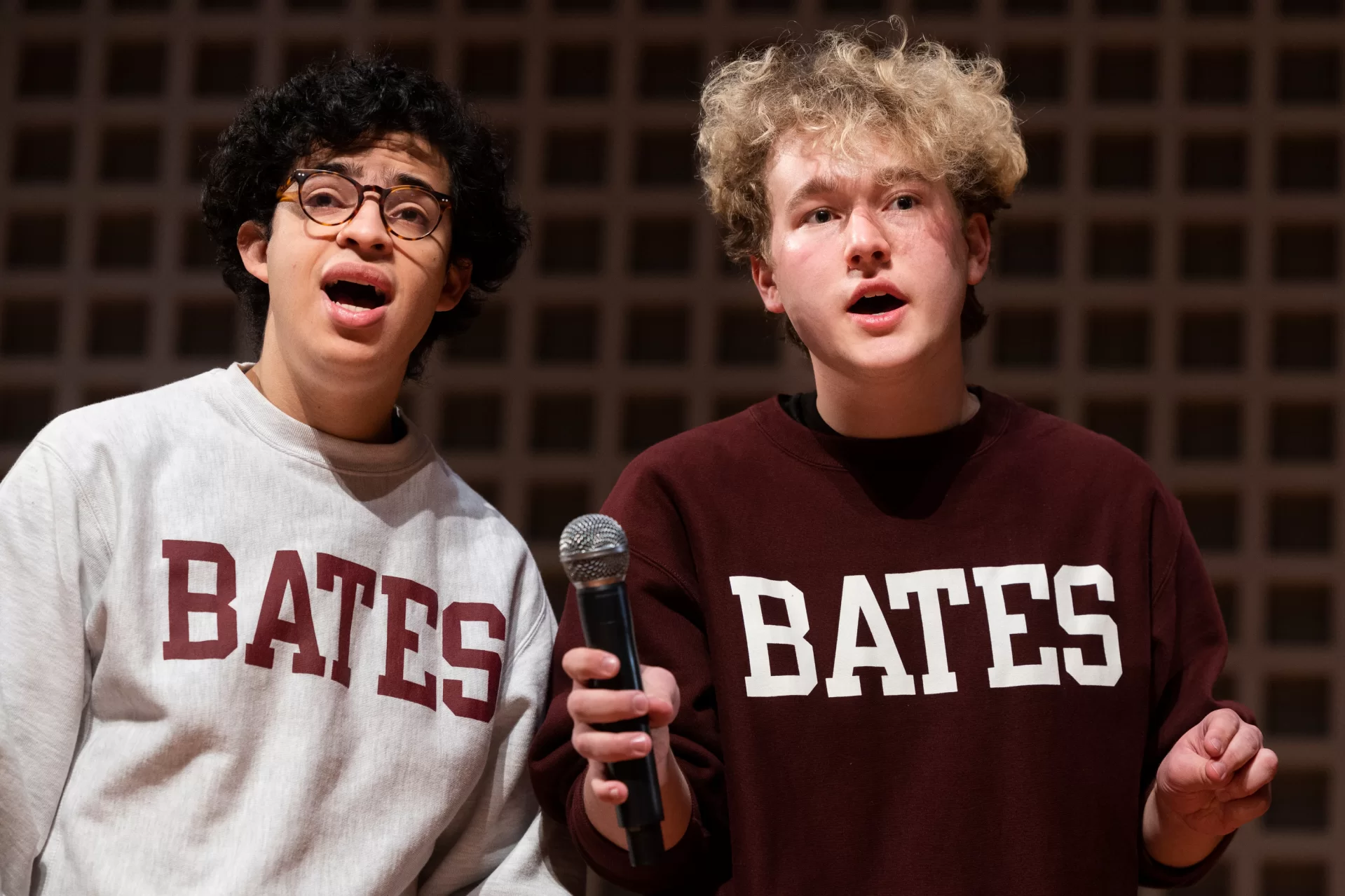 Manuel Machorro '25 (left) of Mexico City and John Campana '26 of Plymouth, Mich., both members of the Deansmen, a Bates a capella group, perform during April's second Admitted Student Reception, which gave admitted students a chance to get a taste of the Bobcat life, from food, to music, to academics.
---
Backatcha!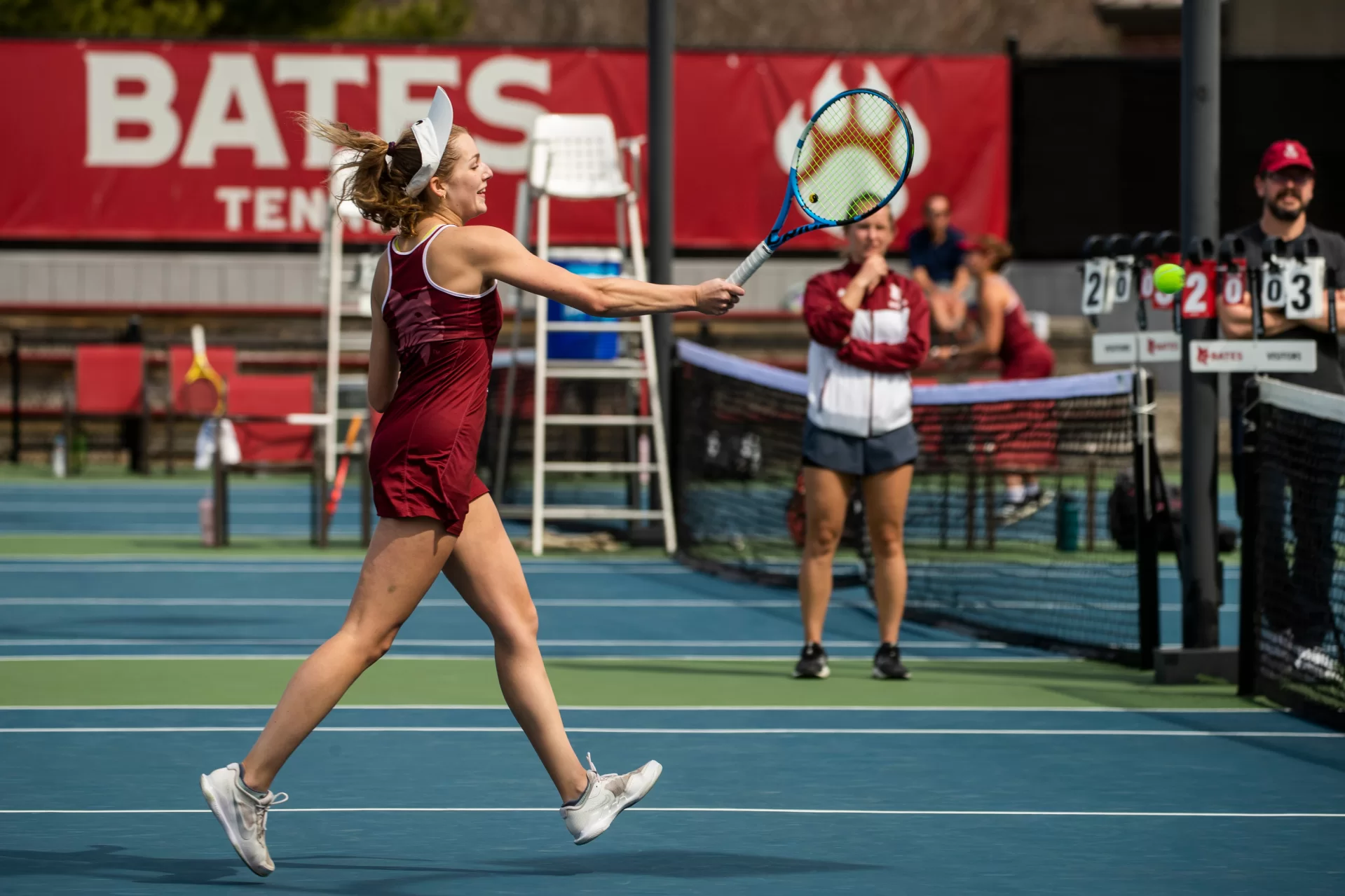 Alexandra D'Aquino '23 of Weston, Conn., returns a shot during the women's tennis team's 6-3 win over Connecticut College at the Wallach Tennis Center on April 15.
---
'Welcome to Bates College'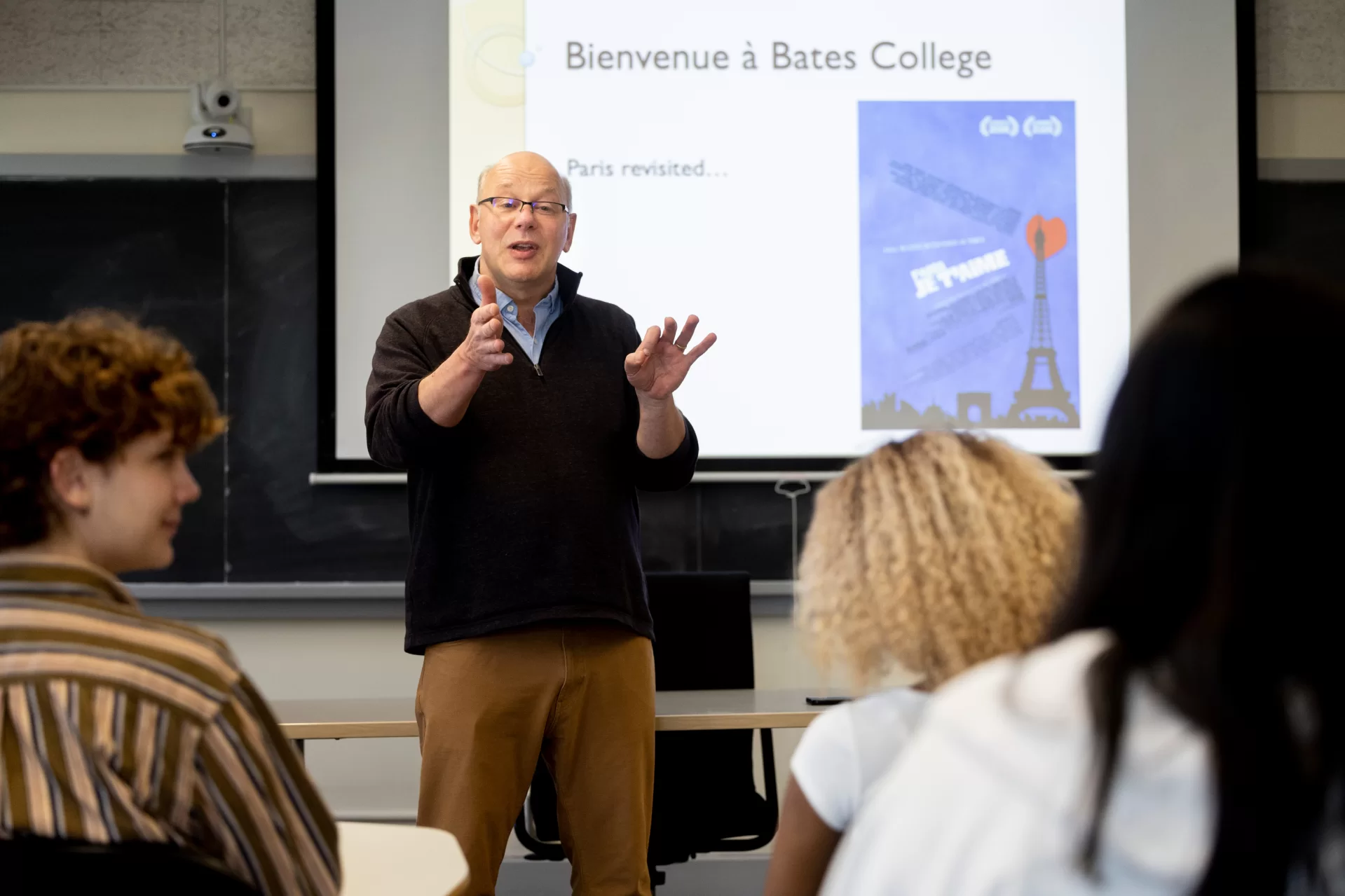 Admitted students and their parents got a chance to see Bates' classroom culture up close and personal during a masterclass titled "Paris Revisited," delivered by Professor of French and Francophone Studies Alexandre Dauge-Roth during an Admitted Students Reception.
---
End of an Era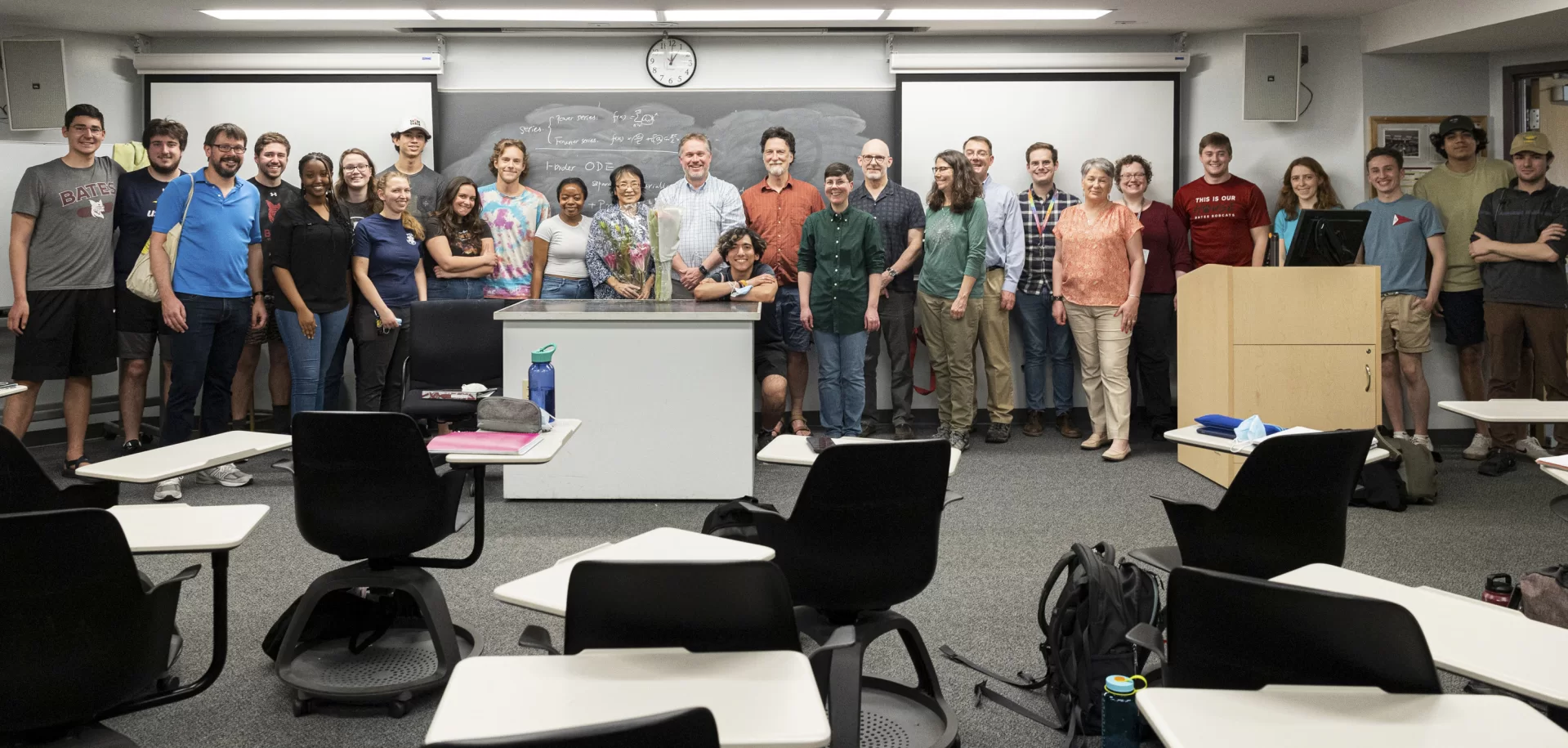 Hong Lin, who is retiring this year as Dana Professor of Physics, holds a bouquet of flowers while being surrounded by students, staff, and faculty who gathered in a Carnegie Science Hall classroom to celebrate Lin at the conclusion of her final Bates class.
---
Parent Power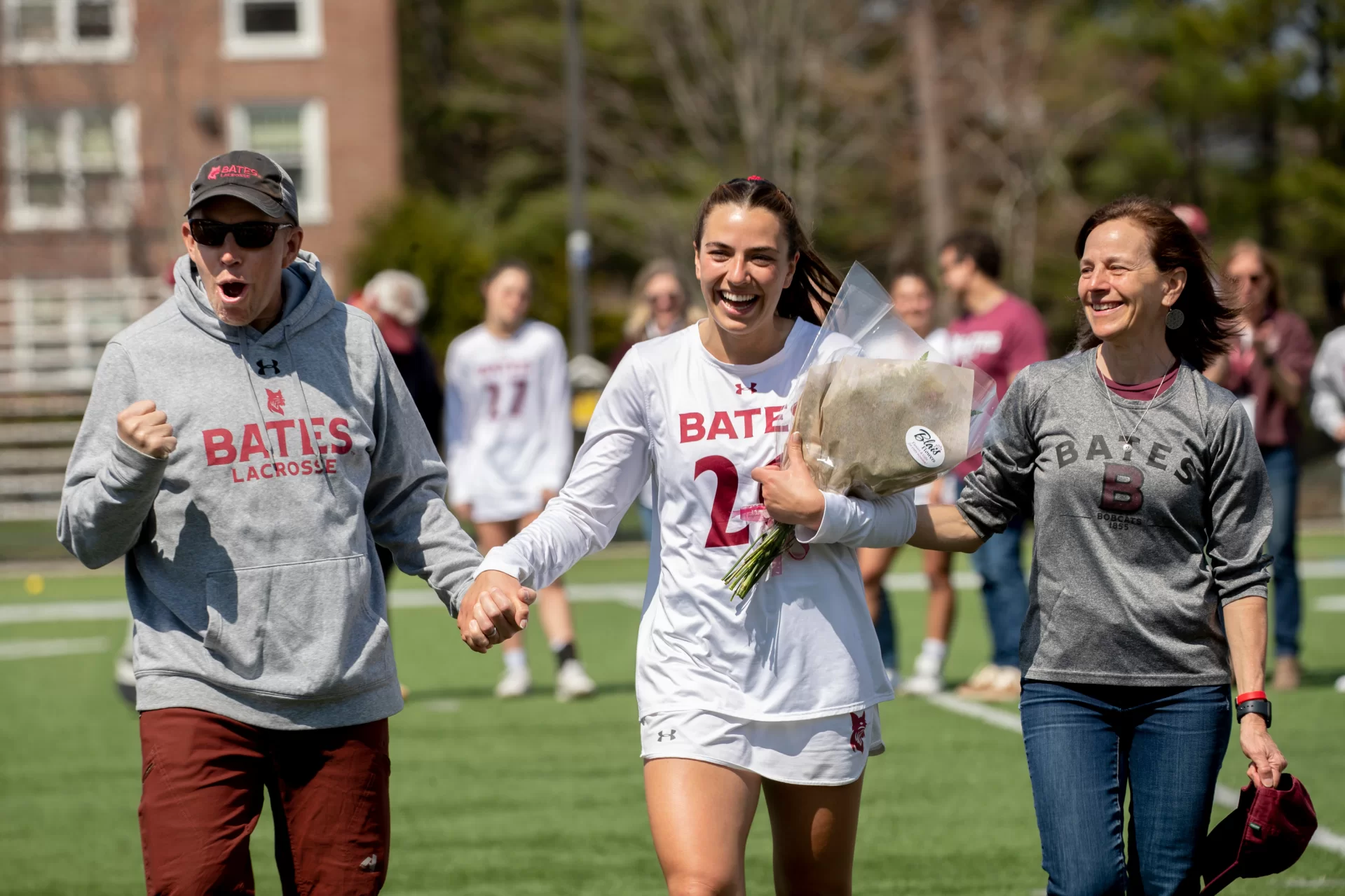 Zoe Knauss '23 of Buffalo, N.Y., and her parents celebrate Senior Day at Garcelon Field on April 15. The Bates women's lacrosse team honored their seven seniors before taking on Connecticut College to wrap up their home schedule.
---
A Time for Tribute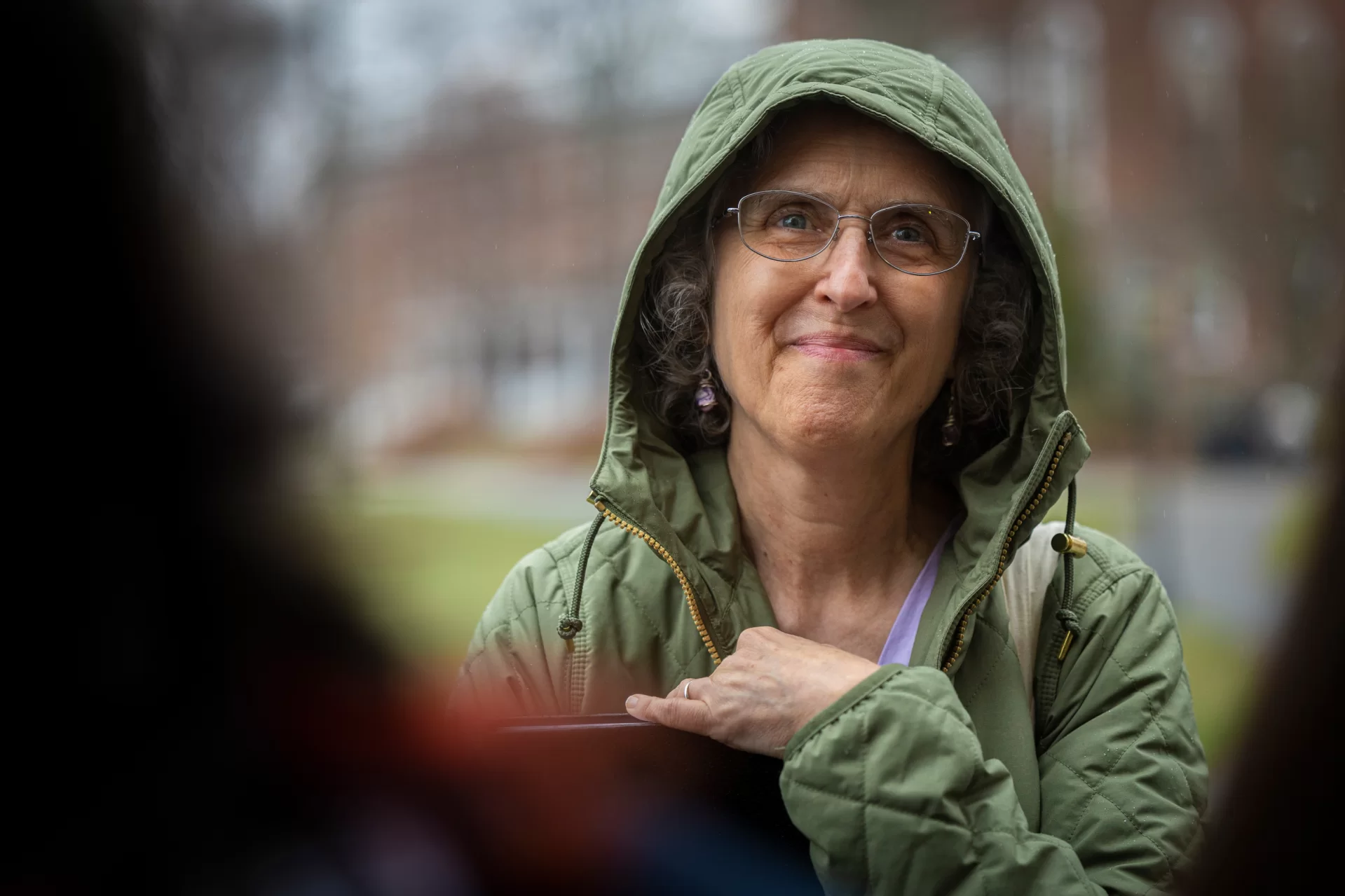 Professor of Sociology Emily Kane listens as one of her thesis advisees, Allison Fischman '23 of Woodbridge, Conn., pays tribute to Kane during a thesis binding ceremony outside Coram Library. Fischman's thesis is titled "Adverse Childhood Experiences: Conceptualizations in Research and Policy."
---
Bobcat Roar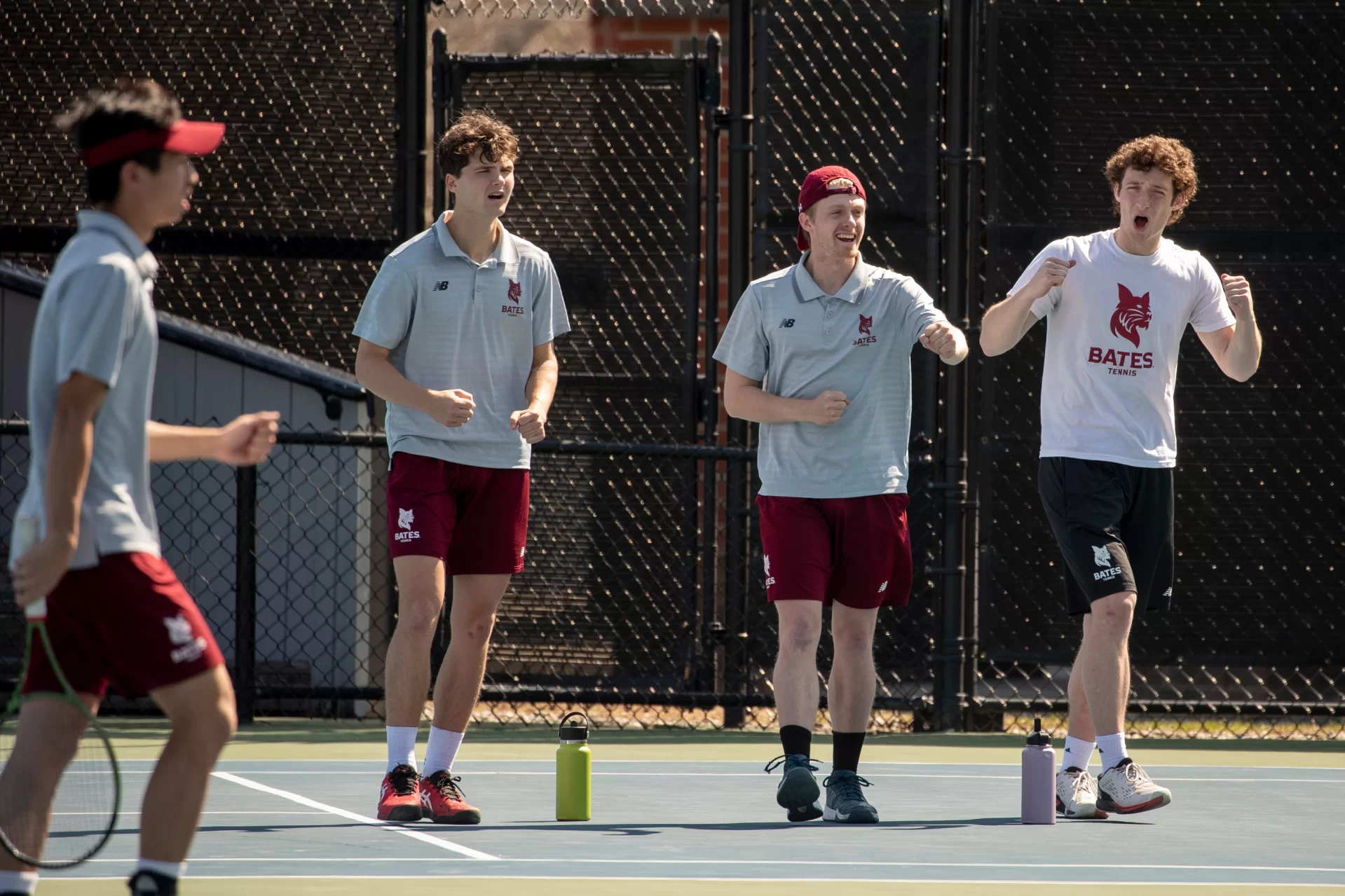 Bates men's tennis players cheer on team captain Teddy Koide '23 of Morristown, N.J., during his match against Connecticut College at the Wallach Tennis Center. The Bobcats won 9-0.
---
Mind Over Moon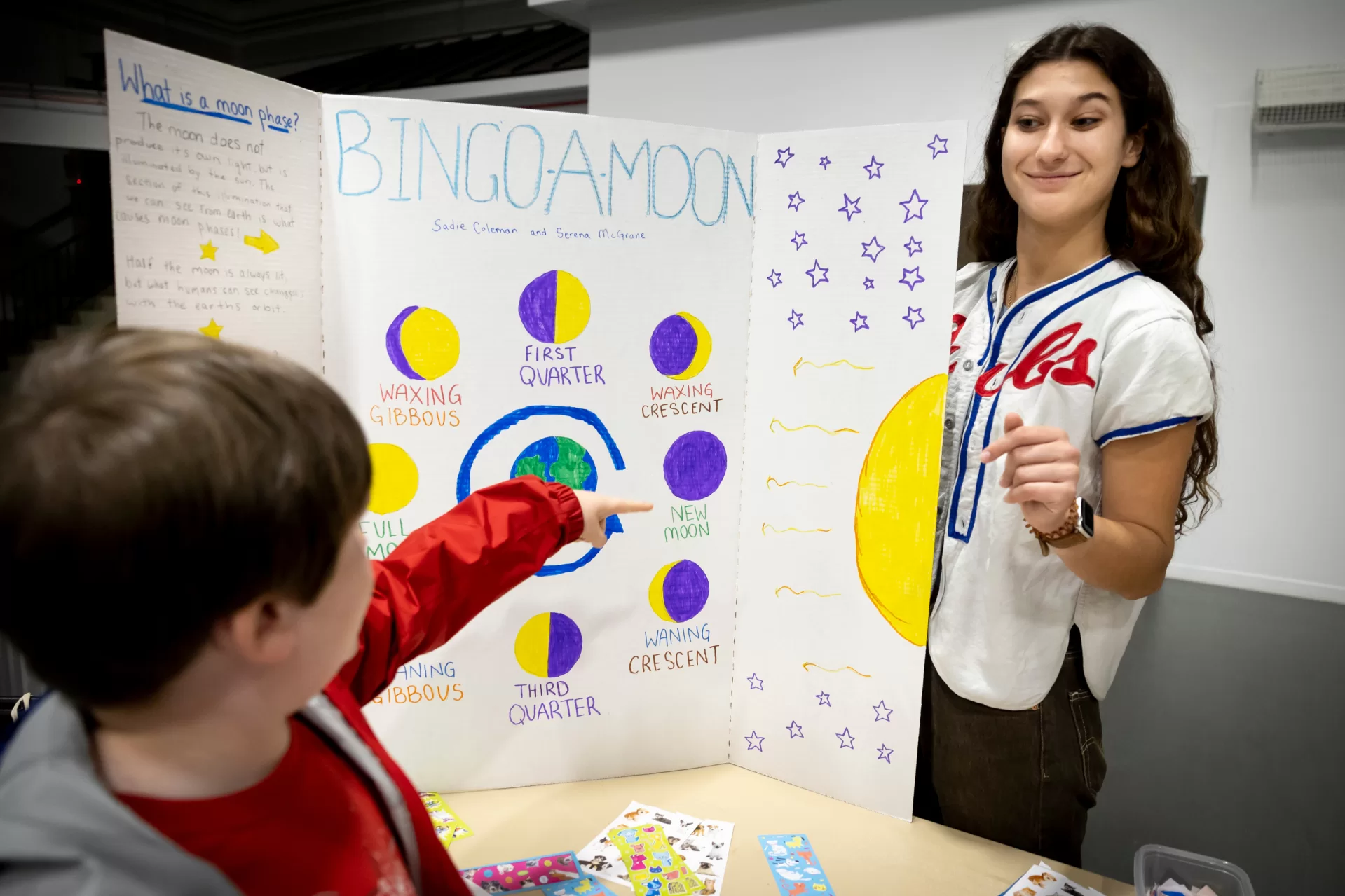 Sadie Coleman '25 of Venice, Calif., explains the phases of the moon cycle to Teddy Roque, age 7, son of Associate Professor of Sociology Michael Rocque, during the Bates Astronomy Extravaganza on April 17 in the Gray Athletic Building.
Students from Associate Professor of Physics Aleks Diamond-Stanic's Intro to Astronomy course held 20 interactive learning activities on topics including constellations, seasons, moon phases, planets and stars, gravity, telescopes, supernova explosions, and black holes.
---
New Friends in a New Place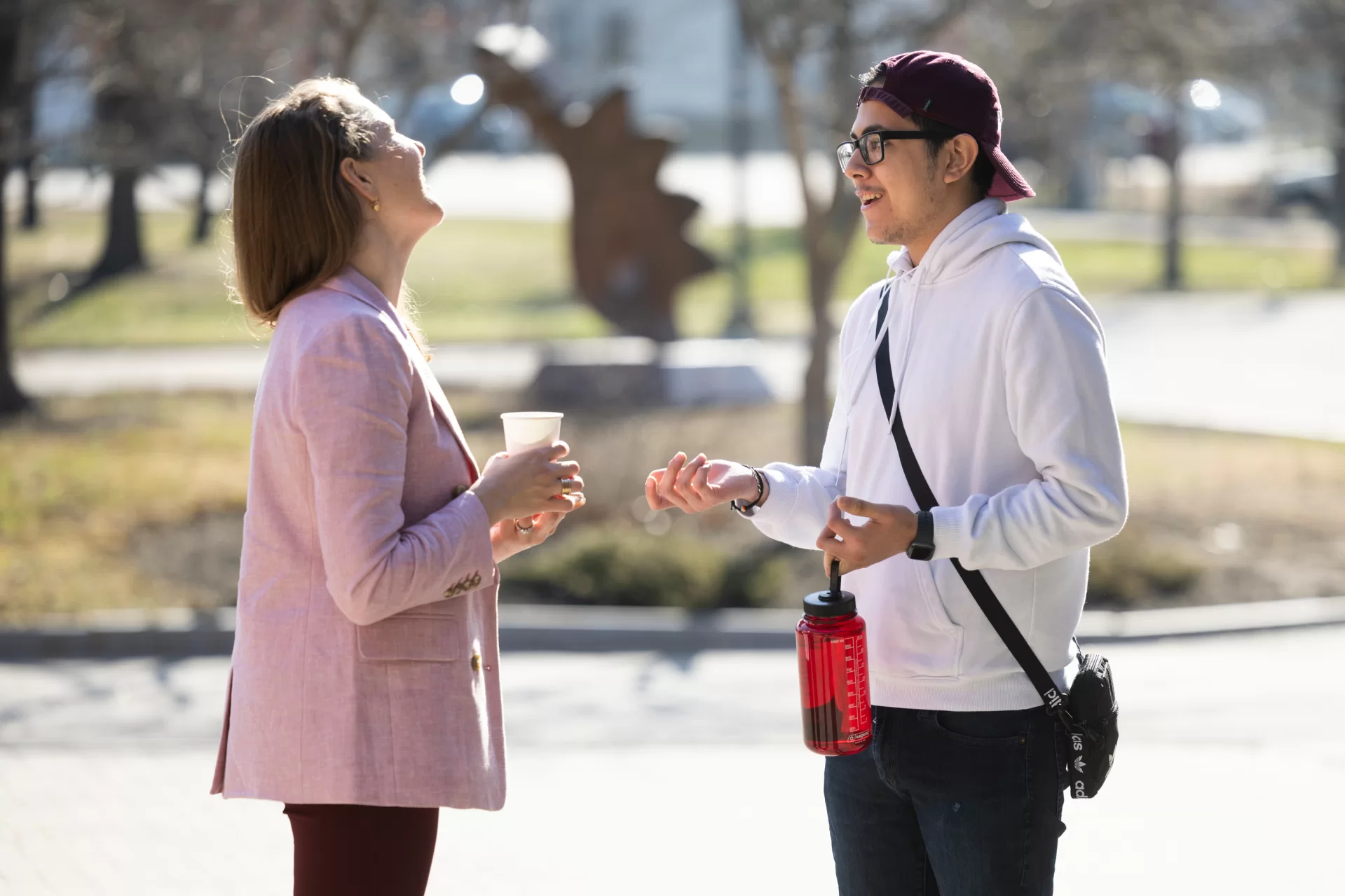 Leigh Weisenburger, vice president for enrollment and dean of admission and financial aid, speaks with Eduardo Mazariegos Mancia, a senior at Somerville (Mass.) High School and a recently admitted student, outside the Olin Arts Center prior to kickoff of an Admitted Students Reception.
---
Abstract Attention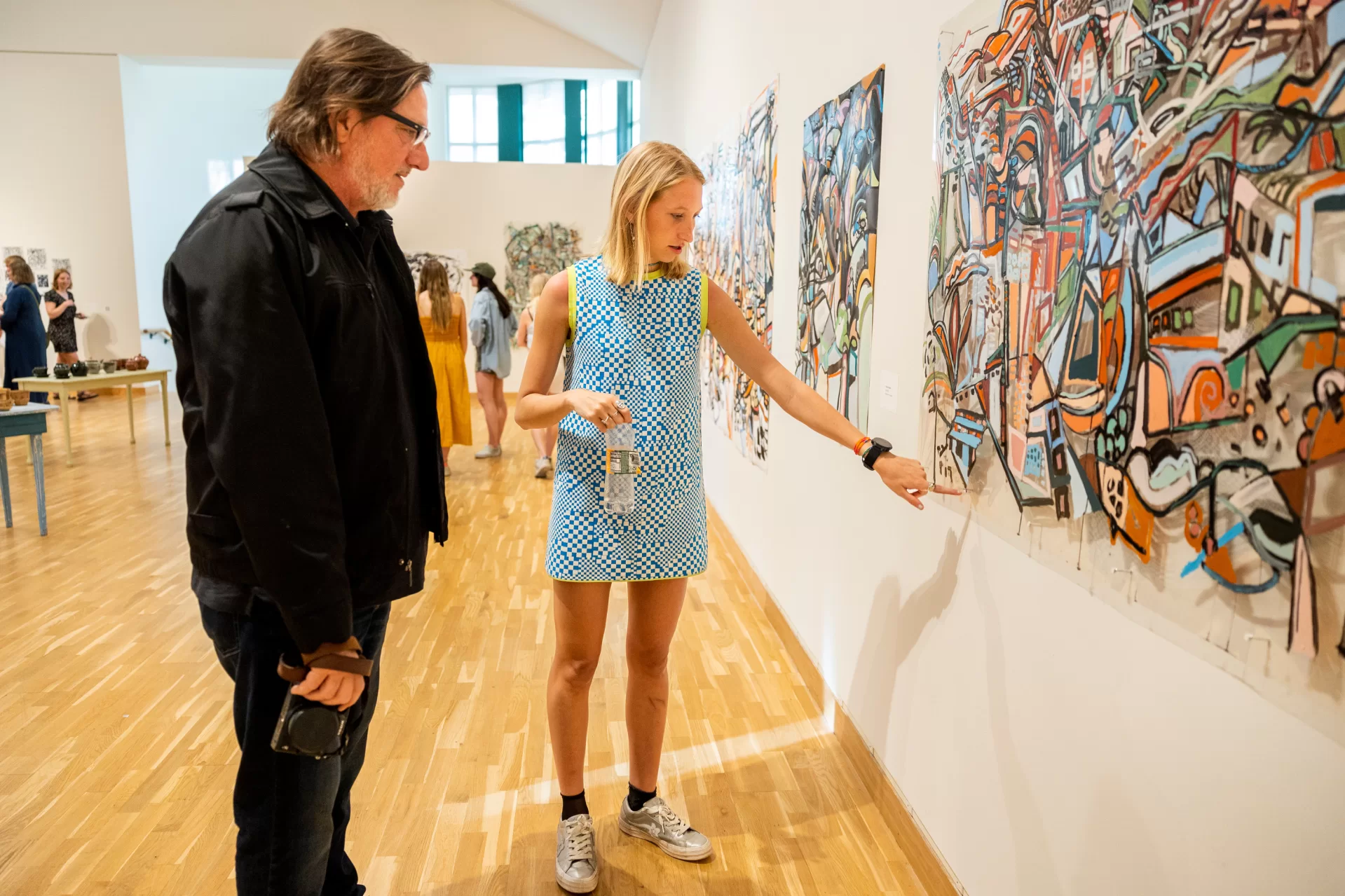 Frieda Kickliter '23 of Mobile, Ala., points to a detail on one of her paintings to her father, Orren Kickliter. Her portfolio of large-scale abstract paintings, inspired by urban and natural landscapes, are on display through May 27 as part of the Annual Senior Thesis Exhibition in the Bates College Museum of Art.
---
A Rousing Cheer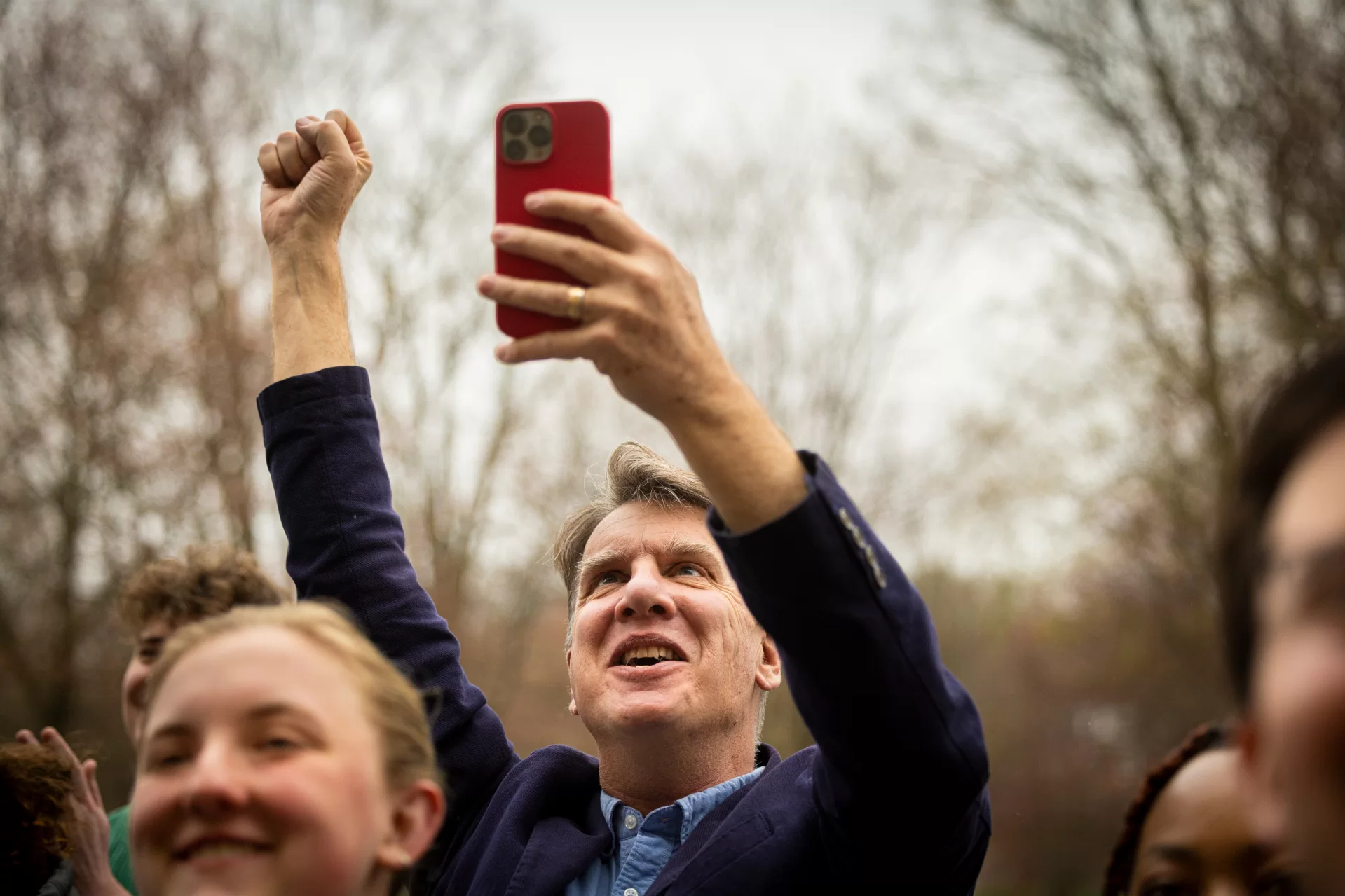 Professor of French and Francophone Studies Kirk Read cheers as Martha Coleman '23 of Seattle, a double major in French and Francophone studies and American studies, binds her thesis in front of Coram Library.
---
Goal-Getter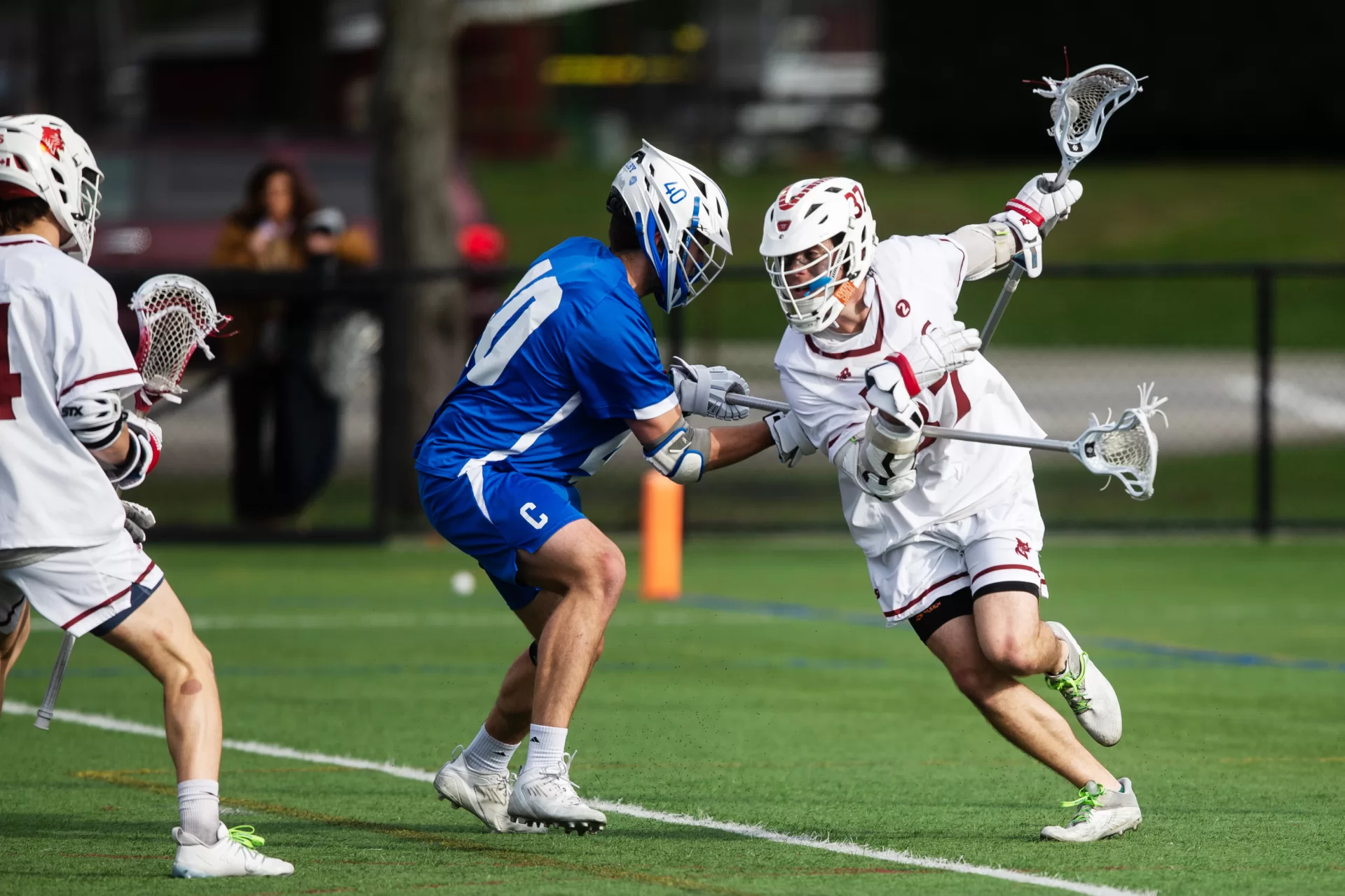 Brian Hart '26 of Atlanta scored a goal and recorded four ground balls against Colby in the season finale for the men's lacrosse team at Garcelon Field.
---
Spring Blues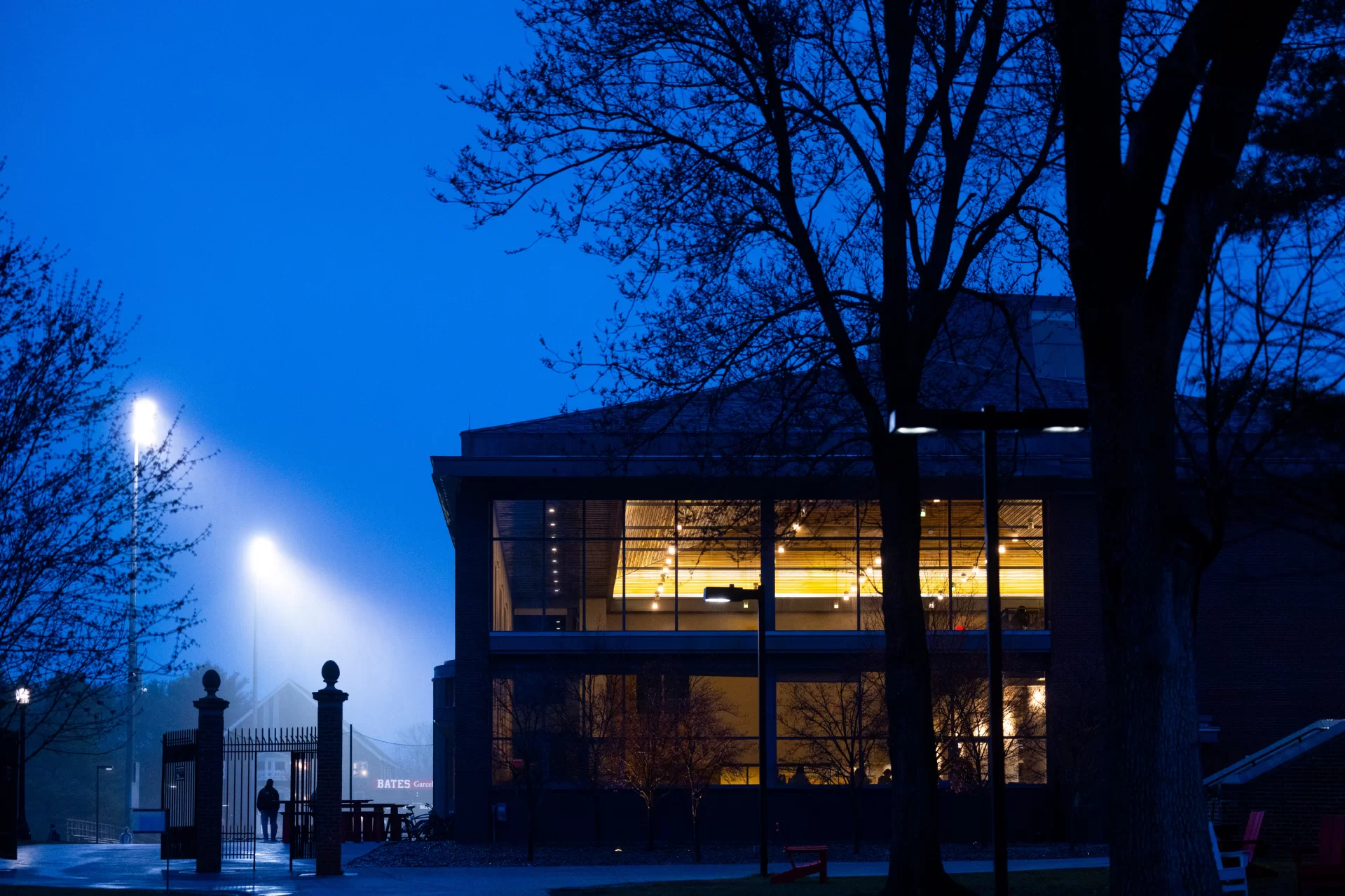 A spring fog cloaks Commons in blue shadows as dusk falls on campus.
---
Run, Batter, Run!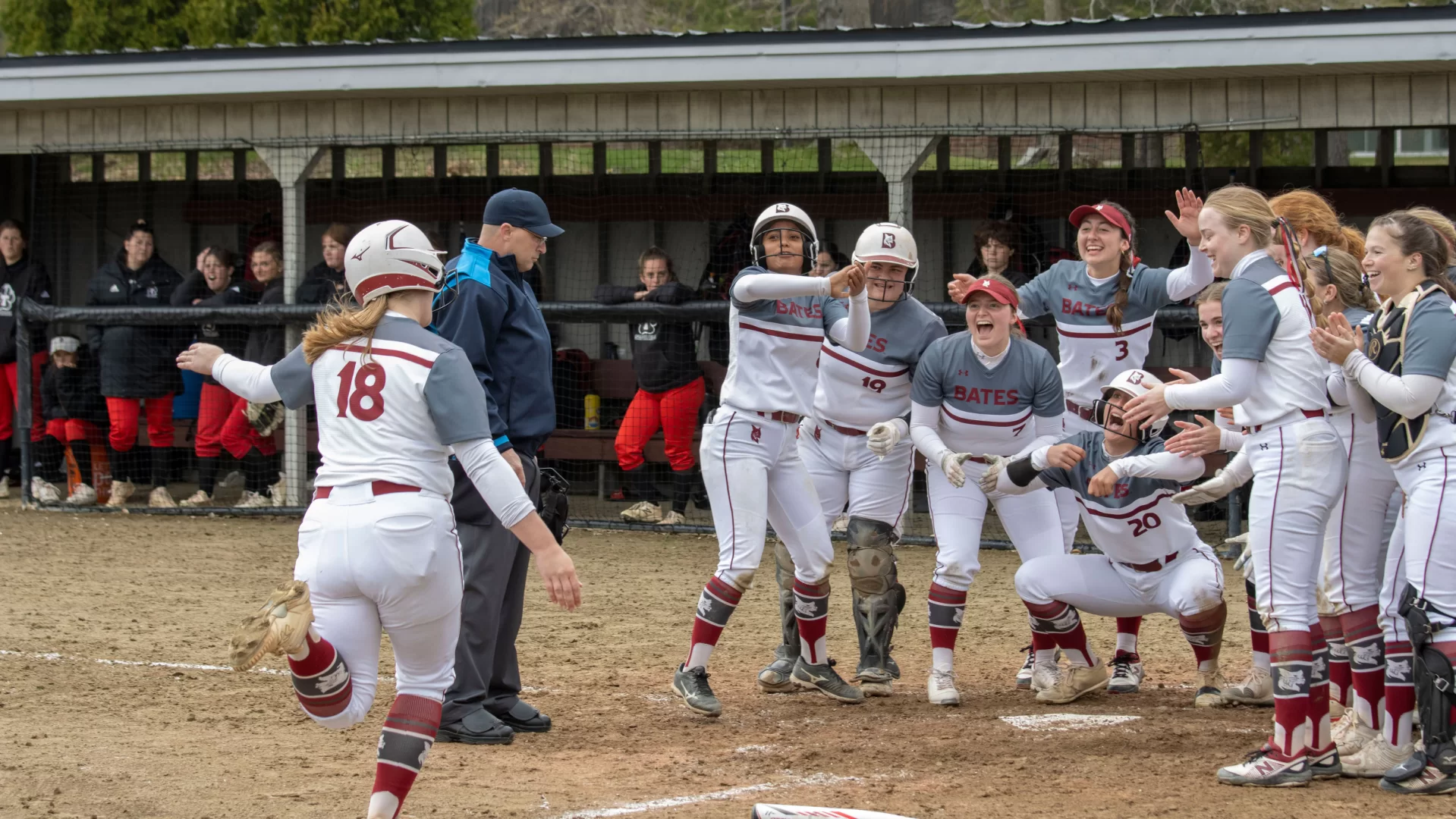 Madison Hollis '26 of McMinnville, Tenn., is greeted by her teammates after hitting her first collegiate home run. Hollis and the Bates softball team rolled to a doubleheader sweep of Thomas College at Lafayette Street Field on April 26.
---
Amphibian Assistance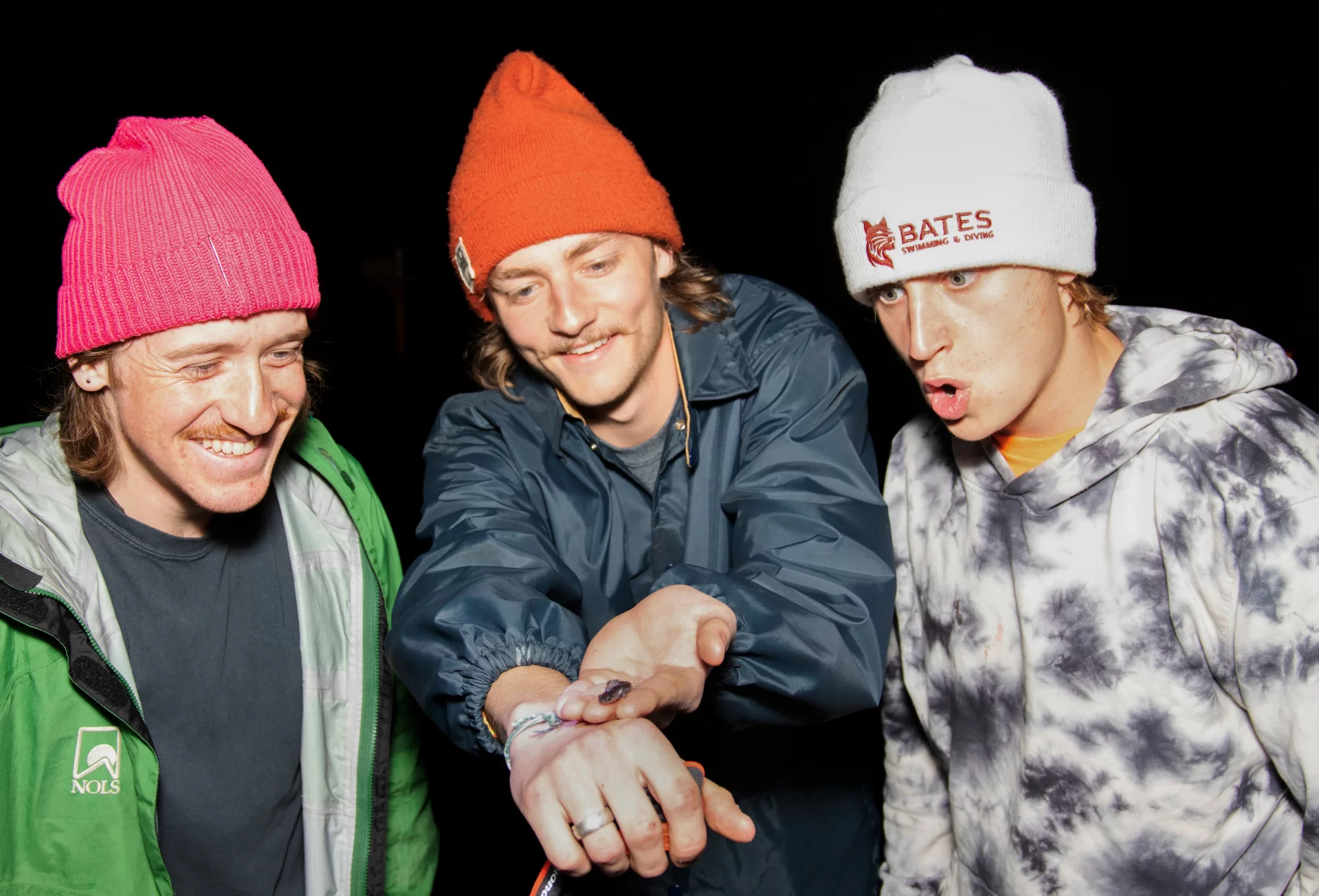 Flanked by Nash Holley '24 (left) of Freeport, Maine, and Will Dewey '24 (right) of Ithaca, N.Y., George Peck '24 of Philadelphia holds a salamander near Sabattus Pond on April 18. The trio, along with photographer Huck Triggs '24 of Malibu, Calif., were taking part of a statewide amphibian monitoring program known as Maine Big Night, helping frogs and salamanders cross roads toward their breeding pools.
"It is amazing how much the roads come alive during these nights," Triggs said, "not only with amphibians but owls, raccoons, foxes, and other animals that are actively hunting."
---
Resting Place, Living Space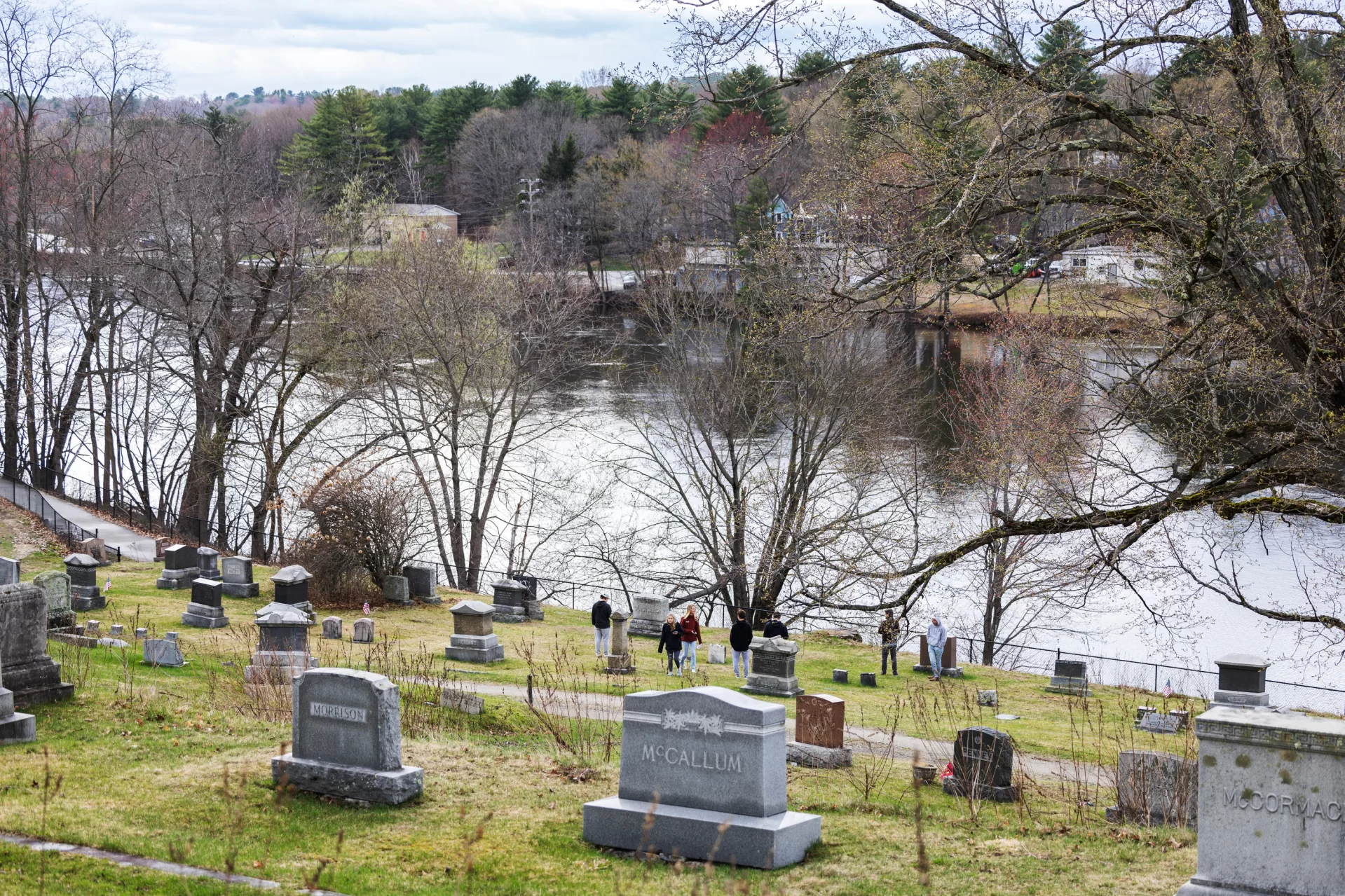 Assistant Professor of Digital and Computational Studies Anelise Shrout and students in her course "Public History in the Digital Age" road-test the audio walking tour they created that tells stories about people buried in Riverside Cemetery, located near campus along the Androscoggin River.
Besides being educational, the project is designed to draw people to a "beautiful green space in Lewiston," said Shrout. "It's a place for rest and contemplation, but also a place where people can interact with nature and with the people who have gone before them."
---
Pitch-Perfect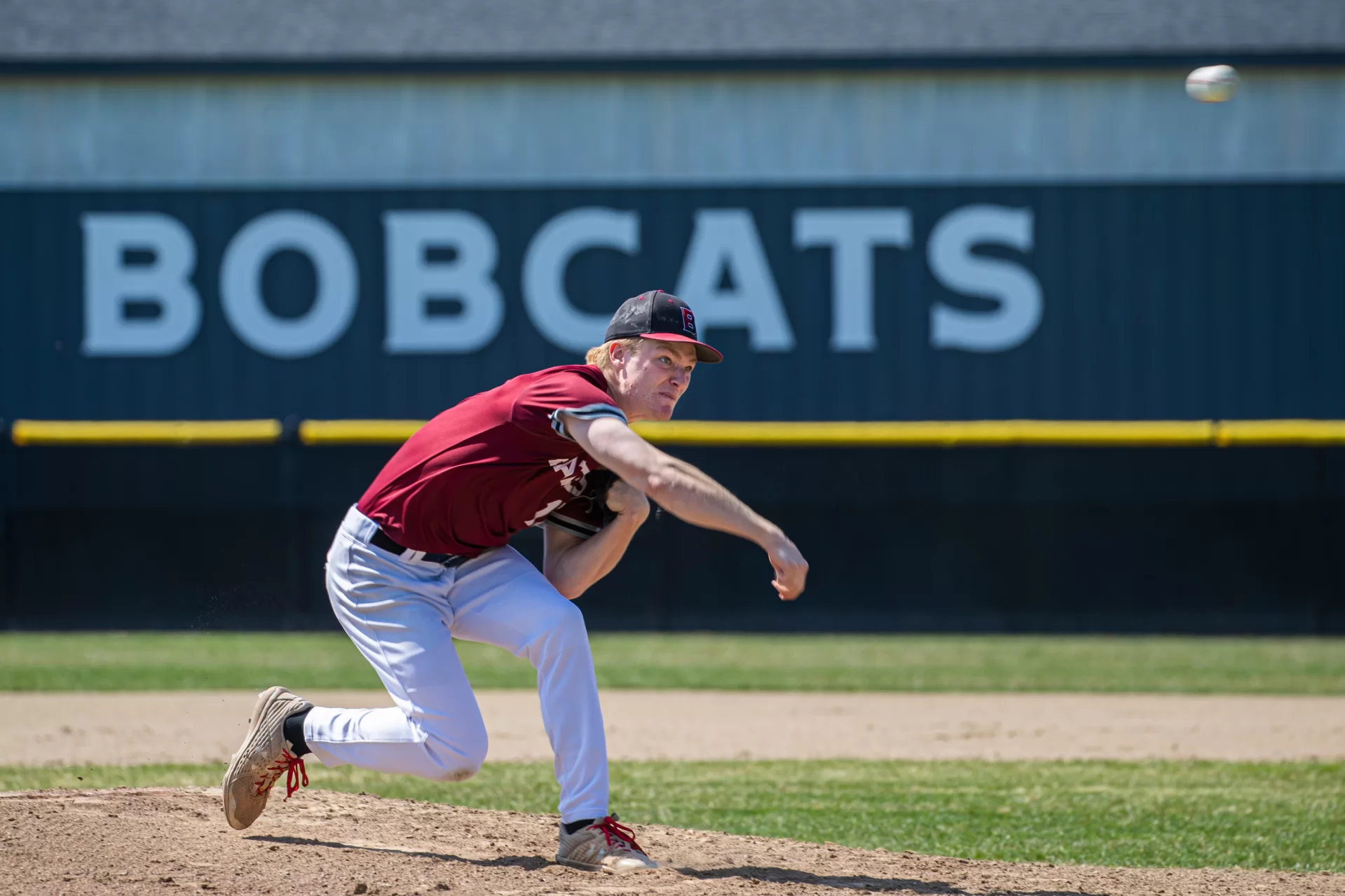 Sam Hough '24 of Dobbs Ferry, N.Y., delivers a pitch against NESCAC foe Trinity at Leahey Field. Hough struck out five batters in six innings of work.
---
Tiding His Time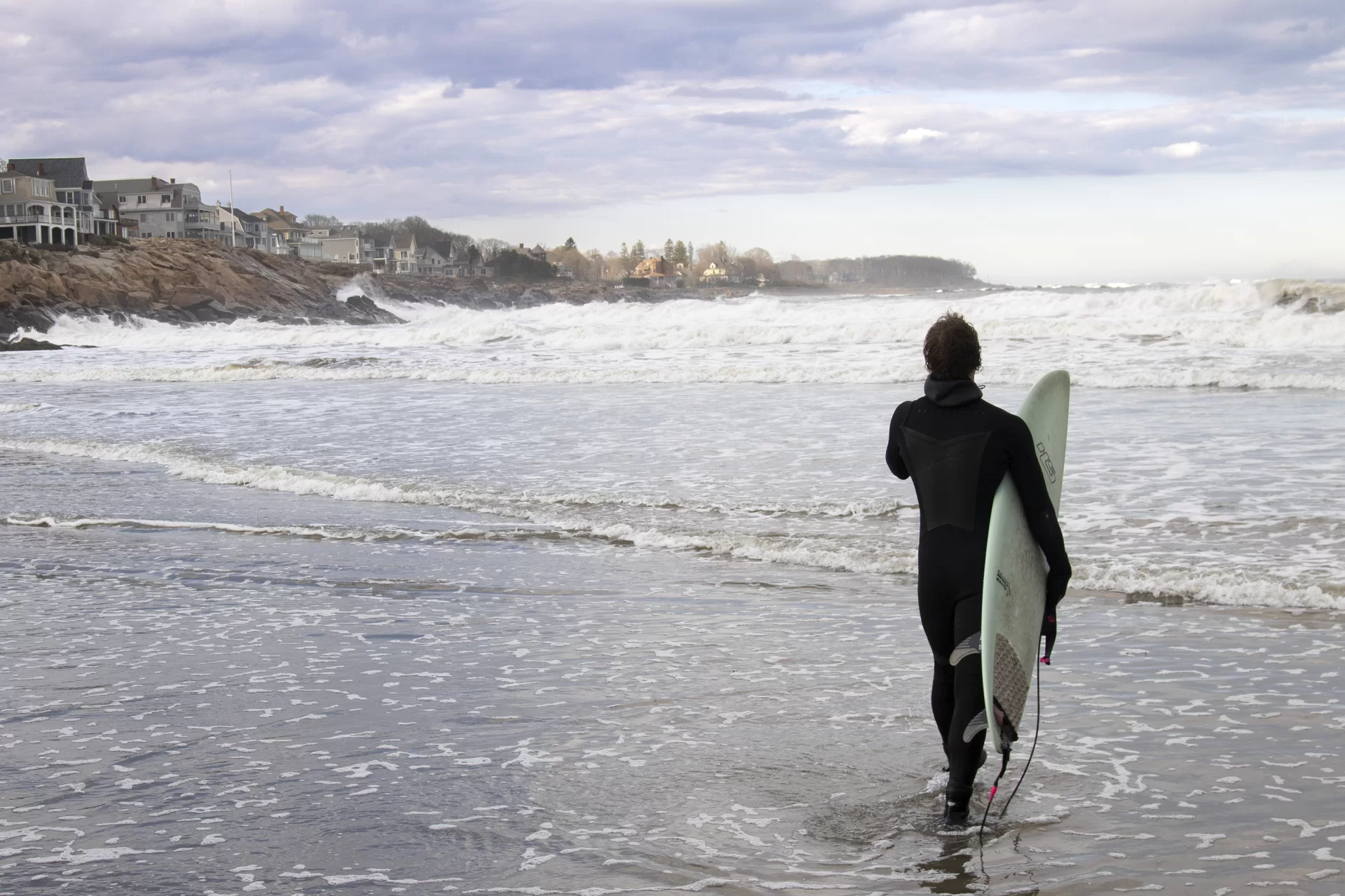 Photographed by his friend Huck Triggs '24 of Malibu, Calif., Wil Masterson '24 of York, Maine, wades into the surf on Short Sands Beach in York. "A strong spring swell brought 8-foot waves to the coast, and we surfed at mid-tide," Triggs said.
The pair share a love of surfing, which they pursued during studies abroad in Australia and Indonesia.
---
Pour Over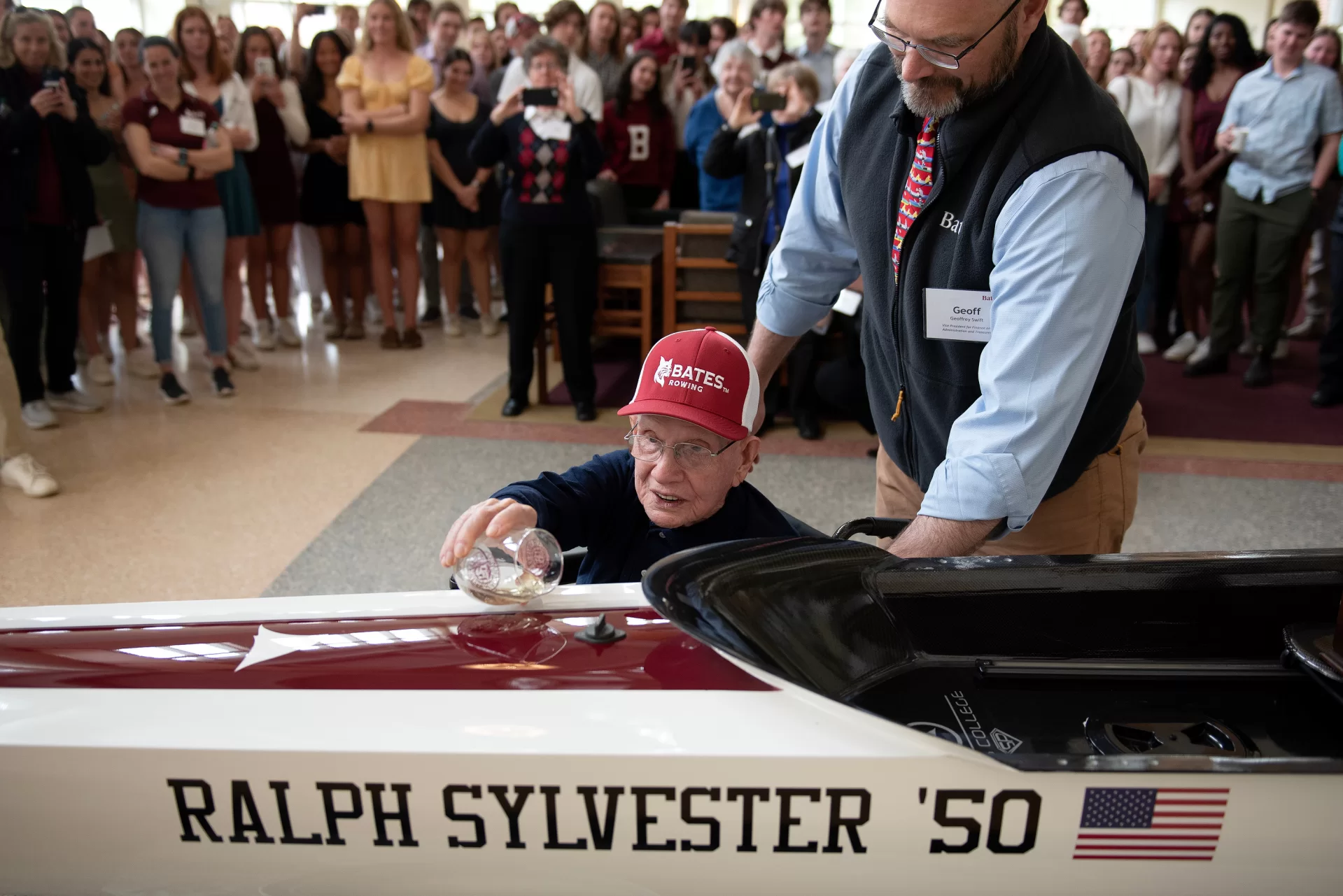 Before a big crowd in Perry Atrium, Ralph Sylvester '50, a World War II veteran and lifelong resident of the Lewiston-Auburn community, pours a glass of champagne over the bow of the newest Bates rowing shell. And with that, the new boat got its name: the Ralph Sylvester.
Head rowing coach Peter Steenstra, offering remarks at the dedication, turned to Sylvester and said, "This is by far the least that we, in this little school, in this little town, can do to say thank you for everything you've done and everything you are."
---
Teeing Off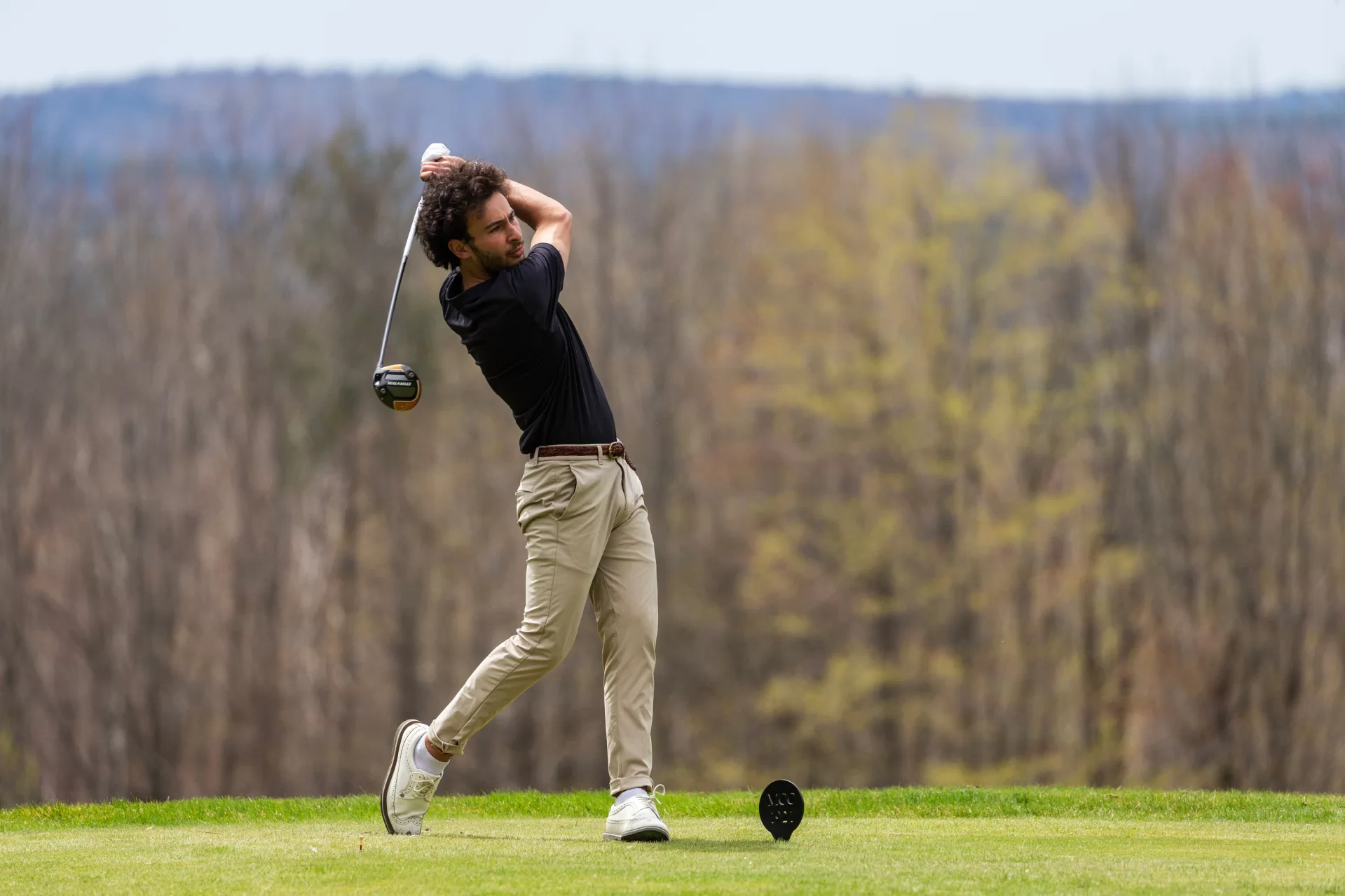 Paul Detre '24 of Morristown, N.J., tees off at Martindale Country Club on his way to a 73 at the NESCAC Championship, hosted by Bates in late April. The Bobcats finished tied for fourth, their best conference finish ever.
---
A Friendly Chat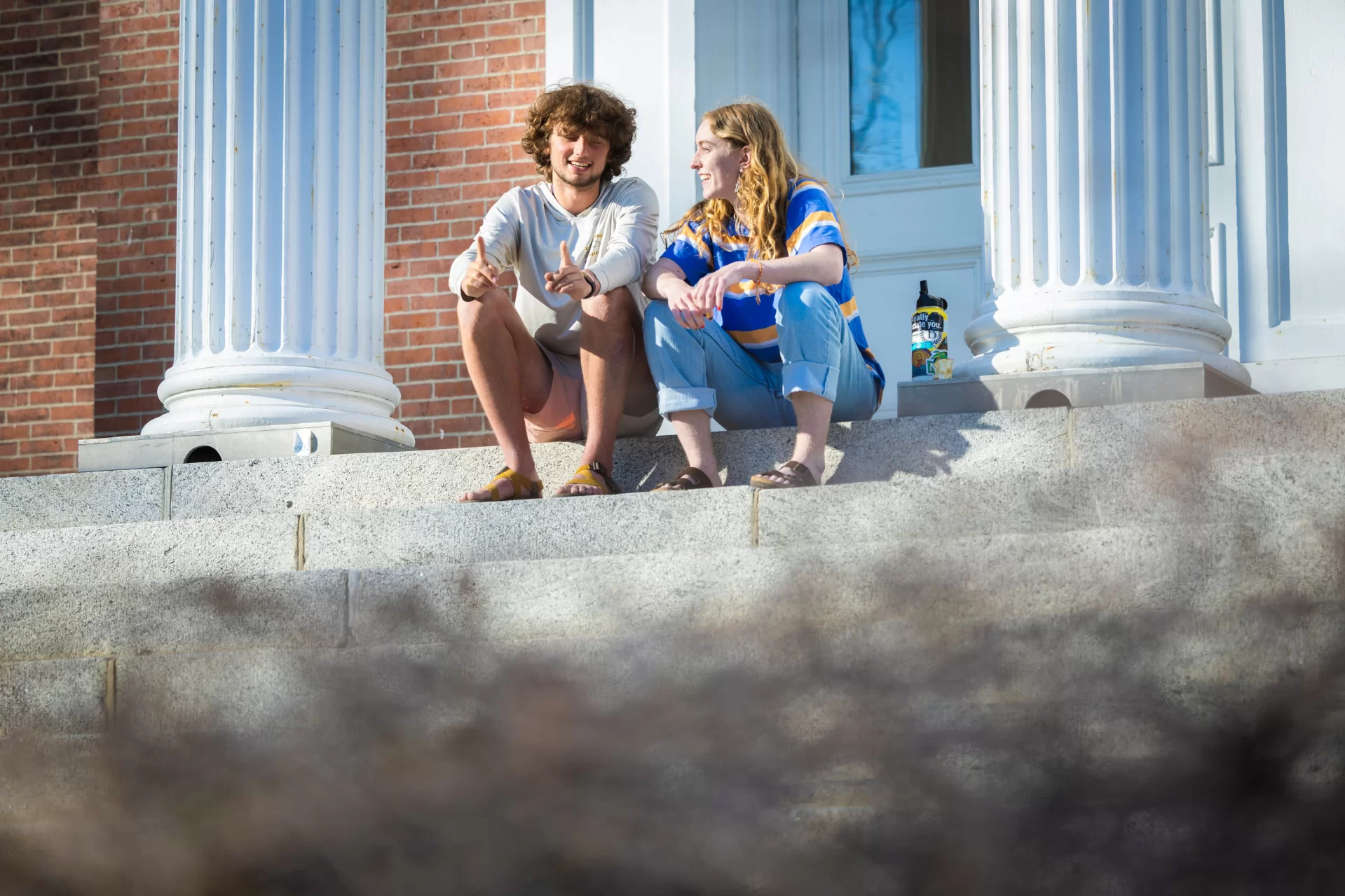 Zach Van Dusen '25 (left) of Vashon, Wash., and Elysse McCambley '24 of Fairfield, Conn., discuss snakes on the steps of Hathorn Hall on the first day of May.
---
Colleague Congratulations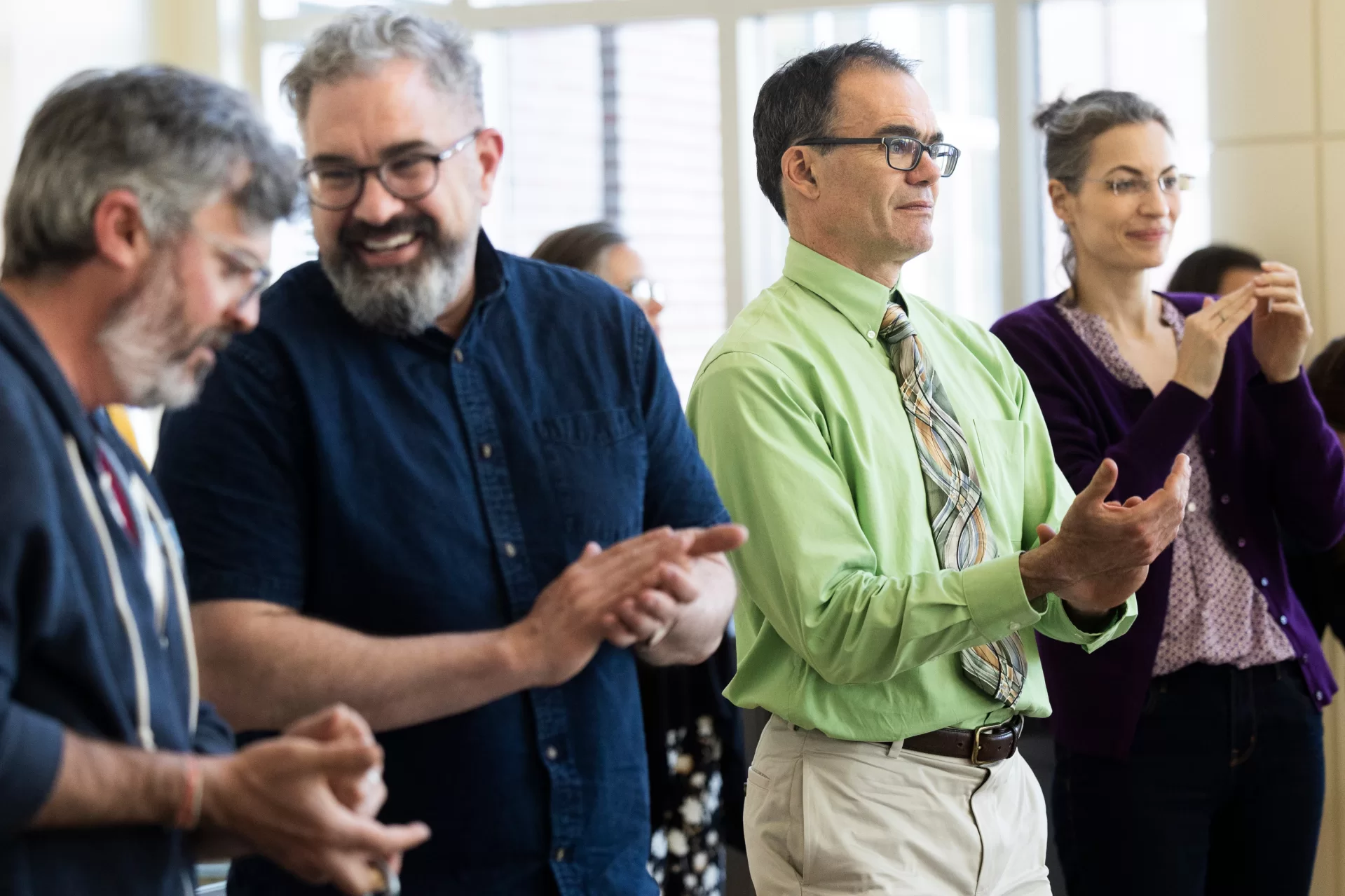 From left, Associate Professor of Sociology Mike Rocque, Professor of Politics Stephen Engel, Associate Professor of History Joe Hall, and Professor of Environmental Studies Sonja Pieck applaud during a faculty retirement celebration held in Perry Atrium of Pettengill Hall. The event honored two retiring professors, Elmer W. Campbell Professor of Economics Lynne Lewis and Charles A. Dana Professor of Physics Hong Lin.
---
Sunny Disposition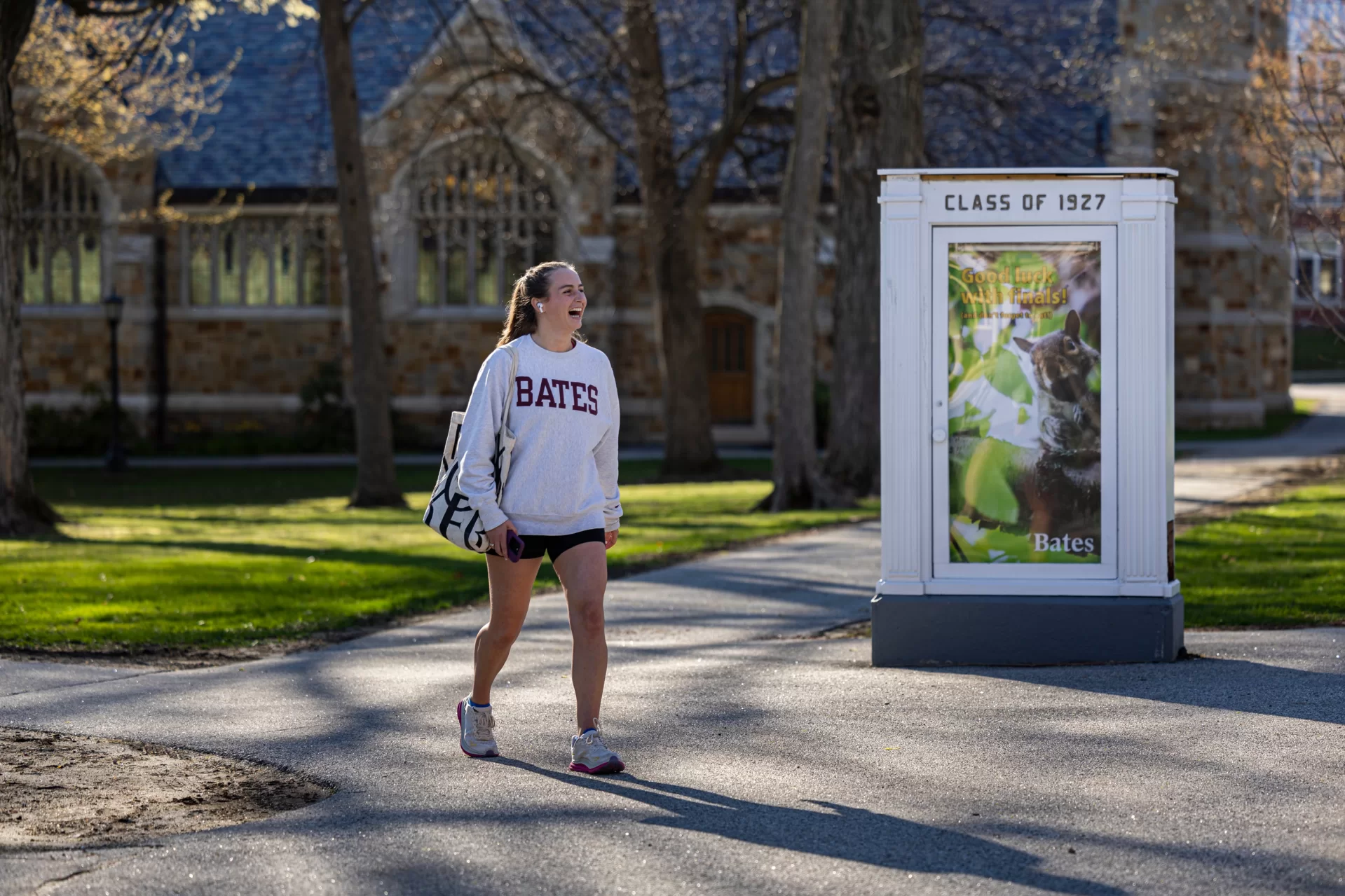 Lila Schaefer '25 of Northampton, Mass., crosses the Historic Quad on the first day of May. The poster in the historic Class of 1927 Mouthpiece features a campus squirrel wishing students good luck on finals.
(Yes, the decorative top of the Mouthpiece is missing; it's currently being repaired. It, along with a brand new bulletin board, will soon be installed.)
---
Blockprint Prep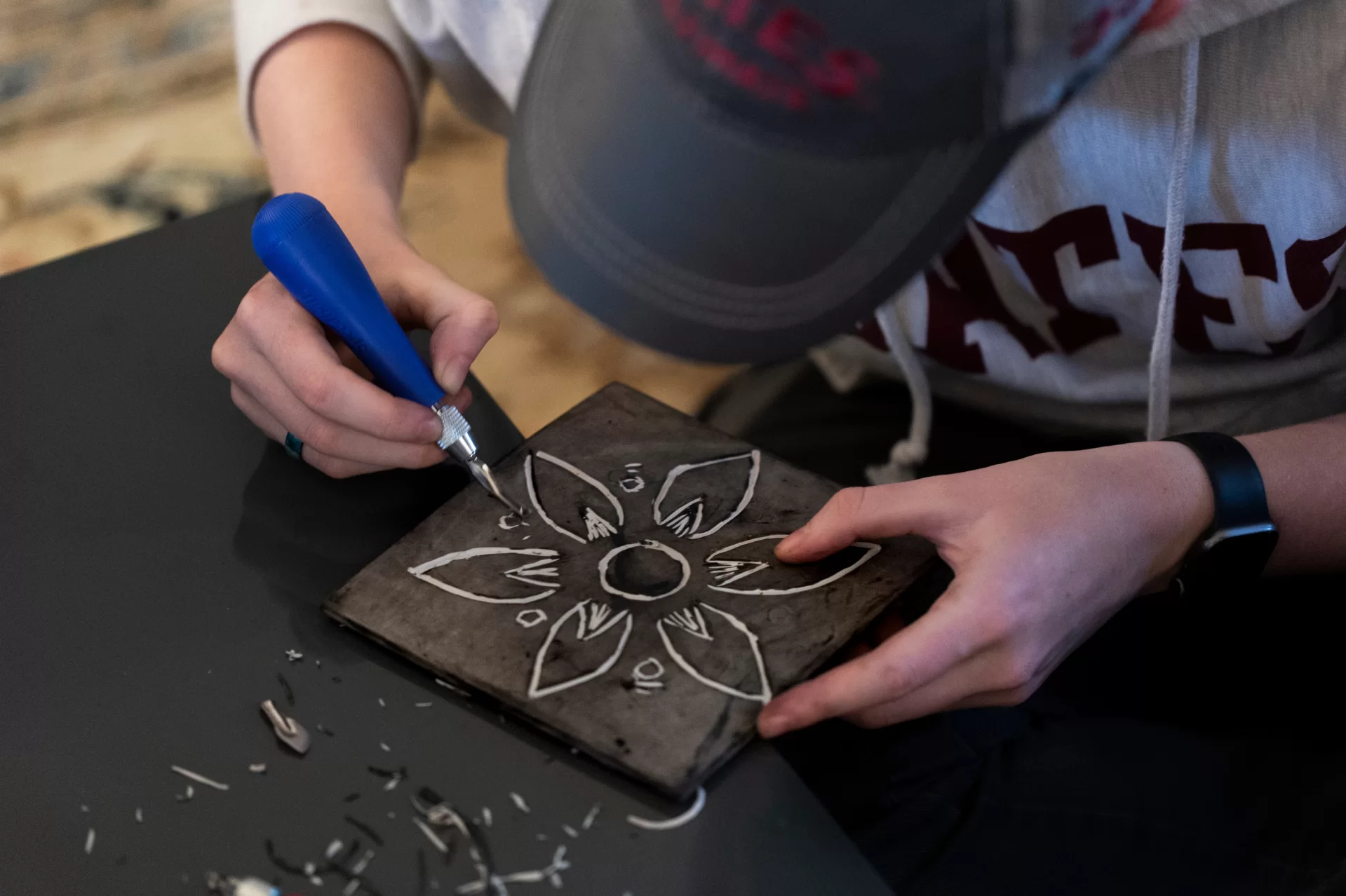 Tyler Shambaugh '23 of Chevy Chase, Md., carefully carves a design into a block of linoleum, in preparation for a Free Press Social Justice Printmaking event later in May. Students joined Multifaith Chaplaincy Stringfellows to cut new blocks and reinvigorate old ones.
---
Pretty in Pink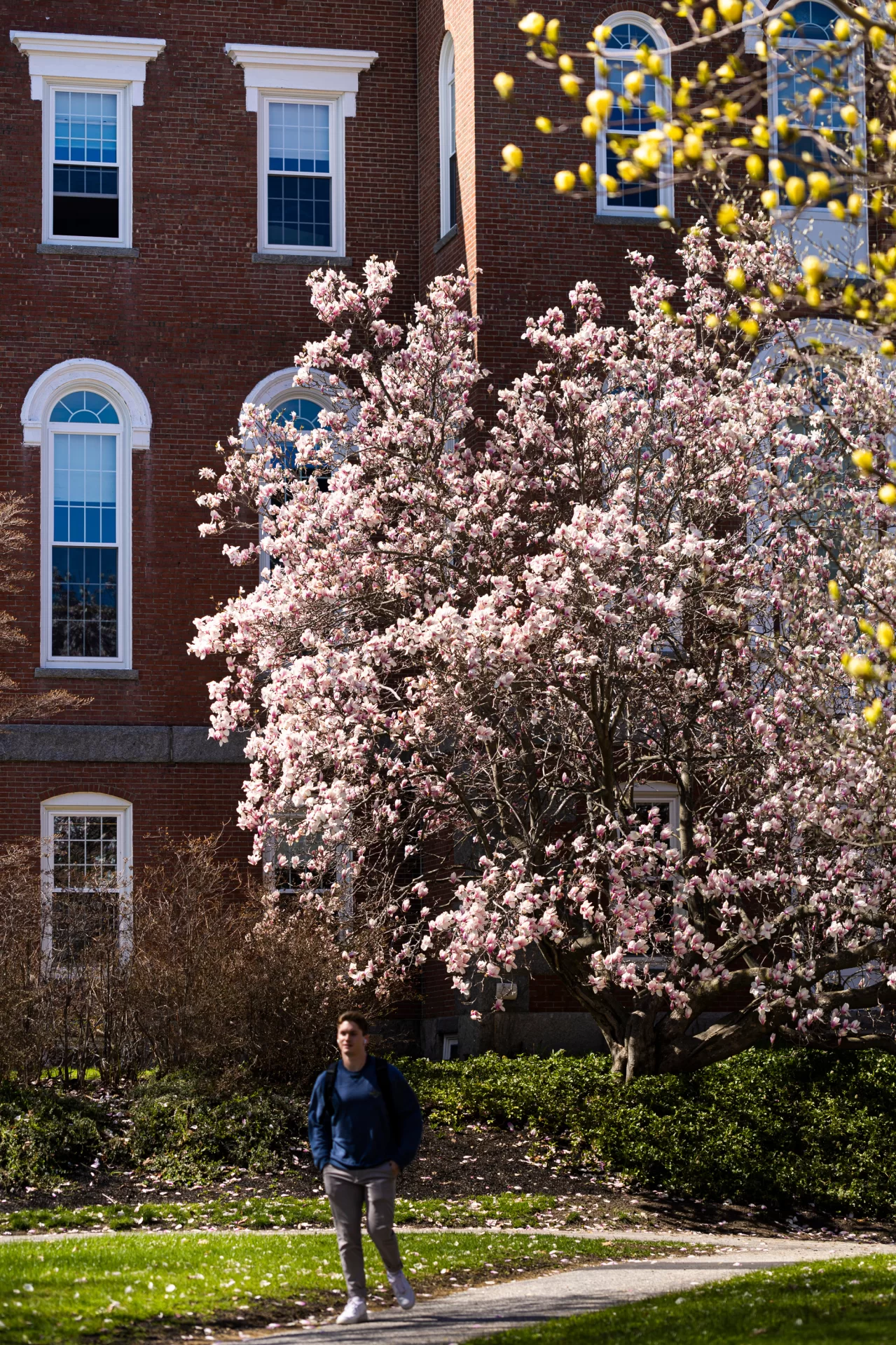 The magnolia tree next to Hathorn Hall drops pink petals all over the walkway, a true sign of spring — and the quickly approaching Commencement.