Bates Magazine
Back issues of Bates Magazine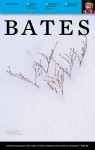 When the going gets tough (ecopsychologically speaking) take a turn to natural beauty.
---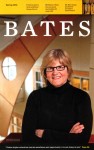 Introducing the eighth president of Bates College, A. Clayton Spencer.
---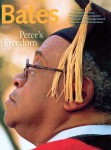 Saying goodbye to the Rev. Peter Gomes '65.
---
Alumni involved in worker rights discuss the national salmonella outbreak, traced to a notorious Maine egg farm.
---
Alums involved in drug development explain the challenges and criticisms of their industry.
---
A day in the life of Joanie Meharry '07, an American scholar working in Kabul, Afghanistan.
---
Young Americans like Maggie Merrill '98 find compelling opportunities in New Orleans.
---

Army physician Dave Lounsbury '72, a veteran of Iraq, brings the war home.
---

Joshua Holdeman '93, international director of 20th-century art for Christie's auction house, is all ears (and phones) as he talks to clients during bidding.
---
---

Nicolas Lindholm '86 displays tomatoes grown on his family-operated organic farm. He's among the alumni who produce food in Maine, profiled as part of the College's "Bates Contemplates Food" initiative.
---

As China becomes a global player, Bates economist Margaret Maurer-Fazio and her students have ringside seats.
---

Spelman and Morehouse colleges offer Bates students something that their own college can't — and that's just the point.
---

His senior thesis project launched Lee Lynd '79 on a quest to turn common plant materials into inexpensive, sustainable ethanol.
---

Timing and talent have shaped the career of actor John Shea '70.
---

Rebecca and John Corrie live their commitment to Bates, their disciplines, and their students.
---

Far from being just an optimistic spin on life, stories of redemption — like those emerging after 9/11 — sit at the very intersection of self and American society.
---

Spring has sprung, cold gusts are kicking up grit, and novelist Elizabeth Strout '77 poses for the camera on a street in Portland, where she was born.
---

Dining Services dishes up 4,000 meals a day and caters another 5,000 events annually despite funhouse wayfinding, comical space limitations and less-funny workplace challenges.
---

As devastating as it was, Martha's diagnosis of autism was not a shock. Seemingly typical in many ways, Martha gave us clues that something was awry.
---

History professors Steve Hochstadt and Elizabeth Tobin joined their students in an exploration of Berlin and then asked them to pick out a place to investigate.
---

Lena Sene '00, Eduardo Crespo '04 and Melissa Wilcox '03 talk about their chosen paths from College Street to Wall Street. In a micro sense, their experiences point to a change at Bates.
---

Commencement offered a nifty twist on tradition as all four honorary degree recipients offered remarks. But it was Milton Lindholm '35 who helped color the day "Bates."
---

In the world of Hollywood animation, Norton Virgien '74 and Charles Grosvenor '74 draw on Bates friendship.
---

Working next door to one another, but painting in styles a chasm apart, two art seniors put "joyousness to the wall" in Olin Arts Center.
---

The range of human experience is on the syllabus for CBB students living and studying in Quito, Ecuador.
---

A questioning perspicacity gives Elaine Tuttle Hansen an eye for ripening opportunities. "I like to think I've been able 'to maken vertu of necessitee,'" she says, borrowing a phrase from Chaucer.
---

President Don Harward demanded great things from Bates, and the College rose to the challenge.
---

Lesley Boakye-Danquah '03 shared a gift with the Bates community at last year's international fair, wearing a beloved handmade dress in the red, yellow, and green colors of the Ghanaian flag.
---

Bravery has twice allowed Dan Stockwell '64 to save lives while risking death. Compassion has kept him from talking about it.
---

Turning his senior thesis into an acclaimed children's book took a leap of faith for Red Sox fan Matt Tavares '97.
---
---
---
---
---
---
---
---
---
---
---
---