50th Reunion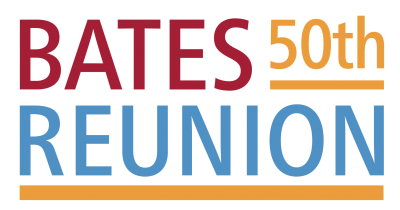 Make Your 50th Your Best Bates Reunion
Your 50th Reunion is a time to reflect on your personal Bates experience, reconnect with classmates, and celebrate together back where it all began.
Make A Special Gift in Honor of Your 50th Reunion
Members of the 50th Reunion class are encouraged to make a gift to celebrate this milestone reunion. Class goals for 1970 are almost confirmed. Stay tuned! 
Frequently Asked Questions
Your gift to Bates this milestone year is a gift to your former Bates mentors and professors, a nod to the experiences and relationships you enjoyed on campus 50 years ago, and a gift to students on their own Bates journey at this very moment. It is a vote of confidence in Bates and an investment in its future. By making a 50th Reunion contribution, you're paying it forward by ensuring that the fundamental aspects of a Bates education remain accessible to the most deserving students, regardless of their financial resources.
There are many ways to maximize the impact of your Reunion-year gift:
Join the Phillips Society: The Phillips Society celebrates those in the Bates community who have provided for Bates in their estate plans, trusts, or other financial arrangements.
Make a multi-year pledge to the college: The total amount of any multi-year commitment counts toward your class's overall gift to Bates.
Join the Recurring Gift Program: The Recurring Gift Program recognizes alumni who make recurring or perpetual gifts to the college. Gifts can be divided into manageable payments over a given period of time.
Join the Mount David Society: The Mount David Society recognizes alumni who make the college a philanthropic priority with a gift of $2,500 or more to the Bates Fund. MDS-level donors lead the way in supporting Bates by making significant, unrestricted current-use gifts each year — gifts that underpin the college's ability to sustain excellence.
In order to count toward your Reunion class goals, gifts and multi-year pledges must be received by June 30, 2019. However, we encourage you to consider contributing by May 1, 2019, to ensure your gift is celebrated during Reunion Weekend.
The Bates Fund serves as a necessary complement to our endowment, fully dedicated to the present needs of the college. Every gift is transformational and enables the college to enhance the educational experience of students every day. By giving to the Bates Fund, you provide the next generation with:
a best-in-class liberal arts experience spanning academic, athletic, and co-curricular programs
funded internships and student-faculty research opportunities
access to a global community of supportive alumni, forming a large and ever-growing Bates family
generous financial aid (more than $41,000 per student on average) for 43 percent of Bates students
a 10:1 student-to-faculty ratio, with top-in-their-field faculty members
technology resources to enhance the experience of students and faculty on our campus
Plus, all gifts of any size count toward The Bates Campaign.
All gifts made to the Bates Fund from the your 46th year through the 50th year will count in the dollar amount raised. All gifts made to capital and endowment from this same period will count in the overall giving amount raised. Multi-year pledges made in the same period will be credited at the full pledge value. If the payment of those pledges extends into the 55th Reunion cycle, the cash donation will not be included in the 55th Reunion total. Gift annuities, charitable trusts, gifts of property, gifts-in-kind, and other irrevocable planned gifts made in the same period will be credited at face value and count toward the overall dollar amount raised.
Ways to give:
Cash or credit card gifts
Real estate, partial or future interests in real estate
Tangible personal property
Closely held stock or business interests
More than 1,100 alumni and friends annually return to Bates for Reunion Weekend to reconnect and enjoy the beauty of the Bates campus in summer.
Enjoy the annual 50th Reunion Seminars, sponsored by your class, with topics selected by your 50th Reunion Social Committee.
Enjoy the annual Reunion Weekend lobster bake, golf outing, Bobcat Beer Garden, and barbecue picnic lunch.
Visit familiar haunts and see how campus has changed, including new dorms, a refurbished Garcelon Field, and the new Bates College Store.
Cheer on alumni of all ages in the historic Alumni Parade.
Hear from faculty and senior leaders, including President Clayton Spencer.
Attend a lecture by distinguished alumni or join a Bates Outing Club excursion.
Toast to the weekend at the annual Reunion Gala.
Regardless of your interests, there is something for everyone at Reunion!
Registration will open February 2020! Stay tuned for more information.
Pass the Baton
Reunion volunteers from the prior 50th class will pass the 50th Reunion responsibilities to the current 50th class over light refreshments and mingling. Volunteers from former, and future, 50th classes are invited to attend.
Following the exchange of responsibilities will be an informal workshop for the current 50th class to continue preparations for June.
Upcoming Pass the Baton Gatherings are:
1970: October 4, 2019, 2:30 pm – 4:30 pm for Reunion volunteers in the classes 1967, 1968, 1969, 1970, and 1971
1971: October 2, 2020, time to be confirmed for Reunion volunteers in the classes 1968, 1969, 1970, 1971, and 1972
Save the Date!
1970: June 11 – 14, 2020
1971: June 10 – 13, 2021
1972: June 9 – 12, 2022
1973: June 8 – 11, 2023