Reunion FAQs
June 10 — 12, 2022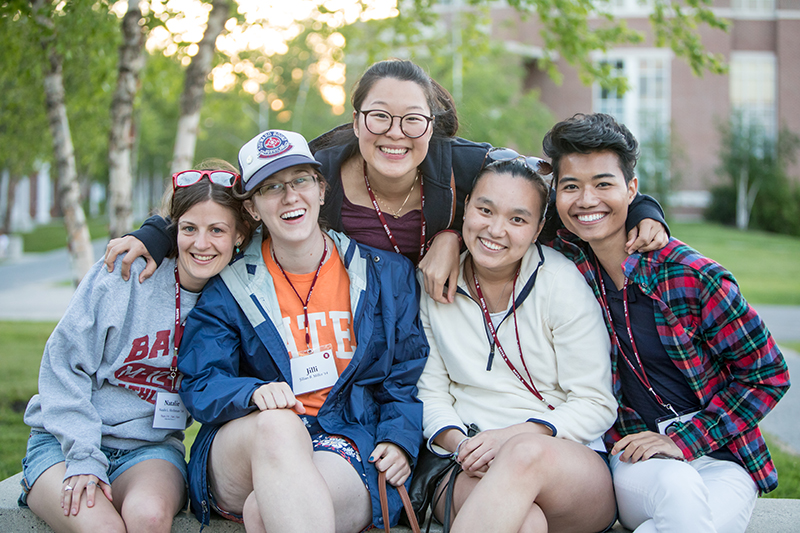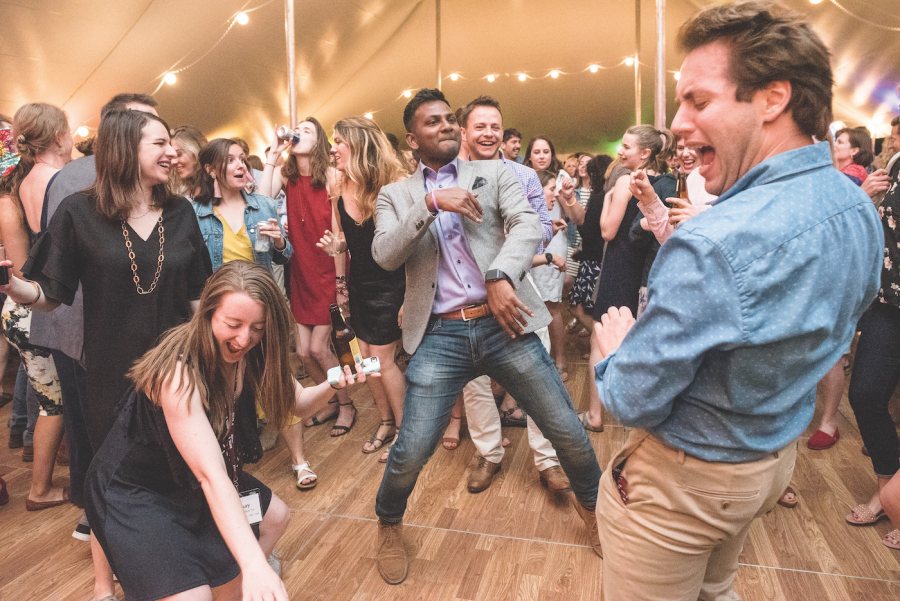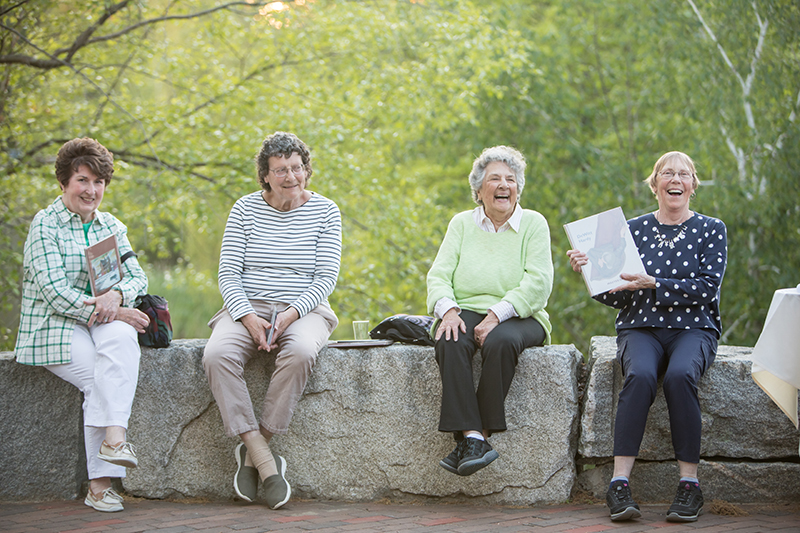 You've got questions and we have answers to what you need to know regarding Reunion.
---
---
REUNION BASICS
We are celebrating classes ending with 2s and 7s this year for Reunion 2022. Additionally, we are hosting a triple 50th Reunion and will be including the classes of 1970 and 1971 with the class of 1972.
We are hosting a Reunion Plus celebration for the 5th and 25th classes who missed their in-person celebrations. In addition to the classes of 1995, 1996, 2015, and 2016, we are also welcoming back the class of 2020 for a belated graduation celebration. The Reunion Plus event is limited to those specific classes.
At this time, we are planning for an in-person celebration. We do not anticipate needing to change our plans and pivot to a virtual celebration. However, the college carefully monitors the health situation so that we can make informed decisions about events. Should we need to adjust any program plans we will inform alumni as soon as we are able.
We look forward to welcoming you back to campus, and we are planning a fulsome Reunion weekend that provides you an opportunity to connect with friends, celebrate Bates, and enjoy a beautiful June weekend in Maine. We are also planning the weekend activities so that all guests will be as safe as possible. We encourage you to visit bates.edu/reunion regularly to stay updated regarding programming, events, and Covid protocols.
Yes! You can view who's signed up to attend Reunion by clicking your class year below:
VACCINATION AND HEALTH PROTOCOLS
All eligible guests must be fully vaccinated (booster included). You will be required to present proof of vaccination at the Welcome Center when you arrive. We prefer that you utilize the Clear App (instructions here), but you can also present your card or a photo of your card at the Welcome Center upon check in.
Families and children are welcome at Bates Reunion Weekend. As we are still navigating the challenges associated with college operations during the COVID-19 pandemic, we want to be mindful of the well-being of all guests, including those with health risk considerations and those who are not eligible to be vaccinated. Therefore, the following protocols are in place for all alumni who bring children and families with them to Reunion:

Children under age 5 who are not yet eligible to be vaccinated are welcome to attend Reunion.
We will follow the latest masking policy on campus at the time of the event. Currently, all Reunion Plus guests ages 2 and up will be required to wear a mask indoors. Masks are not required outdoors for any Reunion guests. 

Given the congregate housing conditions, unvaccinated guests, including children, may not enter residence halls.
Campus accommodations are not available to Reunion guests who are unvaccinated. Alumni who are bringing unvaccinated children to Reunion and who request overnight accommodations will be housed in area hotels. Shuttles will be available between the hotels and campus. Unvaccinated children must be masked at all times when riding the shuttles.
Requests for medical exemptions can be made following a designated procedure, which can be found in the Reunion FAQ.
Please note that all of these policies are subject to change as a result of public health conditions that may exist in June.
---
By registering for Reunion, you are acknowledging that an inherent risk of exposure to COVID-19 exists in any gathering of people. By attending Reunion, you and each of your guests voluntarily assume all risks related to exposure to COVID-19 and release Bates (including its trustees, officers, employees, and volunteers) from any and all liability for illness or injury arising from or related to any such exposure. Events are subject to all federal, state, and local public health guidelines and rules, and are subject to change in response to public health or safety exigencies.
Reunion participants who are interested in applying for a medical exemption to the COVID-19 vaccine and booster requirement may do so by June 1. Please contact Bates' Associate Vice President for Conferences and Campus Events, Christine Schwartz at cschwart@bates.edu. Criteria for medical exemptions include:
1) a severe allergic reaction or a severe hypersensitivity reaction to a prior dose of a COVID-19 vaccine;
2) a non-severe allergic reaction or a non-severe hypersensitivity reaction to a prior dose of a COVID-19 vaccine within 4 hours of receiving the dose;
3) individuals with underlying medical conditions such as weakened immune systems, autoimmune conditions, or other underlying medical conditions following recommendations from a licensed physician, nurse practitioner, or physician assistant.
All requests for medical exemptions are subject to the review and approval by a clinical provider at Bates' healthcare partner, Central Maine Medical Center.
To complete your Health Pass, as part of the entry requirements for Bates College events, you can scan our QR code, visit clear.app.link/BATES or learn more with our complete instructions.
For those without smartphones, we will also accept CDC vaccination cards or photos of vaccination cards along with valid state or federal ID.
We will follow the latest masking policy on campus at the time of the event. Currently, all Reunion Plus guests ages 2 and up will be required to wear a with a surgical, KN95, or N95 mask indoors. Masks are not required outdoors for any Reunion guests. 
PROGRAMMING
Your weekend favorites will include: class dinners, fireworks, gala, etc. You may notice some changes as we wish to host all of the events in a safe manner, but there will be many opportunities for connection. We will update the weekend schedule throughout the spring as more details are confirmed.
In addition to family-friendly programs like Friday night fireworks and lawn games (cornhole, etc) throughout the weekend, we will also offer some activities for children on Saturday afternoon and evening. Please revisit our Reunion site for updates.
REGISTRATION
Reunion attendees must register in advance to ensure we can create a safe and successful reunion for all. The registration deadline has been extended to May 20! Unfortunately, we cannot accommodate walk-in registrants this year.
It is important to us that Reunion be available to anyone who wants to attend. If the packages are cost-prohibitive or you anticipate another barrier to your attendance, please reach out to reunion@bates.edu and we will be happy to discuss this with you.
In past years the cost of housing and class-themed parade items had been incorporated into the package prices. This year we have isolated the cost of housing and the parade item, and you have the option to add each of these separately. This will allow those who do not wish to stay on campus, or who do not want a parade item, to participate in reunion without incurring these expenses as part of a package plan. Bates continues to subsidize substantial aspects of Reunion weekend, including housing, meals, and parade items.
Yes. We will refund your registration in full up until May 27. After that point, we will consider extenuating circumstances on a case-by-case basis. Please note that Bates will not reimburse travel expenses, so we do encourage you to consider the cancellation policies for your travel when you book your trip.
As is the case every year, all Bates alumni are welcome to attend Reunion. However, given capacity limitations, housing will be prioritized for those alumni in the Reunion years being celebrated.
HOUSING
Yes. We will have dorms available for housing again this year, and most returning alumni should be able to reside in campus housing. However, due to pandemic-related constraints, reunion campus housing will be focused on 4-6 centrally located residence halls.
We will also utilize local hotel rooms to amplify our available campus rooms, and some classes/attendees may have the opportunity to enjoy a little more luxury than a campus residence hall allows. As always, we will communicate with class leadership as class housing assignments are made and we encourage you to register early.
Dorm accommodations feature shared hall bathrooms and are not heated or air-conditioned. Towels, bed linens, and a pillow are provided for each twin-sized bed. You might consider bringing the following items: reading lamp, hangers, small fan, and extra pillows or blankets.
Likely yes. The availability of single rooms is very limited. If you are traveling with family, you can be housed with your party. If you are a solo attendee, you will likely be roomed with another solo attendee. You can make roommate requests on your registration form, so we recommend that you contact a friend/teammate/former roommate, request to share a room, and recreate the magic of your Bates' years!
As always, we will take any housing requests, including preferred roommates and locations, into consideration when determining housing assignments. Final decisions regarding housing assignments are determined by a variety of factors, including class attendance size and the number of available beds in each residence hall.
We cannot guarantee dorm housing or Bates-reserved hotel accommodations to those who register after May 13th or to walk-in guests.
TRANSPORTATION
---
Questions?
We're here to help! Contact us at reunion@bates.edu or 888-522-8371.