GO green GO healthy
Join Bates' network of faculty and staff who carpool, vanpool, bike, and walk to work.  Each month we'll help you get started on a greener, healthier commute.
September > Bike tune-up*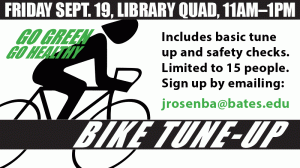 Friday Sept 19, Library quad, 11am-1pm
Limited to 15 people. Sign up by emailing jrosenba@bates.edu.
*includes basic tune up and safety checks
October > Commuter breakfast
MOVED TO Wednesday Oct 15, Den, 8-9am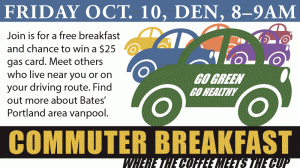 Join is for a free breakfast and chance to win a $25 gas card. Meet others who live near you or on your driving route. Find   out more about Bates' Portland area vanpool.
November > Walking lunch & learn
Friday Nov 14, NC 221, 12-1pm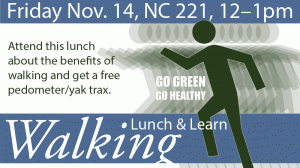 "Sitting is the new smoking." Attend this lunch to learn about     all the benefits of walking and get a free fit bit (while supplies last).