Culture
If you want to build a ship, don't drum up the men and women to gather wood, divide the work, and give orders. Instead, teach them to yearn for the vast and endless sea.

– Antoine de Saint-Exupéry
---
Sense and Sustainability Stories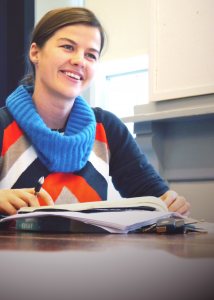 "For two to three years, I wrote straight nonfiction prose about sea level rise, which, as a style, really doesn't have much poetry. Then, at some point, a switch flipped and I knew how to write lyrically, I knew how to write in poetry. I knew the kinds of symbolic language to use. One of the essays that I've been working on is called, "Something Like Vertigo," and it reads of my father's struggle with vertigo, a loss of knowing which way is down, and a spatial orientation in the world, as an analogue for sea level rise. It's about how people react when the physical world changes enough to make everyday tasks fundamentally different but still appears like the same old world that you used to inhabit. I'm also writing about rot and how the earth rots, and thinking about all sorts of processes of decomposition. Its something we're all familiar with, but what does it mean when literally our shores are rotting?" Read more from Elizabeth Mueller's interview…
Or check out our other Sense and Sustainability Episodes…
---
Sustainable Abigail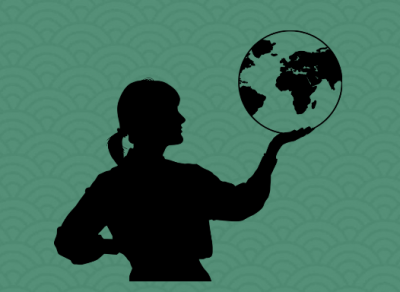 Have a question about Sustainability on Campus? Sustainable Abigail is here to help! Learn more about Who Sustainable Abigail is or use the Sustainable Abigail Question Form to send in a question directly to Sustainable Abigail herself! She's your go to person for sustainability advice, insight, and thoughts, so absolutely reach out!
---
 Sustainability Clubs on Campus
EcoReps
The Bates College EcoReps is a collaborative team of environmental leaders who work toward promoting environmentally responsible behavior on campus through peer-to-peer outreach. This dynamic group of students is charged with designing and initiating projects that foster environmental stewardship and bring Bates closer to its sustainability goals. Some of their tasks include working on recycling and composting campaigns, analyzing energy datasets, and coordinating events such as EcoService Day. They are currently focused on 4 main objectives:
Bring our sustainability narrative to life and foster environmental awareness through outreach and campus-wise events
Manage waste at Bates through compost and recycling initiatives
Analyze our energy use and carbon footprint data and formulate a carbon plan
Expand our project budget through grants and innovative modes of funding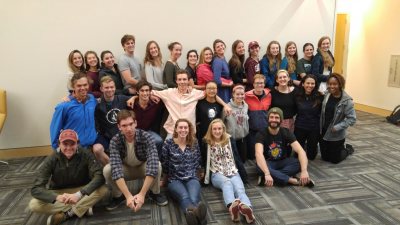 Get involved! Apply to become an EcoRep or an EcoRep Intern via Handshake

Environmental Coalition: Sustainable Justice and Action
Environmental Coalition is an Environmental Club at Bates that works to raise awareness and address the issue of climate change and sustainability through combined efforts of direct action, discussion and campus-wide events. The club invites the Bates community to recognize and address the environmental and social crisis, hoping to foster a strong sense of activism and awareness in the people of our generation so that we can make a change.

The Garden Club
Formed in 2018, Garden Club aims to promote sustainability through local farming and agriculture. The Garden Club hosts weekly garden hours at The Plot where community members can meet to learn about the ins and outs of gardening, farming, and agriculture. The club sponsors events dedicated to education and community-engaged work with local farms.
Bates Outing Club
The Bates Outing Club, one of the oldest collegiate outing clubs in the country,  is an entirely student run club that aims (and succeeds!) at getting students outdoors. Every student at Bates is automatically a member, and has the opportunity to go on trips such as hiking, skiing, rock climbing, kayaking, and many more. The club holds sacred the relationship with the natural world, and acts on principles such as Leave No Trace to preserve and respect the land. Click here to find out more! 
Committee on Environmental Responsibility
The Bates Committee on Environmental Responsibility (CER) dates back to 1990 as a group wherein faculty, staff and students are represented and work together to address environmental problems. This committee works from a more diverse medium to raise environmental awareness, to promote as well as plan for sustainability on campus, and to make the conversation about the environmental crisis available to all constituents of the Bates College community and thus initiate sustainable change in all dimensions of the college. More about the CER

Helicase Club
Helicase is a student biology club that provides support, unity, and inspiration for the exploration of biology both inside and outside the classroom. Helicase promotes sustainable lab practices both in class as outside of class. They also participate in a yearly clean up, and helped to clean up Thorncrag during Short Term of 2016.
---
Events
EcoService Day: During Short Term, a day is dedicated to environmental-related service on campus and in the community, involving students in diverse projects including  Mount David clean-up, gardening with Lots to Gardens, and working with the River Valley Village.
Trashion Show: Every November, in conjunction with Bates' annual Harvest Dinner, the EcoReps hold a trashion show where students construct avante garde outfits made from recycled and thrown away materials.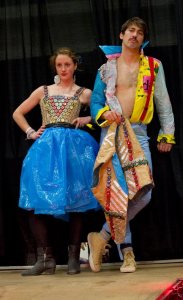 Earth Day: Earth Day is an event organized by the Eco Reps and embraced by the Bates community! With the company of local farmers, Bates bands, and lots of food, Bates celebrates the environment that we love.

Clean Sweep: Every year at the end of Short Term Bates partners with local non-profit organizations to collect items students leave behind when they move out, faculty and staff donations from home, and items the college no longer needs. We then sell it all in huge community yard sale.
All of the proceeds from the sale go to participating non-profit organizations.
We work with volunteers from local non-profits to collect, clean, organize and price an arena full of items. The event raises upwards of $40,000 and all of the proceeds go to participating non-profits. Moving out? Donate your unwanted items to Clean Sweep!
---
The Little Things
Green Bike Program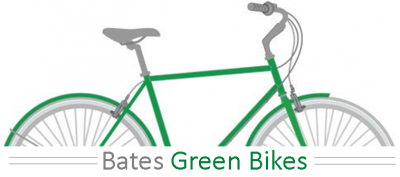 Bates has a number of bikes which it maintains for student use. You can check these bikes out at Ladd Library. To utilize our "Bike Library," go to the front desk and check out a bike as you would a book. Please return the bike in good shape after a week. Learn more about Bates Green Bikes
Theme House
The Eco-Justice themed house is an on-campus housing option for students especially interested in the promotion of sustainable practices at Bates. This community of students acts as a tool to a greener Bates through hosting programs and events engaging both the campus community as well as the surrounding Lewiston community in creating a more environmentally friendly attitude and experience.
More about Bates Sustainability
---