Learning
Bates-Morse Mountain Conservation Area
The Bates College Coastal Center at Shortridge is an 600+ acre parcel of varied woodlands, wetlands and ponds utilized by the academic programs and extracurricular communities at Bates. It provides facilities for research conducted by both faculty and student, and is used for meetings, retreats, conferences, and various educational and community-based programs. 

During the summer, Shortridge is a hub for environmental research. The Coastal Center provides residence opportunity for students, faculty and researchers to work in a unique coastal setting during the summer. These researches often engage with state agents and community members regarding coastal change and public policy, serve as interns for local grassroots conservation organizations, or conduct independent thesis research. 
---
EnviroLunch Series
The "EnviroLunch Series" is a lecture-based gathering wherein students, faculty, and staff have the opportunity to listen to environmental innovators and teachers speak about sustainable practices and current events. As it is open to the whole community, it exists as a valuable and accessible source for the promotion of environmental conservation. 
---
In the Classroom
Climate Change and the Stories We Tell
Professor Mueller taught a course titled "Climate Change and the Stories We Tell." The course culminated in the making of a unique, immersive multimedia on-line archive that holds the stories of many Mainers living with and adapting to changes in the climate. See the project below: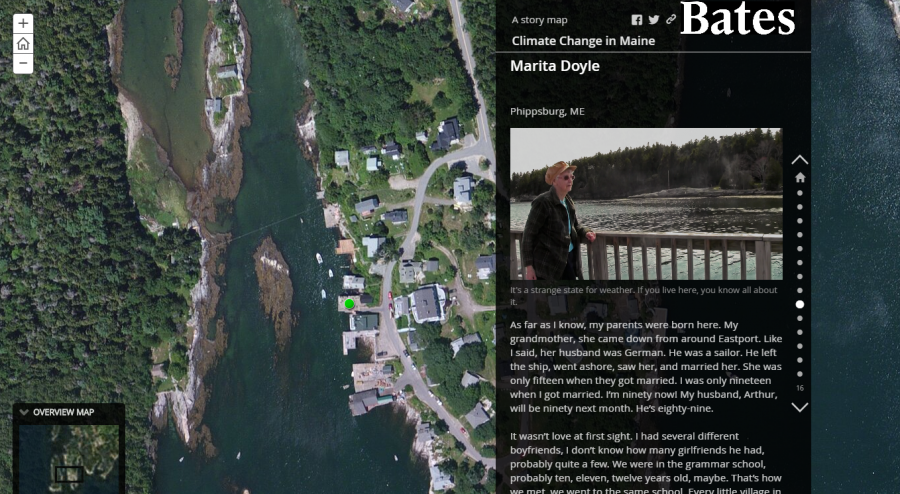 The Environmental Studies Department explores humanity's relationship with the natural world and the built environment through a range of disciplines. Concentrations available include Ecology and Earth Systems, Economics and Science of the Environment, Environment and Human culture, and Global Environmental Politics. The major requires students to complete a course titled Practicum in Community-Engaged Research, which involves completing project reports and working to understand the  relationship Bates and surrounding communities have with the natural world. Check out Bates Environmental Studies to learn more.
The Bates Earth and Climate Sciences Department takes a multidisciplinary approach to geo and climate sciences through exposure to field and lab work, independent research, mapping, modeling, scientific outreach and community-engaged learning. The department covers scientific issues relating to glacial deposits, the water quality of local water bodies, mineralogy, coastal erosion, climate change, tectonics, petrology, and geochemistry. It engages students in learning that is directly applicable to related professional fields and that can help them make informed decisions about the various geological and environmental issues facing our planet and beyond. The mission of the department is to foster well–rounded, engaged citizens and prepare students for professional careers in the earth and climate sciences who possess the drive to make an impact.

Clams and Climate: see what Bates EACS faculty are up to. 

See how Bates EACS majors spend their summers!

The Biology Department offers a broad spectrum of courses, many of which display its environmental commitment. There are courses such as Conservation Biology, where students contemplate species and ecosystem conservation. During Short Term, there is a course called The Ecology of Place: Field Methods for Coastal Research at Bates Morse Mountain where students assess the health of environmental features such as salt marshes and coastal forests while working at the Bates-Morse Mountain Conservation Area and in Phippsburg, Maine. The Biology Department has an eclectic offering of courses, and allows students to explore all types of biology in the world.

Check out the Biology Department's Dendrology class' work on campus: "A Treasure Trove of Botanical Identification": Campus Engagement with Dendrology

---

Environmental Fellowship & Internship Opportunities
The Otis Fellowship: Each year, around 2-5 students are selected as Otis Fellows to receive grants in the range of $2,000 to $6,000 in support of their own particular off-campus projects which explore an environmental and/or eco-spiritual topic. Projects which involve substantial off-campus research or reflection, usually accomplished during the summer or during a short term leave are encouraged. Projects may include hands-on conservation work, environmental education, environmental research, political advocacy, environmental law, or other areas related to environmental questions. They can involve domestic or international opportunities. See some of their experiences here.