News
Managing sustainability for the campus is a big job. While there are plenty of long term goals, like carbon neutrality and behavioral shifts, there are plenty of day to day changes the EcoReps are involved in. In 2016, for example, students took up the mission of eliminating paper cups from Commons, and instead the College now provides every incoming student with a reusable mug. There are always new ways to shift our existing systems and avoid waste. Click to expand on these recent and ongoing projects from each working group.
Events
Farm Dinner
This March, the events group hosted a Farm Dinner in the OIE (Office of Intercultural Education). It featured produce from Valley View Farm in Auburn, ME, and was open to all Bates students who, in turn, provided recipes and helped to prepare the meal.
Photo Competition
The Expose Waste Photo Contest is an event aimed at understanding the various ways in which our campus produces waste. Typically, waste is well hidden from the public eye, allowing for an out-of-site-out-of-mind problem. May the best submission win!
Tea with EcoReps
Recently, the EcoReps hosted an informal space to gather feedback from the community on the EcoReps' progress in an effort to expand our sources for sustainable initiatives.
Clothing Swap
Periodically, the EcoReps host a clothing swap on campus. The rules are simple: donate a piece of clothing, take another item home.
EcoService Day
The Fall 2018 EcoService day went off without a hitch. Students, faculty, and other community members undertook a number of projects, including
a cleanup of Mount David
closing and winterizing the Plot
a waste audit for various buildings on campus
It was great to see everyone outside and engaged!
2018 Trashion Show
This fall's trashion show was one for the books. Contestants modeled dressed made out of plastic straws, plastic bags, packaging, and more. Read more here!
Media and Outreach
Newsletters
One of the main tasks for the Media and Outreach team is to create monthly newsletters that spread the word of sustainability around campus. Each month the newsletter carries a theme for a new project or update on campus sustainability. Click here for past newsletters!
Social Media
Follow us on social media for up-to-date info about sustainability initiatives at Bates! Follow us on Instagram, and check out our Facebook page.
No Waste November
At the end of the year, the EcoReps headed the No Waste November initiative. Sustainable and low-impact alternatives were advertised, like
reusable shopping bags
Bates Green Bikes for transportation
limiting printed pages
donating and shopping at clothing swaps or thrift stores
saving energy by keeping windows closed and turning off the lights
Waste and Recycling
Waste Audits
Periodically, EcoReps perform waste audits around campus. This consists of sorting through trash and recycling in order to analyze the waste habits on campus. These results help us to understand how to improve our sorting in order to prevent unnecessary landfill use and close wasteful loops through composting and recycling. These also take place through Junior Advisor programs in the dorms, which allows first years to get a better understanding of effective waste habits at Bates.
Hand Dryer Implementation
Many buildings at Bates still use paper towels in the bathrooms. This year, EcoReps are hoping to implement high efficiency hand dryers to eliminate the energy and resource waste created by paper towels. The projects for the project are that over the next ten years, this implementation would save the campus over $200,000 and 42.8 tons of CO2 emissions.
Hundreds of gallons of water are used in this process as well. With Bates' green-sourced energy and a conversion to electric dryers, the campus would prevent a significant amount of emissions and resource usage.
Electric Cars
In the Spring of 2018, Bates swapped out its vans for electric cars to run the community shuttle. Each day, the shuttle makes countless runs to various locations in the Lewiston/Auburn area. With several new Nissan Leafs, the impact of this service has been greatly reduced.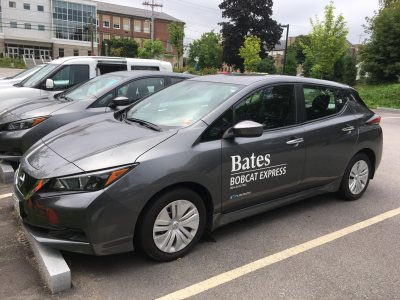 Data
Tracking Carbon Neutrality
Working with the Bates energy manager, John Rasmussen, the data team works to gather information and data pertaining to Bates' energy usage. Bates' carbon footprint comes from a diversity of sources like faculty commutes, heating and cooling the campus, study abroad travel, and others. The data group uses a combination of graphing and data management software to understand this impact and communicate their findings effectively.
Green Bikes
Bike Maintenance
This year, the Green Bike team has been busy keeping the collection of bikes online. They also have hosted open hours at the bike barn for the community.
Garden
Garden Hours
The Garden group hosted weekly meetings and open hours this year, opening up the Plot to the community for people interested in gardening, farming, and food systems.
Garden Party
The 2018 Garden Party served as the opening event for the Plot. Fresh tomatoes, homemade cookies, and other appetizers were served, and Take Note a cappella group performed.