Hiroya Miura
Hiroya Miura
207-786-6136
Music
Associate Professor
Olin Arts Center, Room 254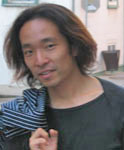 Hiroya Miura, a native of Sendai, Japan, has been active as a composer, conductor, and improvisor in Canada and the United States. His works have been performed by Speculum Musicae, the New York New Music Ensemble, Nouvel Ensemble Moderne, Timetable, and So Percussion. He has served as the assistant conductor to George Rothman and Jeffrey Milarsky with the Columbia University Orchestra. He has since given a number of premieres of works by emerging European and American composers in New York. He is a founding member of the electronic improvisation unit, NoOneReceiving, and their debut album from the Grain of Sound has won critical acclaim in Italy, Portugal, and the United States.
He has studied piano with Claude Labelle at l'Ecole de Musique Vincent d'Indy, composition with John Rea and Alcides Lanza at McGill University. Later he pursued his graduate degrees in composition at Columbia University under the tutelage of Fred Lerdahl, Jonathan Kramer, and Tristan Murail. While he was a teaching fellow at Columbia, he was nominated as a finalist for the Presidential Teaching Award for his teaching in composition and music theory classes. He has received awards and fellowships from the Mellon Foundation, the Atlantic Center for the Arts, and the American Composers Forum.
Teaches composition and music theory.