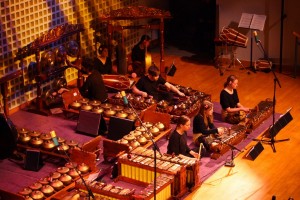 Gamelan, the term for a traditional musical ensemble in Indonesia, typically refers to a percussion orchestra composed predominantly of tuned gongs of various types and metal-keyed instruments. The ensemble is conducted by a drummer, and often includes voice, bamboo flute, xylophone, and stringed instruments. The most well-known gamelan ensembles are those from the islands of Java and Bali.
The Bates College Gamelan Orchestra serves as an Indonesian music study group, performance ensemble, and provides ceremonial music for college events. The group plays traditional and contemporary music of West Java (Sunda), Central Java, and new music for gamelan by North American composers. Students enrolled in a variety of music and anthropology courses have the opportunity for a hands-on experience with the instruments as part of their coursework.
For several decades, the presence of gamelan orchestras on college campuses both in the U.S. and abroad beyond Indonesia has been steadily increasing. The inclusion of such an ensemble from outside of the West serves multiple roles within an academic setting. The mission of the Bates College Gamelan Orchestra includes the following goals:
To provide a bridge to Southeast Asian culture
To provide an alternative way to think about human organization of sound and musical expression
To create a performing opportunity for students at all levels of musical competence
To provide interdisciplinary bridges to other subjects such as Asian Studies, Anthropology, and Cultural Psychology
To provide an intercultural experience and model the College's commitment to Diversity
The Bates College Gamelan Orchestra comprises two sets of instruments, representing two regional musical traditions from the island of Java. Gamelan Mawar Mekar ("Blossom of Inspiration") is a Central Javanese iron/brass set built by Mulyadi in Solo, Java in 1997, acquired by Bates in 2001. In 2007, a 7-piece bronze chamber ensemble from West Java known as gamelan degung was generously donated to the Bates Music Department by David Lydgate of Kaua'i, Hawaii.
The Bates College Gamelan Orchestra hosts Indonesian visiting artists on a regular basis. These performers typically work with the ensemble towards a particular event such as a concert of instrumental music, a dance performance, or traditional puppet theater performances. Indonesian artists who have held guest residencies at Bates include Kuwat (2002), Midiyanto (2003), Joko Susilo (2003-2004), Otong and Atik Rasta (2004), Undang Sumarna (2005, 2006, 2008), Euis Komariah & Gangan Garmana (2007), Nano S. (2008), Burhan Sukarma (2008) and Wahyu Roche, Ening Rumbini, and Rina Oesmann in (2009). Additional guest instructors and performers have included I.M. Harjito, Sumarsam, Ben Arcangel, Jody Diamond, and Andy Bouchard.
The Bates College Gamelan Orchestra ensemble typically performs at Bates once per semester and often participates in World Music Weekend at Bates in early spring. The group has also performed at Bowdoin College, The University of Maine at Augusta, and the Orion Performing Arts Center in Topsham, Maine.
In addition to its gamelan orchestra, Bates College houses the Eisler Shadow-Puppet Collection. Consisting of over 200 traditional Central Javanese puppets used in the performance of shadow plays, the collection is on long-term permanent loan to the College by Mr. David Eisler of Dover, New Hampshire.
The Bates College Gamelan Orchestra, which maintains the only gamelan sets in the state of Maine, welcomes new members on an ongoing basis. For more information contact Gina Fatone at gfatone@bates.edu or 207-753-6968.