Historian McCullough among May 28 Commencement speakers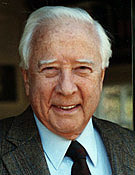 Four honorary degree recipients will speak at the 140th Commencement at Bates on May 28. They are Shakespearean scholar and cultural critic Marjorie Garber, AIDS researcher David Ho, historian David McCullough and choreographer Mark Morris. The 10 a.m. commencement ceremony takes place on the historic quad in front of Coram Library.
Described by The New York Times as "one of the most powerful women in the academic world," Marjorie Garber is a leading Shakespearean scholar and cultural critic.
The William R. Kenan, Jr., Professor of English and American Literature and Language at Harvard, she also chairs the university's Department of Visual and Environmental Studies and directs its Carpenter Center for the Visual Arts. Garber is the author of four widely admired books on Shakespeare, including her most recent, Shakespeare After All (Pantheon, 2004), which received the 2005 Christian Gauss Book Award from Phi Beta Kappa. An extensive study of Shakespeare's plays, the book represents the fruits of more than 20 years of teaching large lecture classes at Harvard and Yale. Newsweek chose the volume as one of the five best nonfiction books of 2004 and called it "an indispensable introduction to an indispensable writer . . . Garber's is the most exhilarating seminar room you'll ever enter."
Described by women's studies pioneer Catharine Stimpson as "the liveliest, wittiest, and most scintillating of writers about our culture," Garber has addressed a wide range of issues: from cross-dressing and cultural anxiety to bisexuality and the eroticism of everyday life, from our love of pets to our national obsession with the word "genius."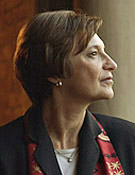 Her work on issues concerned with educational theory and university culture includes Academic Instincts (Princeton, 2000), Quotation Marks (Routledge, 2002), and A Manifesto for Literary Study (University of Washington, 2003). Currently, she is at work on a new volume of essays about the arts, the university and public culture.
A graduate of Swarthmore College (B.A. 1966, L.H.D. 2004) and Yale University (Ph.D. 1969), she has taught at Yale, at Haverford, and — since 1981 — at Harvard. She is president of the Consortium of Humanities Centers and Institutes and senior trustee of the English Institute. Garber will receive the honorary degree of Doctor of Humane Letters.
AIDS researcher Dr. David D. Ho is known for designing experiments so precisely that they always provide "exactly the findings he needs to support or dismiss his surmises, which are always of consequence," Esquire magazine wrote in 1999. This focused intelligence and an equally keen determination to reduce human suffering have made Ho preeminent in the battle against HIV/AIDS.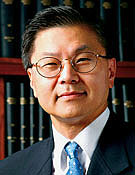 In 1995, Ho's work was key to unlocking the secrets of HIV replication and the subsequent development of the combination drug therapy — the so-called drug cocktails — that has reduced U.S. and European AIDS deaths to one-fifth of their peak. Time Magazine named Ho its Man of the Year for this work in 1996, and he received a Presidential Medal in 2001. Ho is the Irene Diamond Professor at The Rockefeller University and is the founding scientific director and chief executive officer of the world-renowned Aaron Diamond AIDS Research Center, in New York City.
Ho continues to explore the development of an AIDS vaccine and therapies for HIV infection and heads a consortium of Chinese and American organizations addressing the crisis of HIV/AIDS in China. His numerous honors and awards include honorary doctorates and professorships, Germany's Ernst Jung Prize in Medicine, the Mayor's Award for Excellence in Science and Technology in New York City, the Squibb Award, and the Hoechst Marion Roussel Award. He served on Harvard's board of overseers and currently sits on the governing boards of the California Institute of Technology and the Massachusetts Institute of Technology Corporation.
Born in Taiwan, Ho was 12 when his mother brought him and his brother to the United States to join their father, who was pursuing a graduate engineering degree. He received a bachelor of science degree from the California Institute of Technology in 1974 and his M.D. from Harvard Medical School in 1978. Ho did clinical training at Cedars-Sinai Medical Center/UCLA School of Medicine — where he saw some of the first cases identified as AIDS — and at Massachusetts General Hospital/Harvard Medical School. Ho will receive the honorary degree of Doctor of Science.
A writer of acclaimed, best-selling histories and distinctive narrator for television and film, David McCullough is a two-time winner of both the National Book Award and Pulitzer Prize who has been called a "master of the art of narrative history." His books, including his latest, 1776 (Simon & Schuster, 2005) are praised for their rigorous scholarship, insight into American life and literary merit. McCullough's ability to infuse accounts of the American past with a writer's enthusiasm for storytelling has made him "the people's historian," according to The New York Times. He once told a reporter about "the accelerative quality of curiosity" and he writes: "[T]he more you find out, the more you want to find out and that's a great time … boy, it's wonderful!"
The citation for his 1998 honorary degree from Yale, where he earned his B.A. in 1955, notes that McCullough "paints with words, giving us pictures of the American people that live, breathe and, above all, confront the fundamental issues of courage, achievement and moral character." His seven other books, none of which has ever been out of print, are The Johnstown Flood, The Great Bridge, The Path between the Seas, Mornings on Horseback, Brave Companions, Truman and John Adams, the latter two receiving Pulitzer Prizes, in 1993 and 2002, respectively. McCullough is twice winner of the prestigious Francis Parkman Prize. He has been honored with the National Book Foundation Distinguished Contribution to American Letters Award, the National Humanities Medal and the New York Public Library's Literary Lion Award. He is past president of the Society of American Historians, has been elected to the American Academy of Arts and Sciences and is an avid landscape painter.
As host of The American Experience and as narrator of numerous documentaries, such as The Civil War, and of the movie Seabiscuit, he employs a voice The New York Times calls "three parts honey, two parts gravitas . . . It is the voice of God, only friendlier." McCullough will receive the hononary degree of Doctor of Humane Letters.
The work of choreographer Mark Morris "is forthrightly humanistic," writes New Yorker dance critic Joan Acocella. "He addresses the 'great themes': love, death, grief, fellowship," presenting them with a complexity, vigor, and musicality that have placed him in thetop rank of American dance. Born in Seattle, Morris decided to become a dancer at age 8, first danced professionally at 11 and first choreographed professionally at 14.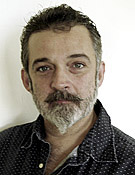 In 1980, after four years of work in New York City with various companies, he formed the Mark Morris Dance Group (MMDG). A concert at the Brooklyn Academy of Music four years later put the group on the map, and by 1986 Morris was nationally known, thanks in part to an hour-long public television special. His stature was confirmed by his accomplishments as dance director for Belgium's national opera house, in Brussels, where Morris and his group worked from 1988 until 1991. From this period came such masterpieces as L'Allegro, il Penseroso, ed il Moderato, Morris' first evening-length work; Dido and Aeneas; and his pop interpretation of The Nutcracker, called The Hard Nut. During this period Morris also co-founded the White Oak Dance Project with Mikhail Baryshnikov.
Since founding MMDG (which is currently celebrating its 25th anniversary), Morris has created some 120 works for that ensemble, more than a dozen commissions for such ballet companies as the San Francisco Ballet and the American Ballet Theatre, and has choreographed and directed several opera productions. His latest project is King Arthur, scheduled for a world premiere with the English National Opera in June. In addition to a full international touring schedule, Morris and the Dance Group have been the subjects of several television programs and three films, including an Emmy Award-winning collaboration with cellist Yo-Yo Ma. In fall 2001, MMDG opened the Mark Morris Dance Center in Brooklyn to serve as its headquarters and provide community outreach and educational programs. Morris will receive the honorary degree of Doctor of Fine Arts.
View Comments