Rubberbandance Group premieres at college's Dance Festival July 14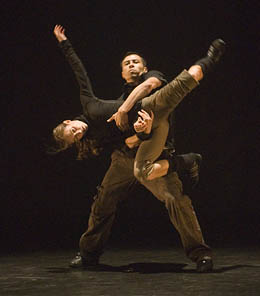 Kicking off the Bates Dance Festival's 25th anniversary season, Victor Quijada's Montreal-based Rubberbandance Group (RBDG) performs an evening of new works at 8 p.m. Saturday, July 14, in Schaeffer Theatre, 305 College St., Bates College.
Rubberbandance Group is a collection of world-class dancers from contemporary and breakdance backgrounds who unite to investigate human relationships through an innovative mix of hip-hop dynamics and contemporary classicism. RBDG offers fresh and inventive works that marry explosive hip-hop physicality with the subtlety of contemporary storytelling. The music is baroque, Prokofiev, tango, riff or rap, while the choreography blends ballet, contemporary and hip-hop styles.
Group founder and director Quijada discovered dance on the streets of California, where he began breakdancing at the age of 8. After completing more formal dance training at the Los Angeles County High School for the Arts, he spent two years working with his mentor Rudy Perez' performance ensemble. Quijada went on to work with Twyla Tharp Dance and Eliot Feld Ballet in New York City, and in the summer of 2000 moved to Montreal to join Les Grands Ballet Canadiens. After years of exploring dance and theatre from urban, classical and contemporary angles, he formed Rubberbandance Group in 2002.
In 2003 Quijada received both the Bonnie Bird North American Award and the Peter Darrell Choreography Award in the United Kingdom. He has created work for Peter Boal & Company (NYC), Transitions Dance Company (London) and Chamber Dance Project (NYC), and his Self Observation Without Judgement, created for Scottish Dance Theatre, won the 2004 National Dance Award for Best Modern Repertory.
A finalist in the 2004 American Choreography Awards for Hasta La Proxima, his work was featured in the K-OS music video Man I Used To Be, winning the 2005 Much Music Video Award for Best Rap Video.
Since its inception, RBDG has been a coveted guest at hip-hop and contemporary dance festivals throughout North America, Europe and Japan, where Rubberbandance represented Canada at EXPO 2005. A well-known member of the Montreal dance community and resident company at Usine C in 2003 and 2004, the group is best known for the innovative site-specific work Slicing Static, called Best Dance Production of 2004 by the Montreal Mirror.
Other highlights include performances at Jacob's Pillow Dance Festival, Bumbershoot Music and Arts Festival, the Fall for Dance Festival at City Center in New York City, Breakin' Convention at Sadler's Wells in London, ACT Festival 2004 at the Rotterdamse Schouwsberg in Holland and URB Festivaali at Kiasma in Helsinki, Finland. In 2007 Victor Quijada and Anne Plamondon were named artists in residence at Montreal's Place des Artes.
In addition to main stage performances, the festival offers a selection of free and low-cost events. Complete information is available at the website.
View Comments