Kate Weare Company opens Bates Dance Festival on July 11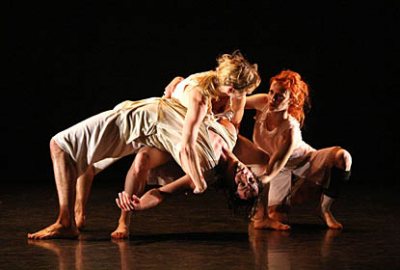 Opening the 2009 performance season of the internationally acclaimed Bates Dance Festival, the nuanced, sensual Kate Weare Company offers two Maine premieres at 8 p.m. Saturday, July 11, in Bates College's Schaeffer Theatre, 365 College St.
Tickets are $20 for the general public and $12 for students and seniors and can be purchased by calling 207-786-6161 after July 6.
The company offers a free lecture-demonstration at 7:30 p.m. Monday, July 6, in the Olin Arts Center Concert Hall, 75 Russell St.
One of the most important choreographers to emerge in recent years, Kate Weare creates fierce, imaginative dances that explore perceptions of identity, intimacy and the basic human urge to move.
Fresh from its New York season, at Bates the Kate Weare Company presents its acclaimed "Bridge of Sighs," a quartet that looks at the reckless and wise instinct that drive us upstream towards love. Also premiering is "Lean-to," a nuanced dialogue between movement and sound created in collaboration with composer Michael Gallante, scenic designer Kurt Perschke and lighting designer Brian Jones, and featuring a trio of exceptional dancers.
Kate Weare was nominated for the 2008 Alpert Award in the Arts for choreography. Her honors include a choreographic fellowship from the Maggie Allesee National Center for Choreography and residencies at Joyce SoHo, in Dance New Amsterdam's Artist in Residence program and at Jacob's Pillow, which co-commissioned "Bridge of Sighs."
Weare earned her bachelor's degree in fine arts from the California Institute of the Arts in 1994. She showed work in Los Angeles, San Francisco, London and Belgrade before moving to New York in 2000. She founded the company in 2005 with the mission of making dances that explore a contemporary view of intimacy through the power and clarity of the moving body.
The company has received commissions from Dance Theater Workshop, the Sonoma Arts Council, WestWave Dance Festival, AXIS Dance Company, CityDance Ensemble, and Danspace Project. In 2007, the company won the top prize of $10,000 from the Joyce Theater Foundation's A.W.A.R.D. Show, in which the audience votes on the best modern dance from among 16 competing companies.
In addition to mainstage performances, the Bates Dance Festival offers a selection of free and low-cost events. Additional information, including ticket prices and event locations, is available on the festival Web site.
View Comments