Posts by Jay Burns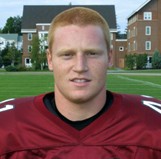 Reporter Brandon Hall of ESPN Boston offers a brief Q-and-A with Pat…
---
Published on
Description

April 9, 2013
3:23 pm

Reporter Brandon Hall of ESPN Boston offers a brief Q-and-A with Pat Foley '04, former All-NESCAC linebacker who is the…

April 2, 2013
11:00 am

At Mount David Summit, six Bates seniors read poems and poetry from their senior theses in creative writing.

February 27, 2013
2:00 pm

"Breaking" at the world debate tournament is more impressive the more you learn about it.

February 25, 2013
11:02 am

McGrory once served 52 readers as a Boston Globe paperboy and now serves over a million as the paper's new editor.

February 20, 2013
11:52 am

Belcampo is not just an interesting company but a potentially important one.

February 19, 2013
3:38 pm

It's a kick to Skype with Grandma or a job candidate, but would you want to have an interactive video session with your favorite retailer?

February 19, 2013
1:02 pm

An African monkey known as a lesula was recently confirmed as a new species by Kate Detwiler '95 and her fellow primate researchers.

January 28, 2013
2:41 pm

Unedited video of the Rev. Martin Luther King Jr. Day keynote session at Bates College, Jan. 21, 2013 in the Gomes Chapel.

January 28, 2013
1:00 pm

Stories for January include MLK Day coverage, a new Bobcat for Bates and clues about the swine flu outbreak in 2009.

January 28, 2013
12:00 pm

The findings suggest that the patterns of student movement across a campus like Bates is not as "well-blended" as thought.