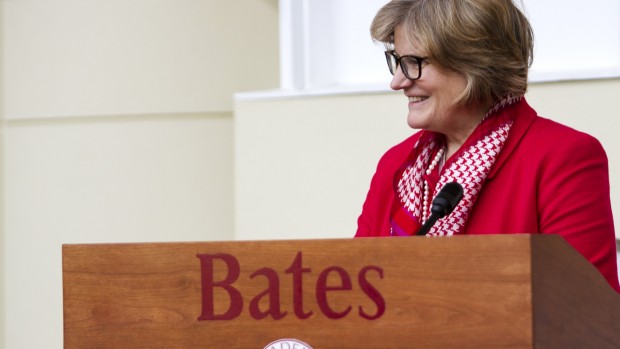 "We have ambitious goals for Bates, and I am inspired by this outpouring of support from the college community," said President Clayton Spencer.
Published on
Description

---

May 25, 2014
12:00 pm

Below is multimedia coverage of Commencement 2014 including full video of the Commencement ceremony on May 25. Check back for…

May 22, 2014
2:29 pm

Bates College held its 148th Commencement on Sunday, May 25, on the  Historic Quad. The college conferred honorary degrees on four leaders…

May 20, 2014
3:31 pm

Here's a primer for getting the best from Commencement at Bates, the 2014 edition.

May 14, 2014
10:53 am

Beautiful spring weather and delicious food draw students downtown on May 7.

May 2, 2014
2:28 pm

For the fourth time, Bates students and downtown businesses are eagerly anticipating Bates Night in Town, the May 7 celebration of town-gown ties.

April 21, 2014
1:00 am

Bates will confer honorary degrees on leaders from the arts, business, journalism and technology during Commencement ceremonies May 25.

April 17, 2014
1:57 pm

Happy May from Bates College! This is a list of public events at the college for the period May 1–25, 2014.

April 2, 2014
10:53 am

Visitors come from near and far, and a least one watched from far, far away this year.

March 31, 2014
1:44 pm

The 2014 "Senior Thesis Exhibition" and a display of posters from an influential period in Polish graphics arts open on April 4 at the Bates College Museum of Art.

March 31, 2014
12:58 pm

The exhibition underscores a special, student-focused relationship between the Museum of Art and the Department of Art and Visual Culture.