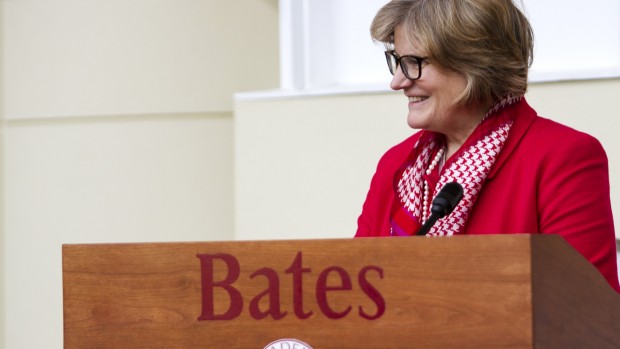 "We have ambitious goals for Bates, and I am inspired by this outpouring of support from the college community," said President Clayton Spencer.
Published on
Description

---

August 14, 2012
3:30 pm

Ray brings more than 15 years of experience as a scholar and leader who bridges thought and action.

June 29, 2012
9:40 am

The 12th annual Clean Sweep sale raised a record $21,223 that will be divided among participating nonprofit organizations.

June 5, 2012
12:44 pm

Thanks to a two-year collaboration among the Portland branch of the NAACP, the University of Southern Maine and Bates, valuable papers of the Portland branch are being made accessible to researchers and the public for the first time.

June 1, 2012
2:31 pm

In a May 8 ceremony, the Harward Center for Community Partnerships honored 15 persons and organizations for their efforts to strengthen college-community ties.

May 21, 2012
7:22 am

The Lewiston-Auburn 911 Communication Center is a cheerier workplace thanks to two student artists from Bates.

April 27, 2012
3:25 pm

Two Bates seniors have been recognized statewide for their contributions to the Lewiston-Auburn community.

March 22, 2012
1:33 pm

For the sixth year in a row, Bates College has received prominent federal recognition for the quality of its engagement with the community.

December 7, 2011
4:56 pm

David Longdon '14 reflects on his summer as a leadership intern with Lots to Gardens, a youth-oriented, sustainable urban agriculture program in Lewiston.

November 29, 2011
1:43 pm

A school popular with students committed to social justice, Bates College presents a daylong training program in organizing and advocacy skills starting at 10 a.m. Saturday, Dec. 3, in Chase Hall Lounge, 56 Campus Ave.Open to the public, the six-hour D4D on the Road Workshop will be led by the Center for Progressive Leadership.

October 21, 2011
10:28 am

A best-selling author whose writing has explored Americans' relationships to faith, Jeff Sharlet examines anti-Islamism through the lens of this year's tragic massacre in Norway.