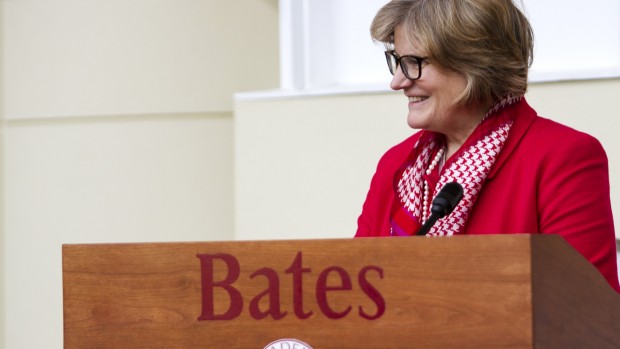 "We have ambitious goals for Bates, and I am inspired by this outpouring of support from the college community," said President Clayton Spencer.
Published on
Description

---

October 17, 2012
10:33 am

From the 1950s to the 1970s Arthur Marcus was one of the best at his job.

October 15, 2012
4:45 pm

On Oct. 20, the Olin Arts Center hosts the daylong event Villages, produced by Maine's independent organizer of TED-style presentations, TEDxDirigo

October 2, 2012
10:07 am

Laura Fortman, Maine's former commissioner of labor, gives the lecture "Frances Perkins: New Deal Legacy and Lessons for Today" on Oct. 10.

September 26, 2012
4:28 pm

Bates presents a panel discussion exploring the history and future of the Clean Water Act on Oct. 1.

September 26, 2012
4:16 pm

Bates College alumni with careers in social activism offer a panel discussion titled "The Path From Activism to Leadership" Sept. 29.

September 10, 2012
4:00 pm

Bates marks the 40th anniversary of the federal Clean Water Act with a Sept. 20 talk by an influential environmental historian.

September 7, 2012
1:59 pm

The Global Lens 2012 film series returns to Bates in weekly screenings starting Sept. 17.

August 29, 2012
8:43 am

Todd Gitlin, the author of a new book about the Occupy movement that swept the nation in 2011, speaks about the movement on Sept. 11.

August 23, 2012
3:00 pm

For Monica Rodriguez '12, AESOP in 2008 shaped her understanding of Bates and herself.

August 14, 2012
3:30 pm

Ray brings more than 15 years of experience as a scholar and leader who bridges thought and action.