It was a little hairy on the water that day in May 2014. The group of Bates students led by Professor of Geology Dykstra "Dyk" Eusden '80 had set out in their kayaks from Southwest Harbor, bound for Baker Island via the Gut between Little and Great Cranberry islands.
The goal was to camp on at the Baker Island Lighthouse for five days, from May 7 through May 11, jaunting around to map the volcanics in and around the islands, a typical project for Eusden's legendary Short Term course, "Geology of the Maine Coast by Sea Kayak."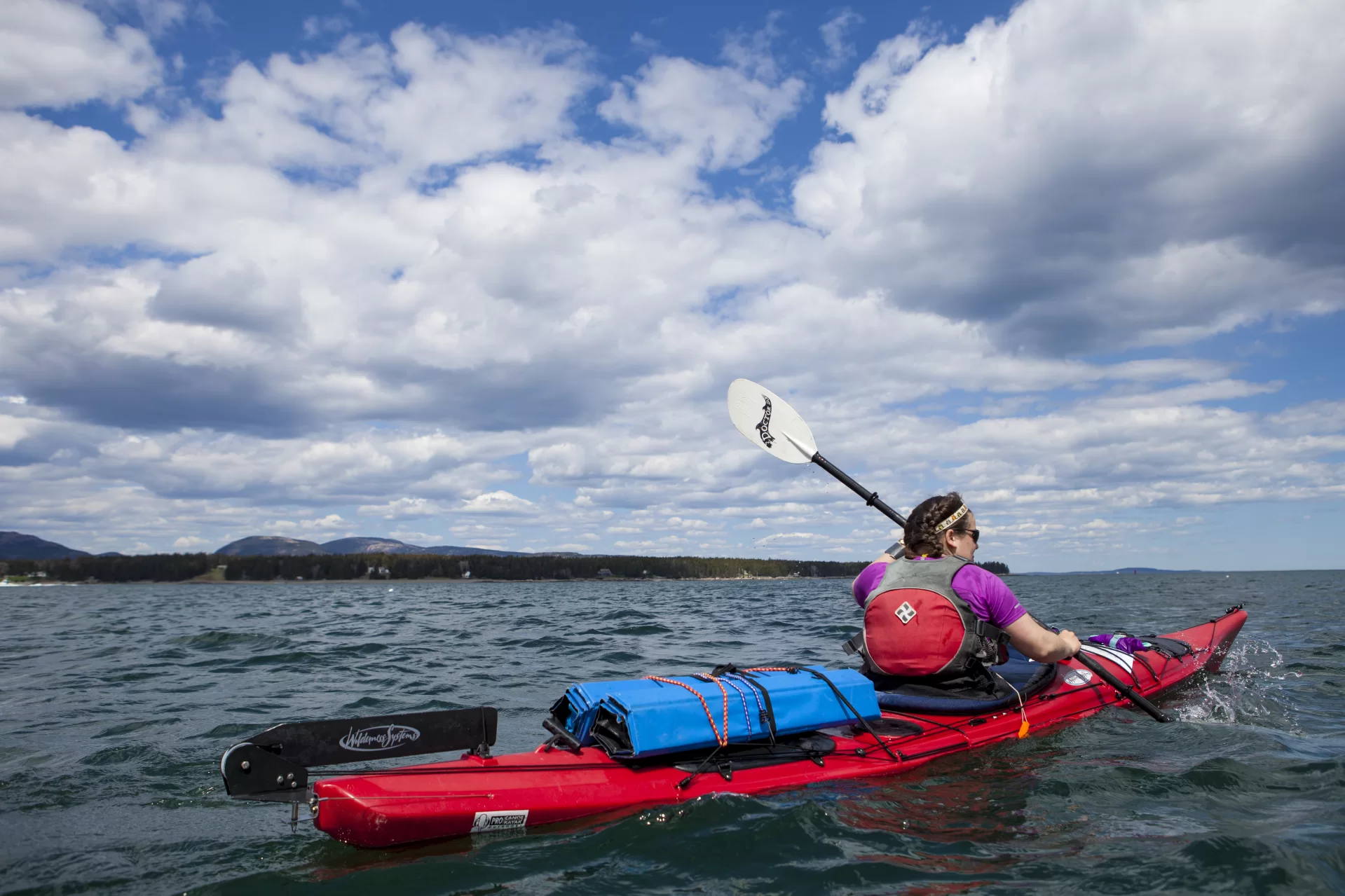 "But we ran into really challenging southeast winds that forced us to bivvy on Islesford," aka Little Cranberry, Eusden recalls. Grace Kenney '16 remembers it as the "crash landing." A few people sat on the beach to catch their breath after the hard work of getting there.
"We were all relieved," remembers Graham Oxman '15. Then came the adaptation to being blown off the path they'd planned. Which, in a way, fit right in with the course goals, to teach them not just about geology, but about weather, tides, navigation, group dynamics, and living in situations they'd likely never experienced before.
In this situation, they needed to figure out an alternative plan for the night. A group, including Eusden and Ian Hillenbrand '17, set out on a reconnaissance mission. Hillenbrand is from Ohio but had vacationed in Maine with his family, including trips to Little Cranberry because his father, Will Hillenbrand, a children's book author and illustrator, had an artist friend there. "I said, 'Hey, I know this guy,'" Hillenbrand remembers. And that was artist, author, and children's book illustrator Ashley Bryan.
That spring Bryan was 90 years old and had already published many books, including the popular 2011 children's book Beautiful Blackbird. The local elementary school on Little Cranberry had recently been named for him, but even in his adopted state of Maine he had not yet become quite so widely known as he would in the coming years. (In 2020, Maine Gov. Janet Mills proclaimed his birthday, July 13, "Ashley Frederick Bryan Day" in Maine). "I knew Ashley would probably know everyone, or at least put us in touch with someone we could talk to," said Hillenbrand.
Kenney had never heard of Ashley Bryan, but she was game, even if she was still in a full wetsuit, including the booties.
"I don't even think we took those off," Kenney says. But the artist welcomed the damp and disheveled Bates group into his cottage-studio.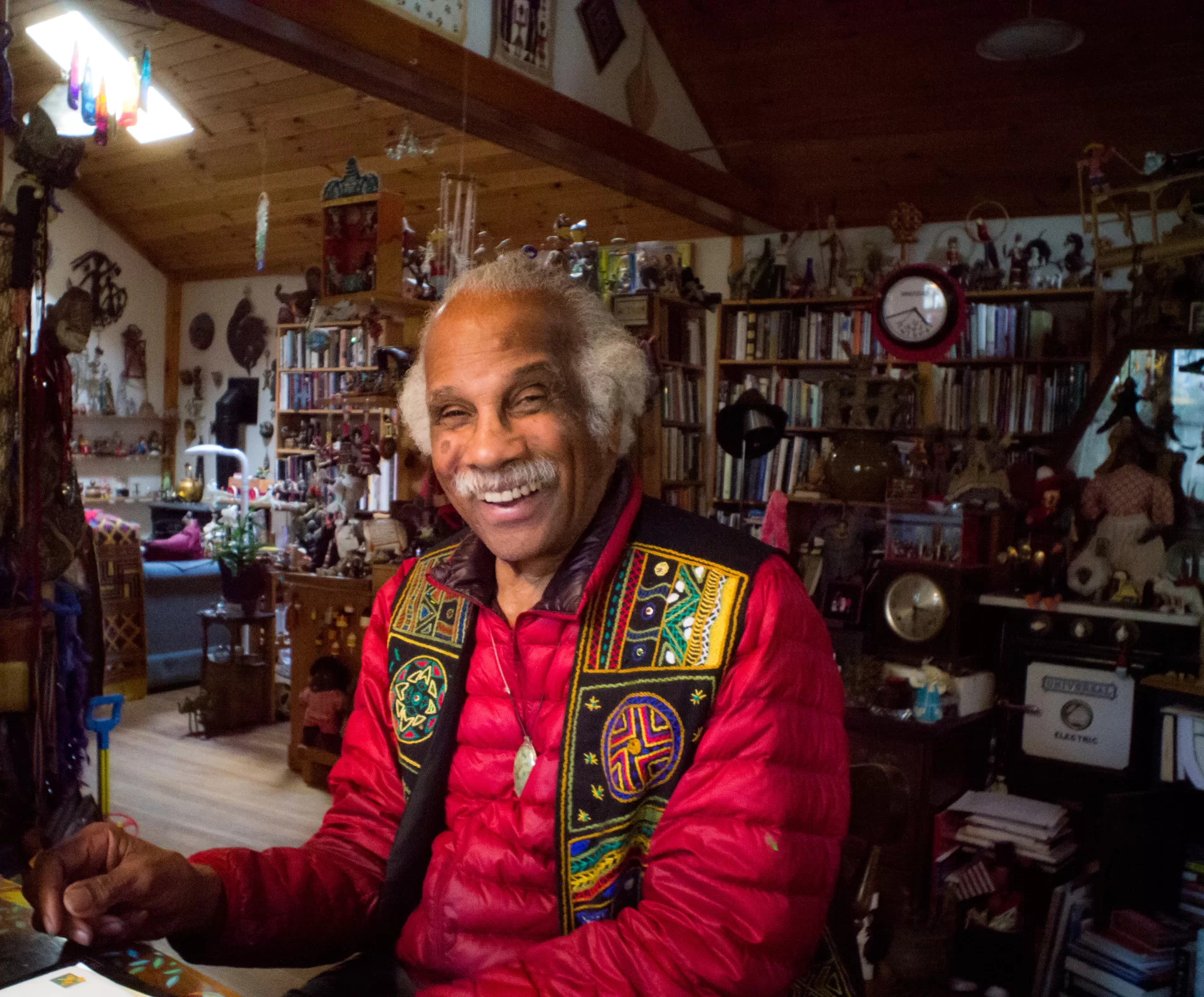 "There was like a layer of embarrassment that we were in our wetsuits," Kenney remembers. She may even still have been wearing the sea kayaking skirt that keeps the inside of the kayak dry in rough waters. "And I remember being really nervous about not knocking things over. It was like being in a toy store, or a museum."
But Bryan was unphased. After a quick visit, he recommended checking in with the proprietor of the general store. The Bates group made a plan to return later that day, then walked to the general store, where the woman who ran it extended hospitality as well, offering to let them camp on a point of land looking out to sea. Little Cranberry would be their home for the next four days.
In all, various members of the group made four trips to Bryan's studio. In Hillenbrand's photos, Noel Potter '17 has a huge grin on his face. Like most of the students, Potter had never heard of Bryan, but he went along anyway. "Mostly my motivation was just that I didn't want to miss anything. I wanted to soak in the whole experience."
Potter wasn't disappointed. And there was a lot to soak up in Bryan's home and studio. "Every horizontal surface and most vertical surfaces had something of interest that was probably made by Ashley Bryan, and if not by him, probably made by a friend of his, that were beautiful. And pretty much every single one had a great story behind it."
The visits were deeply moving to the students, so much so that this week, as they were wishing a happy birthday via group text to one of the friends they'd made during that Short Term, Jackie Ordemann '15, it turned into an impromptu memorial for Ashley Bryan, who died Feb. 4.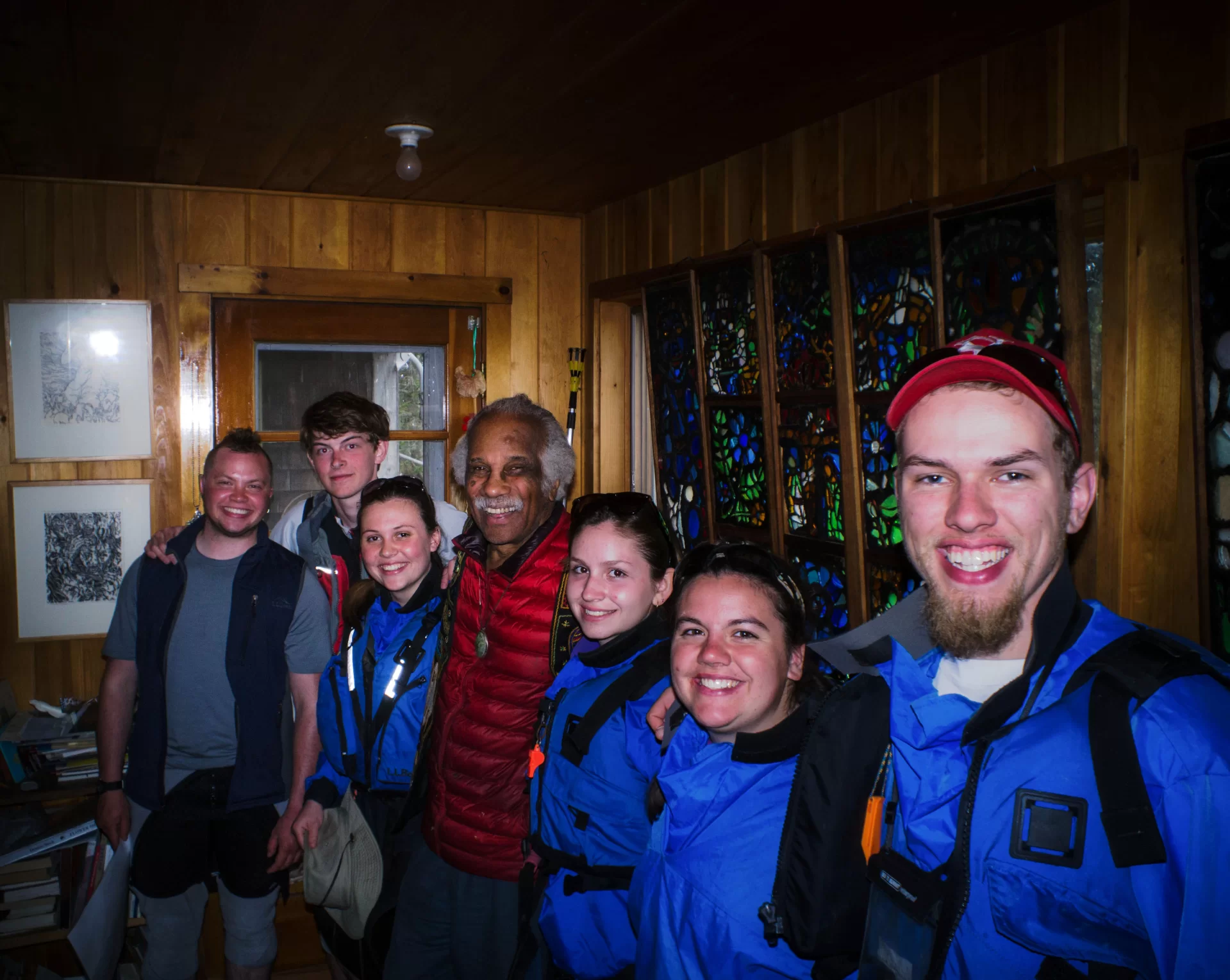 For Oxman, who went on to get a master's in Geographic Information Systems (GIS) from Colorado School of Mines, Bryan's jam-packed studio, an explosion of color and natural materials and projects underway, had a familiar feeling. His grandmother was an artist, and her studio was similarly both overflowing and carefully curated.
"You have tchotchkes everywhere," Oxman says, items that speak to the artist as both inspiration and maybe, he says, "a reflection of 'I see myself in this in some way.'"
"It was sort of like we stepped into his brain when we got there," he adds. "And I got the strong impression that he had just the biggest heart and a childlike excitement to just share it with people."
Hillenbrand, who completed a master's degree in geology from the University of Massachusetts–Amherst and is now working as a research scientist for the United States Geological Survey, had known Bryan so long he didn't remember the first time they'd met. Bryan and his father met when Will Hillenbrand was volunteering at a school in Cincinnati and Bryan was a visiting speaker, and Ian remembers that Bryan visited his elementary school. In a sense, he'd just always known Bryan. He was not surprised by the impression the artist left on his classmates during those visits in May 2014.
Bryan was also deeply curious about what the Bates students were doing, mapping the bedrock of the island (these students traveled with sketchbooks). The studio was filled with his stained glass made from sea glass he'd collected from nearby shores. This was exactly the kind of immersion in Maine ocean communities Eusden always hoped for in these trips. "I saw so much use of natural materials in Bryan's art that it really connected to our trip and experiences," says Eusden, who is retiring this year as the Whitehouse Professor of Earth and Climate Sciences.
While they visited, Bryan pulled out his marionettes, all handmade from found materials. "His ability to move them, making the characters come alive, was pretty incredible," Eusden remembers.
"It was almost like conversational play," Kenney says.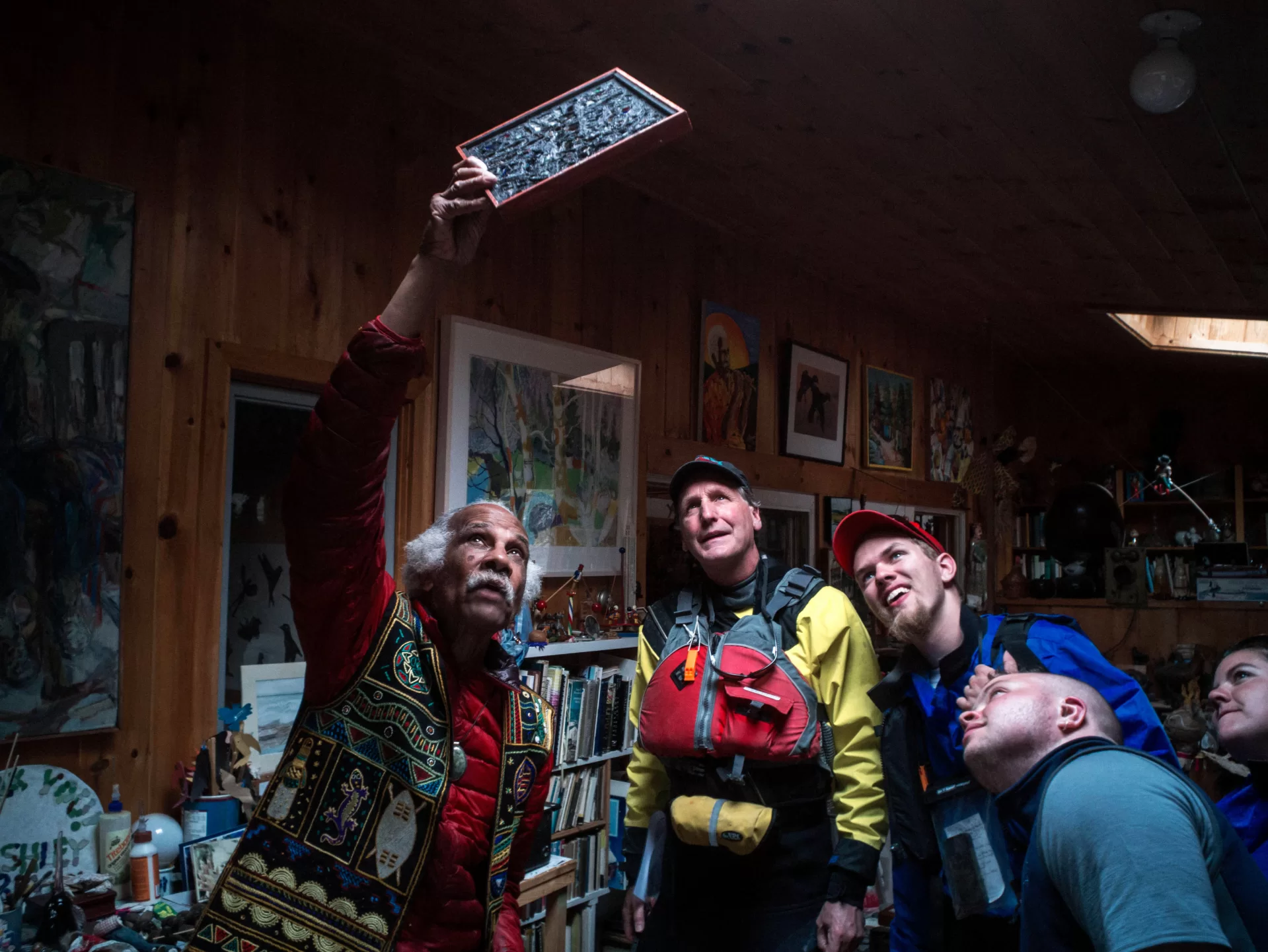 Bryan told them about his own career arc, which had included teaching art at the Dalton School in New York (Oxman, a graduate, was excited by this connection), and about his experiences in World War II. It was eye opening for the group. "None of us have ever been drafted," Oxman says. "I was sort of self-absorbed at that time in my life, but halfway through I remember thinking, 'This man was trying to get into art school at a time when segregation was not that far in the rear view.'"
Those visits felt all the more precious this week. Potter reflected on how he fell hard for Maine island communities on that trip, with their sense of joyous eccentricity and welcome, as embodied by Bryan, and feels fortunate to regularly encounter it through his work with Portland-based Rippleffect. At the outdoors youth program he leads sea kayaking trips, among other skills building adventures.
Kenney, who teaches at Slate School in North Haven, Conn., an environmentally-oriented elementary school, reflected on how it continued to resonate with her. For Christmas, she gave her mother a book of photographs of Bryan's marionettes. And last year, after Kenney told the school librarian at Slate about how incredible it was to meet him, they added some of Bryan's books to our school library. "It made me think about how that is one of the wonderful ways in which he can and will be remembered."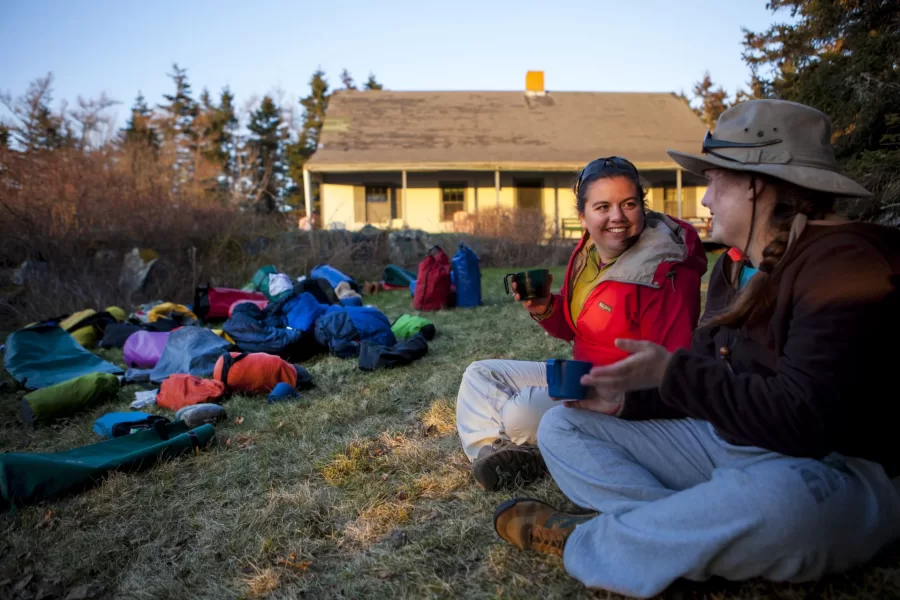 After learning about the Bates College Museum of Art's exhibition, Let's Celebrate Ashley Bryan! in late 2020, Kenney was inspired to write to Bryan to thank him for his hospitality. The whole experience had been so meaningful, she said, and she wanted him to know. She didn't know quite how to reach him (he was living with a niece in Texas during the pandemic) so she sent a letter to the Ashley Bryan Center. She was well aware that the man she'd met when she was a sophomore at Bates was well into his 90s. "I remember telling myself, 'You have to do this now, because who knows? You will be so angry with yourself if you miss this opportunity.'"
For Museum of Art director Daniel Mills, the story of the Bates Short Term encounter with Bryan fits exactly with the man he knew. "I'm not surprised to hear this. Ashley was such a wonderful man, a bright light and generous soul who had such an impact on the many people he met." The two spoke frequently during the development of the 2020–2021 Let's Celebrate Ashley Bryan! exhibition in the museum. "Each call ended with an outpouring of Ashley's love for me and the museum staff, and for the students at Bates."
View Comments