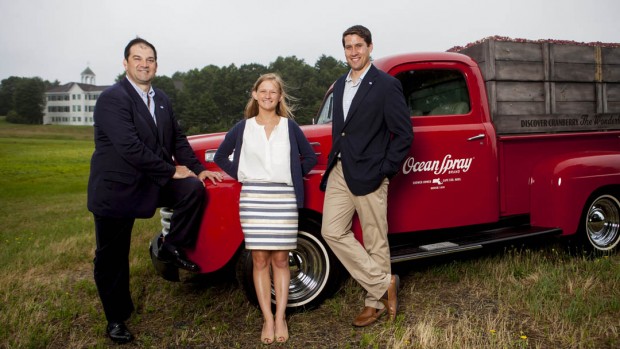 From Seattle, Wash., to New York City's Times Square, Bates students are participating in myriad off-campus experiences. The home front, of course, continues to percolate with scientific research, modern dance and extensive demolition…
Published on
Description

---

May 10, 2011
12:59 pm

As thoroughbred racing's triple crown chase gets under way, Bates is already celebrating a triple crown of its own. As…

May 9, 2011
3:42 pm

Internationally renowned violist Robert Dan and Maine pianist Chiharu Naruse perform at 7:30 p.m. Saturday, May 14, in the Olin Arts Center Concert Hall, 75 Russell St. The event is free and open to the public, but tickets are required. For more information, contact 207-786-6135 or olinarts@bates.edu.

May 5, 2011
4:10 pm

The Harward Center for Community Partnerships at Bates College has honored 15 individuals and organizations for their achievements in community collaboration. Rooted in the academic purpose of Bates, the Harward Center is a focal point for teaching and learning that connects academic and community interests. Reflecting this mission, recipients of Harward Center awards connect Bates with the larger community through collaboration, research and service.

May 4, 2011
2:46 pm

Rachel Boggia, acting director of the Bates dance program, presents a dance incorporating interactive video at 7 p.m. Monday, May 16, in the Plavin Dance Studio on the second floor of Merrill Gymnasium, 141 Russell St. Titled "In the Very Eye of the Night," the piece is an 11-minute solo created by Marlon Barrios Solano and performed by Boggia. The event concludes the series "Race in a Post-Human World," an examination of technology's impacts on concepts of social categories.

April 29, 2011
2:23 pm

The Maine Campus Compact has honored a Bates College senior and a member of the college's anthropology faculty for their commitment to public engagement. Visiting Instructor of Anthropology Heather Lindkvist is one of five college faculty in Maine to receive the Donald Harward Award for Faculty Service-Learning Excellence. Jessica Igoe, an economics major and education minor from Lexington, Mass., was one of four students at Maine colleges honored with the Heart and Soul Award, recognizing exemplary civic engagement.

April 29, 2011
12:58 pm

"Wow" was the consensus among the dozen-plus faculty and staff on an April 26 tour of Hedge Hall led by project manager Paul Farnsworth and clerk of the works Chris Streifel.

April 19, 2011
3:20 pm

Decades of dance at Bates College will come to life on stage again Saturday, April 30, as nearly 90 dance alumni perform a piece based on images by the late dance photographer Leonard Plavin. The dance "A Moment in Focus: Dance Images by Leonard Plavin," commemorating the passion and achievement of a photographer who shot some 10,000 images of the Bates College Modern Dance Company, concludes an alumni reunion dance performance beginning at 8 p.m. in Schaeffer Theatre, 305 College St.

April 13, 2011
2:46 pm

Elaine Tuttle Hansen, the seventh President of Bates College, announced to the campus community today that she plans to step down from her post as president effective July 2011. She will depart after nine years of leadership in which the institution — already regarded as a national and international leader in liberal arts and sciences education — has moved into an ever-stronger position in academic stature and reputation.

April 6, 2011
1:43 pm

Melissa Ducommun '11 talks about the role her senior thesis and adviser have played in her path to graduate school…

April 6, 2011
12:27 pm

Known as a mentor by student artists at Bates, senior lecturer Robert Feintuch enjoys a national reputation as the painter of images simultaneously evocative and quietly deadpan, serious and parodic. New York's Sonnabend Gallery is showing recent paintings and drawings by Feintuch through April 30.