Sustainability at Bates
---
Our Vision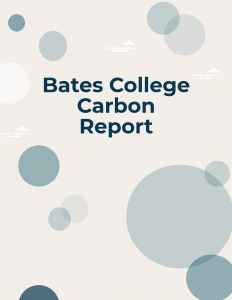 To put it quite simply, Bates is a small college with a huge heart. The college was founded by Abolitionists over 150 years ago, and that sentiment of giving a voice to the voiceless is still written on the bones of the college. It infuses every lecture, every department, and every initiative here at Bates. It gives a vitality to the student body and faculty, and allows us to relentlessly shoulder the burden and bear the weight of a life dedicated to the service of our world.
Sustainability is a natural outpouring of this affection, and plays a central role here at Bates. In the short term, we are working to reach our goal of carbon neutrality by 2020, through a combination of energy efficiency measures, as well as switching to a renewable fuel at our central heating plant. We are currently on track to meet this goal. This is a large undertaking, since energetically Bates is the equivalent of a small town, but we believe it is both possible and necessary.
At the heart of our sustainability movement are the Bates students. They are behind the scenes, quietly getting an enormous amount of work done. From the Bates carbon emissions report, to this website, to event planning, to our recycling and composting initiatives, the students are ready to roll up their sleeves and get their hands dirty in the business of making the world a better place.
---
 Our Progress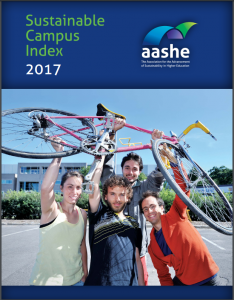 Many different groups around Bates College are working hard towards our goal of carbon neutrality by 2020. Currently, our campus greenhouse gas emissions are down a full 81% from our baseline year of 2001. This reduction is the result of energy efficiency measures, and switching to a renewable fuel in our central stream plant. Bates College is the first college in the nation to use this brand new fuel – known as Renewable Fuel Oil. It is a liquid, wood-based fuel and has a emissions profile drastically lower than fossil fuels.  Because of our new fuel and our precipitous reduction in emissions, the Association for the Advancement of Sustainability in Higher Education  – the preeminent international sustainability rating agency – has ranked Bates in 4th place worldwide in the clean Energy category in 2017, and 6th place for any year.
---
Carbon Emissions at a Glance

Bates is working tirelessly toward carbon neutrality. In order to  tackle future emissions, we need to understand our past. Here's a look at our CO2 emissions since 2001. We've decreased our campus carbon footprint a full 81% from 2001 levels, mostly the result of our energy efficiency measures, as well as  switching to a wood-based liquid fuel in our central steam plant.
---
Green Innovation Grants
If you have a great idea for advancing sustainability at Bates, then we want to hear about it. We offer funding for innovative, impactful ideas for our campus. Funding ranges from roughly $200-2000 per project. All staff, students, and faculty are encouraged to apply.  More about Bates Sustainability Grants.
---
Hands-On Sustainability Work
This past Fall, Bates students helped install a solar array on the roof of our Shortridge coastal research facility. The installation is large enough to power 50% of the building's electrical loads throughout the year. We expect to install the remaining 50% shortly. Real time energy monitoring of our solar array.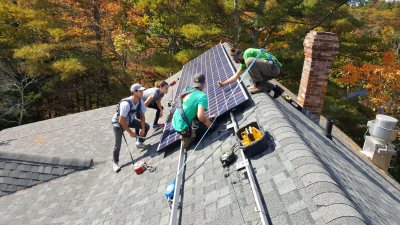 ---
Gold-Rated Sustainability
Bates has recently received a Gold rating from the Association for the Advancement of Sustainability in Higher Education  (AASHE) – the main international sustainability rating agency – for outstanding work in the sustainability field. In particular, we received notice because of our drastic reduction in our carbon emissions.
---
Our Campus
Check out our campus sustainability map here, showcasing Bates' green buildings throughout campus.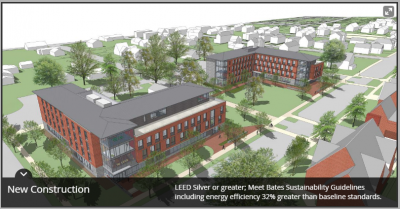 ---
Our Newsletters

For More Newsletters. . .
---
Sustainability Stories
The Sense and Sustainability Interview Series was created to tell the untold stories of the care that Bates students, faculty, and staff have for the earth. Click each photo to read the full interview!
---
Our Sustainability Team
 EcoReps
The Bates College EcoReps is a collaborative team of student environmental leaders who work toward promoting environmentally responsible behavior on campus through peer-to-peer outreach. This dynamic group of students is charged with designing and initiating projects that foster environmental stewardship and bring Bates closer to its sustainability goals. Some of their tasks include working on recycling and composting campaigns, analyzing energy datasets, and coordinating events such as EcoService Day. They are currently focused on 4 main objectives:
Bring our sustainability narrative to life and foster environmental awareness through outreach and campus-wide events

Manage waste at Bates through compost and recycling initiatives

Analyze our energy use and carbon footprint data and formulate a carbon plan

Expand our project budget through grants and innovative modes of funding
You can apply to become a Bates EcoRep or EcoRep Intern (first-year position) with our Bates EcoRep Application–
 
More on Bates Sustainability –