Welcome
At Bates we believe in leading by example. Every decision we make — from constructing energy efficient buildings that achieve LEED Silver equivalency at a minimum to offering vegan dining options and local, organic food at every meal — reflects our ethic of environmental stewardship.
Our Office of Sustainability is working with the Committee on Environmental Responsibility to move the college toward more efficient, cleaner sources of energy and engage every member of the Bates community in sustainable practices.
We encourage students to become active in campus life by providing easy ways to minimize your environmental footprint (e.g. zipcars and single stream recycling) and opportunities to connect your studies and passions with practical applications. Whether working as a campus EcoRep, compiling a greenhouse gas emissions inventory for your thesis, or organizing a Trashion Show, we welcome you to join us in building a more sustainable community.
 
Highlights: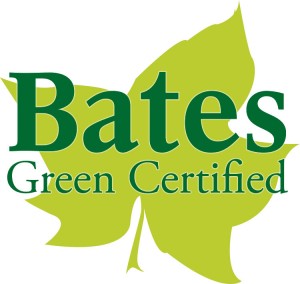 Green Certification program (New!)
The Green Certification program challenges you to do your part! Staff & faculty and students who commit to sustainable practices earn recognition and bragging rights.
Monthly Newsletter

The Sustainable Bobcat brings you news, announcements and information about environmental issues relevant to your life. Read all about it here.
Stanton Environmental Award
Nominate an environmental leader for the Stanton Environmental Stewardship Award. Each year Bates and the Stanton Bird Club team up to recognize both a graduating senior and a staff or faculty member for their dedication to environmental stewardship. Who do you consider an environmental leader on campus?