Energy
---
Our Energy Plan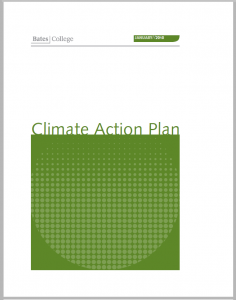 Of all the sustainability initiatives here at the college, Energy, and its resulting greenhouse gas emissions is perhaps the most pressing challenge facing us. The earth's carbon dioxide levels are well over 400 ppm, and it is crucially important for Bates to get its greenhouse gas emissions house in order.
Adopted in 2010, the Bates Climate Action Plan set an ambitious goal of carbon neutrality for the college. With the recent changes to our central heating plant – switching from fossil fuels to a renewable, tree-based fuel oil – as well as our intensive energy efficiency improvements, we are on track to meet our goal. Our campus carbon emissions have decreased 70% from our baseline year of 2001, despite our growing building footprint. We are currently on track to meet our carbon neutrality goal of 2020.
---
Energy Projects
Energy Efficiency
John Rasmussen, our Energy Manager, has been working tirelessly to eliminate energy waste and make us very lean through energy efficiency measures. From attic insulation, to new windows, to enhanced building and motor controls, we are quickly eliminating wasteful systems and practices on campus.
Renewable Fuel Oil
We have converted our central steam plant from natural gas to a renewable fuel oil, which is a heating oil substitute made from tree offcuts. It has a greenhouse gas footprint of only 15% of heating oil, and is 100% renewable. Our central heating plant provides heating for 80% of our buildings. We are expecting this fuel switch to put Bates emissions 64% down from our baseline year. Which means we are 2/3 of the way to our carbon neutrality goal!
Lighting
Bates is in the process of converting its florescent lighting to LEDs campus-wide.  LEDs last for 25 years, contain no mercury, and operate for a tenth of the electricity of incandescent bulbs. They also produce a better quality light, with no flicker effect and a more natural spectrum of colors.
Student Solar Installation
Bates students don't shy away from getting their hands dirty. We will be installing Bates' first solar array with the help of Revision Energy and Bates students. It will provide enough electricity throughout the year to power 100% of the parent building's total electrical load.
Electric Car Charging Stations
Bates has installed 4 new electric car charging stations for students, staff, and faculty. Part of this installment was made possible by a grant from Tesla Motors. Why are we switching over from gas to electric? Aren't emissions still being generated at the power plant? Find out how much greener the lifecycle costs of electric vehicles are here.
---
Buildings
Because it represents the largest section of our greenhouse gas emissions, the construction and operation of our buildings have been crucial to our success at reducing our footprint. Learn more about what our efficiency measures implemented on buildings are.
---
Transportation
We can cut down on our carbon footprint in little ways by offering more sustainable options to get out an about on and off campus. Check out some of these options:
Learn more… Teaching Sustainability at Bates