---
Green Bike program
Bates Green Bikes offer students access to bicycles for use on and off campus. It's a free program that works two ways: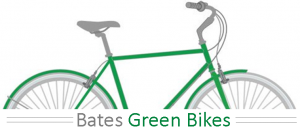 #1 Students doing fieldwork  or an internship in Lewiston/Auburn can apply to borrow a bike for the semester.
For 2013/2014, Bates Green Bikes is lending out a limited number of bicycles to students doing volunteer work in the Lewiston/Auburn community and surrounding areas. We hope that these bikes can offer a car-free, quick, easy and reliable form of transportation. Often a bike ride of less than five miles can be far quicker than car or shuttle.
The bikes will be assigned on a first-come, first-served basis, with priority given to students without a car on campus. Each student receiving a bike will be the sole owner of that bicycle for the rest of the semester and will be responsible for: keeping it locked (the bikes will come with locks), riding safely (helmets will be provided upon request) and reporting mechanical damages to the provided phone number. Bikes can be stored where students reside (every dorm on campus has a bike storage room and racks outside) as long as they are locked.
The Green Bike program will hold open shop hours weekly at the bike garage (10 Frye St.) for general maintenance issues. Students who want to may also use these shop hours to learn how to fix a flat tire, tighten brakes, and other basic bike maintenance skills.
TO APPLY FOR A BIKE, complete an application form and submit it to the front office in Facilities Services (Cutten Maintenance Center) care of: Julie Rosenbach, Manager of Sustainability Initiatives.
#2 Students can check out a bike from the Outing Club's E-Room for day trips.
The E-Room is located in the back of Chase Hall. Hours are M-W-F from 4:15-5 PM.
The E-Room has just about everything that you could ever need to do something in the outdoors. Nordic skis, Alpine skis, all the accessories that you could imagine to go with boats and boating, climbing equipment, camping accessories, and yes, bikes.
A $5 PER ITEM deposit is required to rent the equipment and will be returned to you upon return of the equipment. All items must be returned within one week to the E-room. Check with the E-room staff regarding the due date of items over breaks.
Contact Us