Home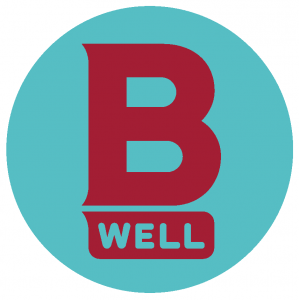 Earn your 2018 Salad Bar Sticker:
This year, B-Well has partnered with "Wellable" to help us stay active and well as a college.  To earn your sticker, join the platform. Here are the steps:
Create a Wellable Account
Pair a wellness tracking device of your choice (once logged on, click on the "Connections" tab)
Once you've completed these steps, we will add you to the list of salad bar sticker recipients and you can get your sticker with the cashier at the den.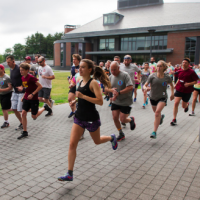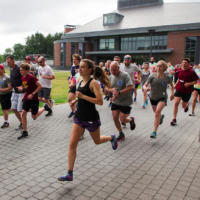 The 2018 B Well 5K Results are in:  Click here to view.
Onsite fitness classes are free to all staff, faculty, spouses / partners (just need Bates ID): view the 2018 Summer B-Well Schedule.
Wellness at Bates
The B-Well program was created in 2007 and strives to provide encouragement, motivation and education for the Bates community. Wellness is the process of being aware of and actively working towards better physical, mental, and emotional health. Bates values healthy community members! B Well offers free fitness classes such as yoga, fitness boot camps, aquatic classes and more. Additionally, the program provides free health coaching and tobacco cessation opportunities. To learn more about these and much more, contact Mike Milliken, Wellness program manager, at 207-753-6936 or mmillike@bates.edu
Eat Well
Sign up at order.nutrisavings.com 
Register your supermarket rewards card ("My Mix" at Shaws or "Hannaford Rewards," etc.)
Go shopping and scan your card at the check out to start earning rewards!
Move Well
Use the following resources for B-Well Personal Training opportunities and additional information on exercise opportunities and prescriptions:
Personal Training & Exercise Information
Check out our Social Media:
Have any questions?
Mike Milliken
Wellness Program Manager
mmillike@bates.edu
207-753-6936