Dr. Asha Tamirisa joins us as Assistant Professor of Music Composition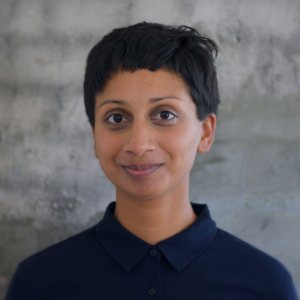 The Bates College Department of Music is pleased to welcome Asha Tamirisa, who will be joining their faculty beginning fall of the 2019-2020 academic year. She will be teaching courses in digital music and hardware design, music theory, and interdisciplinary courses in music and technology.
Asha Tamirisa is a time-based media artist working with sound and moving image in both performance and installation. Asha's creative work is informed by critical studies fields such as feminist science and technology studies and media archeology. Asha has presented work at venues such as the ICA Boston, Bitforms Gallery (NYC), has given talks at the University of Michigan, Mount Holyoke College, Oberlin College, and Wheaton College, and has held residencies at The Media Archeology Lab (Boulder, CO), Perte de Signal (Montreal, CA) and I-Park Foundation (East Haddam, CT). Asha's work has been mentioned in the Oxford Handbook of New Audiovisual Aesthetics, the 5th Edition of Electronic and Experimental Music: Technology, Music, and Culture, and the forthcoming edition of Handmade Electronic Music: The Art of Hardware Hacking. Asha has taught courses at Brown University, the Rhode Island School of Design, Girls Rock! Rhode Island, and Street Level Youth Media in Chicago. Along with many colleagues, Asha co-founded OPENSIGNAL, a collective of artists concerned with the state of gender and race in electronic music and art practice. Asha holds a B.A. in Musical Studies from Oberlin College, and recently completed a PhD in Computer Music and Multimedia at Brown University. Concurrent with her PhD, Asha completed a secondary M.A. in Modern Culture and Media through Brown University's Open Graduate Education fellowship.