The Department of Music welcomes Carl Bettendorf as a Visiting Lecturer and Director of the College Orchestra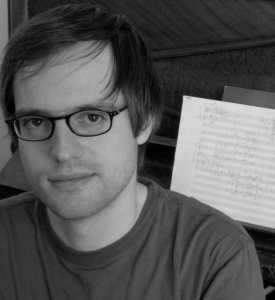 We are pleased to announce that Carl Bettendorf, a New York based conductor/composer, will be a visiting lecturer in the Department of Music for the 2019-20 academic year. He will be teaching courses in composition and music theory, as well as conducting the College Orchestra.
Carl C. Bettendorf is a New York-based composer/conductor. Born in Hamburg, Germany, he studied composition with Hans-Jürgen von Bose and Wolfgang Rihm before receiving his doctorate from Columbia University under Tristan Murail. His compositions have been played at many prestigious venues and festivals on four continents. He has received numerous awards, among them a fellowship from the German Academic Exchange Service (DAAD), residencies at the Cité Internationale des Arts (Paris) and the MacDowell Colony as well as commissions from the Fromm Foundation and the Ralph Kaminsky Fund. As a conductor, Mr. Bettendorf has worked with ensembles in New York (Wet Ink, counter)induction; Ghost and Talea ensembles) and abroad (piano possibile in Munich, Ostravská banda in the Czech Republic) and was director of the Manhattanville College Community Orchestra (Purchase, NY). He recently conducted opera productions at Bard College and the Opéra national de Montpellier (France) and has served as assistant conductor for the Columbia University and American Composers orchestras, Miller Theatre, and the Munich Biennale. He has recorded for Albany, ArtVoice, Carrier, Cybele, Hanging Bell, Hat Hut, Indexical, and Tzadik. Currently, he is a visiting lecturer at Bates College where he is director of the College Orchestra and teaches courses in composition and music theory.