Student musical performances hit crescendo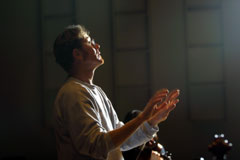 Performances by student musicians at Bates College hit a crescendo in late March. All in the Olin Arts Center Concert Hall, on Russell Street, these performances by Bates ensembles and individual students are free and open to the public.
Directed by John Neal, the Bates College Concert Band presents a program primarily of music by Romantic-era composers at 8 p.m. Wednesday, March 20. Also on the docket is "When Time Shall Be No More," a contemporary composition by James Curnow, and two well-known marches: the Spanish paso doble "Amparito Roca" and Sousa's popular "The Thunderer."
At 8 p.m. Friday, March 22, the college's Steel Pan Rhythm Riders offer an evening of calypso, jazz and works in other genres. The steel band, founded and directed by Assistant Professor of Music Linda Williams, numbers more than a dozen students and will play music by Duke Ellington, calypso great Lord Kitchener and Williams herself.
The Bates College Orchestra performs music by Beethoven and Copland at 8 p.m. Sunday, March 24. William Matthews, Alice Swanson Esty Professor of Music at Bates, conducts the ensemble in Beethoven's Symphony No. 8 and two suites by Copland: "The Tender Land" and Four Dance Episodes from "Rodeo."
The final ensemble performance in March is by the Bates College Jazz Band, at 8 p.m. Wednesday, March 27. Senior thesis recitals, including programs by a clarinetist, a trumpeter and two student composers, take place at 3 p.m. March 23 and 8 p.m. March 29, 30 and 31.
For more information, call 207-786-6135.
View Comments