Concerts hit polar extremes of avant-garde, Baroque
Performances at Bates College this weekend and early next week span some 260 years, from the Baroque era to the cutting edge of contemporary music. All free and open to the public, the events include two performances of a Handel oratorio and two featuring the avant-garde quartet Lake Affect.
In a program appropriate for the Easter season, the Bates College Choir performs the sections of Handel's oratorio "Messiah" dealing with Christ's crucifixion and resurrection at 8 p.m. Saturday, March 16, and 3 p.m. Sunday, March 17, in the Olin Arts Center Concert Hall, 75 Russell Street.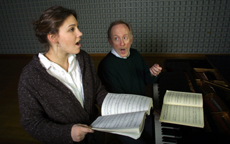 Directed by John Corrie, the choir numbers 71 students and will be accompanied by an orchestra using the orchestration Handel originally wrote in 1741, for a full complement of strings, two oboes, two trumpets and timpani. "Several other composers have orchestrated 'Messiah,' including Mozart," adding winds and other instruments, explains Corrie. But, he says, "it is our intention to perform it the way Handel envisioned it."
Although most casual listeners associate "Messiah" with Christmas, its second and third parts are appropriate to this season, Corrie explains. "Part II is a selection of Biblical texts leading up to the Crucifixion, and Part III deals with texts of the Resurrection," he explains.
The choir performed the first section, dealing with the Nativity, last December. "My decision to perform the work at separate concert dates is entirely determined by its size," Corrie says. "It would be far too exhausting to sing all of it at one concert."
Meanwhile, an avant-garde ensemble exploring the merging of poetry and pure sound offers two public events during its residency at Bates College this month. Lake Affect holds a lecture-demonstration at 4 p.m. Sunday, March 17, in Room 104 of the Olin Arts Center; and a concert at 8 p.m. Monday, March 18, in the college chapel, on College Street.
Founded in 1999 and based in Buffalo, N.Y., Lake Affect consists of four musicians interested in taking performances involving sound into new realms. The goal, a Lake Affect publicity piece says, is "the creation of a unique new sound art evolving from a blend of word, timbre, rhythm and texture. Our aim is to create a new vocabulary that draws on both literary and musical elements, and to invent an artistic vehicle that embraces both music and poetry."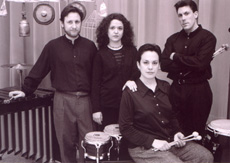 Toward this end, Lake Affect has collaborated with such poets as Jorge Guitart and Robert Creeley, seeking to reflect and amplify their literary themes with sounds both sung and instrumental. The members of the ensemble are Lorena Guillen, voice; Thomas McCluskey, percussion; Tiffany Nicely, percussion; and Alejandro Rutty, keyboard and percussion.
In addition to the public events, the group's residency at Bates (its second) involves a student workshop exploring collaboration among the musical, visual and literary arts. The residency is sponsored by the art and music departments and is a project of the Mellon Learning Associates Program in the Humanities at Bates.
For more information about "Messiah," call 207-786-6135. For more information about Lake Affect, call 207-786-8212.
View Comments