Bates students named community research fellows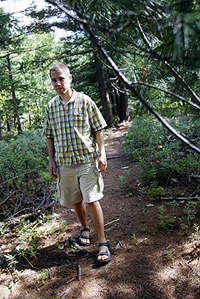 Bates College and its community-development partner LA Excels have announced three summer community research fellowships. The fellowships are the second phase of a two-year, $80,000 award from The Consortium for the Advancement of Private Higher Education and the Council of Independent Colleges that gives students interdisciplinary opportunities to research issues important to the Lewiston-Auburn community.
Each community research fellow works with a community adviser and a Bates College adviser. This year's fellows are sophomore M. Mashfiqul Haque of Dhaka, Bangladesh; senior Daniel Barsky of Eden Prairie, Minn.; and senior Benjamin Newcomer of Ephrata, Pa.

"The fellowships are based on the premise that to prepare students for a lifetime of contributions to society, colleges should enable students to connect with the world beyond the campus while still in school," said Rebecca Swanson Conrad, executive director of LA Excels.
Newcomer, advised by Michael Lecompte, president of LA Trails, and Camille Parrish, an environmental studies learning associate at Bates, is studying "Community Trail Organizations: What Are the Best Models?" LA Excels has focused community attention on recreational trail development, and Newcomer's report will examine at least three communities similar to Lewiston-Auburn that have successfully funded trail organizations. "I'm working on ideas for the group to pursue in the future," says Newcomer, an environmental studies major with an emphasis on policy and natural resources.
Haque, advised by Conrad, and James Reese, associate dean of students at Bates, is investigating "Higher Education Opportunities in Maine: Where Are the Gaps?" Maine has one of the highest high school graduation rates in the country and an equally high rate of students continuing to college. However, the state also has one of the lowest percentages of citizens with bachelor's degrees. To advise planners who may consider new higher education programs in Maine, Haque will develop a matrix of the state's higher education opportunities.
Barsky, advised by Linda Hertell, president of Richardson Hollow Associates, and James Hughes, associate professor of economics at Bates, is researching "Downtown Revitalization: What Works/What Doesn't." LA Excels supports specific projects for the downtowns of both Lewiston and Auburn but lacks an overall local study of barriers to general revitalization. Barsky will create a report of at least three communities similar to Lewiston-Auburn where downtown revitalization has been effective.
Bates funded four student fellows in 2001. All projects are based on two years of public discussion that took place as part of LA Excels, a partnership of 36 local institutions, including Bates College. Local citizens identified key areas where community development work could strengthen and enrich educational aspirations, arts and cultural opportunities, neighborhood empowerment and local environmental and recreational options.
Bates is one of 13 from among 113 applying colleges or universities to be awarded the grant, part of a national program "Engaging Campuses and Community," in 2001. The Council of Independent Colleges is an association of nearly 500 institutions of higher education that work together to enhance private higher education's contributions to society. The Consortium for the Advancement of Private Higher Education is a grant-making organization that assists corporations and foundations in stimulating meaningful reform in private colleges and universities.
View Comments