Collaborations distinguish gamelan concerts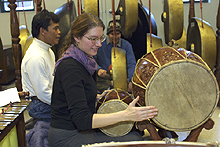 In Olin Arts Center Concert Hall performances a week apart, Indonesian-style orchestra breaks new ground for the Maine music scene. A concert at 8 p.m. Friday, March 28, pairs the Gamelan Mawar Mekar with the Bates College Orchestra, a collaboration that may well be Maine's first between the traditional Indonesian form and a Western-style orchestra.
A definite first is the premiere of a composition for the two ensembles by Maine composer Philip Carlsen, a visiting assistant professor of music at Bates and conductor of the orchestra.
Two other composers performing that night, American gamelan specialist Jody Diamond and Indonesian musician I.M. Harjito, also contribute works bridging Western and Indonesian sensibilities. Traditional gamelan works complete the evening.
Again at 8 p.m. the following Friday, April 4, the gamelan band shares a bill with two Caribbean-influenced ensembles: Bates' own Steel Pan Rhythm Riders and special guests, the Bowdoin College World Music Ensemble.Both concerts are free and open to the public.
In its third year at Bates, the Gamelan Mawar Mekar ("blossom of inspiration") has 13 members. The gamelan — a term referring to both the genre and the musical ensemble itself — is the traditional orchestra of Java and Bali. It's a percussion-based music whose systems of pitch and timing are very different from the systems familiar to Americans.
The March 28 concert "shows what kind of exciting collaborations can occur when composers cross cultural divides and bring their own traditions to an encounter with something new," says Rose Pruiksma, director of the Gamelan Mawar Mekar.
The program includes:
Carlsen's Suite Mawar Mekar in its world premiere. The performance comprises two movements from a projected larger work. Jody Diamond performs as vocal soloist, singing texts from Tennyson's Song of the Lotos-Eaters and Wordsworth's Prelude.
Harjito's Dhandhanggula, for gamelan and orchestra will also be performed. A renowned Indonesian musician, Harjito is an artist-in residence at Wesleyan University, where he teaches gamelan performance. This composition, which features a chorus singing in Javanese, was first composed for gamelan and then adapted for orchestral participation — one of the rare instances of such an adaptation by a Javanese composer.
Diamond's Sabbath Bride will be performed. A major figure in American gamelan, Diamond is the founder and executive director of the American Gamelan Institute in Hanover, N.H., and a singer in the Javanese "pesindhen" style. Sabbath Bride is based on a Hebrew Sabbath melody.
The April 4 program is divided among the two Bates bands and the Bowdoin ensemble. The gamelan portion highlights the playing of Jesse Fox, a senior from Potomac, Md., who is a founding member of the ensemble and plays a type of xylophone called a "génder" (pronounced "ghen-dare").
The Steel Pan Rhythm Riders play Caribbean calypso as well as jazz and other genres. The steel band was founded and is directed by assistant professor of music Linda Williams. On April 4 the band will concentrate on major Trinidadian composers Lord Kitchener, Len Boogsie Sharpe and David Rudder, Williams explains. She adds, "We especially acknowledge Sharpe's tune Woman is Boss, because 16 of the 17 members of the band are female students. That's a rare departure from previous years."
Well-known Portland percussionist Michael Wingfield directs the Bowdoin College World Music Ensemble. For more information about both performances, please call 207-786-6135.
View Comments