Lecture-workshop by 'Sunpie' Barnes rescheduled for Nov. 4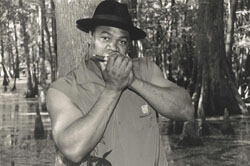 An accomplished musician equally at home with blues, zydeco and a spectrum of African and Caribbean styles, Bruce "Sunpie" Barnes comes to Bates College to explore the music of the African Diaspora in a lecture-workshop from 8-10 p.m. Tuesday, Nov. 4, in Room 130 of the Olin Arts Center, 75 Russell St. The visit was postponed to November from Oct. 28.
Barnes will begin the evening with a lecture and conclude with a workshop for singers, songwriters and musicians. Sponsored by the English department and the African American studies program at Bates, the event is open to the public at no charge.
A multi-instrumentalist, singer and songwriter, Barnes leads the New Orleans-based band Sunpie and the Louisiana Sunspots by night. By day, he is a naturalist, wetlands expert and tour guide at Jean Lafitte National Park in the Crescent City — but his experience also includes a stint as a player in the National Football League and an actor in a number of film and television roles.
With four albums to his credit — Sunpie, Lick a Hot Skillet, Swamp Blues, and Loup Garou — Barnes offers a musical blend that he characterizes as "bouje bouje," Creole for "move." The son of a blues harmonica player, he's now regarded as one of New Orleans' best on that instrument, influenced by such greats as Sonny Boy Williamson, Lee Oskar and Carey Bell. Similarly distinguished as a singer, Barnes also plays zydeco-style accordion and five other instruments.
A son of Benton, Ark., Barnes was nicknamed "Sunpie" by his uncle, a blues pianist. He attended Henderson State University on a football scholarship but played music on the side throughout school, even keeping at it during his gridiron career with the Kansas City Chiefs and afterward, when he left pro ball and decided to join the National Park Service.
Early on Barnes worked with a host of New Orleans musicians, including the New Orleans Blues Department Band, R&B singer Barbara George and the late blues guitarist Boogie Bill Webb. Later he had his own zydeco group featuring players from Lafayette, Louisiana's legendary music town.
In 1991 he founded the Sunspots, including in their ranks veteran drummer Harold Ray Brown, known for his work with War. The band has appeared at the New Orleans Jazz & Heritage Festival, the Juneteenth Festival in Houston, the International Clarinette Festival in Martinique, and nightclubs throughout the Gulf South.
Barnes' film and television work includes appearances in national commercial spots for AT&T, Nabisco and McDonalds, and in such films as "The Gates of Silence" and "Point of No Return."
View Comments