Bates symposium to focus on artist Marsden Hartley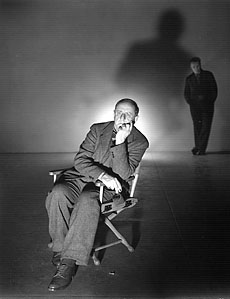 The Bates College Museum of Art presents a symposium on Marsden Hartley, a Lewiston native and a pioneer in modern American art, on Friday and Saturday, Nov. 5-6.
The symposium complements the current exhibition of Hartley's work at the museum, Marsden Hartley: Image and Identity. The symposium and exhibition are open to the public at no charge. For more information, call 207-786-6158.
The symposium begins at 6 p.m. Friday, Nov. 5, in the Benjamin Mays Center at Bates, 95 Russell St. Donna M. Cassidy, professor of American and New England studies and art history at the University of Southern Maine, will present the keynote speech, "'Yankee Queer': Marsden Hartley's Maine Folk and Regional/Sexual Identities." A reception will follow in the art museum, in the nearby Olin Arts Center, 75 Russell St.
Saturday's events will take place in the Olin Arts Center, Room 104. They begin at 10 a.m. with presentations by Marcia Brennan, an art historian at Rice University, and Randall Griffey, a curator at the Nelson-Atkins Museum of Art. A 1:30 p.m. panel discussion will include all the speakers along with Liz Sheehan, the Bates museum's assistant curator of academic and exhibition initiatives, and Erica Rand, professor of art and visual culture and chair of the Program in Women's and Gender Studies at Bates.
Hartley (1877-1943) was an innovative modernist associated with the New York circle of photographer Alfred Stieglitz and painter Georgia O'Keeffe. The symposium is intended to explore how his homosexuality, an often disregarded but important factor in his life, affected his work.
"We want to affirm the place of gender studies in the curriculum and also as an entry to the study of art history," Sheehan says. "Although the Bates College Museum of Art was founded around a collection of Hartley art and documentary materials, we haven't addressed his work in that context. It's overdue, especially considering that much of the work we have can be described as homoerotic."
The Hartley collection includes more than 90 drawings, family photographs, jewelry, travel souvenirs and ephemera. Hartley's works are believed to reflect the many social and historical changes he observed during his lifetime. Though the collection gives great insight into this artist who often felt like an outsider, it also raises many other questions about him, providing a substantial foundation for discussion.
Participants will examine gender issues relating to his work and, more broadly, the application of gender-studies methodology to the study of art history, says Sheehan.
Cassidy is the author of "Painting the Musical City: Jazz and Cultural Identity in American Art, 1910-1940" (Smithsonian Institution Press, 1997) and "Marsden Hartley: Region, Race, and Nation," scheduled for spring 2005 publication by the University Press of New England.
Brennan's topic is "Marsden Hartley: Mysticism, Masculinity, and the Paradox of Oneness." She is the author of "Painting Gender, Constructing Theory: The Alfred Stieglitz Circle and American Formalist Aesthetics (MIT Press, 2001) and a sequel volume, "Modernism's Masculine Subjects: Matisse, the New York School, and Post-Painterly Abstraction," due out this fall.
Griffey is the associate curator of American art at the Nelson-Atkins Museum of Art, Kansas City, and teaches at the University of Missouri there. His writings on Hartley include the 2001 article "Marsden Hartley's Lincoln Portraits" in the magazine American Art. His symposium topic is "'Such Beautiful Idealists': Marsden Hartley's Brief Foray Inside a 'Finnish-Yankee Sauna.' "
The concluding panel discussion will bring Hartley's work and issues into the present, while questioning contemporary investigations into sexuality and art. Rand teaches courses on contemporary culture with particular attention to sexuality, race and gender — and, within those areas, to queer and trans sexualities and genders. Her current research will culminate in the book "The Ellis Island Snow Globe: Sex, Money, Products, Nation," forthcoming in 2005.
The symposium is part of an effort to lay the groundwork for a major exhibit in 2007 that will explore Hartley along with other gay artists working in Maine around the same time.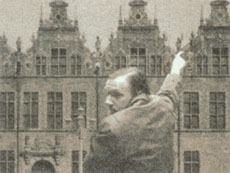 The Upper Gallery exhibit at the museum through Dec. 18 is Videodrome II, curated by New York's New Museum of Contemporary Art and the second incarnation at that museum of an exhibition of works exclusively in video. Inspired by director David Cronenberg's investigation of the integration of television into daily reality in his 1983 cult-classic film Videodrome, the exhibition acknowledges video's primacy as a medium in contemporary art.
Video has a unique capacity to submerge viewers through such medium-specific characteristics as its reliance upon light to generate atmosphere and the requirement that it be viewed over time.
The 27 artists come from Japan, Germany, Great Britain, the Netherlands, Los Angeles, Miami, New York and elsewhere. The works of one artist per day will be presented over 29 days, and during two "open call" days visitors can request that a particular work or compilation be screened.
The exhibition is made possible by the generous support of the Rockefeller Brothers Fund, the Jerome Foundation and the New York State Council on the Arts.
Museum admission is open to the public at no cost. It is open 10 a.m.-5 p.m. Tuesday-Saturday and is closed Sundays and major holidays. For more information, call 207-786-6158.
View Comments