Clarinetist-mandolinist Statman opens 2005-06 Bates Concert Series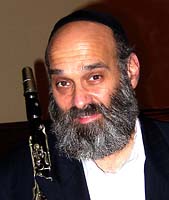 A trio led by Andy Statman, who parlayed 1970s acclaim as a "Newgrass" mandolinist into renewed renown as a klezmer clarinetist, opens the 2005-06 Bates College Concert Series on Sunday, Oct. 9.
The series of four 8 p.m. concerts also features the quartet led by jazz saxophonist Kenny Garrett (Jan. 6), the St. Lawrence String Quartet (Feb. 4) and a program of South American music by classical guitarist Michael Nigro (March 4).
Concerts take place on the Bates campus in the Olin Arts Center Concert Hall, 75 Russell St. Admission is $8 for adults and $5 for senior citizens and non-Bates students with ID. For additional information about the series and Olin Concert Hall, please see the series Web site. For reservations, please call 207-786-6135.
Statman first caught the music world's ear as a mandolinist in the jazz-bluegrass fusion genre called Newgrass, working with his own bands and on recording sessions with artists like his mentor David Grisman, Bob Dylan and the Grateful Dead.
Influenced by the brilliant Ukrainian-born klezmer clarinetist Dave Tarras, Statman took up that instrument and became prominent in the U.S. klezmer revival of the 1980s. Originally the celebration music of Eastern European Jews, American klezmer absorbed sounds from jazz and even rock, and the Andy Statman Klezmer Orchestra was key to that evolution.
In the 1990s, Statman delved deeper into Jewish music, basing extended improvisations on Hasidic prayer melodies. Today, with bassist Jim Whitney and percussionist Larry Eagle, he plays both mandolin and clarinet in a mode honed during many performances at a synagogue in Greenwich Village. In what Statman has called "a very conversational style of playing," the Andy Statman Trio ranges over a musical landscape stretching from the American South to Eastern Europe to Central Asia.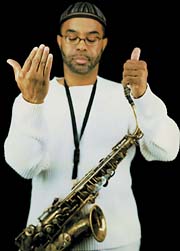 The Bates College Concert Series presents the Kenny Garrett Quartet at 8 p.m. Friday, Jan. 6. Composer and alto saxophonist Garrett is well into the third decade of a career dedicated to sustaining the freshness and vitality of jazz. Firmly rooted in the bebop he performed with legends Miles Davis and Art Blakey, Garrett has also explored rock with Sting and Peter Gabriel, classical music with the New Jersey Symphony and hip hop with Guru and Q-Tip.
Born in Detroit, Garrett was introduced to jazz and the sax at an early age by his father, who played tenor. Detroit offered ample opportunity to explore soul, gospel and classical firsthand. In 1978, Garrett was hired by the Duke Ellington Orchestra, and in the 1980s worked with Blakey and Woody Shaw. In 1986 Davis called, starting a five-year, four-album association that indelibly marked Garrett's life and career.
His first album as a leader, Introducing Kenny Garrett (Criss Cross) appeared in 1984. He has since recorded for Atlantic and Warner Bros. His eighth and latest Warner title, Standard of Language (2003), delivers some of his most forceful work to date, capturing the spark of the quartet's live work and showcasing Garrett's compositions.
The St. Lawrence String Quartet continues the series on Saturday, Feb. 4. Canada's premiere chamber ensemble and a regular presence at Maine's Bay Chamber Concerts, the SLSQ is among the world-class quartets of its generation. Founded 16 years ago, the St. Lawrence String Quartet consists of violinists Geoff Nuttall and Barry Shiffman, violist Lesley Robertson and cellist Christopher Costanza.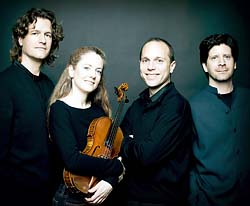 "The St. Lawrence are remarkable not simply for the quality of their music making, exalted as it is," wrote New Yorker critic Alex Ross, "but for the joy they take in the act of connection."
The quartet's Bates program includes music by Beethoven, Mozart and Shostakovich. The SLSQ regularly delivers traditional quartet repertoire, but is also fervently committed to the work of living composers and to reaching across disciplinary boundaries. The ensemble took part in a project with the renowned Pilobolus Dance Theatre that premiered at Stanford University, and has collaborated with R. Murray Schafer, Osvaldo Golijov and Christos Hatzis — whose compositions are featured on Awakenings, the quartet's latest recording, released last March on EMI/Angel.
The 2005-06 Bates Concert Series concludes on Saturday, March 4, with a performance by classical guitarist Michael Nigro. Nigro will play music by South American composers including Máximo Diego Pujol, Adolfo Luna, Jorge Morel, Jorge Cardoso, Augustine Barrios and Antonio Lauro.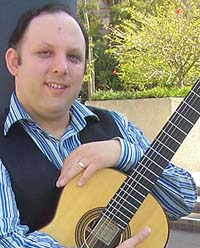 Born in 1971 in California, Nigro earned a bachelor of music degree at the Indiana University School of Music in 2000, under the direction of guitarist Ernesto Bitetti. He completed his master's program at California State University Fullerton, where he was a member of the esteemed Fullerton Guitar Orchestra. Nigro is completing his doctorate at Claremont Graduate University under the guidance of Jack Sanders.
Nigro has performed extensively on the West Coast and in the Midwest. His performance at Bates is part of an East Coast tour. His recordings on the Music and Arts label include a collection of Argentine guitar music, Milongas Tristes (2004), featuring compositions by Astor Piazzolla, Pujol, Luna and many others; and the 2005 release Homage to Piazzolla.
View Comments