Midsummer Lakeside Concert Series offers world's worth of music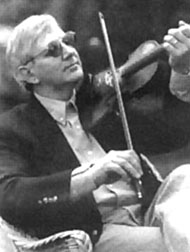 From Celtic to pop to sounds from 'round the world, the 2006 Bates College Midsummer Lakeside Concert Series offers acoustic music for every taste. Starting at 6 p.m. every Thursday from July 13 through Aug. 10, concerts take place in the Florence Keigwin Amphitheater, overlooking Lake Andrews at Bates College. The rain site is the adjacent Olin Arts Center Concert Hall, 75 Russell St.
Concerts are open to the public at no charge. Bring blankets or lawn chairs and a picnic supper. For more information, please call 207-786-6400.
The series opens July 13 with a performance by fiddler Frank Ferrel and Maine guitarist-mandolinist David Surette. Described by a Boston Globe writer as one of North America's "finest living masters" of folk fiddle, Ferrel is a leading player and composer of music in the Celtic, French-Canadian and Atlantic Province traditions.
Coming of age musically in the fertile Boston folk scene of the 1960s, he has been a guest on public radio's popular "A Prairie Home Companion," and has performed many times with the legendary band The Boys of the Lough. Ferrel's recordings include Yankee Dreams, included on the Library of Congress' Select List of 25 Recordings of American Folk Music.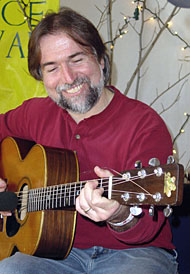 A teacher, composer and top New England guitarist, Surette's work as a soloist has attracted a devoted following. His albums Back Roads and Trip to Kemper (1993 and 1996, respectively, on the Madrina label) helped establish him as a top player and arranger of Celtic finger-style guitar, yet his repertoire also includes blues and ragtime, American roots music and folk from diverse traditions.
Since 1988 Surette has enjoyed an inspired musical partnership with singer Susie Burke, with whom he recorded Sometimes in the Evening (Madrina, 2000). He also plays and records with fiddler Rodney Miller.
On July 20, the Midsummer Lakeside Concert Series presents the Sheepscot Sound. Based in midcoast Maine, this quartet croons in smooth harmony through tunes ranging from barbershop classics to jazz, pop-rock and much more.
Also headquartered in the midcoast, King Pirogi performs at Bates on July 27. This lively, danceworthy quartet covers the musical waterfront, from polka to swing to Elvis and beyond. Its members are accordionist Tom Jamrog, reedman Dwight Burtis, lead singer and drummer Hank Lunn, bassist Dave Kirkham and trumpeter Jake Thomas.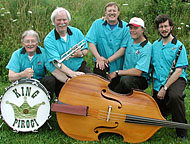 The One-World Music Ensemble plays its annual Midsummer Lakeside concert on Aug. 3. The ensemble comprises musicians from the Bates Dance Festival, which takes place at the college for four weeks in July and August. Using percussion, accordion, bouzouki, marimba, kalimba and other instruments, these expert players weave a intricate tapestry of sounds from all over the planet.
The Bates Midsummer Lakeside Concert Series concludes on Aug. 10 with singer-songwriter Carolyn Currie — of whom the respected folk-music magazine Dirty Linen said simply, "Look out, Dar Williams and Catie Curtis . . ." Celebrated for her deeply felt lyrics, ringing melodies and captivating voice, Currie is a prizewinning veteran of festivals and folk competitions all across the continent, including the gold-standard Kerrville Folk Festival, in Texas.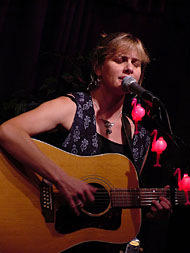 A student of the Beatles, Judy Collins, Simon and Garfunkel and other '60s icons, Currie was also influenced by such writers as Henry David Thoreau and Emily Dickinson. She has shared stages with such respected artists such as Cheryl Wheeler, Tom Rush and Maine's own Ellis Paul. Her latest recording, Kiss of Ghosts (Etherean), was chosen as one of 2004's top independent releases by Performing Songwriter Magazine. She lives in Cumberland.
View Comments