Global Lens series continues with Brazilian film Mutum
The Global Lens series of films from around the world continues at Bates College with Mutum, by Brazilian director Sandra Kogut, in 8 p.m. showings on Friday, Sept. 25, and Sunday, Sept. 27, in the Olin Arts Center, Room 105, 75 Russell St.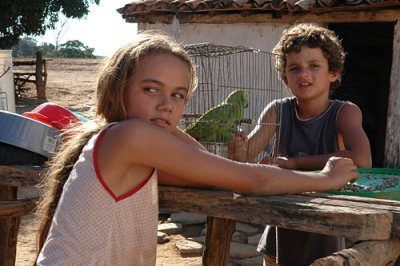 Hosted by the Bates College Museum of Art, the series continues on Fridays and Sundays throughout the fall. Admission is $5. Mutum is in Portuguese with English subtitles (86 min.). For more information, please contact 207-786-6135 or this olinarts@bates.edu.
The annual series is produced by the Global Film Initiative to promote cross-cultural understanding by showing American audiences little-known, skillfully made independent films. The initiative believes that "a powerful, authentic narrative can foster trust and respect between disparate cultures and mitigate the social and psychological impact of cultural prejudice."
A 2007 adaptation of Campo Geral, a short story by J. Guimarães Rosa, Mutum depicts Thiago, a sensitive and imaginative young boy living on a small farm. His life, filled with the reality of his parents' unhappy marriage and his father's abuse, changes completely after a single chance encounter.
In order to capture the details of rural Brazilian life, Kogut set up workshops where local children and farmers could work together with the actors. According to Kogut, "their backgrounds, their personalities and comments helped to build the world in which the film would later be set."
Mutum is described by Daniel Getahun of "Getafilm" as "richly layered with religious and cultural themes." The film offers "moments of joy that are so pure and innocent that you'll feel like crying."
Mutum is Kogut's first feature film and has been well-received at festivals around the world, winning the best film prizes at festivals in locations as varied as South Africa, Mexico and Israel.
Kogut began her career creating performance pieces and installations in Brazil, France and the United States. These short films have been shown at such locations as the Guggenheim and the Museum of Modern Art.
Learn more about Mutum and the entire Global Lens series.
View Comments