Global Lens film series concludes with Brazilian film Margarette's Feast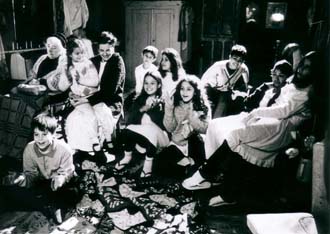 The Global Lens film series at Bates College concludes with Margarette's Feast, a film from Brazilian director Renato Falcão. The film will be shown at 8 p.m. on Friday, Dec.11, and Sunday, Dec. 13, in the Olin Arts Center, Room 105, 75 Russell St.
Hosted by the Bates College Museum of Art, the series has been held on Fridays and Sundays throughout the fall. Admission is $5. For more information, please contact 207-786-6135 or this olinarts@bates.edu.
The annual series is produced by the Global Film Initiative to promote cross-cultural understanding by showing American audiences little-known, skillfully made independent films. The initiative believes that "a powerful, authentic narrative can foster trust and respect between disparate cultures and mitigate the social and psychological impact of cultural prejudice."
Made in 2002, Margarette's Feast (90 min.) is a black-and-white silent film. It's the story of a man named Pedro who, upon losing his job, comes across a magical suitcase that never runs out of money. This discovery sets Pedro off on a spending spree that culminates in a lavish birthday feast for his wife Margarette. The film is both a fantastical story and an exploration of the social conflicts of contemporary Brazil.
Brazilian-born director Renato Falcão has shot five feature films, more than 20 short films and numerous documentaries. He has won several awards at various film festivals around the world, including Best New Director at the "35 Festival de Cinema de Brasilia" for Margarette's Feast, his first feature film.
Learn more about Margarette's Feast and the Global Lens series.
View Comments