University Business honors Dining Services' commitment to sustainability, excellence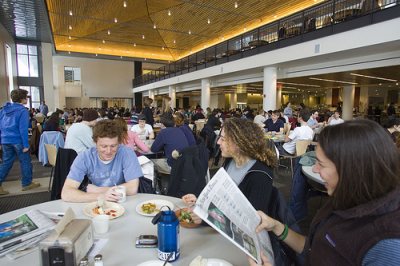 University Business magazine has awarded Bates a "Dining Hall of Distinction" award for having the country's best "self-operated dining program."
Judges were particularly impressed with Bates initiatives in environmental sustainability, according to Melissa Ezarik, managing editor of University Business, a national business magazine for higher education based in Norwalk, Conn.
"With a full 82 percent of waste diverted from the waste stream through composting, recycling, or a program where waste is sent to a local pig farmer, the building doesn't even have enough waste to fill a dumpster," Ezarik said. "So there isn't one. And nearly one-third of the food budget is spent locally."
Although the College's New Dining Commons is a new facility, by student request the seating area maintains the feel of the old Commons. The servery was designed for easy traffic flow, capable of handling 500 or more within 30 to 45 minutes.
"We're very excited to be recognized for something that is central to the student experience here at Bates," said Director or Dining Services Christine Schwartz. "We have a longstanding commitment to environmental sustainability at Bates, and our new facility has allowed us to enhance our sustainability mission."
Higher education institutions from across the nation submitted their dining programs for consideration with 65 entries received. Entries were evaluated by three editors and the magazine's art director (also a college parent) as well as by a recent college grad, a graduate student and Neal A. Raisman, a higher education consultant and former college president.
The Dining Halls of Distinction program reflects excellence in all aspects of dining operations, including atmosphere, service, variety of offerings, guest satisfaction, environmental sustainability and financial stability. Other schools receiving a top designation are Boston University (large private institution); Bucknell University (medium/small private institution); and Virginia Commonwealth University (public institution). View story from University Business, October 2009.
View Comments