Bates and Bowdoin College orchestras join forces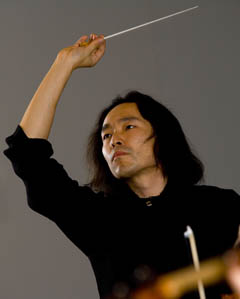 By Doug Ray '10
In their first collaboration in several years, the Bates College Orchestra and the Bowdoin College Orchestra will join forces to perform music by Beethoven, Rossini, Schumann and others in concerts at 7:30 p.m. Saturday, Nov. 14, in the Olin Arts Center Concert Hall at Bates College, 75 Russell St.; and at 3 p.m. Sunday, Nov. 15, in the Studzinski Recital Hall at Bowdoin College, South Campus Drive, Brunswick.
Hear an audio report on this concert:
Admission to both concerts is free, but tickets are required for the Bates performance. For more information about the Bates event, contact 207-786-6135 or this olinarts@bates.edu.
Hiroya Miura, assistant professor of music, directs the Bates group. The Bowdoin College Orchestra is led by Roland Vazquez. Instead of offering a more standard program composed of a few long orchestral works, Miura and Vazquez decided their audiences would be more engaged by a selection of several shorter works representing a variety of styles.
The program includes selections from Beethoven's incidental music for the Goethe play "Egmont"; Rossini's "William Tell" Overture; and Schumann's Overture, Scherzo and Finale in E. Music by Glinka, Mozart and Bach is also featured.
"This will be a great introduction for people who might feel overwhelmed by the idea of sitting through an hour of a symphony," says Miura. "It's an audience-friendly and fun program." He adds, "there will be a little surprise with our version of the 'William Tell Overture.'"
The Bates orchestra comprises students, faculty and members of the local community. In order to accommodate the performers of both orchestras, each concert will feature different woodwind and brass sections.
Hear an audio report on this concert:
View Comments