Perfectly Human
Amid failure, we can grow closer to what inspires us
By Kate Eastman '82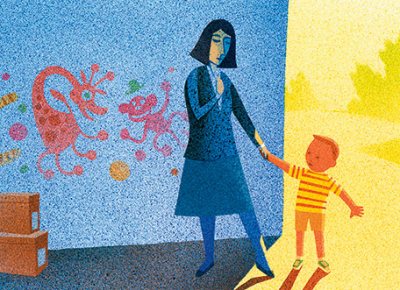 As the founder and director of The Jason Program, a Maine-based hospice care program for sick and dying children, my job was to help families face the end of life. But when my program ended in 2008, a sudden victim of the recession, I was totally unprepared for the loss.
It's not that my situation is unique. According to The Wall Street Journal, nearly 100,000 of the country's more than one million nonprofits could close during the recession because of declining charitable support.
Still, as I chronicle the events of the last two years, I see that losing my program brought me closer to the essential truths of my life and work.
October 2007: The Jason Program — inspired by a Texas teenager with whom I worked who died of cancer — finally has a real office rather than a supply closet. After seven years, we have a full staff and an office manager. We are impacting the lives of more than 5,000 seriously ill and dying children and their families worldwide. My dream is fulfilled.
Alone, I cry in my office. When they most need support, I am sending them away.
Early 2008: I must be away from work due to planned surgery. I am nervous about my absence but the organization is maturing, the staff is committed, and I can manage from home with Blackberry and phone.
May 2008: An important fundraising event, our annual spring auction commemorating the program's birth in 2000, fails to reach its goal. I take out a loan against money coming in from a major charitable foundation.
June 2008: The phone rings; it's a representative of Jewelers for Children, the foundation whose support keeps our program going. The foundation has lost money, and the Jason Program will receive nothing this year. I rush to the office manager's office to get a plan together.
Summer 2008: Newspaper articles, phone calls, letters, and numerous pleas to the public send the same message: Please don't let this program go; these children and their families need us. A newspaper columnist calls the program a "hidden gem," and a major gift arrives, unexpectedly, from bereaved parents. Hope rises.
September 2008: Our staff informs the families in our care that The Jason Program cannot continue. As they hear the news, I can hear children and their parents cry in the outer offices. Alone, I cry in my office because I failed to keep alive a program designed to help children and families through the worst pain possible. When they most need support, I am sending them away.
Later in the month, it's official. Our board chairwoman tells our staff that all services will stop in two weeks. The doors will be locked, and we will be unemployed. She delivers the news gently. The staff members huddle together, leaving me alone.
Oct. 3, 2008: All that is left in our office is a mural, painted by a parent of a child we cared for, showing playful zoo animals. I walk out with a box of printed obituaries, photos, and artwork from the children and families who filled my heart and life for nearly a decade.
I work with the office landlord, bank, and leasing company that managed our office equipment. I communicate with 20-plus foundations and more than 2,000 donors. I talk to an executive coach.
Fall 2008: My husband and I, now both unexpectedly and simultaneously unemployed, look for jobs. Three weeks and three jobs apiece later, we can pay our mortgage.
Nov. 5, 2008: I attend the funeral for Russell, age 4, who lived all his days with Canavan disease, a progressive neurological condition. I gaze at a picture of Russell perched atop the small and beautiful coffin. The candid photo is my favorite because it shows his cherubic, expressive smile.
At this moment, when the end of life is stark and unequivocal, I am aware of my own biological inability to create human life. The surgery I had in 2008 was a hysterectomy, after several miscarriages. This feeling — my own kind of parental grief — is gripping me as I see Russell's parents. They were among the families who lost support from The Jason Program. Guilt washes over me.
But when Russell's mother and father hug me, the gesture is profoundly generous. And when they speak of Russell's brief life and the love they all shared, it reminds me that families are able to exhibit superhuman qualities as they comfort and protect their dying children.
Yet a family's capacity to love is not superhuman at all. At Russell's funeral, I learned again that this capacity is human, perfectly so.
Kate Eastman '82 has since founded the Children's Palliative Care Community to support community-based programs to improve the quality of life and care for seriously ill and dying children worldwide. CPCC will also collect, preserve, and tell the stories of these children "to allow these wise teachers to live their limited lives to the fullest," says Eastman, who can be reached at kateeas@gmail.com.
View Comments