President Spencer joins board of leading higher education group
Bates College President Clayton Spencer has been elected to the board of directors of the American Council on Education, the nation's largest and most influential advocacy organization representing colleges and universities.
Spencer, now in her third year as president of Bates, was elected during the council's 97th annual meeting in Washington, D.C. Her term on the ACE board ends March 2018.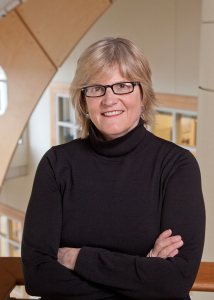 "I have always had a keen interest in education policy, which combines my love for higher education and my training as a lawyer," Spencer said. "Beginning when I served as chief education counsel for Sen. Edward M. Kennedy, I have seen the powerful voice that ACE brings to higher education issues in Washington. I'm excited about providing a liberal arts perspective on the board."
Founded in 1918, ACE is the major coordinating body for all the nation's higher education institutions. It represents more than 1,600 college and university presidents, and more than 200 related associations nationwide. Located in Washington, D.C., ACE provides leadership on key higher education issues and influences public policy through advocacy.
"Clayton Spencer has been a part of almost every major discussion involving higher education policy over the last 20 years," said ACE President Molly Corbett Broad. "Her work on Capitol Hill, at Harvard and now at Bates gives her a unique and important perspective — particularly during this time of dynamic change in higher education. We are extremely pleased to have Clayton join the board and greatly appreciate her commitment to helping guide the work of ACE."
Elected alongside Spencer were several other notable college and university presidents, including E. Gordon Gee of West Virginia University; Wallace Loh of the University of Maryland; and Smith College President Kathleen McCartney.
Since Spencer became Bates' eighth president, in July 2012, the college has gained momentum on a number of fronts, both academic and administrative. This year, Bates received a record 5,636 applications for admission. Last year, fundraising increased 33 percent over 2013.
The college has also launched Purposeful Work, a mission-based initiative that integrates questions about work and meaning into the intellectual and personal growth that define the liberal arts experience.
As part of Purposeful Work, Bates is offering courses during its five-week spring Short Term taught by expert practitioners. Students are diving into entrepreneurship, urban planning, music production, graphic design and digital innovation. The college has also launched the Purposeful Work Internship Program with more than 70 internships funded for summer 2015.
Spencer came to Bates from Harvard University, where she spent more than 15 years on the leadership team, having most recently served as Harvard's vice president for policy, in which she played a key role in a reshaping and major expansion of Harvard's financial aid program. As former chief education counsel to the U.S. Senate Committee on Labor and Human Resources (1993–97), she was responsible for staffing for Sen. Kennedy and oversaw passage of legislation establishing the federal direct-lending student loan program.
Spencer has bachelor's degrees from Williams College and Oxford; a master of arts degree from Harvard; and a law degree from Yale. She has served as a member of the boards of trustees of Williams College and Phillips Exeter Academy.
View Comments