Practitioner-Taught Courses
Transferable skills • Fast-paced experiences • Tangible final products

Practitioner-Taught Courses offer opportunities for students to explore more practical and applied areas of study than are available within the core liberal arts curriculum. During Bates' May Short Term, Practitioners-in-Residence teach applied knowledge and skills in their field of expertise. Students explore worlds of work, add to their practical skill set, and expand their professional network, contributing to their career exploration and preparation for future work.
Practitioner-Taught Courses will reconvene for Short Term 2022. Stay tuned for exciting course offerings in the Garnet Gateway!
---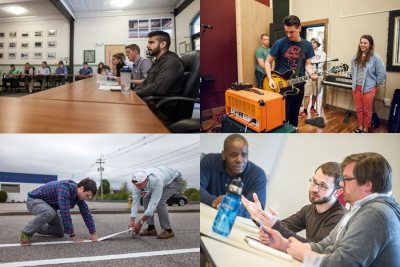 "I am so thankful I took this course this year, because the concepts and work we did in this class can be applied to all fields of study… as well as personal growth. Please offer this course again next year!!!"
~Leadership Development PTC student
---
2019
The Business of The Arts, with professional dancer and performance artist consultant Sara Juli, owner of Surala Consulting
Spies, Secret Agents and the Presidency, with Elly Rostoum '07, political scientist and former security adviser to the White House and Department of State
Advocating for The Environment (Advocating for Sustainability in Garnet Gateway), with Susan Inches, environmental consultant and activist, former deputy director, Maine State Planning Office
Apprentice Learning: Building the Japanese Boat, with boatbuilder, writer and researcher Douglas Brooks
Marketing with Higher Purpose for the Conscious Human, (aka Screw Your Brand!), with strategy and account management executive Eugene Kim '08
2018
Practicum in Private Equity: Corporate Financial Decision Making, From IPOs to LBOs
EXDS s15O, Taught by John Chapman '82, Partner, Arcade Partners, LLC
This course explores the role of financial decisions in corporations, and provides an introduction to major corporate events such as initial public offerings, mergers and acquisitions, and leveraged buyouts. Students learn how corporate decisions are made, the financial tools and resources available to make informed choices, and the many alternative financial products available in the public and private capital markets. For the final project, students are given a set of materials involving a hypothetical company that is the subject of a leveraged buyout. The students are divided into groups that evaluate the company's financial statements and assess the target company's value. They build a set of financial projections for the company, and prepare a detailed offer to purchase the company.
Practicum in Science Journalism and Outreach
EXDS s15Q, Taught by Laura Poppick '10, free-lance science journalist
Gain real experience and skills in science journalism and outreach through interactive coursework in news writing, radio production, and museum exhibit development. Develop engaging story and exhibit ideas, write pitches and conduct reporting with guidance from professional magazine editors, podcast producers, and exhibit developers. Join Bates scientists in the lab and field in search of story material, develop your own podcast episode, and design an interactive science exhibit. By the end of the course, students will have refined their writing and storytelling skills with clips to prove it and the tools they need to pitch ideas of their own.
Practicum in Leadership Development
EXDS s15R, Taught by Alexander Martin '08, NOLS senior faculty and author, professional explorer
This practicum places students directly in the work of leading self, team, and organization, and equips them with the toolkit needed to lead in life and in the business, government, and non-profit worlds. A foundation of leadership research and organizational behavior theory is presented alongside deeply experiential learning methods that include MBA-style case method, simulations, games, peer coaching, and a 7-day NOLS field expedition. Deep personal reflection is a key part of the curriculum. Guest speakers, workshops, and organization site visits provide additional opportunities to learn and practice leadership skills. Zero prior leadership, business, psychology, or outdoor experience is required!
Practicum in Filmmaking, The Creative Process (repeat from 2016)
EXDS s15L, Taught by Wiebke von Carolsfeld, film director, writer and editor
Visual storytelling has become ever more accessible, yet the creative process remains a mysterious and circuitous road of discovery, failure, innovation, happenstance, and, of course, perseverance. This practicum demystifies the creative process of visual storytelling while providing the basic tools to develop students' own ideas. What does it take to turn an idea into a pitch? A script? A film? How do you find your subject? Voice? Style? Students develop their own projects and work on those of their colleagues. Students work on the creative process in film, from the first idea, through the writing process, shooting, editing, and presentation.
Practicum in Brand Culture Building (repeat from 2016)
EXDS s15K, Taught by Peter Bysshe '93, Bysshetank
This practicum course invites students behind the scenes of brand culture consultants, to not only humanize large corporate cultures, but also to arm students with tools to build, observe, measure, maintain, and manage or shift a business' brand culture to better align and prepare the organization to meet the challenges of today's marketplace. In a series of discussions, off-site visits, workshops, and reflections, students gain the skills to analyze, strategize, and consult on the brand culture of various companies and organizations, local and global. Consultant teams present and critique their own brand proposal and that of another team.
2017
Digital Marketing, led by digital marketing consultant Ashley Hart '91, Ashley Hart Marketing.
Startup Project Management Bootcamp, led by Serial Entrepreneur John Stadler.
Mediation & Restorative Justice, led by Elaine Bourne, JD, Barbara Blazej, M.Ed. P'06, and Margaret Micolichek
Healthcare Administration, led by Shannon Banks '85, Principal, BanksBellwether Strategy & Organizational Development.
The Business of The Arts, led by Sara Juli, dancer and principal of Surala Consulting
2016
2015
2014

Digital Innovation, taught by Ben Schippers '04 and Will Schenk, co-founders of Happy Fun Corp, featuring guest speakers, entrepreneurship talks and computer lab time
Graphic Design, taught by Brandy Gibbs-Riley '96, principal and owner of Gibbs-Riley Design, featuring field trips to design firms and museums
Healthcare Administration, taught by Shannon Banks '85, P'14, senior vice president at Martin's Point Healthcare, featuring weekly job shadows
Social Change Organizing and Advocacy (see 2015 listing above)