Ninety years after Bing Crosby sang, "Brother, Can You Spare a Dime?" Biruk Chafamo '22 has an affirmative answer thanks to a web application that brings an ancient lending tradition into the 21st century.
In May, Chafamo and his app won the $10,000 top prize in the annual pitch competition sponsored by Bobcat Ventures, a student-run entrepreneur group supported by the Bates Center for Purposeful Work.
The app's called Equb, and it facilitates small loans to people who are not well-served by traditional banks. What's distinctive about Equb is the source of the loans — from one's own circle of friends, family, and community — and how Chafamo employs web technology to efficiently gather the funders and their money.
The idea of a friend group making loans to its members is not new. Known as a "rotating savings and credit association," or RSCA, the concept is found in many countries, including Chafamo's Ethiopia, where it's known as ekub.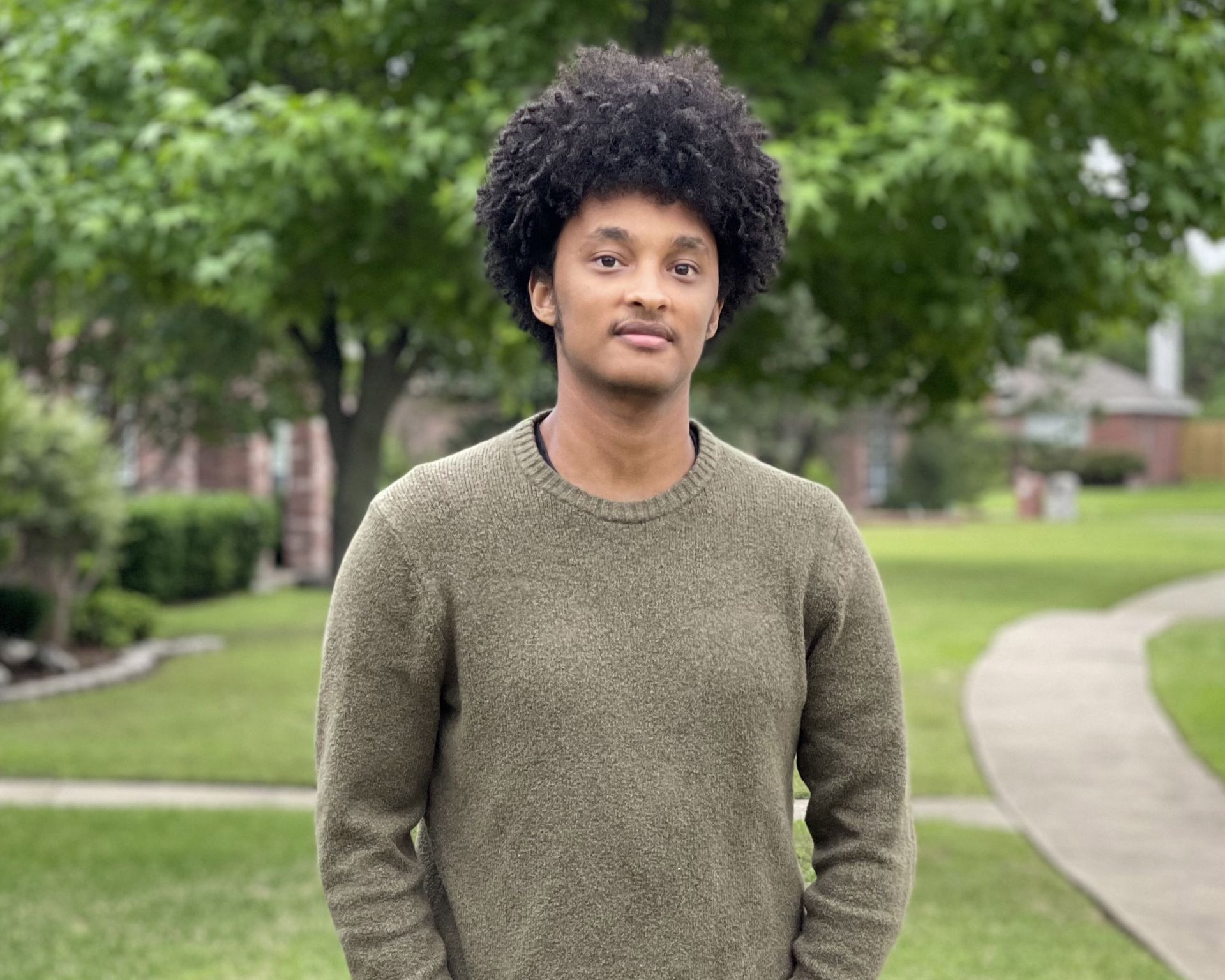 "Almost everyone, including my parents, use ekub to provide liquidity for one another and overcome their poverty," Chafamo explained to the judges. "Ethiopian immigrants and also other immigrants here still use ekub as their primary form of finance."
Chafamo explained to the judges how it works.
"Imagine you're trying to borrow money from a bank to buy an oven, but the bank looks at your very poor credit score and they slap you with a 20 percent interest rate. Then you remember that a lot of your friends have money sitting in their savings account, collecting less than 0.5 percent interest rate."
Instead of taking the bank's usurious rate, "why not form a group with your friends and take turns, borrowing and lending money to each other?" Besides helping out a friend, the entire group gets way better rates, both loan and investment, than a bank would offer, he said.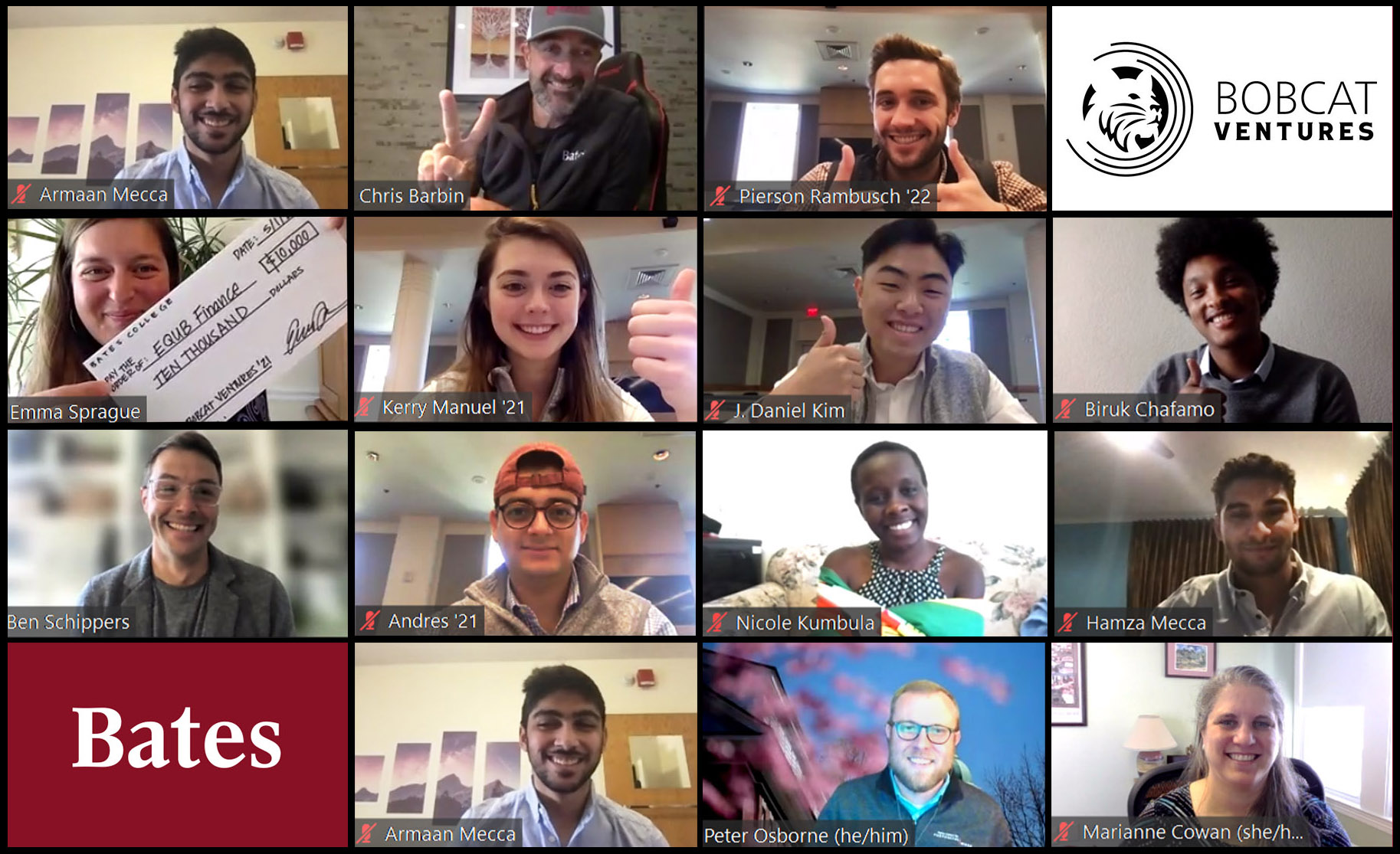 Evaluating the eight pitches this year were alumni judges Emma Sprague '10, co-founder of leadership development group Upswing Strategies; Chris Barbin '93, founder and CEO of Tercera.io, an investment and advisory firm focused on the third wave of cloud computing; and Ben Schippers '04, cofounder of the web and mobile app developer HappyFunCorp.
Sprague asked Chafamo why, if the lending-circle tradition has been around so long, hasn't it been made into a mobile or web app before. "Or has it?"
Yes, it has, said Chafamo, naming LendingClub as a U.S. competitor in the space. But while LendingClub describes itself as a peer-to-peer business, "it's really not," he says. "They provide loans to users sourced from individual investors. My approach is to use the social connections that people already have to allow them to form their own lending groups."
Barbin, who with Sprague serves on the Bates Board of Trustees, praised the vivid sense of purpose behind Chafamo's app. In a crowded entrepreneurial landscape, people are drawn to mission-driven businesses that have a clear purpose.
"The purpose and mission come from your roots and your story. I love that," he said. "With purpose- and mission-driven businesses right now, that's what potential employees will be drawn to when you do start to recruit and scale. That's very powerful."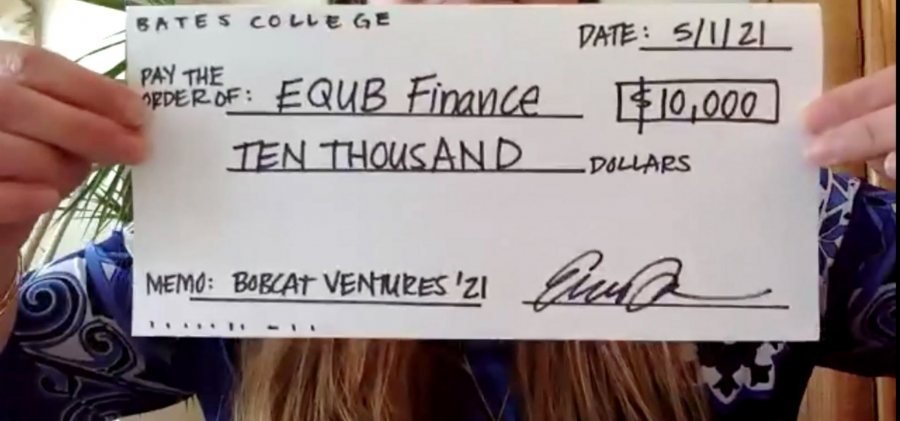 This year's student entrepreneurs rose to the challenges of developing pitches during a pandemic year and effectively presenting them on Zoom, said Barbin. "I think we could have easily expected a little bit of a watering down because of the virtual environment. But things just got even better."
"A huge shoutout to everyone," added Schippers. "We saw a lot of work. A lot of practice. Our job was tough."
Other pitches included a financial consulting firm supporting entrepreneurs of the African diaspora, an app that helps college students organize pickup games and schedule athletic field space, and a media company focused on the outdoor experience through the lens of social justice and the environment.
Presented via Zoom video conference on May 1, the event was seen by friends and family worldwide.
The judges also awarded two runner-up prizes of $2,500 each.
Nicole Kumbula '21, now a newly minted Bates graduate with a major in chemistry, received a runner-up prize for her social-business pitch, Ukama Igasva, focusing on food security and community morale in her grandmother's home village in Zimbabwe.
The name comes from the Shona-language phrase "Ukama Igasva unozadziswa nekudya," meaning "Relationships are not complete until they are solidified with a meal."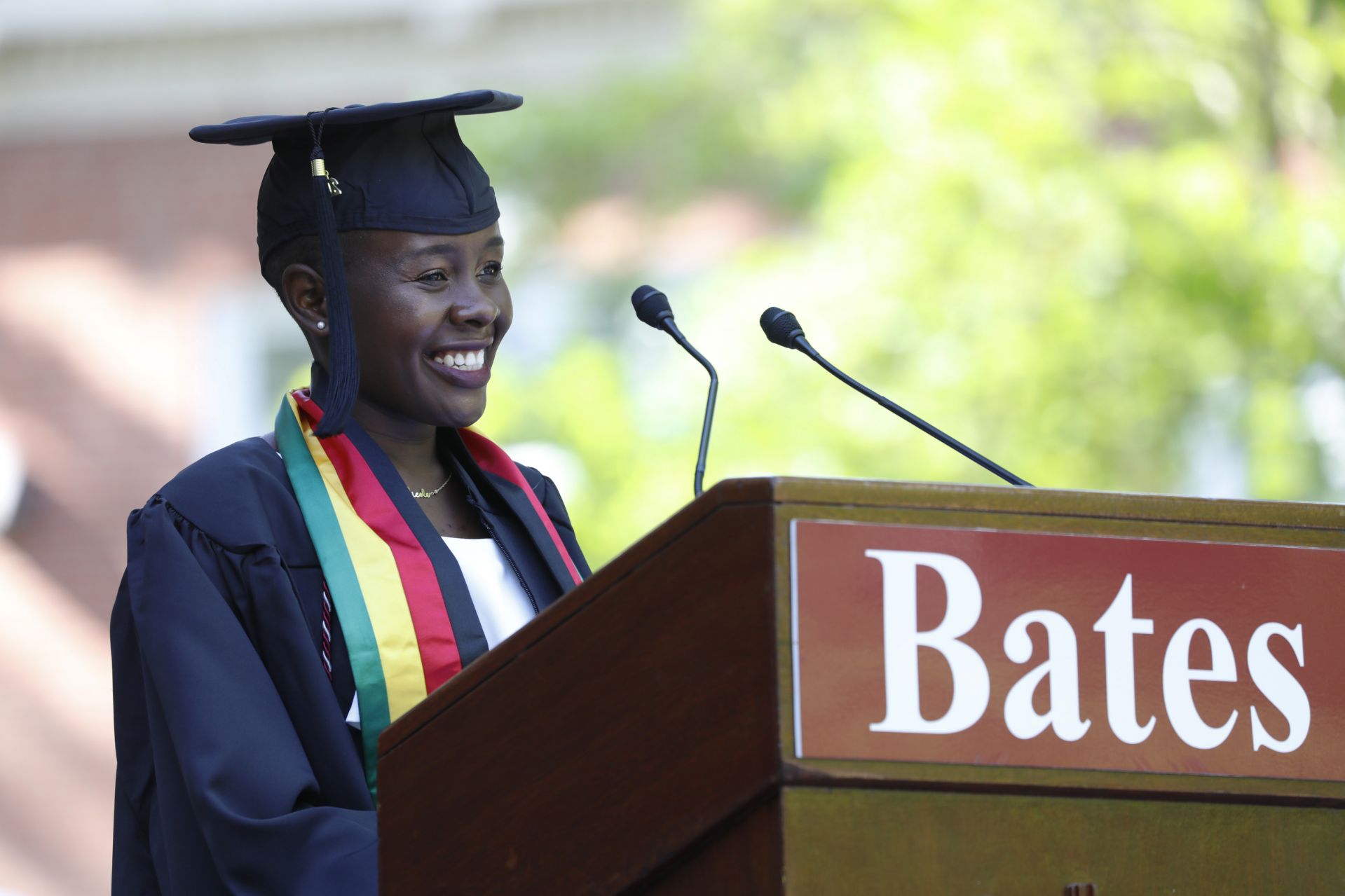 With her funding, Kumbula hopes to bolster and sustain the ownership of cattle in her grandmother's village, where cattle are valuable not just for household farming and transportation, but in community social rites such as marriage. Her own high school tuition, in fact, was funded by her grandmother's sale of cattle.
"We know you could put the money to work immediately and, from a cause standpoint, you would and the community would see a massive impact," said Schippers. "You can help unlock the future of your community."
Armaan Mecca '21, a physics major from Chennai, India, pitched Passionfruit, an app that addresses the problem facing up-and-coming musicians: how to monetize their music through streaming.
"Instead of an artist having to look for listeners, the listeners would come to the artist," said Mecca.
"The problem is especially compounded in India, where there's only one path to success in the music industry, and that's going through Bollywood," says Mecca, who developed the app with cousins Hamza Mecca and Amr Mecca. "It's more about who you know and how much money you can spend than how talented you are."
Already up and running, PassionFruit's social platform focuses on music discovery. "Instead of an artist having to look for listeners," and spending the little money they have on marketing, "the listeners would come to the artist," said Mecca.
Barbin said the app resonated with his own extensive experiences — 50-plus trips — in India. "I love what your solution can bring to the energy and passion for music and individualism in India."
Bobcat Ventures promotes entrepreneurship with year-round workshops, alumni visits, and the signature annual pitch competition. Joining the judges on pitch day were club leaders Andres Carranza '21, Kerry Manuel '21, Pierson Rambusch '22, J. Daniel Kim '22, and Purposeful Work staffers Marianne Nolan Cowan '92 and Peter Osborne.
In their closing remarks the judges made clear that Bobcat Ventures doesn't begin and end on pitch day, and that Bates entrepreneurs are there for each other.
"We will continue the conversation throughout the course of the summer and the fall," said Schippers. "We will work with the winners and with anybody who wants to partake in continuing conversations about how they can pursue their ideas — you can have our continued support."
View Comments