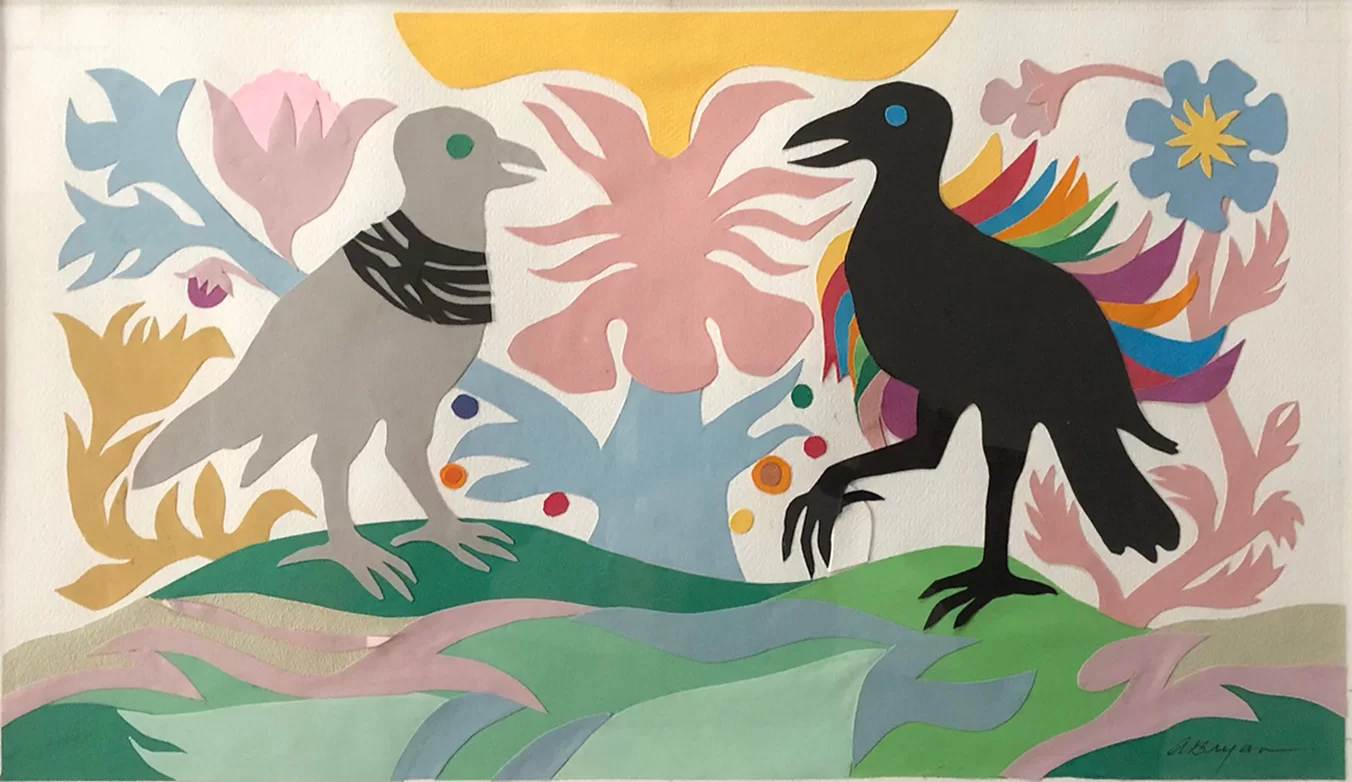 Let's Celebrate Ashley Bryan!
October 21, 2020 – March 20, 2021
Extended through April 2, 2021
African American artist Ashley Bryan is one of Maine's cultural treasures. A noted painter, printmaker, illustrator, author, puppet maker, and storyteller, Bryan, who turned 97 on July 13, came to Maine as a member of the first class to attend Skowhegan School of Painting and Sculpture in 1946. He began to summer regularly in the Cranberry Isles, a group of islands off Mount Desert Island, in the late 1940s, and has lived on Little Cranberry Island year-round since the late 1980s. In 2019, Henry Isaacs and Donna Bartnoff Isaacs, longtime friends and neighbors of Bryan's on Little Cranberry Island, donated over fifty works of art including paintings, drawings, and prints, and numerous other items including copies of his books. The core of this exhibition is drawn from this generous gift.
Bryan's passion for storytelling was fueled by trips to the public library as a child, where he read folktales, novels, biographies, and poetry. However, there were few opportunities to identify with African-Americans in the books he found. This is a problem he has been determined to address in his books ever since. Bryan has written and illustrated more than fifty books, many inspired by African folktales and Black American spirituals. These include award winning titles such as: Infinite Hope: A Black Artist's Journey from World War II to Peace (2020); I Am Loved (2018), Freedom Over Me: Eleven Slaves, Their Lives and Dreams Brought to Life by Ashley Bryan (2016); Ashley Bryan: Words to My Life's Song (2009); Beautiful Blackbird (2003); All Night, All Day: A Child's First Book of African American Spirituals (1992), among many others. Illustrations from selected books, and a reading area are part of the exhibition.
Like his book illustrations, Bryan's paintings are varied in subject. Works from earlier in his career are often expressionistic and representational painted in a naturalistic palette, with subjects including family, friends, musicians, landscapes and gardens, and images painted while abroad. Later paintings share the brilliantly colorful palette of many of his book illustrations, and include lush and vivid gardens and scenic images from Little Cranberry Isle. In the artist's words,
"I can't remember a time when I have not been drawing and painting. In kindergarten, when I learned the alphabet and then drew the pictures for each letter, it was a wonderful experience because the teacher said I had published a book when I reached the end and sewed it together. Because of the encouragement I received as a child, in school and at home, I continued doing those books. I don't know how much those experiences were actually behind what I'm doing now in a direct sense, but it was the spirit in which it was opened to me, that in which I really believed."
Ashley Bryan was born in Harlem, New York, in 1923, and grew up in the Bronx during the Great Depression. His parents emigrated from Antigua in the Caribbean and settled in New York City after the First World War. When applying for scholarships to art schools as a 16-year old, he was told his portfolio was among the most impressive submitted, but he was denied acceptance, because "…it would be a waste to give a scholarship to a colored person." He was accepted to Cooper Union School of Art and Engineering in 1940 where the application process was based solely on Bryan's portfolio and "they did not see me." Bryan was drafted into the segregated US Army while a student, and he was on Omaha Beach on D-Day in World War II. Bryan earned a BS cum laude from Columbia University, received a scholarship to attend the Skowhegan School of Painting and Sculpture, and continued his studies at Université d'Aix-Marsaille, France, in the 1940s, and at the University of Freiburg, Germany on a Fulbright scholarship in the 1950s. He taught art at numerous institutions In New York and Philadelphia between 1960 and 1973, and taught at Dartmouth from 1974-88.
---
The museum is deeply grateful to Henry Isaacs and Donna Bartnoff Isaacs for so generously donating their Ashley Bryan collection of art and books, and for sharing their knowledge and insights into Bryan's work. With this gift as a wonderful foundation, the museum hopes to develop a significant collection of Bryan's art, particularly his paintings, in Maine, the state he has been connected to for almost 75 years. Thank you to Henry and Donna for supporting the exhibition and its education/outreach programs for area schoolchildren.
The museum is also indebted to Merry White for lending a fine painting to the exhibition. A special thank you to Marcia and Daniel Minter, and Ashley Page, of Indigo Arts Alliance in Portland for collaborating with us on educational materials and activities from The Beautiful Blackbird Children's Book Festival, which are included in the exhibition and part of the educational programming for area schoolchildren. A heartfelt thank you to Virginia Fowler and Nikki Giovanni for generously supporting the exhibition's education programming. Thank you to Diverse BookFinder, and especially Krista M. Aronson, Professor of Psychology and Associate Dean of the Faculty, for advice and participation in programming.
This exhibition and programming are funded in part by the Jane Costello Wellehan Endowment Fund.