The weeks leading up to Commencement have their own extraordinary excitement. It's an electric current that tickles every campus constituency — seniors and their families, college staff who have befriended the graduates-to-be, and, of course, the faculty who have taught and guided those students for years.
But the run-up to May 29 and Commencement 2022 offers a unique treat that Campus Construction Update would like to take personally: The removal of the construction-site fence that since last July has surrounded Dana Chemistry Hall, now just Dana Hall, while the 57-year-old building has undergone a thorough renovation.
Since we began construction reporting, eons ago, we have griped about site fences because they block our probing camera and snooping eyes. (A stepladder helps us peep over the fence. We don't talk about the stilts.)
But now Chris Streifel, project manager for the Dana renovation and the strategic realignment of Bates science facilities of which it's a part, tells us that around May 23, the green fabric and chain-link fence around Dana will go away — to which we say, Huzzah! (Streifel also points out that around that same time, a similar fence will arise around Chase Hall as a major makeover of that building begins. To which we say: Drat! Drat!)
In fact, Streifel notes, the Dana project could reach "substantial completion" — a contractual milestone where project management firm Consigli Construction returns legal control of the building to Bates — about a month after the fence goes away. That will begin a race to the finish that includes moving furniture, supplies, and people into Dana in time to reopen the building in time for the new academic year. (The college will also need a certificate of occupancy from the city of Lewiston.)
With a few notable exceptions, a characteristic of the renovation has been its focus on the building's interior. But the site fence removal comes as the project team starts giving more love to Dana's exterior and surroundings. A conspicuous change will be the placement, at the wall facing Hedge Hall, of a chiller to supply cold water that will help regulate air temperatures inside. Starting early this month, masons have made good progress on the chiller foundation and a beauty wall for the installation, and the machine itself should be in place before the end of April.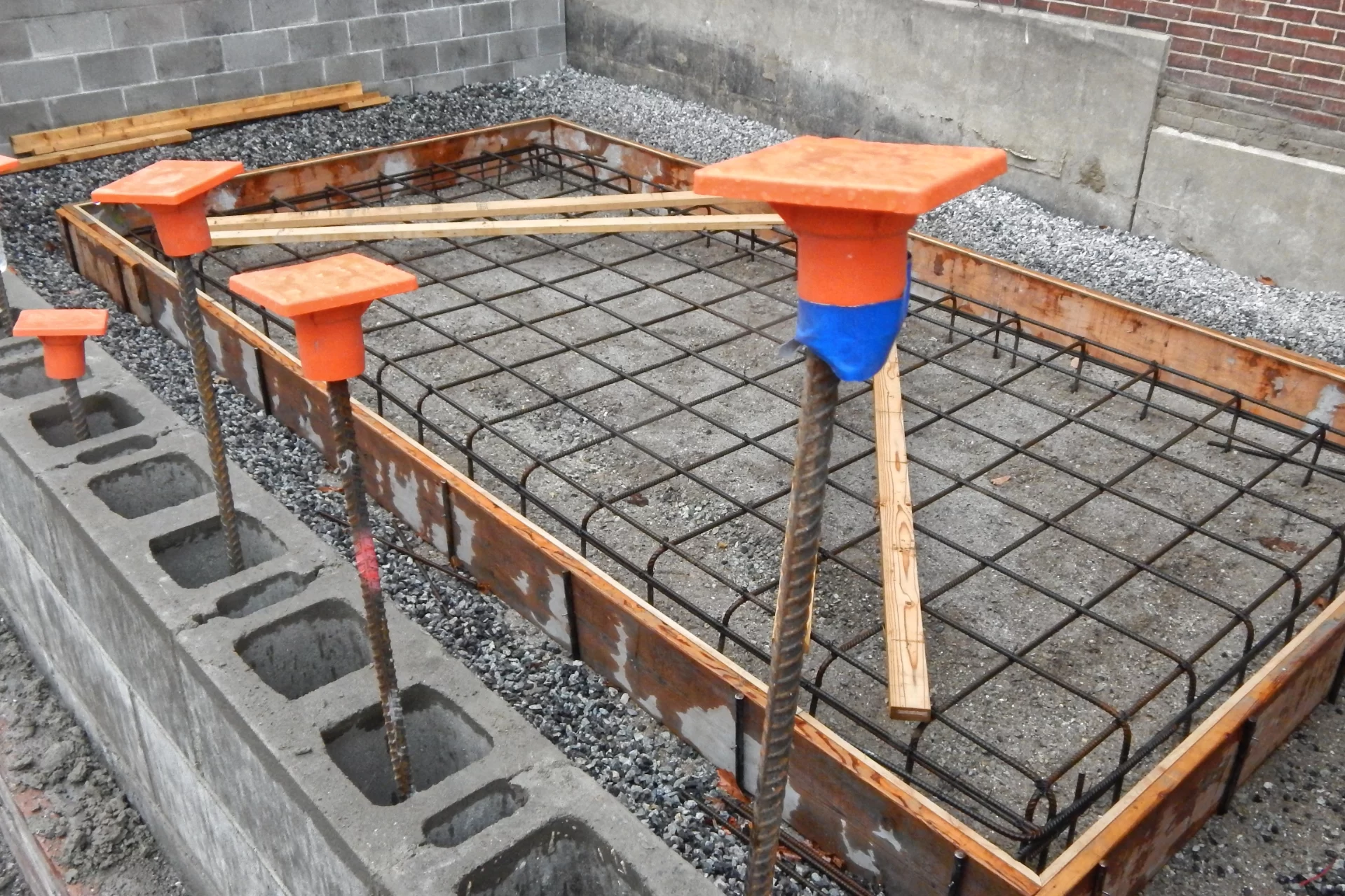 Gendron & Gendron, a local company familiar to our regular readers, will soon begin a round of site work entailing drainage infrastructure, land contouring, and finally restoration of plantings and other amenities. And a general cleanup of the site will begin on the Historic Quad side of the site — the side facing the college's Commencement venue — and proceed toward Alumni Walk.
"We expect to have things looking pretty decent for Commencement," says Streifel. "We'll have snow fences around to keep people off the freshly seeded lawns, and there may still be some plant-related things to do, but it'll look a lot more like it normally does."
So what's happening inside Dana? The big news is a predicted surge of what the pros call casework: built-in furnishings ranging from lab benches and fume hoods to shelves and student cubbies, some of which have already been installed.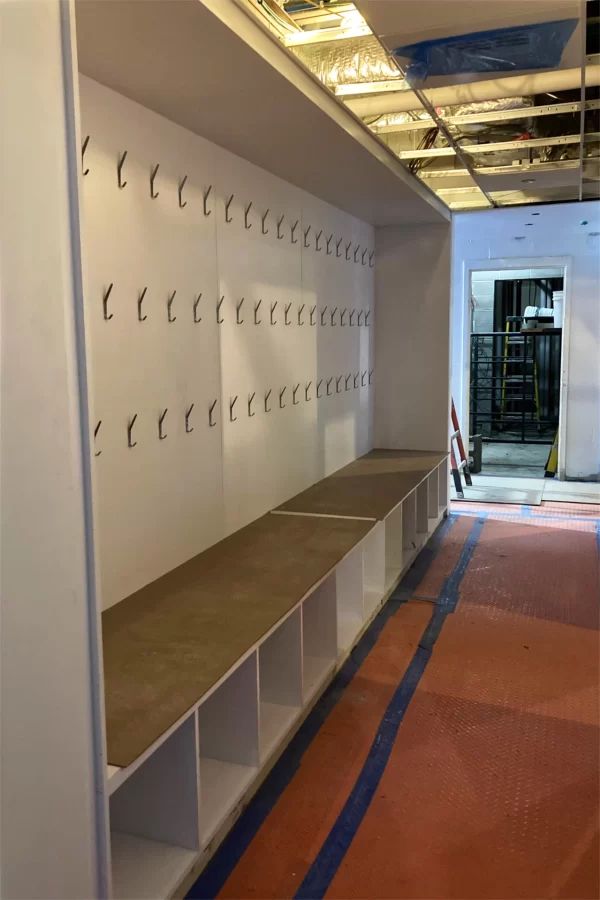 "There's a pretty substantial casework package in this building," says Streifel. It's proportionately smaller than what went into the new Bonney Science Center, because Dana doesn't have research labs, "but nevertheless there are five teaching labs that have a pretty significant quantity of laboratory case work." Bedcolab of Laval, Quebec, is providing the lab-specific furnishings.
In terms of overall progress, the third floor is a bit behind the first and second (it will get a trophy anyway, we've been assured), and that's where workers from Roland's Drywall will be ending their primary contribution to the Dana project as they finish soffits around the ceiling perimeters. The third level is also where most of the remaining utility rough-ins are still being made.
On the second and first levels, meanwhile, all manner of surface treatments have blossomed. Much of the final floor covering has been laid in the first story — medium gray rubber-like tiles for most areas, but restrooms and adjacent corridors are receiving the eye-popping lime-popsicle green that's a visual signature of Payette, the project design firm for both Dana and Bonney. Textured temporary covers are protecting the new tiles from construction activities.
Payette green also enlivens wall tiles and paint in and around the restrooms, as well as accents in stairways and elsewhere. But white and pale gray are dominant paint colors, with the latter providing visual unity to dense conglomerations of ceiling pipes and ducts.
Terminal utility connections — e.g., wall outlets, light fixtures, water faucets — are abounding on the two lower levels. Likewise are suspended ceilings, with most of the metal grids and lots of tiles in place, in particular tiles associated with fittings such as sprinklers or occupancy sensors. Miles of cable — telecom, data, audio-visual, fire response, security — have been pulled into place and terminated, with miles more to come.
Meanwhile, in the attic and basement, the mind-boggling drive to build out building-wide systems goes on. In the fourth-story attic, which is more of a metal jungle than ever, the two HVAC exhaust fans are in place and undergoing connection to their duct and electrical networks. The big primary air handler is sprouting hookups in every direction, including heavy steel pipes that will bring heat from the campus steam plant into the system. Steamfitting in the basement, where campus steam enters the building, and in the attic is largely complete.
Given this frenzy of engineering, major equipment startups and system-wide tests aren't too far off. "We're probably two or three weeks away," says Streifel. "The big air handler will likely be the first item."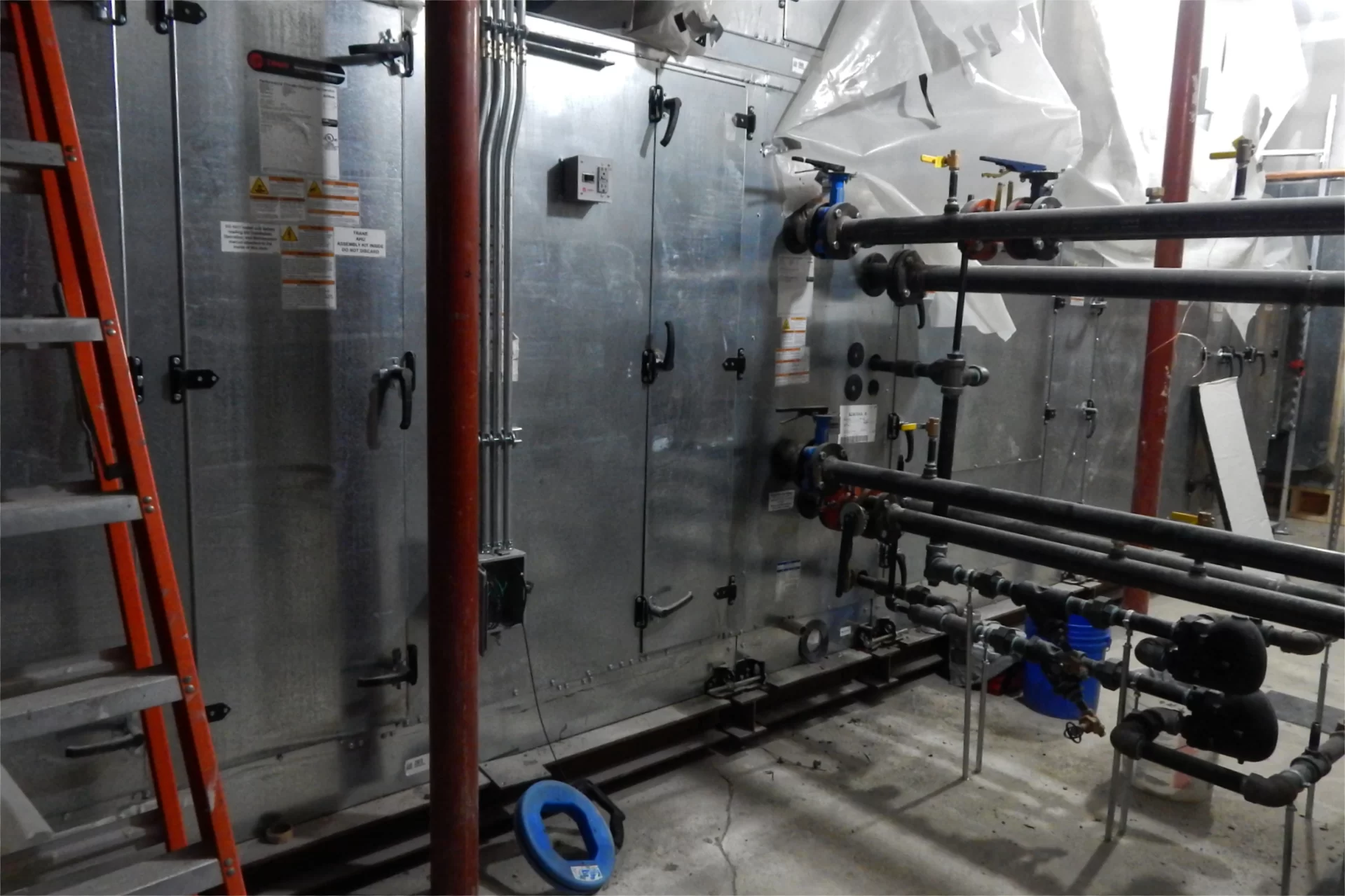 Overall, "Consigli has got a pretty good game plan going," he continues. In terms of workers on site, "we've been in the range of 60 to 70 persons per day for a while. So it's pretty busy. Dana has about half the space of Bonney, and that's a little bit more than half of the people that we had at peak at Bonney.
"So that means there're a lot of people working in the building and they're spread out all over the place. You walk into any room and you're likely to find somebody there or not far away. So it's moving along quite well in an organized-chaos type of approach."
Finally, we told you last month that doors were among construction components made scarcer by COVID-related supply chain delays. Apparently that conga line is once again crossing the ballroom floor, though, because this week's Dana tour revealed 70 or so new doors stockpiled for installation.
Streifel allows that the Dana project may indeed — mixed metaphor alert! — be out of the supply-chain woods. By now, "there aren't too many things that haven't been ordered already," he says. "It would be inappropriate for me to say no, we're all good, but I think we're in pretty good shape."
Can we talk? Campus Construction Update welcomes queries and comments about current, past, future, timeless, and "that never happened — or did it?" construction at Bates. Write to dhubley@bates.edu, putting "Campus Construction" or "Suspended power? Wire they doing that?" in the subject line.
Doug Hubley is a writer and musician living in Portland, Maine.
View Comments