Welcome, Class of 2027 Families!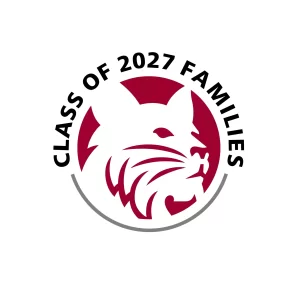 We are delighted to welcome the newest families – and their students! – to the Bates community.
While August 2023 seems a long way off, we know you are excited about Bates, and we are just as excited to have you be part of the extended Bates community.
From now through early May, your student will continue to hear from the college via the Admission portal and team. The Admitted Student site is also where you can find many resources for admitted students and families and where you can register for admitted student visit days as well as virtual parent panels.
In late spring 2023, the full class will be set, and students will begin to receive regular outreach from the First-Year Experience team as part of their transition to Bates. At this same time, Class of 2027 families will begin to receive their own dedicated communication stream. The Bates Parent Team will confirm we have your correct contact information, and then we will update you throughout the spring and summer with resources to help your student prepare for Bates.
In late spring, our team will also reach out to families with details about our in-person welcome events, virtual gatherings, and other opportunities to build your own Bates connections while you support your student as they take the next steps to independence and an engaging Bates experience.
In the meantime, please explore the Parents and Families resources to get an idea of what the Bates family experience is all about. Answer the membership questions to join the Bates Class of 2027 Parents and Families Facebook group and connect with other new families, with Bates, and with and our team. Save the date and make plans to join us for Back to Bates: Family Weekend On Oct. 6-7. Certainly reach out to us at parents@bates.edu if you have any questions.
Most of all, enjoy this exciting accomplishment with your student. We look forward to all that the Class of 2027 students and families will bring to the Bates community.
Welcome to Bates, Class of 2027 families!
Emily Bray Levine
Director of Parent Giving and Engagement
Gina Nordini
Associate Director of Parent Giving and Engagement
Penney Ward
Assistant Director of Parent Giving and Engagement