Andrea Conklin Bueschel '90
Senior Vice President for Administration and Chief of Staff to the President, Rutgers University
New Brunswick, New Jersey
Years of Service: 2010–2025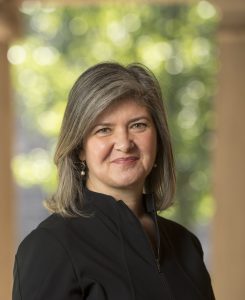 Andrea Conklin Bueschel serves as Senior Vice President for Administration and Chief of Staff to the President at Rutgers University. In this role, she oversees the operations of the President's Office and various university-wide administrative offices, while playing a critical role in coordination across the four-campus university. She is also a member of the faculty in the Graduate School of Education.

Prior to her appointment at Rutgers, Andrea served as Associate Provost at Northwestern University, where she was also a lecturer at Northwestern's School of Education and Social Policy. Prior to that, she was Associate Vice President at the Spencer Foundation, a research scholar at the Carnegie Foundation for the Advancement of Teaching, and managing director for an educational consulting firm. In addition, she has conducted program evaluations for non-profits and has held various other administrative posts in higher education. Recent publications include chapters in Changing the Conversation in Higher Education (edited by R. Thompson) and Cases of Teachers' Data Use (edited by H. Fives and N. Barnes), and special issues on data use for Teachers College Record and American Journal of Education (co-edited with Cynthia Coburn).

Andrea is currently a board member for CASA (Court Appointed Special Advocates) of Middlesex County, after having been a CASA in Chicago and a foster parent in San Francisco. Andrea's bachelor's degree from Bates is in philosophy, and she holds master's degrees in higher education and sociology and a Ph.D. in education policy from Stanford University.