Visitor Information
Getting to Campus
Bates is located in Lewiston, the second-largest city in Maine. It's on the Androscoggin River, about 40 miles north of Portland and two hours north of Boston. Lewiston and its twin city, Auburn, are former mill towns with French Canadian roots, a vibrant Eastern African diaspora community, and an entrepreneurial spirit. Learn more about Lewiston and Auburn here.
Several airlines serve the Portland International Jetport (45 minutes from campus), and Amtrak's Downeaster links Boston and Portland. Concord Coach Lines links Boston, Portland, and Lewiston.
Ground transportation from the Portland area is available via taxi, rental car, private van/car or bus.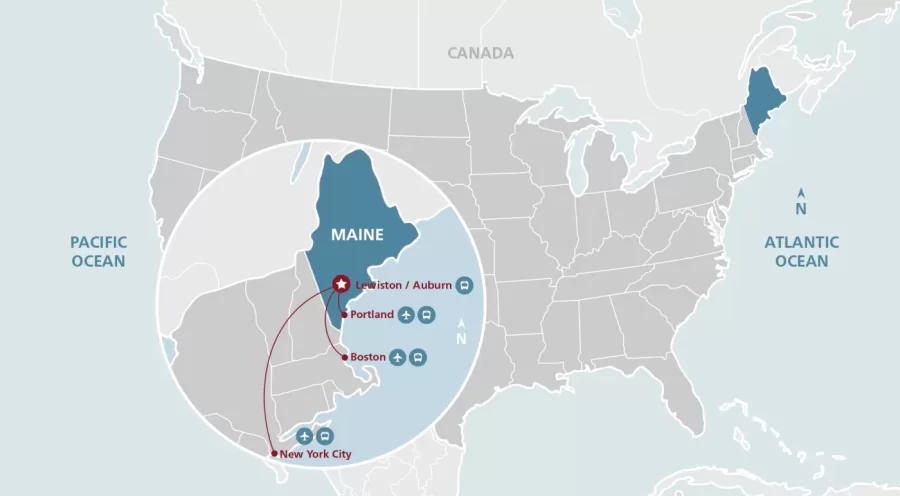 PORTLAND – 45 minute drive to the city's historic Old Port
BOSTON – 2 hour 20 minute drive
NEW YORK CITY – 6 hour 15 minute drive or 1 hour 10 minute flight from Portland to NYC
On Campus
Our campus map — bates.edu/map — can help you navigate our campus.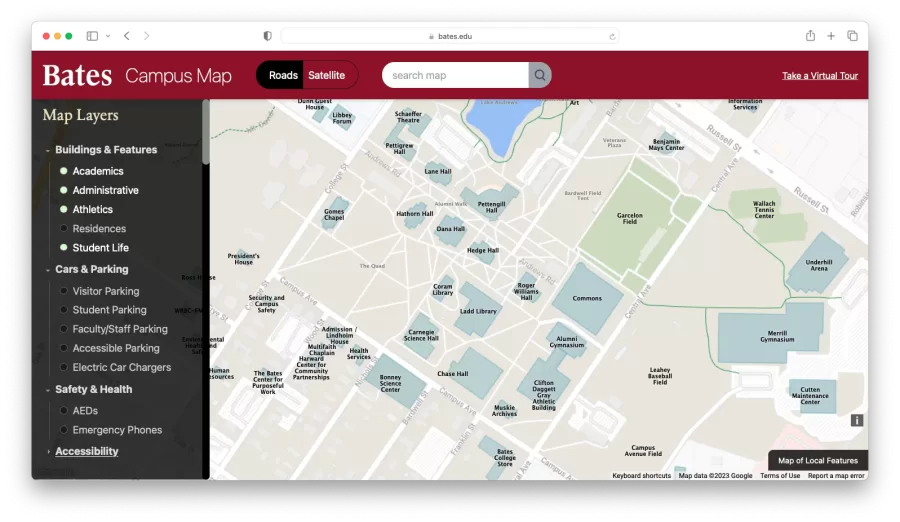 Parking
The Merrill Gymnasium parking lot located at 141 Russell Street is the largest on campus. Rows will be marked as reserved for Inauguration. Please respect accessibility parking signs. Our Campus Map has layers for visitor parking, accessible parking, and electric car chargers.
Accommodations
There are a number of accommodations available in the Lewiston-Auburn area and beyond.
Accessibility Services
There will be designated ADA parking available on a first-come, first-served basis, but you must display your official DMV accessibility placard if you park in an ADA parking space on campus. There is accessible parking near Merrill Gymnasium, and there is an accessible drop-off zone at the entrance.
Accessible Seating
Accessible and companion seating will be available. This seating area will be delineated by blue chair covers. Staff ushers will be available to assist with accessible seating.
If you have questions about accessibility, please contact inauguration@bates.edu.
For the Visually Impaired
There will be an on-site interpreter with reserved seating.
The Installation Ceremony will be broadcast live with full sound on our livestream link on October 27 at 2:30 p.m. EST.