Benjamin E. Robinson III '86
Retired Executive
Charlotte, NC
Years of Service: 2022-2027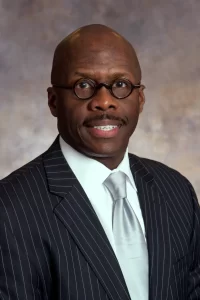 Benjamin E. Robinson III '86 is a retired executive who has led complex financial organizations nationally and internationally. He joined Prudential Annuities in 2010 and, as senior vice president and chief administrative officer, was responsible for strategy, business planning, innovation, change management, ethics, community affairs, diversity, communications, thought leadership, and facilities, as well as leading initiatives that utilize financially oriented resources — actuarial, finance, capital markets hedging, and pricing.
Named to the "2021 Most Influential Black Corporate Directors" list in Savoy magazine, Robinson has served in a range of senior executive leadership roles for prominent institutions, including Bank of America and MasterCard. A national expert in the field of consumer privacy and data protection, he has taught at the Hagan School of Business at Iona College and the Belk College of Business, UNC–Charlotte.

Earlier in his career, Robinson served as a member of the Federal Reserve Board, Consumer Advisory Council, and a congressional advisor to the United States House of Representatives, Committee on Banking, Finance, & Urban Affairs. He also served as a lieutenant in the United States Navy Reserve.

A Benjamin Mays Scholar at Bates, Robinson is a founding leader of the Benjamin Mays Black Alumni Society, which encompasses Bates alumni of color from the 1950s to today. A three-sport varsity athlete, international debater, and Student Government leader, Robinson majored in rhetoric and was elected to College Key and the Bates Scholar Athlete Society. He has a master's degree in public policy from Trinity College and a Ph.D. in banking and finance policy from Union Graduate School. Ben and his wife, Cecilia "Ceci" Atkinson Robinson, live in Charlotte, N.C. They have two children, Benjamin IV "Bailey" and Sydney.