Evelynn M. Hammonds H'11
Barbara Gutmann Rosenkrantz Professor of the History of Science, and Professor of African and African American Studies at Harvard University

Professor of Social and Behavioral Sciences, Harvard T.H. Chan School of Public Health, Harvard University

Audre Lorde Visiting Professor of Queer Studies, Spelman College

Watertown, MA and Atlanta, GA
Years of Service: 2017–2027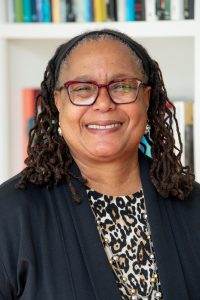 Evelynn M. Hammonds is the Barbara Gutmann Rosenkrantz Professor of the History of Science, Professor of African and African American Studies, and Professor of Social and Behavioral Sciences all at Harvard University. She was the first Senior Vice Provost for Faculty Development and Diversity at Harvard (2005-2008). From 2008 to 2013 she served as Dean of Harvard College. She is the former Chair of the Department of the History of Science and current director of the Project on Race & Gender in Science & Medicine at the Hutchins Center for African and African American Research at Harvard. Hammonds is the inaugural Audre Lorde Visiting Professor of Queer Studies at Spelman College (2022-2023).
Evelynn's areas of research include the histories of science, medicine and public health in the United States; race and gender in science studies; feminist theory and African American history. She is the author of Childhood's Deadly Scourge: The Campaign to Control Diphtheria in New York City, 1880-1930 (1999). She was co-editor with Jennifer M. Shephard and Stephen M. Kosslyn of The Harvard Sampler: Liberal Education for the Twenty-First Century (2011) and with Rebecca Herzig, The Nature of Difference: Sciences of Race in the United States from Jefferson to Genomics (2008; and 2013.) Her current work focuses on the intersection of scientific, medical and socio-political concepts of race in the United States.
Evelynn was named a Fellow of the Association of Women in Science (AWIS) in 2008. She has served on the boards of Spelman College, the Arcus Foundation, the Museum of Science in Boston, and Bates College. She is an elected member of the National Academy of Medicine (NAM) and the American Academy of Arts and Sciences. She holds honorary degrees from Spelman College and Bates College.